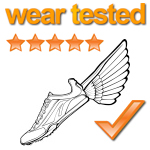 After wear testing over 150 minimalist shoes (or barefoot-style shoes or barefoot shoes or minimal shoes or whatever you want to call them), it is still very confusing for someone to choose a pair individually. Minimal shoes are highly individualized and subjective. But the following are key elements:
wide toe box
low stack height (15mm or lower preferred)
low heel-to-toe drop (6mm or lower preferred)
lightweight (7.0 ounces or less preferred)
flexible outsole preferred
sockless wear preferred
For those with narrow feet, wide toe box shoes can cause problems. I have sized up a full size for some models and they were too big so I can simulate the impact. For those running on gnarly trails, you might want a built-in or removable rock plate. Some of you may prefer slight or more cushioning. It does not matter as long as it is working for you and you are not injured. But I highly recommend that a shoe at least meet those key elements.
Based on my preferences and the range of situations I have encountered myself and my tight group of wear testers, from injury to transitioning to advanced minimalist running, I have enough confidence that after seconds of putting on a pair of minimalist shoe (any category), I can tell immediately on either extreme:  great minimal shoe or no-go (too close to traditional shoes). Those that belong in between will require lengthy testing but those usually end up being so-so.
Remember, shoes are only one piece of the solution to sustainable and injury-free running. Personally, running form is primary and shoes are secondary. Hopefully my two plus years of wear testing of over 150 minimal shoes will help you filter out some shoes to try out with minimum hassles. Some quick notes:
I have yet to find a 5.0 stars shoe but I can guarantee you that 2013 will produce at least 3 to 5 shoes that will get that ranking based on early prototypes and 2013-2014 roadmaps that I have seen.
A 4.5 stars shoe is an almost perfect shoe with two or more improvements needed to make it a 5.0 stars shoe.
Avoid any shoe rated 2.5 stars or less.
Each shoe is given a single type (road or trail or golf etc.) but most can be used for multiple purposes. Road running shoes work fine on most non-technical trails. And you can run with some golf shoes!
We have also recently published our Fall-Winter 2012 Minimalist Shoe Buying Guide with a focus on the new shoes just launched.
Wear Tested Minimalist Shoe Ranking