Sponsored By
We've just launched the inaugural version (Issue #1) of our Minimalist Shoe Buying Guide for Fall-Winter 2012! Covers the latest minimalist shoes available from footwear manufacturers for Fall/Winter 2012. This publication (PDF and iBook) is available for FREE.
Available exclusively for the Apple iPad in the interactive iBook format, you will need the free Apple iPad app, iBooks, to view the eBook in its full glory – high resolution gallery images and interactivity by touch in ways the printed page never could. Download your free copy of the iBooks app at the Apple iBook Store.
NOTE: The  Buying Guide is too big to be downloaded and viewed on an iPhone with the iBook app. Please use an Apple iPad with Wi-Fi to download.
Interactive Images
Pictures tell a bigger story when they're interactive. Callouts and pan-and-zoom features add even more to the experience.
Interactive Galleries
Instead of seeing just one image on the page, readers can swipe through an entire collection of interactive photos and captions with their fingertips. They can navigate the gallery using photo thumbnails or step through images one at a time.


[iBook] Minimalist Shoe Buying Guide Fall-Winter 2012 (Apple Book Store)
For those who does not have an iPad, you can view the limited functionality PDF version from Issuu, DocStoc, and Scribd (with no interactive galleries and interactive images).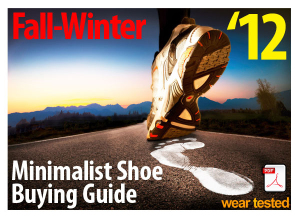 [PDF] Minimalist Shoe Buying Guide FW '12 (Issuu)

[PDF] Minimalist Shoe Buying Guide FW '12 (Scribd)

 [PDF] Minimalist Shoe Buying Guide FW '12 (DocStoc)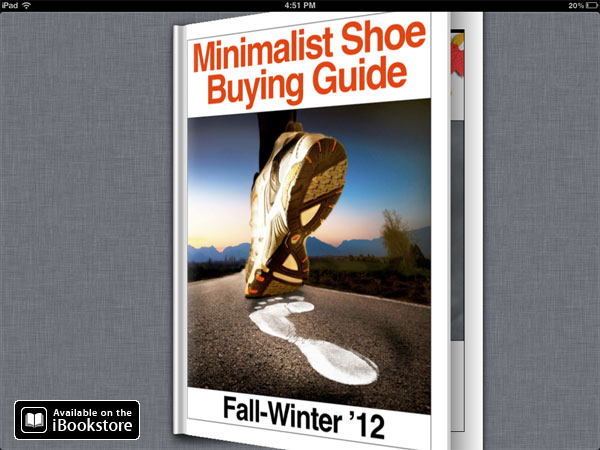 Coming up next, Issue #2, Minimalist Shoe Buying Guide Spring-Summer 2013, early 1Q 2013.