Nike is launching its first running shoe featuring their new proprietary foam, Nike React, beginning in February, the Nike Epic React Flyknit. Nike React technology offers better cushioning (11% softer), better energy return (10% bouncier), lightweight (5% lighter), and durable (feels brand new even after 500 miles). Nike React foam cushioning launched in June 2017 in basketball and the foam met those needs by providing a sensation that is as soft and springy as it is squishy and stable. To get there, Nike's in-house chemists and mechanical engineers came together to test ingredients to see which composition would yield the perfect outcome. After more than 400 hundred combinations of chemistry and processing, and using scientific methods to dial in on materials with certain amenable attributes, they landed the unique composition of Nike React foam.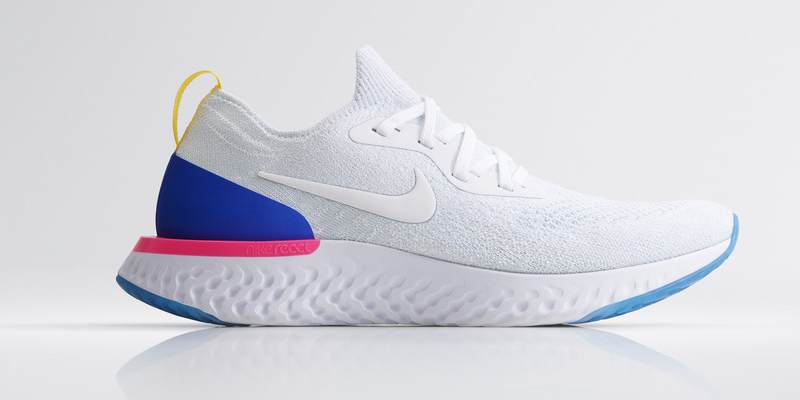 With more than 2,000 hours of testing on the feet of basketball players, where it proved to be the most durable foam and to deliver greater energy return than any other Nike basketball shoe tested. Next is taking Nike React technology to running shoes. When tested in the Nike Sports Research Lab against other running foams, the data proved that Nike React foam reins superior in energy return. The foam alone delivers 13 percent greater energy return than Nike's latest generation of Nike Lunarlon foam. It is also more durable than any other foam they've tested in Nike running.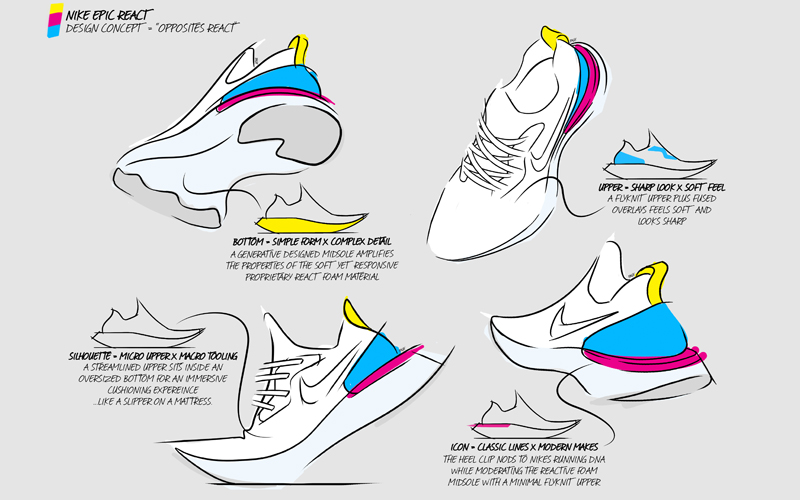 Finally, designs turned to athlete data based on how they move, in what direction and with what force as gleaned from the lab – pressure maps showing exactly where athletes need support and enabled full optimization of cushioning and traction. By feeding this data into a proprietary algorithm, it generated a unique surface geometry that further amplified the running performance benefits of Nike React technology.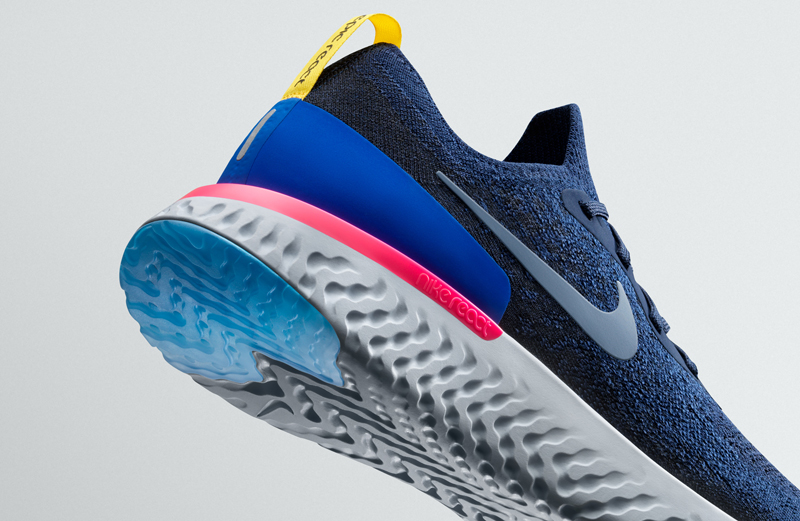 The one-piece Nike Epic React Flyknit bootie was precision-engineered for support, flexibility and breathability in the spots where runners need it. It's minimal and close to the foot but still supportive. Deeper parts on the midsole and outsole indicate areas of more cushioning and shallower portions produce more firmness. The midsole extends beyond the upper around the heel to provide the cushioning runners want and the stability they need.

Because Nike React foam is significantly softer than EVA-based foams of the past, it smooths bumps in the road more effectively – but the midsole had to be taller in order to avoid "bottoming-out" and wider to give runners a supportive base. To solve for that, designers extended the midsole beyond the perimeter of its upper around the heel to provide both the cushioning runners want and the stability they need.
Finally, the upper sits on one piece of foam, the outsole is essentially the same as the midsole, but with a segment of rubber under the forefoot and heel for added traction and to help enhance the shoe's durability.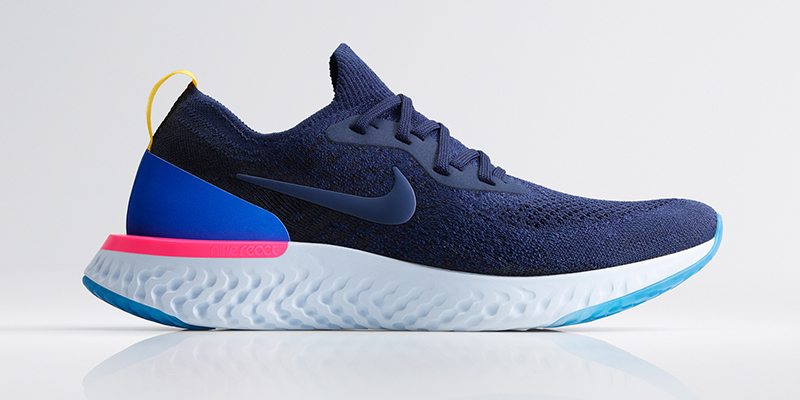 The Nike Epic React Flyknit will be available February 22 on nike.com and at select retailers. We have it in WTGR Lab and will be comparing it to the latest Skechers GORun 6 'flyknit' clone in the next few weeks.