Under Armour has been designing running shoes for quite some time but they have finally taken a radical approach to their latest minimalist running shoe design with the Charge RC, a transitional minimal shoe.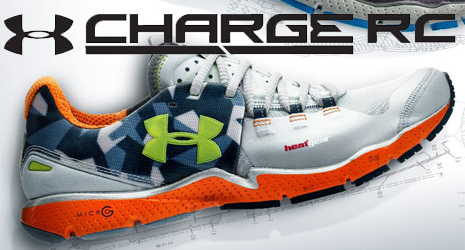 Under Armour is best known for their compression apparel line which redefines how clothes fit and perform with the body. By keeping the DNA of their apparel (performance fit) in mind, the Under Armour Charge RC is its most advanced running shoe to date.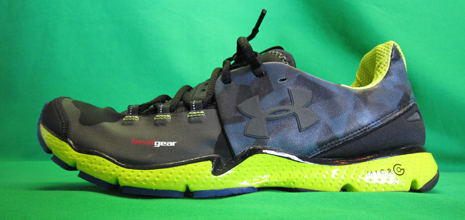 The Charge RC weighs in at 10.8 ounces (US Men's Size 10.5) with a heel-to-toe differential of 6mm and is clearly targeted to the transitioning runner as a gateway or bridging shoe. Major highlights:
Temperature-regulating HeatGear fabric for cool, dry comfort.
Micro-G cushioning for lightweight responsiveness
Strategic compression for a custom fit
Carbon Spring Plate for enhanced stride and maximum energy return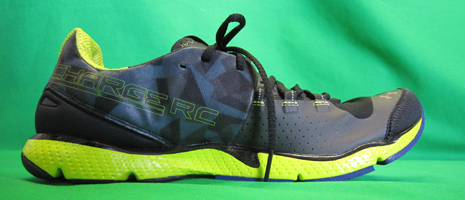 The 6mm drop in the heel is to get the runner to strike more on their midfoot and activate the full length carbon fiber plate to help propel them forward through the gait cycle. Heel height is 15mm of midsole and forefoot is 9mm of midsole.  That does not include the carbon rubber in the heel and the 3 mm of blown rubber in the forefoot.
Under Armour took a totally out of the box approach with designing the Charge RC. While other brands are looking at mimicking the human anatomy, Under Armour decided to look at everything around us and hybrid it all together for the optimum solution. For example, a tortoise offers better protection, a gecko offers better traction and composites offer better energy return. The result is EVOnatomy, a hybridization of all species for maximum performance.
EVOnatomy –  "Evolving anatomy for optimum performance."
Key takeaway – "evolving".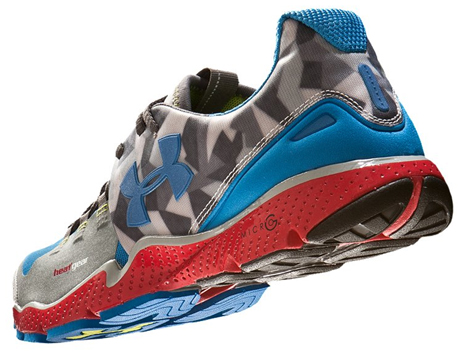 Here's a video with Dave Dombrow, Creative Director, explaining the design of the Charge RC.
Under Armour looked at how zonal compression worked in their apparel and how they could apply it in footwear. With the Charge RC, they have designed zonal compression into the midfoot of the shoe.  This provides a secure feeling around the foot while still giving the forefoot room to move.  Additionally, the uppers also feature their HeatGear material that is lightweight and moisture wicking. Finally, they incorporated modular protection zones (MPZ) technology in the toe box and tongue seamlessly as a new solution for toe protection and lace bite.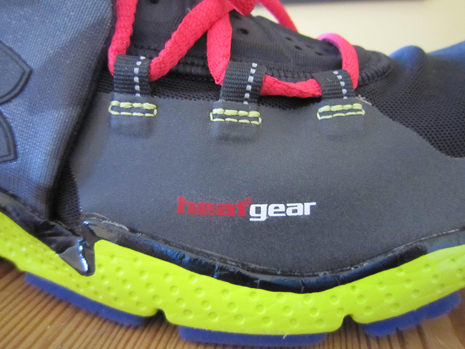 The midsole is composed of a full length Micro-G foam and a carbon spring plate for maximum energy return. The footbed is made of a full length molded 4D foam sockliner that literally molds to your foot for a slip-free sockless fit. And they have also added it around the collar so you won't even feel this shoe around your ankle.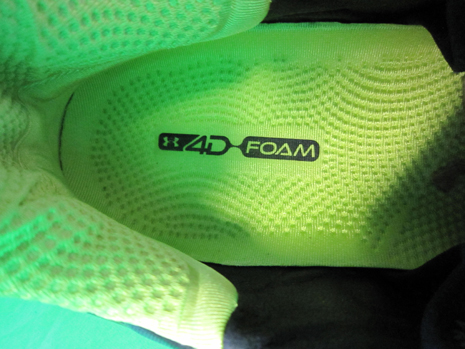 The outsole is made of blown rubber in the forefoot (for cushioning) and carbon rubber in the heel for durability. The following image taken from a full-page ad in Runner's World magazine provide a blown-out view of the Charge RC better than anything I have seen.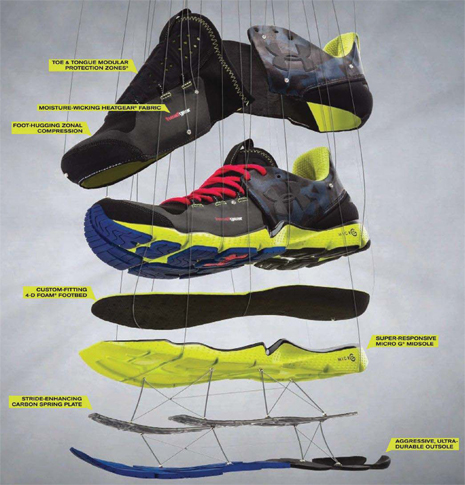 Running sockless (couple of cold nights) on the high school track here, my toes are not frozen and numb as it did with a few of the minimal shoes I have tested.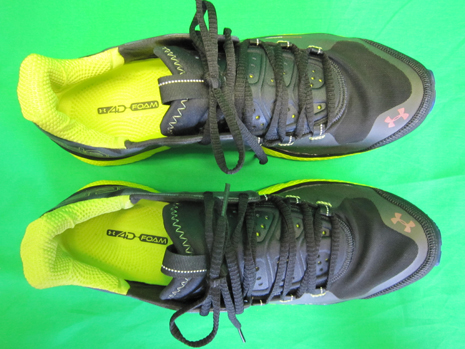 The toe box in the media sample I received is a little snug and I would love for it to be wider. But looking at the pictures of the production models, it appears that the toe box is a lot wider than my pair 🙁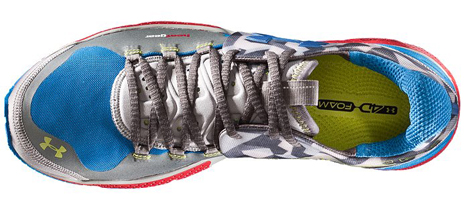 Under Armour is marketing this as a transitional minimalist running shoe and it is hitting the perfect demographic. For those already transitioned or is already wearing various minimal shoes from New Balance, Merrell, Altra, or VIVOBAREFOOT, the UA Charge RC will be too stiff and too cushiony for you. For those just starting out and embracing barefoot-style running shoes, this is one of the few transitional shoes available. And absolutely a step in the right direction and many more exciting products coming in '12 and '13!
Overall, the manufacturing and materials used in the Charge RC running shoe is top notch and only seen in a few shoes, period. The Under Armour apparel DNA is certainly shining through in their shoes!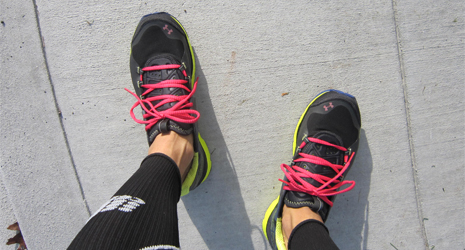 Which professional athlete is Under Armour working with? Two-time Ironman champion, Chris 'Macca' McCormack, runs in a modified version of the Charge RC. Author of "I'm here to WIN", Chris has been signing an Under Armour version of his book at tradeshows.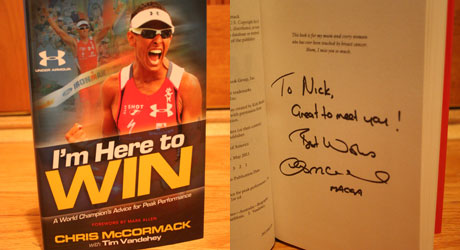 Under Armour is serious about running. A trail version for 2012 has some interesting variations in outsole design – keep your browsers pointed here for future news. Under Armour's new tagline, "The Fit that changed everything... now available for your feet". Currently available in many colorways for Men's and Women's including some limited edition colors.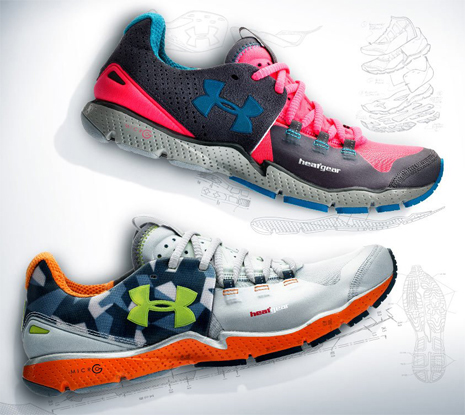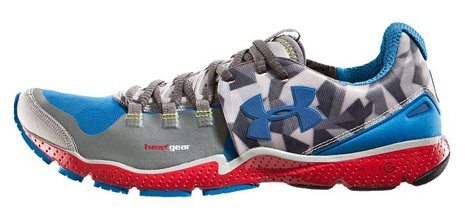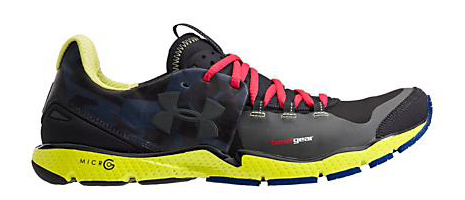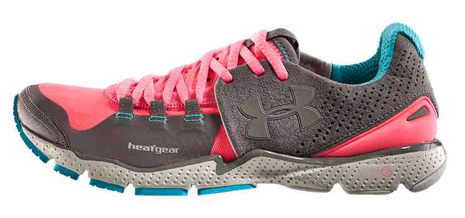 The Under Armour Charge RC is now available at the Under Armour web site.
*Product provided by Under Armour (MSRP $120). CMP.LY/1 Review
If you have a product you'd like reviewed, contact me at info@weartested.org