The Zensorium Tinké is a revolutionary device designed to change the face of mobile fitness and wellness. Tinké is an optical sensory device for smartphones that monitors your fitness and wellness with the touch of a finger. The four aspects that Tinké measures are heart rate, respiratory rate, blood oxygen levels, as well as heart rate variability. It works on the basis of detecting changes in skin blood volume and using advanced signal processing technologies, Zensorium Tinké transforms detected signals into quantitative data.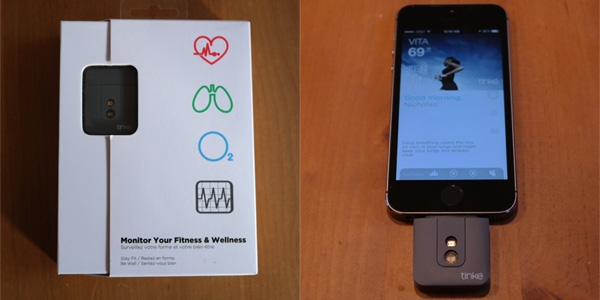 Measurement – HEART RATE
Heart rate refers to the number of heart beats per minute and is normally expressed in beats per minute (BPM). An average adult's heart rate is usually between 60 BPM to 80 BPM. Resting heart rate is defined as the heart rate taken when you are first awake or when sitting quietly. Monitoring your resting heart rate daily is an important indicator of your fitness.
Measurement – RESPIRATORY RATE
Ever found yourself feeling short of breath? Well, your respiratory rate may change due to conditions such as when we're angry or sad. An important indicator of fitness is respiratory rate taken when a person is resting and at minimum stress. When a person is in the above condition, a respiratory range of 10-20 breaths per minute is considered normal.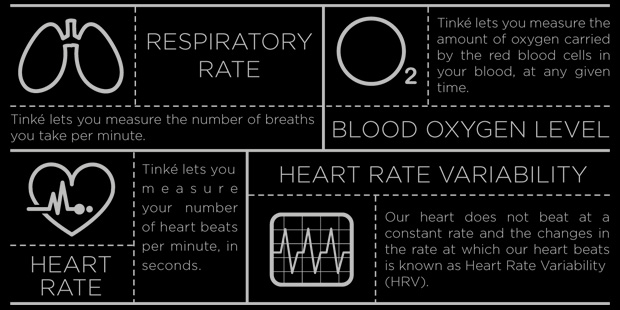 Measurement – BLOOD OXYGEN LEVEL
A blood oxygen level of above 95% is essential for optimum performance in your daily activities. Fitter people have higher blood oxygen saturation levels. Tinké lets you measure the amount of oxygen carried by the red blood cells in your blood, at any given time.
Measurement – HEART RATE VARIABILITY
Unlike a clock, our heart does not beat at a constant rate. The changes in the rate at which your heart beats at is known as Heart Rate Variability (HRV). Your HRV changes throughout the day, depending on the activities you carry out, your mood, and various other factors.
In Tinké, HRV is used as a measure of how well our body can adapt to these changes by analyzing your heart rate and breathing patterns. The better your body is able to adapt to these changes, the higher is the measure of your HRV. Simply said, HRV is used as a basis to monitor your level of relaxation.
During anxiety, our heart rate rises, muscles tense, we perspire more, and our breathing becomes more rapid and shallow. Your measurement of HRV is thus lower. In contrast, if you are relaxed, your measure of HRV will consequently be higher.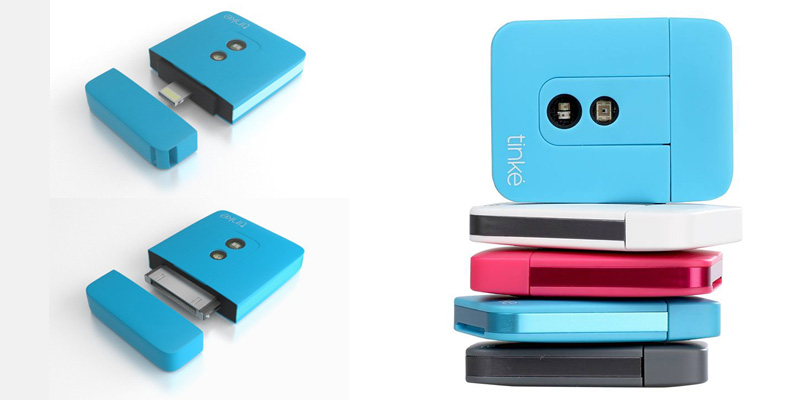 Monitoring – FITNESS, WELLNESS, PROGRESS
Your fitness level is calculated on the Tinke as the Vita Index. Tinké measures your heart rate, respiratory rate and blood oxygen saturation within 30 seconds and compiles the information into their Vita Index fitness score.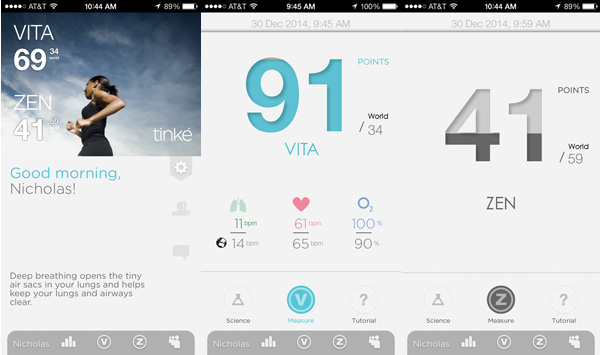 Your wellness level is calculated on the Tinke as the Zen Index. Tinké measures your heart rate variability while you relax yourself with the provided breathing exercise for 60 seconds. This information is then processed into the Zen Index score which indicates your level of relaxation.
With your Tinké account, all measurements taken will be saved and trended into a graph. Choose to trend both Zen and Vita Indexes, or even narrow down to individual parameters such as heart rate, respiratory rate and blood oxygen levels. You can now monitor the progress of your fitness and wellness over a period of weeks, months and even years.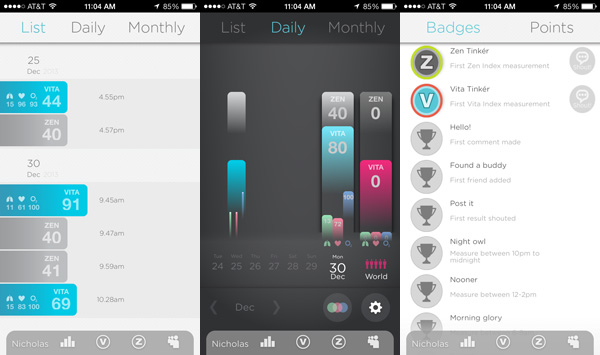 There are also achievements and Tinke social network. You can earn points and badges each time you conduct a measurement and be rewarded for performing consistent measurements. You can also post your results onto Facebook and share your results with friends, and encourage one another on your progress.
So how did the Zensorium Tinke perform?
To use, simply start the iOS Tinké app, connect Tinké when prompted and place your thumb on the sensing platform of Tinké to start measuring. Just gentle pressure will suffice. Done. We love 'simple and easy to use' fitness and health devices and have a lot of them in our test pipeline. With a touch of your finger, you can obtain the measurements of the 4 parameters, and 2 indexes within seconds. No other device that we are aware of can do this. Compared to the HeartMath Inner Balance Sensor (which does not measure blood oxygen level), the Tinke is much easier to use.
With the beginning of the new year, the Zensorium Tinke will be used to track my training progress from basic to extensive training sessions as I prepare for the annual Senior Games and competing in various track & field events. It is also a qualifying year for the National Senior Games so extra pressure on making the California team! I will revisit and publish my training log to see what the improvements are in my vital fitness and health statistics using the Tinke and other health and fitness devices like the Basis watch and Amiigo wristband.
heart rate
blood oxygen level
heart rate variability
respiratory rate
skin temperature
perspiration level
Two little improvements we think that can be made (in our opinion) to make the Tinke perfect – even though the Tinke is already very simple, intuitive, and easy to use.
Offer a Bluetooth version for iOS devices if possible since the Android version already support it. This might just require an iOS app update.
For the iOS version with Lightning connector, it should be easier to use when the iPhone has a protective case on – trim off the extra material that seemed to be left over from the 30-pin connector. I had to remove the case in order to use the Tinke. Compare this to the Apple charger connector.

Although Tinké is not a medical device, its accuracy ranges for the 3 parameters are:
Heart Rate: +/- 2 beats per minute
Respiratory Rate: +/- 2 breaths per minute
Blood Oxygen Saturation: +/- 3%
NOTE:
All measurement data (limited to measurements taken during the last 30 days) can even be easily exported for further analysis. Think of the possibilities with new cloud offerings for 2014!
The Zensorium Tinke is available in both the 30-pin connector and Lightning connector for iOS devices and in Bluetooth only for Android devices.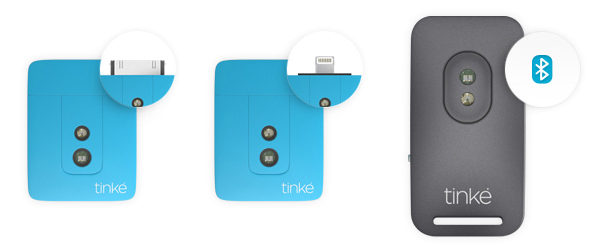 Add also in many colors for each platform.
SPECIAL ANNIVERSARY OFFER

The Zensorium Tinke is now available for a limited time at
30% OFF
from the
Zensorium store
.
As Zensorium turns 2, they are delighted to offer all their customers a 30% storewide discount on all products until January 30, 2014.
*Product provided by Zensorium, Inc. CMP.LY/1 Review
If you have a product you'd like reviewed, contact me at info@weartested.org