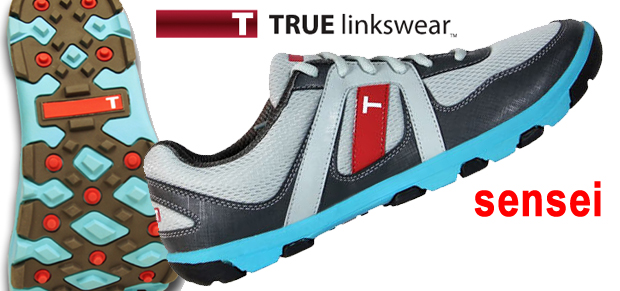 This review is written from the runner's point of view. For a golfer's point of view, please read Robert's TRUE Sensei review.
Two years ago, I reviewed the TRUE Linkswear Tour golf shoe – it was the inaugural version of TRUE Linkswear barefoot-platform golf shoe. Even back then, Rob Rigg, President of TRUE Linkswear, already had plans to make a running golf-shoe based on their barefoot platform – maybe a few generations down the road. And that was why I ran a 5K in a pair of golf shoes back then – extreme wear testing!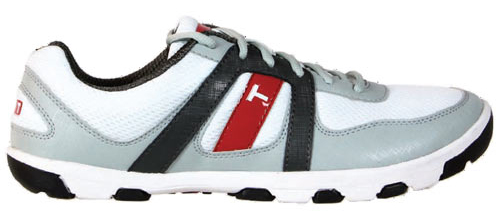 Fast forward to November 1, 2012. TRUE Linkswear launches the Sensei, a zero drop golf shoe with a mesh upper, no midsole, a thin rubber outsole. Think of it as a lightweight trail running shoe.
As Rob posted in the TRUE Linkswear blog, "Why would you run a Marathon in your Golf Shoes?",
Our goal for the sensei was simple – Create a product that will allow someone to go for a run in the morning and tee it in the afternoon without changing their TRUEs.

Essentially, create the ultimate travel shoe, the best light weight summer golf shoe, and hopefully the most comfortable shoe that our customers have ever put on their feet.

Because if you can run a marathon in your golf shoe, then it should be so comfortable that it will work for almost any other activity as well. Right?
a self-experiment that turned into a final product. And it was years in the making.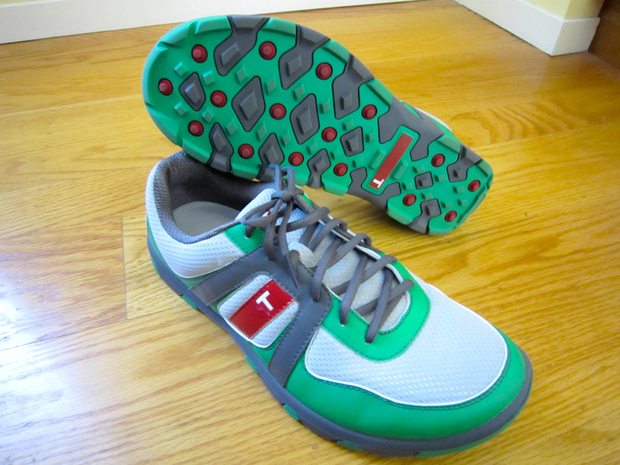 The Sensei weights in at 11.2 ounces (US Men's 10.5) and has a stack height of about 13mm. The toe box is super wide – just the way I like it. It is built on the latest TRUE barefoot platform and has a light synthetic upper with a 3D mesh liner and a memory foam heel. The Sensei rubber outsole has small lugs of about 3mm height and looks more like a trail shoe than a golf shoe – observations from a non-golfer like me! I've only played 3 rounds of golf in my lifetime over 30 years ago. The Proto model (April '13) that pro-golfer Ryan Moore is currently wearing has the same platform but with a waterproof leather upper and midfoot stability wrap. Other than those major differences on the uppers, they're pretty much identical.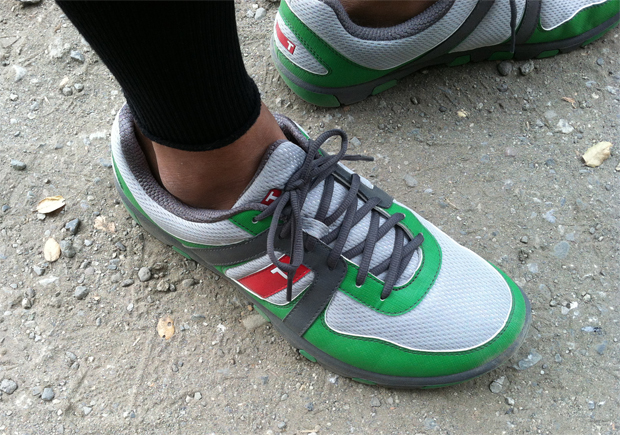 I took the Sensei out for a few hilly trail runs at the Crystal Springs Cross Country course in Belmont, California – one of my two testing ground for all minimalist trail running shoes. The other is Sawyer Camp trail which has loose gravel, dirt, and asphalt.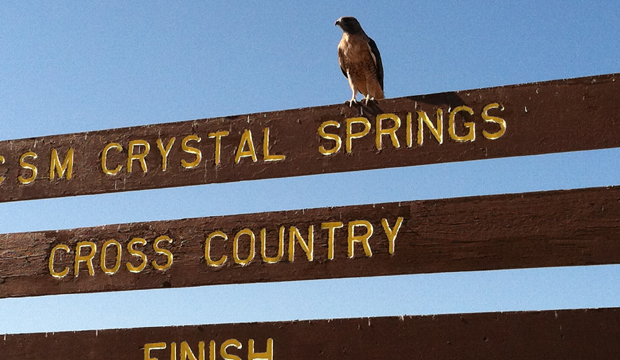 Tackling the packed dirt, loose gravel, and rolling hills (both up and down), I'm able to run in the Sensei at normal trail running pace and fast downhills (sprinting) – I like running downhill fast rather than slowing down in order to prevent shin splints afterwards. The Sensei performed just as well as other lightweight trail shoes out in the market – seriously. This is at least 2X better than the first generation TRUE Tour that I ran in 2 years ago. The TRUE Tour were more like a gateway or transitioning shoe – the TRUE Sensei is more of a trail running shoe in my opinion.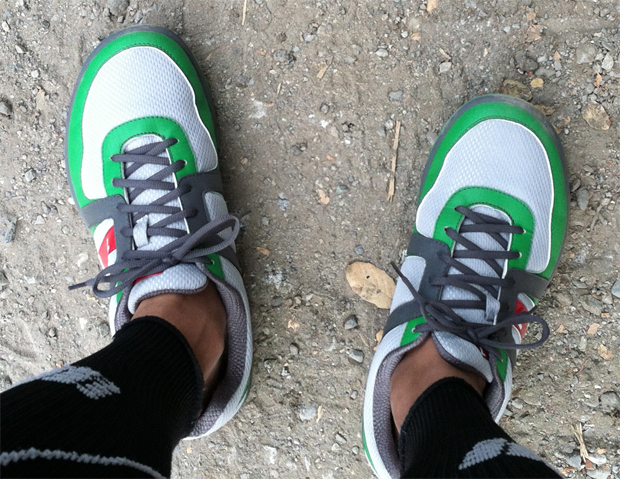 I ran sockless with all my running shoes including the TRUE Sensei. No hot spots or blisters. There was one run where I tied the shoe laces too much and ended up with a blister – I wanted to really race in this shoe! Honestly, this shoe is comparable to the Merrell Mix Master 2 and better than a lot of other non-zero drop trail shoes for non-technical trails. Without a rock plate, this is not meant for gnarly trails. Maybe I can slip in the removable rock plate from my Altra Superior in the future…
I prefer a road shoe for asphalt but for distances less than 10K, I'm good with the Sensei. For trails, I'm comfortable with longer distances. For those of you a lot younger than me, like Rob, running marathons or 50K or 100K ultra distances with the Sensei is fine – your legs and body can take it. I have too much impact on my knees from long jumps and triple jumps…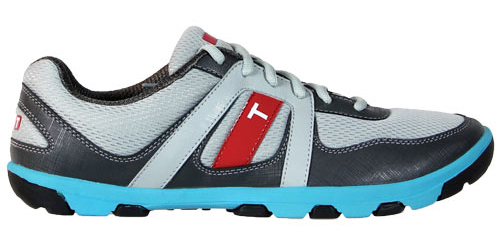 Of course the shoe could be lighter by a few ounces but this is a hybrid golf shoe for running, golfing, walking and just about anything else you can think of. One shoe for everything! Come late-2013, this will take on the next generation barefoot platform and it will even outperform and replace a lot of lightweight trail and road running shoes out there…
Finally, Rob put the TRUE Sensei through its final test on Sunday, October 7th, when he ran the Portland Marathon. He finished in an awesome 3:48 for his first marathon! He also had the best advice from our friend, coach, colleague, and mentor, Dr. Mark Cucuzzella, Dr. Phil Maffetone, and Bill Katovsky, and the Natural Running Center.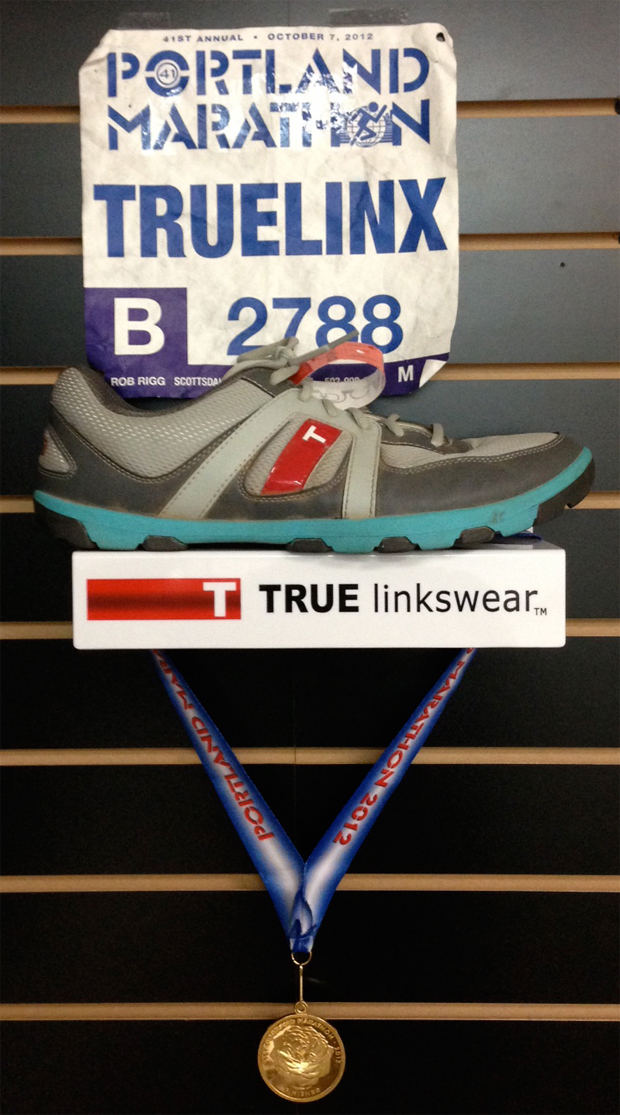 And he will be running again in his TRUE Sensei (Hurricane Sandy weather permitting) at the New York City Marathon this weekend. These TRUE Linkswear minimalist barefoot-golf shoes have come a long way since I ran a few 5Ks in the TRUE Tour over two years ago…
The TRUE Linkswear Sensei is available at: TRUE Linkswear and Golfsmith.
*Product provided by TRUE Linkswear (MSRP $99). CMP.LY/1 Review
If you have a product you'd like reviewed, contact me at info@weartested.org