We have been long time fans of Merino wool performance apparel and have wear tested running apparel from Ashmei, Smart Wool, and Icebreaker in the past two years. This time around, we take a look at the latest collection from Smart Wool, specifically the PhD Run Collection with the men's Run Divide Jacket & Run 3/4 Tight, and the women's Run Divide Jacket & Run Tight.
PhD Run Divide Jackets
Nothing cools your core like piercing wind. Keep the cold out and the run going with the PhD Run Divide jacket. Windproof panels and draft flaps make you comfortable where it counts most.

Made with 39% Merino Wool, 45% Nylon, and 16% Elastane, the Run Divide jacket is semi-form fitting with a windproof front and arm panels for increased protection. There is a center front zipper with a full draft flap and chin guard and secured zip chest pocket with media cord routing. And 360° reflectivity for increased visibility. On the women's version, there are engineered thumbholes with integrated flip mitt.

PhD Run Tights
Smart fitting, moisture management and versatile length equals the PhD run tights. With Merino against your skin to warm & wick, and stretch nylon against the elements. And 360° reflectivity for increased visibility.

Made with 24% Merino Wool, 56% Nylon, and 20% Elastane, the Run Tight is form fitting, has a mid rise waistline. For men, there is a secure back zip pocket and an adjustable draw cord at the waist. For women, there is a wide waistband and crotch gusset for comfort and flattering fit. There is also a continuous loop draw cord at the waist.
So how did the new Smart Wool collection perform?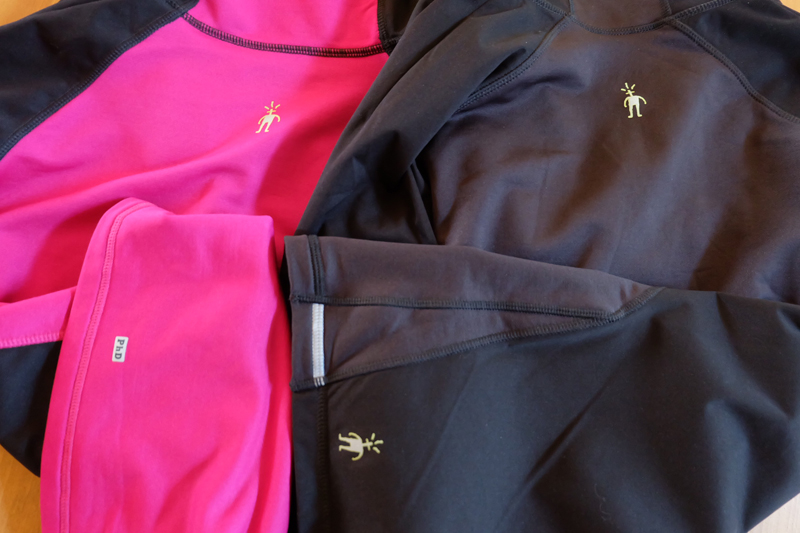 My female wear tester and I wore the Smart Wool Run Collection in the summer weather – it kept us cool on hot runs just as Merino wool is supposed to as a natural coolant. But that did not do full justice until a week ago when the weather cooled down significantly and very windy on most evenings. Wearing full Smart Wool outfits (jacket, base layer, tight) for running and only the Run Divide jacket with casual clothes for long evening walks with my dogs, I was able to wear test for different situations and weather conditions. It certainly kept us warm against the strong winds of the Bay Area and cold early morning runs. Our core were never too cold, just my hands and ears that are exposed – the women's Run Divide jacket has the built-in mitt which I wished the men's version had.

The Run Divide Jacket black colorway can also function as a casual jacket in cool weather. I have worn the jacket on cold evening walks and sometimes to lunch with my business casual outfits including jeans. It provided the warmth and comfort I needed that is found only with Merino wool performance apparel.
I usually wear running shorts with calf sleeves even in cold weather. The Run 3/4 Tight is an alternative to a full Run Tight but did not work as well for me as my calf sleeves is partially visible making the outfit slightly odd looking. With a full run tight, the calf sleeves are hidden. But I did find a place for the 3/4 tight – speed work without calf sleeves. The Run 3/4 Tight is really form fitting, light, and comfortable that it feels like you're naked! And you can fly with minimal wind resistance. My female wear tester however preferred the Run Capri over the Run Tight mainly because it has a secure back zip pocket. But otherwise they both performed similarly for her except when she had to carry her keys or driver's license with her on a trail run.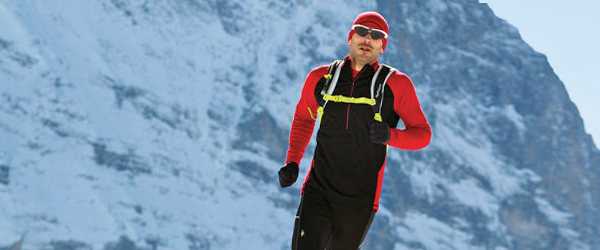 With the moisture wicking property of Merino wool and temperature regulation as a result, Smart Wool Run Collection allows you to maximize your performance injury-free. Bring on the cold!
The latest Smart Wool Run Collection is now available for purchase at REI and Zappos.
*Product provided by Smart Wool. CMP.LY/1 Review
If you have a product you'd like reviewed, contact me at info@weartested.org