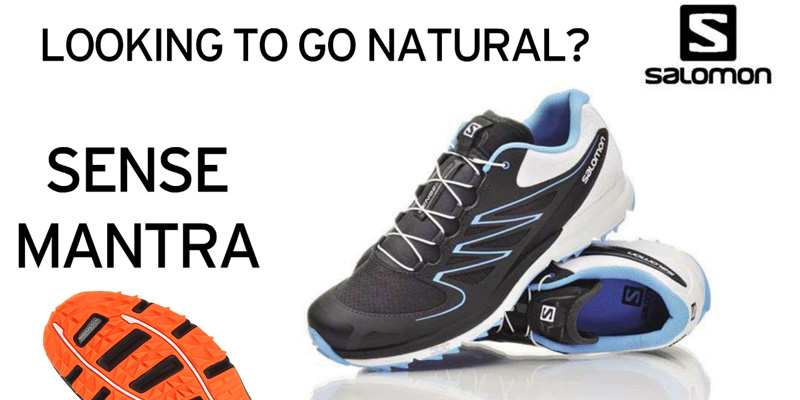 The new Salomon Sense Mantra is a lightweight training shoe for midfoot strikers who want natural motion, protection and neutral cushioning for high mileage training. We reviewed the Salomon S-Lab Sense last year, a shoe that is designed specifically for ultra-runner Kilian Jornet. Our review of the follow-up, the Salomon S-Lab Sense Ultra, will be out soon. Born from the Western States 100 winning S-Lab Sense, the Sense Mantra provides just enough added cushioning, durability, and protection to make it your everyday trainer.

A breathable mesh upper with lightweight synthetic overlays, it has a second skin seamless design to help reduce irritation, especially when running sockless. A seamless SENSIFIT wraps the foot for a secure fit and feel. A quick lace system  is standard for speedy adjustments with a built-in lace pocket in the plush tongue. It also has a padded heel collar.
A stretchy TPU band (OS Tendon) placed between the midsole and outsole helps guide the foot through the entire foot strike, promoting an even ride and springy toe-off. The molded foam insole provide light underfoot cushioning.

The non-marking CONTAGRIP outsole offers the perfect blend of reliable grip and durability over varied surfaces.
The Sense Mantra extends the PROFEEL protection all the way to the heel area (the S-Lab Sense Ultra extends only to the midfoot area). The PROFEEL film is a lightweight layer built into the top of the midsole to provide protection from the trail. With that kind of protection, Salomon must also have heel strikers in mind…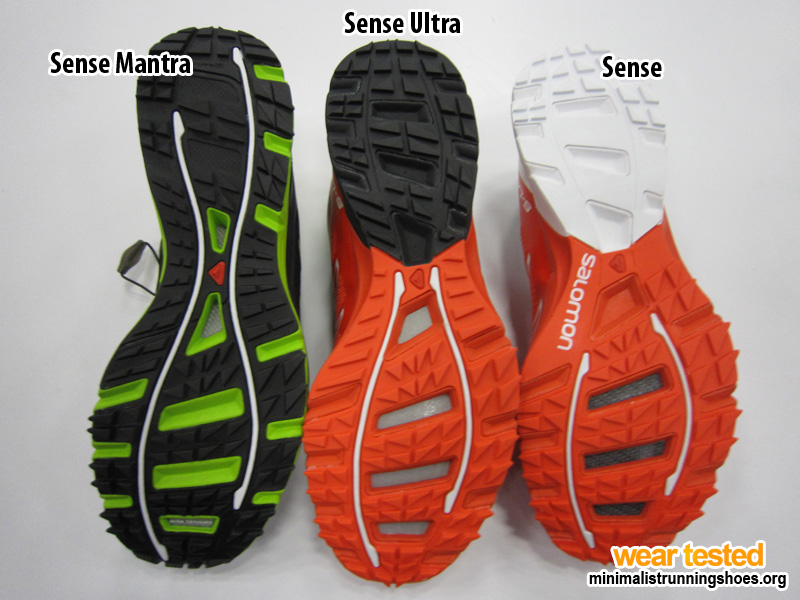 So did the Salomon Sense Mantra perform to expectations?
My pair of Salmon Sense Mantra (US Men's Size 10.5) weighs in at 10.4 ounces and has a 6mm drop. Heel stack height is 21mm and forefoot stack height is 15mm so there is sufficient cushioning for those looking for a lightweight cushioned running shoe from door to trail. The toe box is a little wider than the original Salomon S-Lab Sense even though it is built on a racing last. Running sockless, I have no hot spots or blisters! Because of the wider toe box, I like this shoe more than the original Salomon S-Lab Sense. I would like it a lot more if the weight is about 8 ounces, stack height about 5mm lower, and zero drop…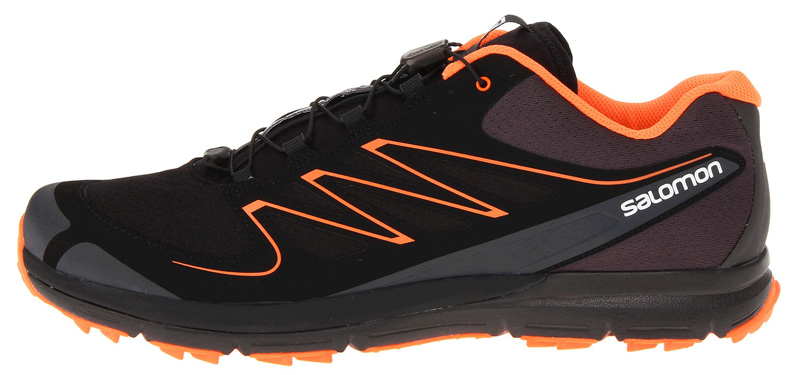 I am not a fan of the quick lacing system though – it is easy to tighten but not so easy to release. I guess it is more important to stay laced when running but I would also prefer to be able to get out of my shoes quickly.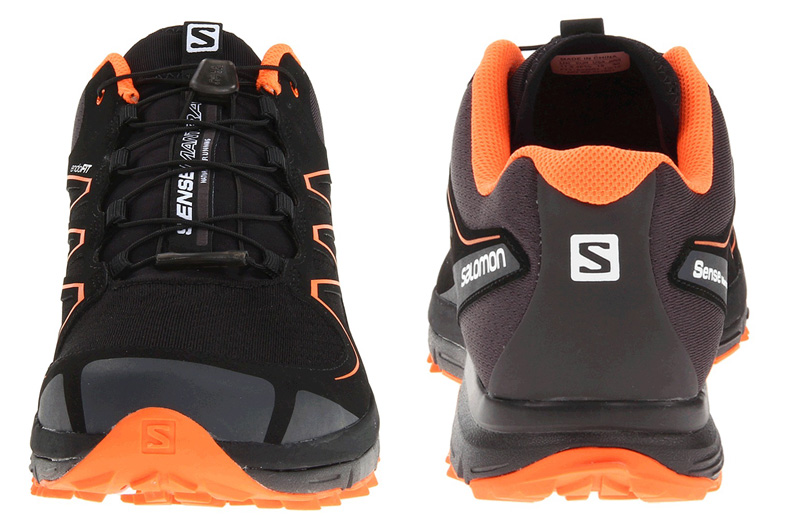 The outsole is a little stiff for my taste – less ground feel than I like. But it has great protection from the sharp rocks and pebbles even on non-technical trails. I don't like getting bruised when landing on small pebbles or sharp gravel so I don't mind rotating the Sense Mantra into my trail running selection…

This is a great transitioning shoe for those getting into minimal road and trail shoes – it has solid protection and built with quality materials in an affordable package. If you have been eyeing the Salomon S-Lab Sense from last year and the price scared you, the Sense Mantra is only $120 (MSRP) compared to the $200 (MSRP) S-Lab Sense or $180 (MSRP) S-Lab Sense Ultra.
The Salomon Sense Mantra is available in two colorways for men:
And two colorways for women:
The Salomon Sense Mantra is available for online purchase at: Zappos, Road Runner Sports, OnlineShoes.com
*Product provided by Salomon. CMP.LY/1 Review
If you have a product you'd like reviewed, contact me at info@weartested.org