Running Socks Review – Injinji, New Balance, Vital Sox, Wigwam, Nike
It's getting cold even in the West Coast. I run sockless as much as I can but runners in the Midwest and East Coast are already fighting the bitter cold to running in snow and rain. Liners in your minimal shoes help in addition to a good pair of performance running socks.
Standard on most performance socks are seamless toe closure, foot hugging fits, lightweight, breathable, moisture control, and odor defense. And almost all socks are made out of some combination of polyester, Lycra, and nylon.
My testing procedure is to wear each pair of socks in a daily rotation for about a month with at least two washings a week. The wear and tear especially in the warmth, comfort, and elasticity will be closely examined.
What kind of running socks would work with your minimal shoes?
For Vibram Five Fingers (VFF), there is only one choice: Injinji. For non-toe shoes, we will cover New Balance, Vital Sox, Wigwam, and Nike. Of course Injinji toe socks can also be worn with non-toe shoes.
Injinji Performance Micro, Performance Liner, Outdoor Trail
I wear my Injinji Performance Micro with my VFF KSO in cold and wet conditions. It is really snug with my KSO but might not work for some of you. You might want to own another pair of VFF that is the next size up so you can wear heavier socks with them.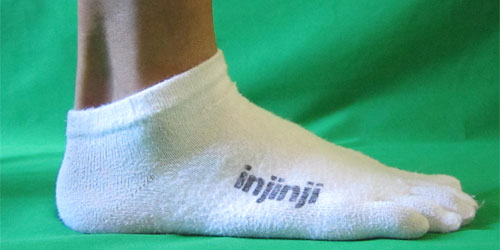 Or go with the Injinji Performance Liner if you want to stick with just one size of VFF.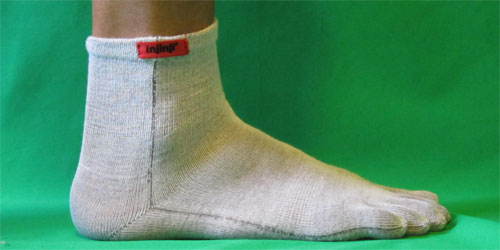 The Injinji Performance Micro comes with CoolMax moisture wicking fiber blended with durable nylon and Lycra to create an anti-friction membrane that is light and breathable. The sock is seamless and allows true natural movement of your toes. Allows circulation and eliminates skin on skin contact between your toes to prevent blisters – common in runners starting out with VFF toe shoes. I used to tape my toes before I discovered toe socks!
I've also tested the new Injinji Outdoor Trail toe sock. It is made with moisture wicking merino wool, NuWool, which adjusts to the temperature – keeps your feet warm in cold weather and cool in hot weather. This morning, I ran in the cold and wet weather with my VFF KSO in a pair of Outdoor Trail toe socks and it performed better than the Performance Micro! Maybe all I need is a single pair all year round.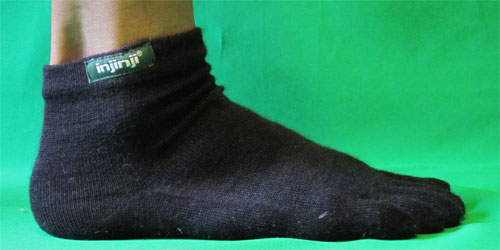 MSRP: $12 (Performance Micro – CoolMax, Lycra, Nylon), $10 (Performance Liner – CoolMax, Lycra, Nylon), $16 (Outdoor Trail – NuWool, Nylon, Lycra)
New Balance Technical Elite NBX
This is an interesting sock offering from New Balance that is designed for elite runners (not me!). It has a left/right anatomical fit – it matches the contour of your feet. It features a stability fit with increased elastic in the arch area thus maintaining a snug fit and minimizes sock movement in the shoe. Standard is the CoCoNa moisture and odor management fabric – quick drying polyester and made from recycled coconut shells. Finally, it has a seamless toe thus providing toe box comfort.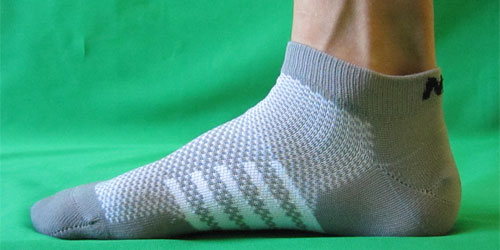 MSRP: $12 (Technical Elite NBX – Polyester, Nylon, Spandex)
Vital Sox VT0210 Ankle Lightweight
Vital Sox running socks are form-fitting and has moisture management that shield your feet from the damaging effects of impact, sheer, and blistering.
The engineered elasticized arch support and ankle brace with a pique knit ensured a wrinkle free snug fit. The ultra thin toe seam construction and wicking capabilities provided the protection needed for blisters and heat friction. Made in Italy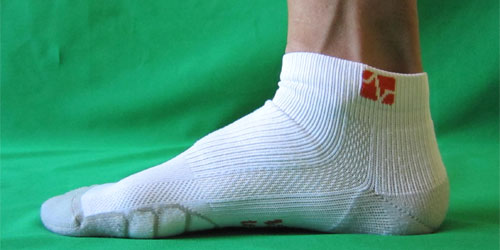 MSRP: $15 (VT0210 Ankle Lightweight – Drystat, Nylon, Spandex)
Wigwam Ironman Lightning Pro Low Cut
Wigwam's offering is a lightweight and breathable sock with their Dry Release moisture control system. There is also a heel tab that reduces slippage. Just like other performance socks, the Ironman Lightning Pro has the same standard features.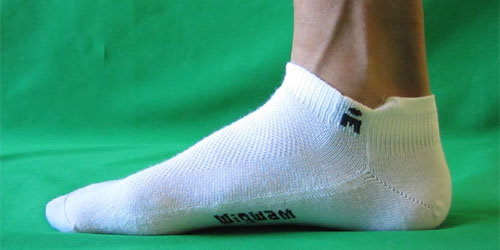 A unique feature of Wigwam socks is that they are made in the USA and it also has a 2-year comfort guarantee – if you are not satisfied with your socks, they will replace them for up to two years from the date of purchase!
MSRP: $8 (Ironman Lightning Pro – Polyester, Nylon, Spandex)
Nike Running Lightweight Low Cut
Nike's Blister Prevention Technology (BPT) is designed to help reduce the likelihood of hot spots and blisters. It has a Left and Right anatomical enhanced fit. With a ventilated mesh to help your feet stay cool and dry and combined with Dri-Fit, this is more of a summer running sock.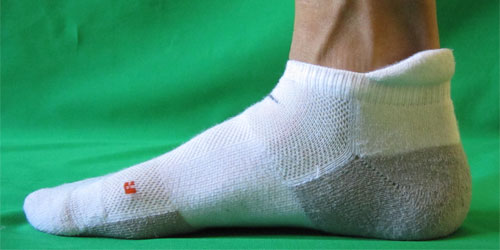 I was disappointed with this sock from Nike. It lost its elasticity after about 3 weeks of wash and wear. It has a wrinkled fit that is uncomfortable and annoying.
MSRP: $8 (Lightweight Low Cut)
All four socks discussed earlier are performance running shoes. None of them are compression socks. Compression socks will be covered in a separate review later.
Which socks would I recommend?
As for my experiences with these socks, here's what my recommendations are. For running with toe shoes like Vibram Five Fingers (VFF), the Injinji line is the only way to go. They also make split-toe socks so you can wear socks with split-toe ZEMs, flip-flop, or sandals. I have worn Injinji performance socks for more than year with my VFF KSO and very happy with it!
For any other minimalist running shoes, I highly recommend the New Balance Technical Elite NBX as a non-toe sock alternative. I've been rotating these socks over the past three weeks and the one that is still keeping its true form and functioning as expected for my winter running is the New Balance – no blisters, warm, moisture wicking, foot hugging.
Ultimately, if you are living the minimalist runner lifestyle, you have to wear only toe socks with your minimal shoes – splay your toes to cushion and balance. For the Injinji line of performance toe socks, their patented Anatomical Interface System (AIS) technology with the anatomical 5 toe design, arch support, vector heel, and dual welt band, is simply a no brainer – no slipping, no blisters, no chafing, and better stability. You cannot get that from any other sock. Period.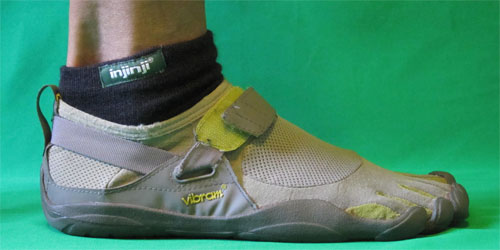 The Injinji toe socks also make a great holiday stocking stuffer!
Next up, performance compression socks. A few more weeks of testing required so hang in there.
http://www.injinji.com
http://www.newbalance.com
http://www.nike.com
http://www.vitalsox.com
http://www.wigwam.com
If you have a product you'd like reviewed, contact me at info@weartested.org