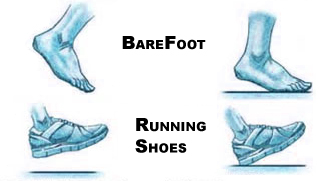 Here's a collection of articles related to the pros and cons of minimalist running shoes and barefoot running.
---
The Year Of The Minimalist Shoes – 2011
Are You Ready For Them?
2011 will be the year of living minimalistic. Do you know what companies have the most innovative technologies? And who are the most influential players?
---
What Is The Minimalist Running Lifestyle?
Embrace the change
Do you live a minimalist running lifestyle? What kind of casual or fitness or dress shoes do you wear besides your running shoes? Are they zero drop? Will you embrace a lifestyle change?
---
My Story
Why did I get started with running in minimalist shoes?
After over 20 years of running with traditional running shoes, the heel-to-toe form has taken its toll. With lower back pains, plantar fasciitis, and bruised toes, I stopped running.
---
Transitioning To Minimalist Running Shoes
How do you go about transitioning from heel striking running shoes to minimalist shoes natural running?
My personal experience is with the Vibram Five Fingers KSO and its thin and flexible soles.
---
Lighter Is Better
Lightweight trainers mean less impact, less fatigue and faster recovery
Wearing lightweight shoes and running with soft footsteps can be very beneficial for a runner of any ability or experience level.
If you have good form with a natural running (midfoot/forefoot) gait and you wear lightweight shoes, running can put you in a state of euphoric bliss as you effortlessly click off the miles. Everything flows together harmoniously and efficiently, no matter if you're running a minute or a marathon.
---
Natural Running: Optimal Running Form
Run barefoot to discover your optimal running form
You'll discover immediately that when you run barefoot, you're not landing on your heels. Instead you are landing on your midfoot/forefoot.
Landing on your midfoot/forefoot is the most natural way to run. It is also the fastest and most efficient way to run. Newton Running shoes are the only shoes that were developed specifically for Natural Running.
---