2011 – The Year Of Minimalist Shoes
The footwear industry is changing dramatically in the next 12 months because consumers are demanding lighter and different running shoes to help them prevent injuries and develop better running form. Running shoes with wider toebox, lightweight, close to zero heel to forefoot drop, and flexible will become the norm.
Runners are starting to understand more about running biomechanics and with more education from footwear manufacturers and fellow runners, the running shoe selection in 2011 will be stunning.
Coming this fall and next spring, the floodgates will open with new minimalist shoe designs from every major running shoe manufacturer. While some manufacturers are just tweaking their existing line, shoe designers from start-ups and well-established brands like New Balance are not stripping as much as they can out of a shoe but building and delivering something closer to a barefoot experience.
The Six Pack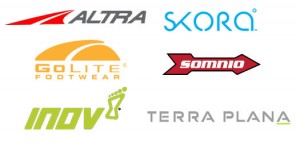 I believe there are six small innovative companies that are driving the running market space in terms of technological advances and innovative products that we have not seen since the invention of running shoes. They are (alphabetically):
Altra Running
GoLite Footwear
Inov-8
Skora Running
Somnio Running
Terra Plana Vivobarefoot
Altra Running mission is "to bring proper running technique to the masses" by providing zero drop footwear that will allow everyone, from hardcore runners to beginners, to run with proper form. They want to make running easier, fun, and less injurious. And their vast assortment of performance zero drop shoes for road running and trail running certainly put in the right track to fulfill its mission.
GoLite Footwear is a division of New England Footwear. Their proprietary "Soft Against The Ground" (SATG) technology effectively turns traditional shoe construction upside down to provide greater stability and traction, while enhancing overall protection and performance. Their latest BareTech platform combines SATG with a completely neutral last so that the heel is on the same plane as the metatarsal – zero drop.
Inov-8 is a British company that's passionate about specialist off-road running and extreme sports products. But they have taken an alternative approach by creating a range of shoes that offer a gradual transition towards a more natural running style that requires less cushioning but reducing injuries and improving performance.
Skora Running is a small startup made up of passionate barefoot runners and experienced business folks who are students of running form. They are creating products of uncompromising quality, sustainability and performance – new shoes, new perspective, and unlimited possibilities.
Somnio Running philosophy is that shoes should adapt to the individual and improve biomechanics. They have been offering customizable footwear in the heel strike and ball of the foot area thus allowing runners in bulky and heavy motion control shoes to run in lightweight racing flats or trainers. And their NADA midsole coming Spring 2011 will take it to another level – customizable footwear, the wave of the future. Danny Orr from Somnio calls it 'Responsible Minimalist Running.'
Terra Plana Vivobarefoot is probably one of the earliest manufacturers to come out with minimalist shoe collection (walking and dress shoes) in Winter 2004. Made out of recycled, locally sourced materials, with efficient and eco-friendly production techniques, their new line of shoes is designed to be the ultimate minimalist running shoe on the market.
I expect all of them to be making only zero drop minimalist running shoes by Summer 2011.
Finally, here's my list of the twelve most influential footwear manufacturers in minimalist running shoes for the next 6 to 12 months.
Altra Running
ECCO BIOM
GoLite Footwear
Inov-8
Merrell
New Balance
Newton Running
Skora Running
Somnio Running
Terra Plana Vivobarefoot
Vibram
ZEMgear