I don't usually run in sandals or huaraches because of the cold weather. But since it started warming up, I've decided to test the Run Branca running sandal during my barefoot running session (one day a week).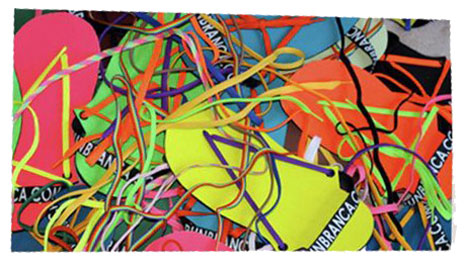 Of all the huaraches I've tested thus far, the Teva Zilch is the current favorite of mine. I've not heard of Run Branca before but Brant, one of the co-founders, convinced me to give it a try.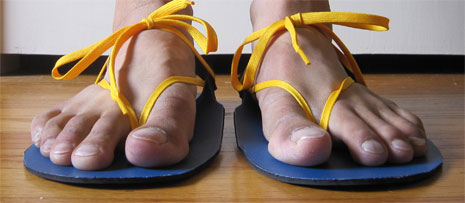 Ordering the Run Branca sandal is a three step process.
Choose a sole color
Choose a lace color
Choose your size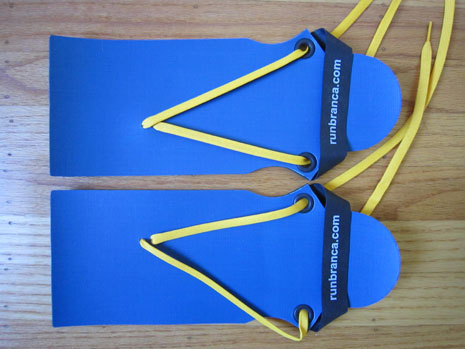 There are videos on the web site on how to measure for your size.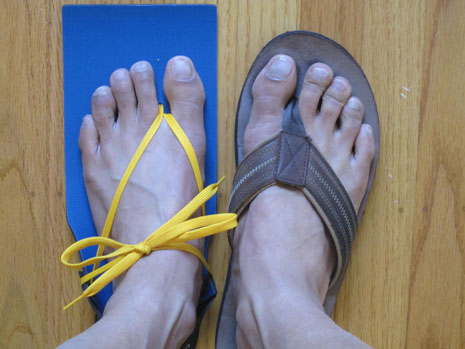 Once you get your sandal in the mail, you have one final step to customize it based on your foot shape.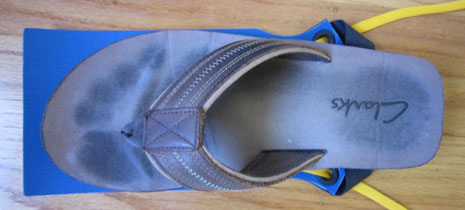 Again, there are videos on the web site to guide you. After you finish customizing the sandal, you're ready to take it out for a run. You can trim it down more over time for an even more customized fit.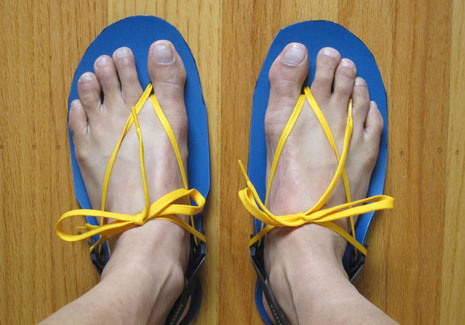 I took it out for two separate runs on different weeks and on different terrains. Unfortunately, both times turned out to be a problem for me. My first run is on a tartan track. The bottom on the outer side of BOTH my big toe (first metatarsal) starts to hurt immediately. I tried running in the Run Branca sandals for two laps around the track (half mile) and the pain under my big toe is getting unbearable – like I stepped on a small rock barefoot. I also started noticing that the knot under the sandal is bothering me – just an annoyance. But I liked the simple lacing system and especially the heel strap. Then I decided to take them off and started running barefoot for the next 3 miles. No problem.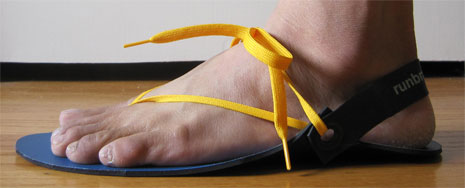 Maybe it's just a bad day. So I took it out again last week but this time on asphalt and I brought my Teva Zilch to compare. Same exact problem – pain under big toe and the knot under the sandal is even more pronounced. Put on my Teva Zilch – no problem. It's either the material the sole is made out of or just the design of the shoe that does not work for me. We are all individuals and if a shoe does not feel right, it's probably not for you. Just as the Teva Zilch works for me, it did not work for many. I'm not risking any injury as I have lots more shoes to test!

The Run Branca running sandal weighs in at 6.8 ounces and the sole is 3mm thick.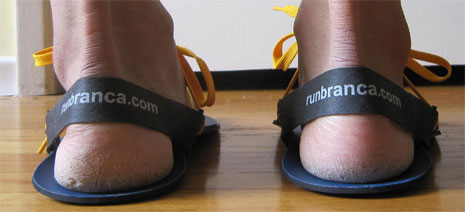 Even though it did not work for me, there are many features I like about the Run Branca running sandal.
Super-wide toe area to accommodate wide feet and allowing your toes to splay apart naturally
Winged sole allows eyelets to be lifted off the ground so laces don't make any contact (or minimal contact) with the ground thus not wearing out easily
Easy lacing system like a traditional running shoe
Very comfortable elastic rubber heel strap
The Run Branca running sandal is now available at Run Branca for 50% OFF (limited time) – now only $30. If you have problems with other running sandals or huaraches, you might want to give Run Branca a try – it might just work out for you.
*Product provided by Run Branca (MSRP $60). CMP.LY/1 Review
If you have a product you'd like reviewed, contact me at info@weartested.org