Merrell Trail & Pace Glove Shoe Review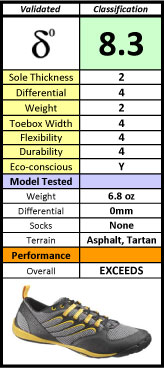 Merrell is the world's largest company in outdoor gear but is not known for making running shoes – yet. My whole family have been loyal Merrell fans for the past few years. When I read about Merrell and Vibram teaming up to create minimalist running shoes, I thought it was a match made in heaven.
The result is the Merrell Barefoot Collection of running shoes that will be available in mid-February at retailers (brick-and-mortar and online). Prices will range from $90 to $120 – a lot cheaper than most other minimalist running shoes currently available in the market and in the near future.
I have previously owned a pair of Merrell Saugatuck sandals which has a Vibram outsole and I thought it was one of the best sandals I have owned. Before that, I had a pair of Keen Newport.

And Merrell indeed delivered a home run with the Trail Glove. I've yet to wear test the True Glove and Tough Glove but I expect a similar experience with them as I did with the Trail Glove.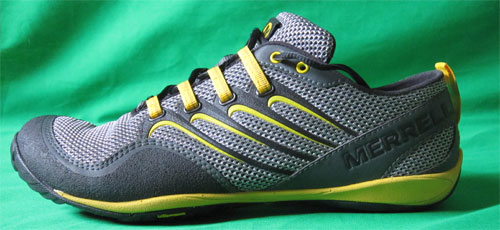 Now that I have put a few hundred miles on the Trail Glove on tartan track, asphalt, concrete, and trails, I can honestly say that this is the best running shoe (both road and trail running) that I have ever tested – the Altra Adam is a close second for road running and the New Balance Minimus Trail comes in at a distant second for trail running.  Read on to see why.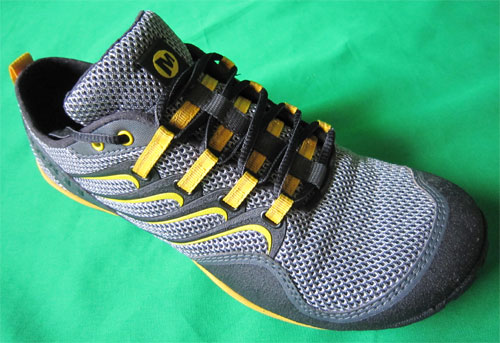 Merrell Barefoot Technology
Starting from the uppers, the Trail Glove has a thin leather heel counter and tongue lining. It utilizes the Omni-Fit lacing system which provides a precise and secure fit. A welded TPU overlay provides reinforcement to the lacing system and upper protection. The uppers are made of synthetic leather and a highly breathable air mesh. There is a rubber toe bumper in the forefoot to provide durability. The synthetic leather rear foot sling provides stability to the foot.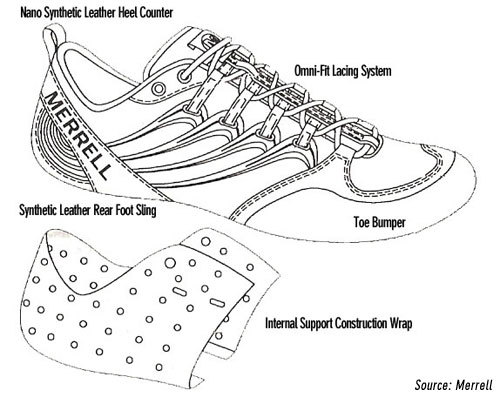 An internal support construction wrap (think Altra Adam snug fit and hold) secures the midfoot for a perfect fit and support.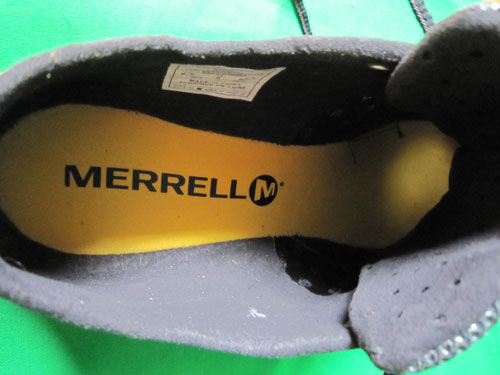 Moving on to the soles, a non-removable microfiber footbed treated with Aegis antimicrobial solution is attached to the 4mm compression molded EVA midsole. There is a thin (1mm) forefoot shock absorption plate that helps to distribute pressure, protects the foot, and also maintaining flexibility. The outsole itself is a Vibram rubber compound TC-1 Trail Glove sole that provides traction in varying conditions. From your foot to the ground, it's less than 10mm!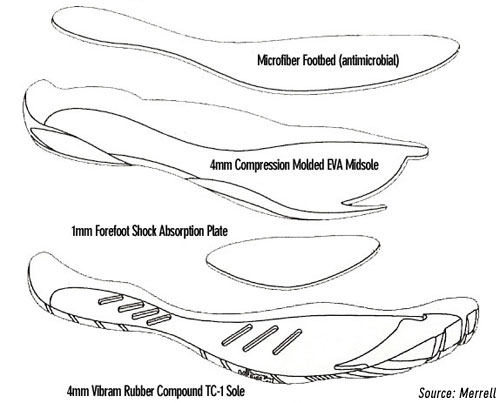 Technically, it's may be a -1mm drop shoe because of the forefoot shock absorption plate but it may be accounted for in the heel. Some of you may notice a slight toe spring from the photos but because it is so flexible in the forefoot, it did not impact my running form other than making me want to run faster with a sprinter form.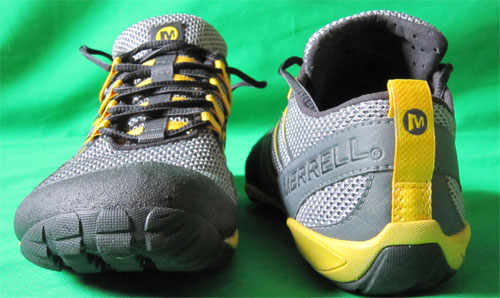 Note that the same technology as described is used on all the Merrell Barefoot Collection line of shoes.
Merrell Trail Glove Versus NB Minimus Trail and Altra Adam
My pet peeve is the toe box. I don't like getting blisters when my toes splay and I always run sockless. If the toe box is too narrow, it's a no go for me. Since I transitioned to minimalist shoes (took over 9 months), I can safely say that my feet has gone wider.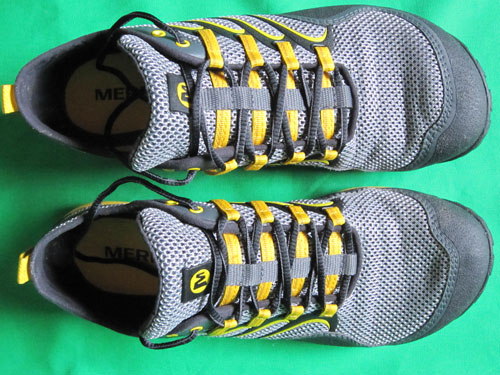 Merrell Trail Glove versus New Balance Minimus Trail
I had to size up by a half size on the Minimus Trail because of my wide feet. Comparing the shape and toe box of the two shoes, you can see that the Trail Glove looks narrow but it is not as curved as the Minimus Trail.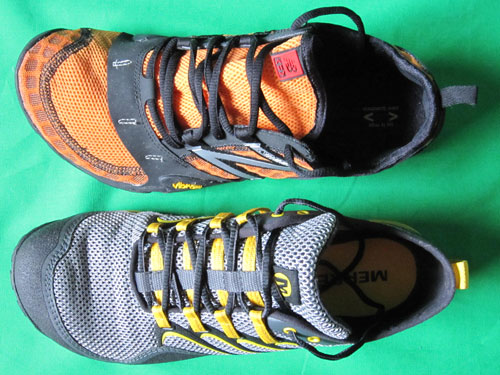 The stack height (insert, midsole, outsole, lining) of the Minimus Trail is taller than the Trail Glove. With the Trail Glove, you'll feel closer to the ground and all the little bumps on the roads and trails.
Merrell Trail Glove versus Altra Adam
Before the Trail Glove arrived, the Altra Adam has the widest toe box of all the minimalist running shoes I have tested.
Depending on the angle of the picture taken, the forefoot of the Trail Glove sometimes look curved like that on the Minimus Trail. But the toe box width matches that of the Altra Adam.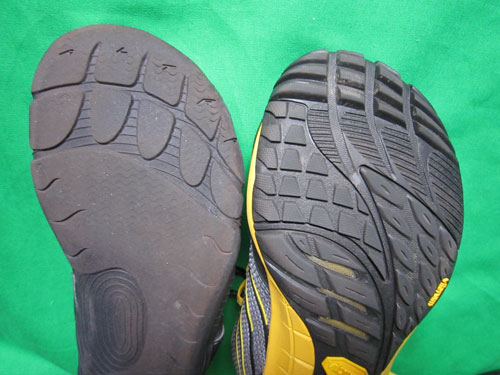 The Trail Glove has the same snug fit on the heel as that of the Altra Adam. These are the only two shoes that has that unique feature – I never feel like I'm sliding towards the front of the shoe like I did on a lot of other shoes.
Observations
Besides being of high quality construction (expected of Merrell footwear) and a great looking design, the Trail Glove delivered beyond my expectations!
The great fit and wide toe box allowed my toe to splay to the max without any chaffing or blisters on my toes – only the Altra Adam came close to matching this. However, with the Altra Adam, the fixed uppers (lace less) can be a problem if I wear compression socks instead of compress sleeves – the top of my foot can get a little chaffing. With the Trail Glove, this is not an issue at all. Maybe the Altra Samson (the Adam model with laces) will change that.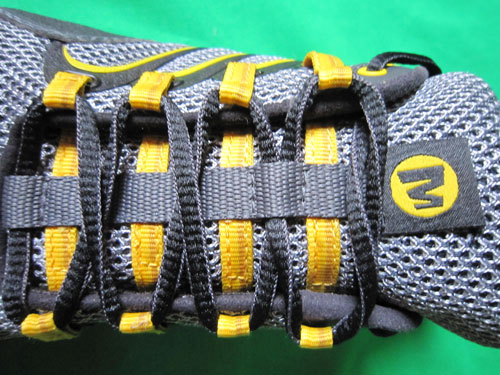 Another pet peeve of mine is the lacing system – materials used for laces and whether it loosen during the run. The protective polyurethane welded overlay provides reinforcement to the lacing system. The laces are made of first class materials and the Omni-Fit lacing system provides a secure adjustable hold, while allowing the forefoot to flex. You don't have to tighten them like I had to on other minimal shoes, like Minimus Road, to prevent my foot from sliding to the front and toes jamming it. Won't need BOA lacing system here!
For walking, this is also the perfect shoe. I walk every night with my dogs from 2 to 3 miles. Compared to other minimalist shoes, the lack of cushioning never came into play with the Trail Glove. My heel does not hurt as they do with the Altra Adam or VFF KSO when I heel strike while walking.
The only negative I have is that the Trail Glove is so form-fitting for my foot that I tend to land more on my forefoot than midfoot. It feels like a real extension of my foot because it is so snug (fits like a glove) and light. This sometimes put more pressure on my arch and my running form is closer to a sprinter than a long distance runner. For my speed work, this is great. But for long runs, my left arch ache a little – sometimes.
Runners who have not transitioned to minimalist running shoes or does not have strong arches or good running form yet might experience some ache and pains with their arches and calves – the Trail Glove will strengthen your feet and better your running form. But it will take time if you are not ready – don't rush it even though you are tempted to like I did when I first starting running with the VFF KSO almost 2 years ago.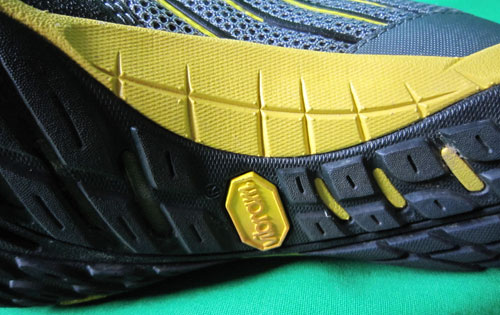 A lot of VFF wearers will also like the Trail Glove. I certainly did. I thought I'll never find a shoe to replace my VFF KSO but the Altra Adam did that a month ago. Now it's the Trail Glove's turn. You will splay your toes more with the Trail Glove than VFF – what a different feeling! For those concerned about the dreaded Vibram stink, I did NOT have this problem (or on the Minimus Trail) and I always run sockless.
Merrell Pace Glove
The Pace Glove, which is the equivalent of the Trail Glove, is designed specifically for women, by women.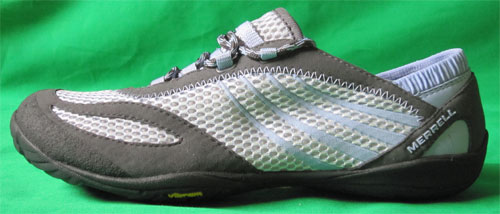 It is made of the same materials and technology as the Trail Glove but with a last built for a women's feet – narrower heel, longer arch, different metatarsals positioning.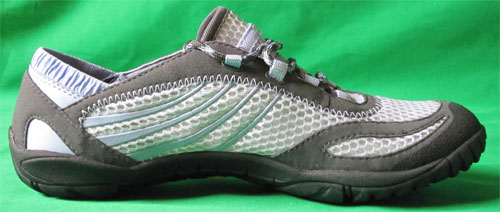 Two major differences  in the heel area. Designed for a women's foot, the heel is significantly narrower. The heel tab has an additional stretchable and elastic band on the top. Other than that, they are identical but with different color ways.

Going Forward
Merrell has made a big statement with the launch of their Barefoot Collection. There is no question in my mind that they will be a major player in both road and trail running. And it will only get better.
Coming in Fall 2011, there will be additional color ways. They will also be launching some new models.  Stay tuned.
Merrell has also created a microsite, merrell.com/barefoot, the go-to resource on how to begin and train for barefoot running and adventure. As I have written in my book, education is the most important issue for runners transitioning from traditional running shoes to minimalist running shoes. Do it right and don't get hurt. Enjoy running naturally with the Merrell Barefoot Collection!
*Product provided by Merrell (MSRP $110).
If you have a product you'd like reviewed, contact me at info@weartested.org