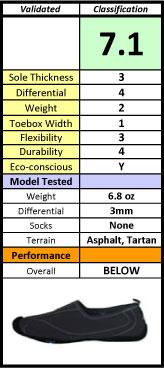 Ever since I've read about how kigo Footwear was started and how eco-conscious the company is, I've been looking forward to a great adventure-inspired running shoe from the company. However, I was slightly disappointed with their latest eco-friendly minimalist running shoe, the Edge.
The kigo story begins in 2006, on a day when retired teacher Jan Kuramoto wanted to finish a day on the mountain with après ski. Having only her ski boots to wear on her tired feet, she decided to skip the fun with friends and head home. Alas, the idea for kigo was born.
At kigo, they strive to create a positive footprint in three key ways – avoid, reduce and replace. kigo avoid excess damage to the environment by maintaining a totally virtual company; they reduce by reusing lasts in the manufacturing process and ship all products from the manufacturer bound only with a small band, rather than bagging each pair; they replace by using post-consumer materials, including liners and uppers, which are crafted from recycled milk jugs.

When my kigo Edge arrived, I immediately put it on so I can 'break' it in by wearing it around the house and walking my dogs in them. I noticed that the shoe has a narrow toebox but I figure the fabric will stretch after wearing it for a few minutes. After half an hour, my toes started getting numb because they were squished together and it needs to spread out naturally. It's been over a year since I've converted to the minimalist lifestyle and the narrow toebox is making me go backwards. I only wear zero drop dress shoes, open toe sandals and flip-flops, and minimalist running shoes with a wide toebox.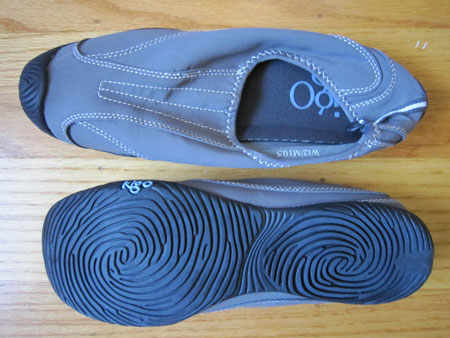 Well, I decided to give it another chance by running on my local track. Unfortunately, the higher than desired toe spring and narrow toebox made it impossible for me to run naturally for more than a mile. My feet started to hurt because I cannot splay my toes and my running form is not natural and changed. On the positive side, the shoe is very light and the outsole is very comfortable and I can feel the ground – even more if my toes were able to spread out rather than squished.
Comparing the kigo to the Vivobarefoot Evo II, you can see the major differences in the toebox area. My toes never feel constrained in my Evo II.

Compare the kigo toebox to the natural resting position of my toes. It requires them to be closely touching each others in order to fit the shoe.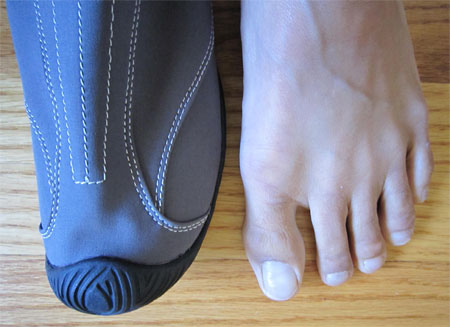 The length of the shoe fits fine and the Edge is one size up (10.5) from my normal shoe size (9 to 9.5).
Two things kigo can do to make this an awesome minimal running shoe: widen the toebox (width and height), and lower the toe spring. The heel to toe differential of 3mm did not affect my midfoot landing but they are coming out with a zero drop shoe in the near future. And I'll be ready to give it another whirl!
One other minor point is that the shoe is meant to be unisex but I feel it has more of a women's look to it – maybe it's just me…
*Product provided by kigo Footwear (MSRP $70).
If you have a product you'd like reviewed, contact me at info@weartested.org