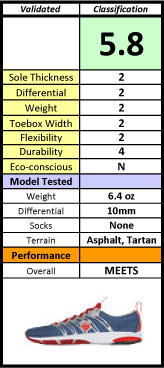 You will notice immediately that this is not the zero drop or low drop minimalist running shoes we normally review. The K-Swiss K-Ruuz is a lightweight racing flat. It weighs only 6.4 ounces and has a heel thickness of 19mm and forefoot thickness of 9mm – a 10mm heel to toe differential.
After talking to various product designers, marketing managers, and in-house runners at the recent Running Event, I was convinced that even with a non-zero drop lightweight racer, a runner that midfoot or forefoot strike won't feel much of a difference with a slight heel ramp. And they won't be tempted to heel strike.
Triathletes are usually early adopters of new shoe technologies and companies like K-Swiss, Zoot Sports, and Pearl-Izumi have studied triathletes inside out and designed racing shoes that are fine tuned for their competitive situations – going from biking to running. So I challenged a couple of these companies and decided to wear test their flagship lightweight neutral racing shoes to see how they fare for road runners embracing the barefoot-style of running.
First on the list is K-Swiss K-Ruuz. The K-Ruuz is a minimum feature, minimum support shoe designed for speed work and racing. It is built with a semi-curved shape. Midsole cushioning is from K-EVA, a blend of EVA engineered to enhance cushioning and durability of the midsole. The outsole utilizes an Aosta II rubber compound that provides durability from heel to toe.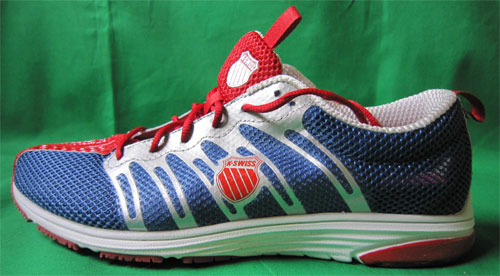 The open mesh covers the entire upper and allows moisture and heat to escape from within the shoe. K-Swiss Flow Cool technology is located at the heel and toe and are perforations in the synthetic material designed for moisture management. Drainage holes are located along the center of the midsole and are intended for water drainage.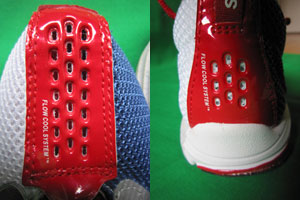 My first impression is that the toebox looks narrow. And I chose a pair that is the same size as my other minimalist shoes even though K-Swiss recommends buying a half size smaller. Since I have wider than normal feet, true to size is good for me. I actually took out the insoles and ran with the test pair sockless. I did two fast runs of about 3 miles each in them on a tartan track. I was pleasantly surprised!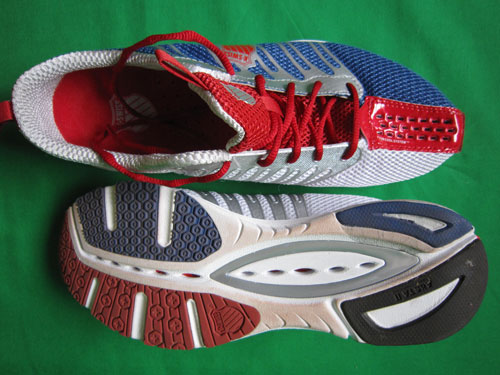 The mesh uppers stretches enough to accommodate my wider than normal feet thus allowing me to splay my toes naturally. I did not get any blisters or chaffing when running sockless and without the insole – it's as light as I can get it! The 10mm drop did not affect my running form at all! The 9mm forefoot thickness minimizes proprioception but fine for short distances. The shoe is stiff compared to other minimalist racing shoes like the Inov-8 Road-X 222 and Vivobarefoot Evo II. This is true of most racing flats. If you need extra cushioning while transitioning, go with a pair that is more flexible.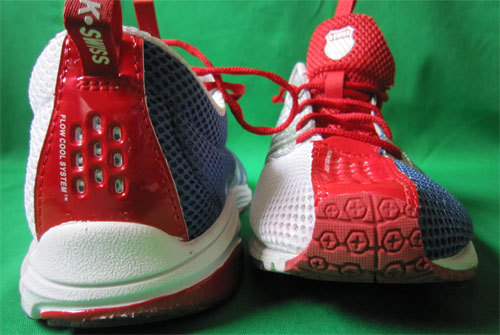 Here's what I believe is the situation. If you have a decent running form and is not a heel striker, an affordable bridging or transitioning shoe to barefoot-style running is a pair of lightweight racers. Once you feel comfortable with the racer, you can then transition to a pair of minimal shoes that has less cushioning and is zero drop. Take it slowly and tailor it to your own situation.
You will not heel strike if you are a pure midfoot/forefoot striker (even recently converted) with the 10mm differential because the shoe is comfortable and lightweight. I thought 4mm was the threshold but it seems like 10mm maybe the new threshold. The 4mm threshold might be true for those still transitioning from heel striking and you want as much help as possible to NOT heel strike.
I raise my hats off to these folks at K-Swiss! These racing flats, even though not branded as minimalist shoes, are the affordable alternatives for those looking to test the waters of minimalist running. And they are already available nationwide!
*Product provided by K-Swiss (MSRP $85).
If you have a product you'd like reviewed, contact me at info@weartested.org