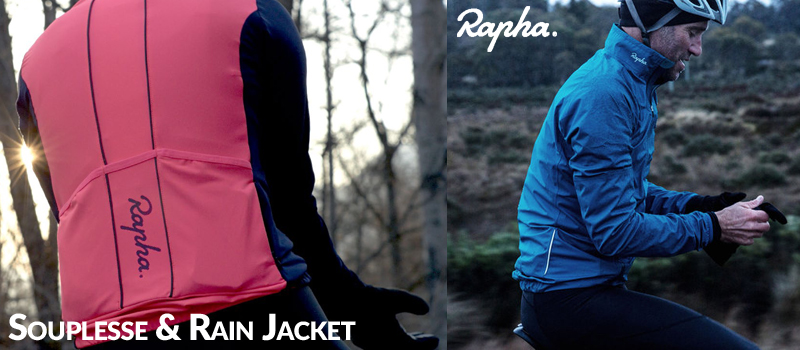 We have a drought in California and I had to wait about two months before the rain and cold finally arrived – with a vengeance. Armed with the Rapha Rain Jacket and Rapha Souplesse Jacket, my female wear tester and I got to ride in the cold and wet weather of northern California the past few weeks.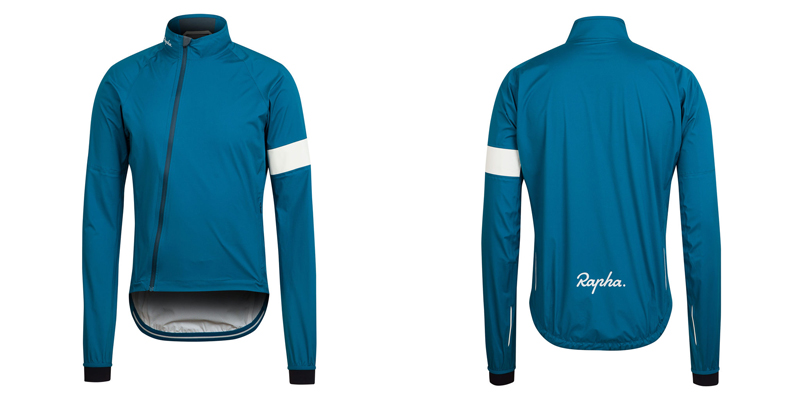 With the unpredictable temperature swings of between 20 to 30 degrees within an hour, we always pack our riding jackets in addition to wearing multiple layers. For our riding conditions, the lightweight Rain Jacket and Souplesse Jacket are the best match. The Rapha Rain Jacket is a great lightweight waterproof and emergency layer for rides in unpredictable weather (sudden showers and rides downhill on mountains). The Rapha Souplesse Jacket uses two distinct fabrics to allow for temperature regulation and protection from the elements (cold and windy days). The other jackets from Rapha's collection like the Hardshell Jacket might be better suited for more extreme weather conditions.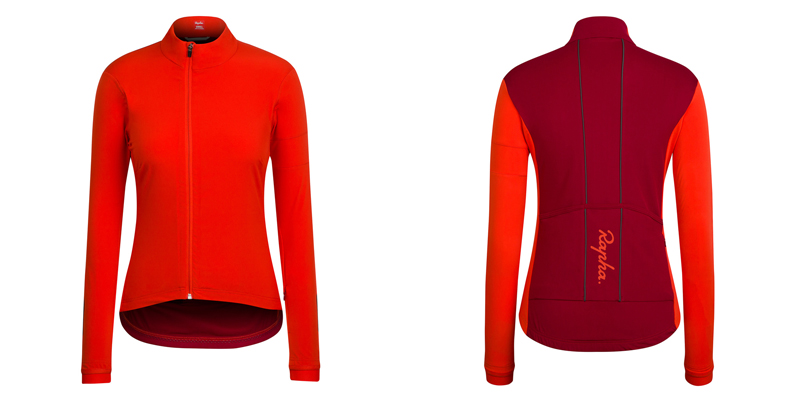 Rapha Rain Jacket (men/women)
This is a lightweight, waterproof packable jacket designed to protect in very wet conditions. The latest version of the Rain Jacket includes a fully waterproof and breathable fabrics throughout the jacket and taped seams to improve protection.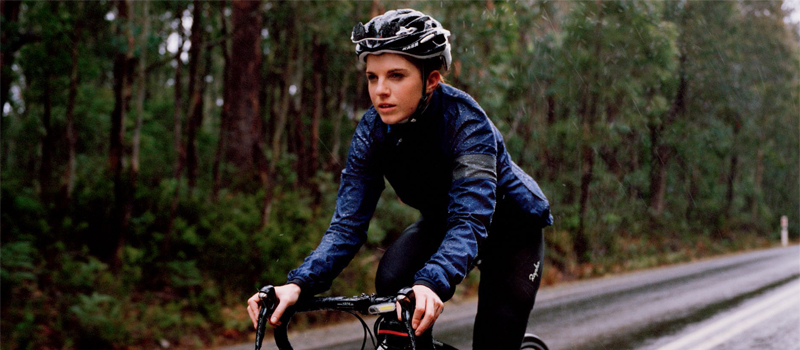 The forearm area feature a soft, waterproof 3-ply fabric that is super comfortable and zippers are water-resistant. The tailored fit (slim fit) jacket also has a reflective left armband, reflective trim and reflective Rapha logo. A zipped front side pocket is large enough for regular wallet or other valuables. Lightweight and easily packable or stashed away in a jersey pocket or seat bag.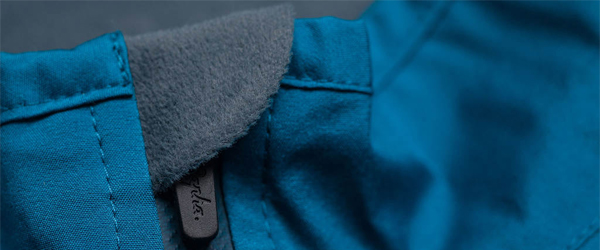 Rapha Souplesse Jacket (women)
New for Fall 2014, this stylish, comfortable, and protective outer layer is designed for cold weather riding. The wind-blocking, DWR front is using the same fabric as the Pro Team Jacket, and is constructed with a breathable rear panel. Available in distinctive and stylish two-tone colorways, finished with reflective logos and piping.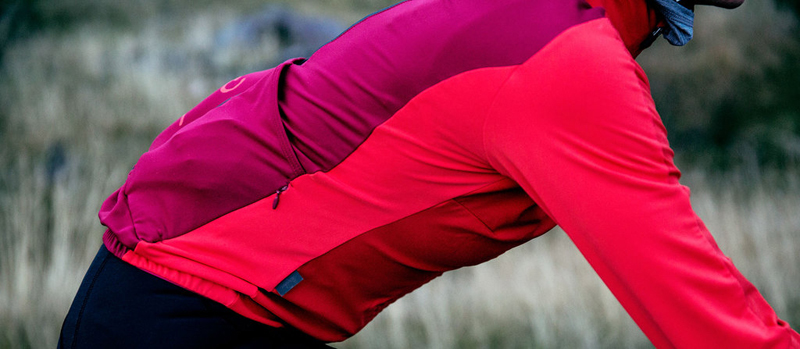 The Rapha Souplesse Jacket combines two distinct fabrics to create a highly technical garment that insulates against the elements while allowing temperature regulation. The chest panel and sleeve fronts are constructed from a soft shell fabric that is windproof and water-resistant, giving protection and warmth. The rear panel and back of the sleeves are made from a breathable and high stretch fabric, similar to that in the Souplesse Jersey, that vents heat and sweat, preventing the clammy and uncomfortable feelings of traditionally constructed jackets.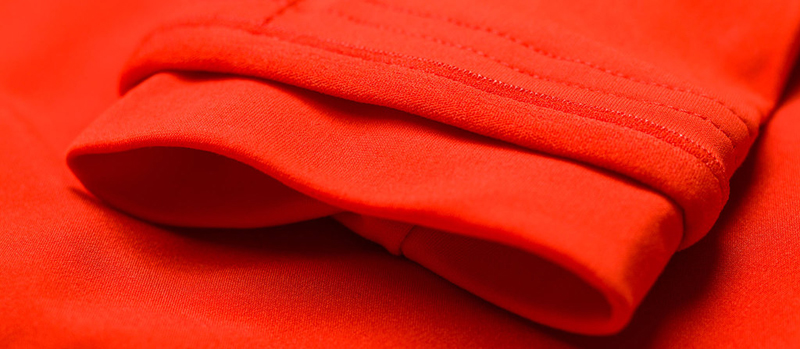 An offset zip allows for easy layering, and the jacket has two large rear pockets separated by a pump sleeve, zipped and lined valuables pocket, and sleeve pocket on the left sleeve. Reflective piping and Rapha logo increase visibility in low winter light.

So how did the Rapha Rain Jacket & Souplesse Jacket performed?
My criteria for cycling jackets are simple: warmth, lightweight & packable, and storage.
Warmth – windproof, water-resistant or waterproof, and snug fitting
Lightweight & Packable – should easily fit into a large pocket or seat bag
Storage – should have sufficient storage for my smartphone, keys, IDs, cash, energy bars, bananas, etc.

First off, the Rapha Rain Jacket is minimalistic, lightweight, and packable – it fits easily into my medium size saddle bag and also in one of the rear pockets of my cycling jersey, leaving the other pockets for my smartphone, IDs, keys, money, and energy bars.

As with most well designed cycling jackets, the tail is cut long to keep dirt sprayed from the tires up your back whereas the offset zipper won't chafe your chin or neck areas. For visibility, the cuff and side panels have a reflective trim, there are reflective Rapha logos at the lower back and collar, and a signature reflective large armband on the left sleeve.

In terms of storage, there is only a single small zipped pocket on the left side for your smartphone, keys, IDs, and money – I would have preferred more pockets but understand that in order to keep the rain out, you want to minimize vents or zippers.

Finally, the most appealing feature of the Rapha Rain Jacket is the slim fit and perfect arm length. You won't get the parachute effect when going downhill with this jacket – no ballooning or flapping sounds found with other looser fitting jackets. If you have a slightly bigger build, you might want to go up a size.
The Rapha Souplesse Jacket is super-stylish and its two tone colors matches almost anything – tights, jerseys, bikes. In terms of reflectivity, the Rapha logo and piping are reflective – minimal but just enough if you don't have a front headlamp or rear light.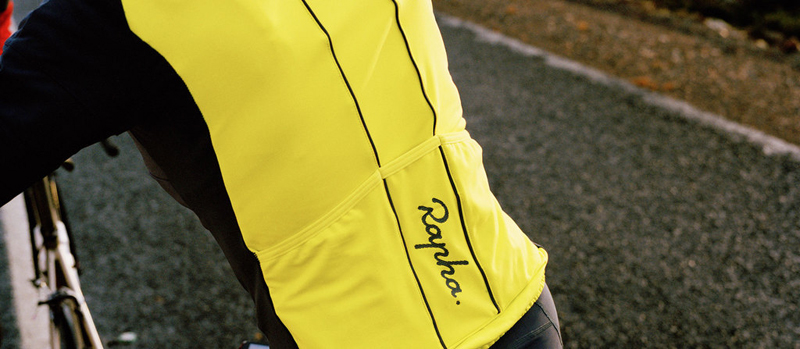 MY tester favorite feature is the valuables pocket at the right rear – a small zipper pocket that can hold your IDs or credit cards, money, and keys. The three pockets on the back provide lots of storage space. There are two larger ones for stowing big stuff like your smartphone, bananas, etc. and a smaller center pocket that can hold your mini-pump (I wouldn't recommend carrying a hard tool in the center in case you fall) but my wear tester prefer to put energy bars or tissues there.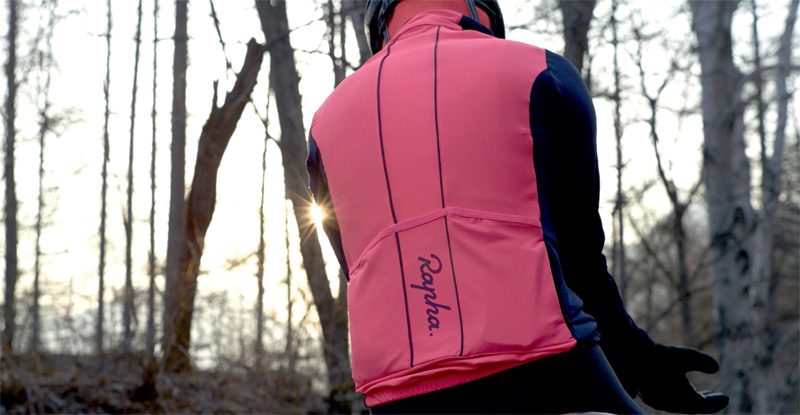 The back of the Souplesse Jacket is not water-resistant or waterproof so don't take this out on a rainy day. The front of the jacket is windproof and water resistant and kept us warm on fast downhill and colder days. Like the Rain Jacket, the Souplesse Jacket has a slim fit design and you might want to size up. It also has an offset zipper for easy layering options during your ride – the rear is highly stretchable and breathable.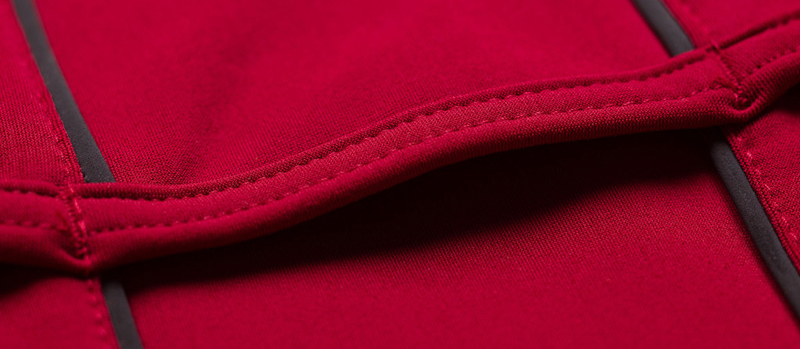 In the dozen+ rides we have worn with the Rapha Rain Jacket and Rapha Souplesse Jacket in cold, wet, and windy rides on rolling hills, they have performed superbly and we never felt cold (or wet in my case) or uncomfortable – 3 to 4 hours outdoors on each ride.
The question of price always come up whenever the Rapha name is mentioned. Yes, it is expensive. So are other high performance apparel from Ashmei, Gore Bike & Run Wear, Icebreaker, and Smartwool. You pay for high quality materials and top workmanship. And they last for at least 3 year even after weekly washes – all my running apparel from Ashmei, Gore, Icebreaker, and Smartwool. Buy low quality materials and poor workmanship and you'll be buying 3 to 4 times more. Why not enjoy your run or ride now in comfortable high performance apparel and be happy? It won't make you faster but better to be comfortable, warm, or cool while you're at it!
The Rapha Rain Jacket for men is available in Blue and Black whereas it is available in Orange and Navy for women. I must caution you that the color names, although generic, is not what you might expect. For example, the men's Blue is closer to Aqua whereas the women's Navy is closer to Purple.
The Rapha Souplesse Jacket is for women only and available in Orange, Navy, and Dark Grey. Again, check the colors carefully.

The Rapha collection is available for purchase online at: Rapha.
*Product provided by Rapha. CMP.LY/1 Review
If you have a product you'd like reviewed, contact me at info@weartested.org