PENTAX Imaging Company is an innovative leader in the production of a variety of digital cameras including weather resistant digital SLRs and stylish, compact, waterproof cameras, as well as lenses, flash units, binoculars, scopes, and eyepieces. Recently, Pentax introduced its 12th generation of adventure series digital cameras – the PENTAX Optio WG-1 and PENTAX Optio WG-1 GPS.  Featuring outstanding waterproof, dustproof, shockproof, coldproof, and crushproof capability, these extra-rugged models take adventure photography to new heights (and depths).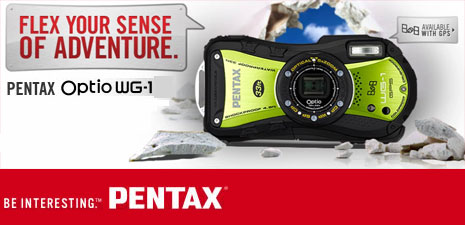 Unique features of the Optio WG-1 includes:
14 megapixel (MP) sensor
Waterproof to 33 feet
Shockproof, ruggedized design to withstand falls up to 5 feet
Crushproof construction to withstand weight force up to 220 pounds
Five macro LEDs for macro lighting  plus a detachable macro stand for steadier capture
Fast Face Detection technology, Smile Capture, and Blink Detection for portraits including a handy new Self-Portrait Assist mode perfect for Facebook and other social networks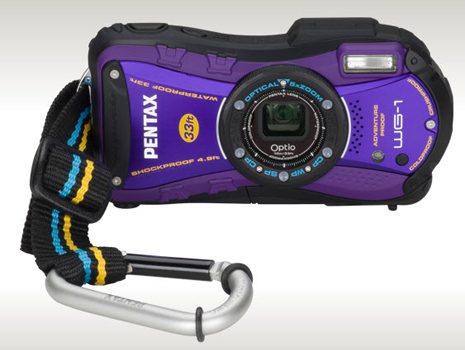 Other important features of the Optio WG-1 includes:
Coldproof to sub-freezing temps of minus 10 degrees C (14 degrees F)
Dustproof protection for dry, dusty environments
Wide angle 5X internal optical zoom lens (28-140mm equivalent)
Large 2.7 inch LCD features a wide angle 16:9 aspect ratio with anti-reflective coating
Video capture in 720p HD at 30 frames per second (FPS)
Pixel Track and Digital Shake Reduction
An autofocus assist lamp helps to quickly and accurately focus
An HDMI play back port
I've been carrying the Option WG-1 on my runs and walks outdoors, taking pictures and video in the bright sunlight, in addition to taking pictures and video indoors. However, in low lighting conditions common in some of the trade show conferences I'm attending, the images (taken with and without the built-in flash) and videos were blurry, grainy, and below my expectations. I was hoping that the autofocus assist lamp would help me out.

Indoor pictures taken with natural and fluorescent lighting (no flash) were of excellent quality but slightly darker than those taken with my Canon Power Shot SD 980 IS.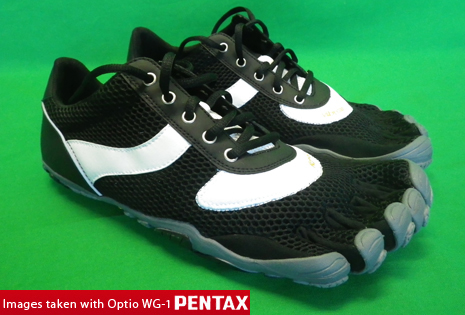 The ruggedness of the Optio WG-1 comes into play daily. There are so many times that I've dropped the camera while gathering my running gear. There is also a down side to hooking the carabiner to your jeans if you forget to shorten the strap while travelling – the Option WG-1 will scratch and hit narrow hallways, elevators, and people.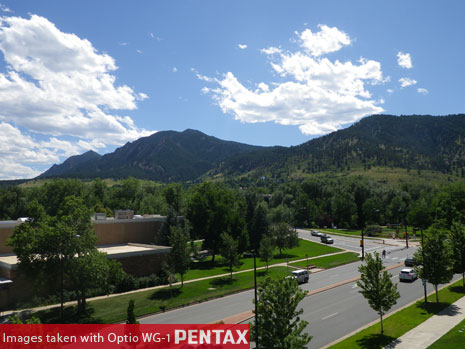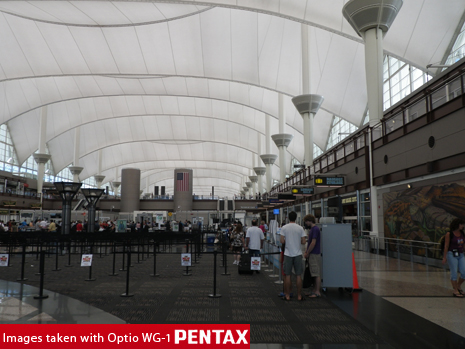 One hidden but useful feature for pet lovers is the availability of a Pet Mode function where it detects the faces of dogs and cats automatically. Now you can capture the faces of your pets faster and easier than ever before.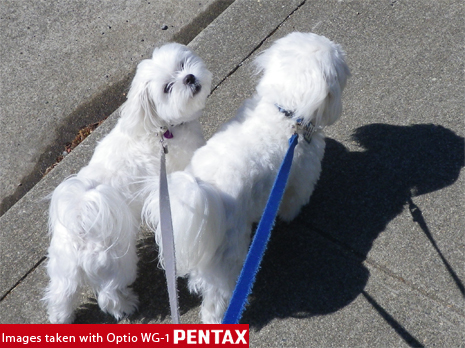 You can even preregister the faces of up to three of your favorite pets so these may be detect over other pet faces – talk about playing favoritism!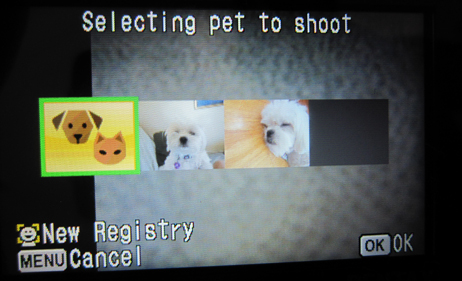 For those of you who are social animals, the Self-Portrait Assist mode feature is perfect for your Facebook or other social networking activities. This feature confirms that the photographer's own face is captured safely within the picture frame using the blink of the close-distance warning LED lamp on the camera's front panel. It can also detect multiple faces and the position of the blinking light indicates where the detected face is on the screen (center, right, left, etc.). Pretty ingenious!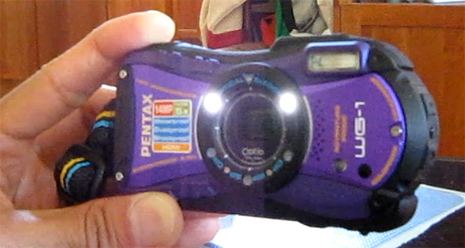 Taking videos is a snap. Focus and record. Even better is when it is raining or wet – you do not have to worry about the camera being damaged. Here's a short clip taken at the recent rainy PAL Cross Country finals in Belmont Crystal Springs cross country course.
Here's a video taken with the camera fully immersed in water.
For videos, my only complaint is that once you focus on the subject and start recording, it does not auto-focus again. So you're stuck with your initial setting and once you move away from that environment, everything else could look blurry…
The included carabiner strap for hooking the camera to a back pack or other outdoor gear proved to be a great addition – even when it is un-hooked and you're taking pictures with it, the security of holding the carabiner and strap is assuring.

The Pentax Optio WG-1 basic adventure camera kit is available in Black and Purple.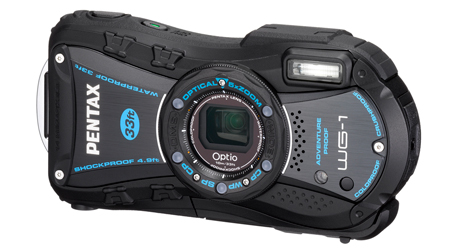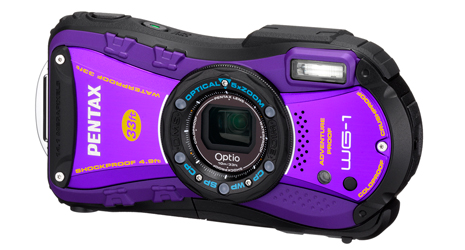 The Pentax Optio WG-1 GPS kit (extra $50) is available in Gray, Green, and Orange.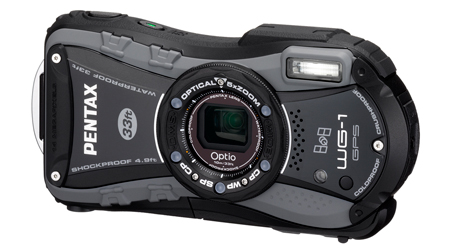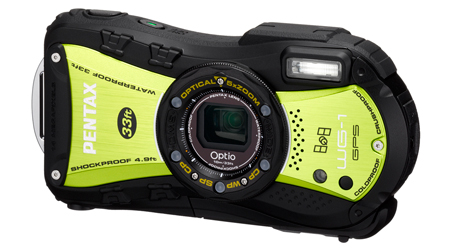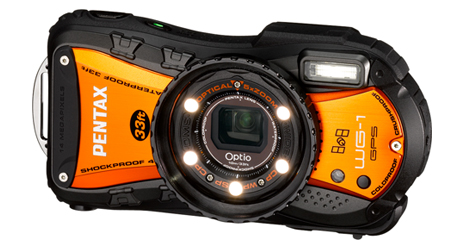 Pentax Optio WG-1 is now available at Amazon.
*Product provided by Pentax (MSRP $350) – CMP.LY/1 Review
If you have a product you'd like reviewed, contact me at info@weartested.org