In my search for non-heeled casual and dress shoes now that I have transitioned to minimalist running shoes, my quest brought me to heel-less and zero drop shoes from Terra Plana Vivobarefoot, OeTZI3300, STEM Footwear, Patagonia, and El Naturalista.
Coincidently, the CEO and Creative Director of OeTZI3330, Ludovic Malmoux, contacted me after reading my blog and I had separately contacted his company a few days earlier. We had great conversations over the next two weeks and I learned a lot about their products and technology. Ludo is also a big fan of the Tarahumara tribe and barefoot running style so watch out for something coming from them in the future!
OeTZI3300 takes us on a journey back in time to a prehistoric man named "Oetzi" who has been carbon dated to 3300 B.C. His mummified body, unveiled from his frozen state by "global warming", was wearing nothing more than the basic essentials he needed for survival – gear for protection and warmth, as well as a unique pair of shoes.
Inspired by the simple yet functional design of Oetzi's shoes, the need to be environmentally responsible and promote the art of well being, OeTZI3300 is re-mastering these basic essentials from the past in a fresh and relevant way. The brand's signature sneaker, the OTZ1 Low, is crafted with the same understated complexities that run through Oetzi's DNA.
I had the pleasure of wear testing the OTZ1 Low Leather Mocha and OTZ1 Low Suede Classic Shale, both with the current CORKfit footbed, zero drop (without footbed or after the break in period), and wide toe box.  With the footbed removed, the shoe is super-flexible.
OTZ1 Low Leather
The OTZ1 is a crafted sneaker collection made with 1.8mm top grain leathers and oiled suedes, an insulating yet breathable stretch inner sock liner and an anatomical cork footbed designed for comfort that gradually mould to the individual footscape. The antimicrobial cork footbed combined with soft suede cover creates an organic fit that provides an unparalleled walking experience.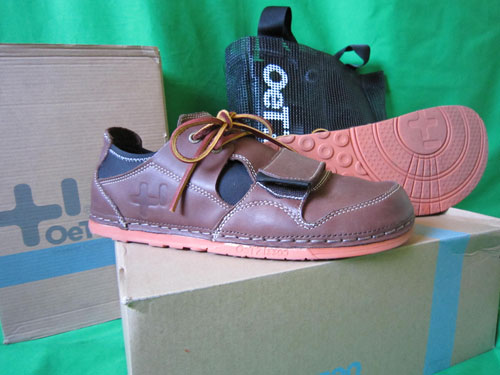 The uppers are stitched to the outsole (no glue used). Their unique thread design is made from rubber compounds tested to anti-slip and grease standards that complement everyday needs.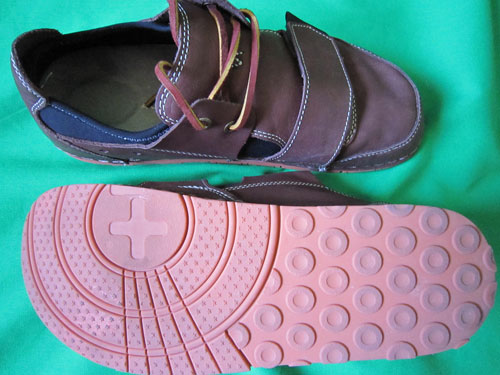 The CORKfit insole/midsole is made of cork and latex with a heel polyurethane (PU) plug and weighs 6.4 ounces while the naked shoe weighs 11.6 ounces giving a total weight of 18 ounces. Quite a heavy shoe compared to the lightweight minimal running shoes I'm used to! But the key here is comfort and recovery.

The CORKfit footbed has a forefoot thickness of 6 mm and a heel thickness of 12mm which included a 6mm heel PU plug that compresses almost flat from body weight. Once fitted and over time, you will have a 2mm to zero drop with the anatomical footbed and antimicrobial properties.

As the footbed conforms to your foot over time, you can wear your pair without socks too as the antimicrobial properties of cork reduces bacterial build up.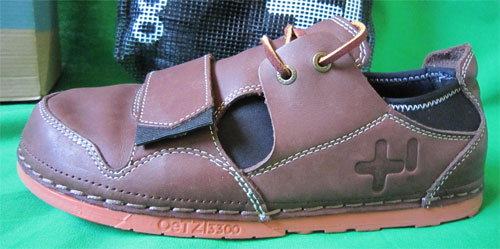 With the footbed removed, the shoe is very flexible and light! The rubber outsole is about 4mm with coring through-out to reduce the weight and provide better flexibility.

In the future, OeTZI3300 can make version with a seamless, thin, and integrated midsole/outsole. And it will be super flexible and lightweight with a wide toe box. And no doubt with a smashing cool look to boot!
The OTZ1 is packaged inside a reusable open mesh bag. Once the shoes are on your feet use the bags divided compartments as a tote to carry two bottles of your favorite beverages.
For those in the hospitality and service industry, the OTZ1 Low Black Leather and Low White Leather offers a comfortable shoe at a decent price.

OTZ1 Low Suede
The OTZ1 Low Suede Classic Shale is their best seller. One of my wear tester had to size up by at least two sizes – with her normal shoe size, the length was too short and her toes were rubbing against the front of the shoe.
It's best to measure your foot length in centimeters (cm), add at least 1.0cm to 1.5cm to it, and then use their size chart to find the best EU size.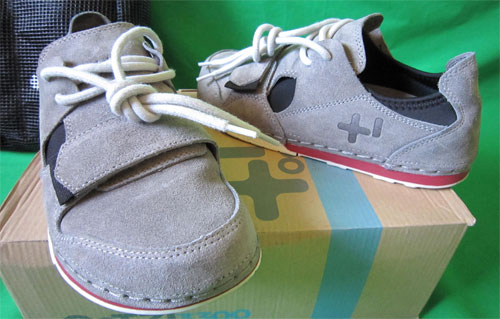 Other than the slight rubbing, she broke into the CORKfit footbed in no time. It's the most comfortable and stylish casual minimal drop shoe she has tested thus far!
The inner sock liner holds your foot snug in place and you may not need to really tie your shoe laces – you can create a tassel-like knot or your own creative knots.
The new CORKLite Footbed
Coming Spring/Summer 2011, OeTZI3300 is introducing their new CORKlite footbed. CORKlite is a sandwich of cork and perforated EVA. The CORKlite footbed is much lighter than the CORKfit with a little more bounce and absorption – the CORKfit is firmer in comparison. They will appear in the new OTZ-300GMS and the OTZ-MADLIB styles.

Break In Period
A breaking in period is required to allow for the cork footbed to gradually compress and conform to your foot as well as the leather uppers to adapt to your foot's contours. The more you wear them, the more comfortable they get. OeTZI3300 calls it 'Sneaker Comfort'!
It took about an hour of walking for my OTZ1 Low Mocha footbed to break in – notably in the heel. I can see my foot print 'in memory' on the cork! The uppers stretched a lot more on the second wearing the next day and it felt really snug and even more comfortable.  Definitely true to form – the more you wear them, the more comfortable they get.
Looking Forward
OeTZI3300 has done an amazing job with the existing OTZ1 line – looks, comfort, eco-conscious, zero drop, and wide toe box. And it fits real well into the minimalist runner lifestyle – now we have options.
With the introduction of the CORKlite footbed this Spring and Summer, the new collection will be lighter but has the same benefits and comfort as the original OTZ1 line. I can't wait to try them out J
For our readers, OeTZI3300 is offering a 20% discount (use 'MINIMALIST' code, no quotes, during check out) on ALL their shoes. FREE shipping in the USA for all orders over $100.
*Product provided by OeTZI3300 (OTZ1 Low Leather MSRP $145; OTZ1 Low Suede MSRP $135).
If you have a product you'd like reviewed, contact me at info@weartested.org