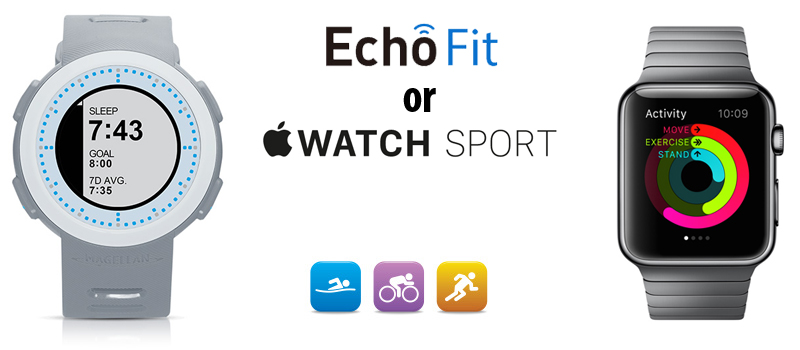 We loved the original Magellan ECHO smart running watch which we tested earlier this year and came to this conclusion at that time:
The Magellan ECHO features is pretty much determined by the mobile app you want to use with it. Think of it as an extension of your smartphone – sort of like the Dick Tracy phone. And it will only get better with more developers jumping onto the bandwagon with innovative apps (sport specific, health, fitness, etc.) and third-party accessories.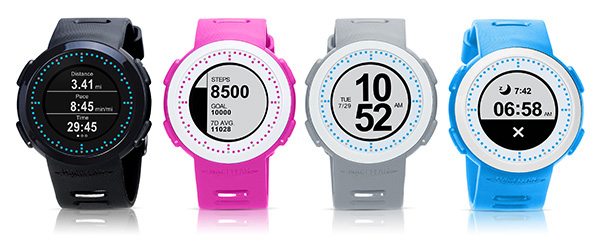 In a nutshell, the Magellan ECHO is a configurable, remote control, and remote display for mobile apps via Bluetooth. I'm sure many vendors are taking a page from Magellan's playbook for next generation wearables.  From all the activity trackers and running watches we have tested, our personal preferences and conclusions are:
wristband form-factor
long battery life (uses standard CR2032 lithium battery)
standalone with basic functions like stop watch, time/date, alarm
tethered to smartphone (I ALWAYS carry my phone) via Bluetooth for GPS and additional features (visuals, audio, upload, maps, etc.)
The new ECHO FIT builds on the success and app support of ECHO with built-in activity and sleep tracking to keep athletes motivated between sports activities. It also added wireless synchronization to Magellan Active. These are the three major improvements and added features to the original ECHO running watch.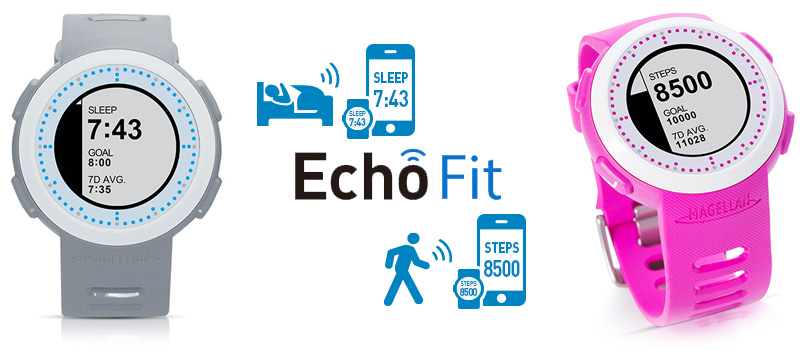 With the ECHO FIT, it works as an activity tracker WITH or WITHOUT smartphone connectivity. It tracks steps, distance and calories burned, and monitors sleep length and patterns. Nothing extra needed to do except wear it as a basic watch. The battery lasts between 4 to 8 months depending on usage for running or cycling etc. And it is available NOW.
The upcoming Apple Watch SPORT, has many amazing fitness and health features plus out-of-this-world hardware. It's like an iPhone-wearable on your wrist without having to take your iPhone out when interacting with it.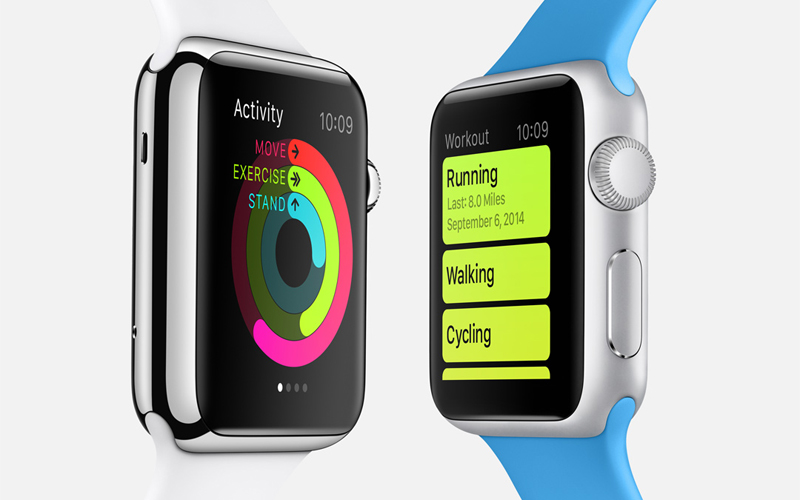 But the major negatives for the Apple Watch that could be deal breakers for some include:
Battery Life – needs to be charged daily
Health Device – might delay government approval if categorized as a health gadget
Price – starts at $349 for the basic Apple Watch, more for the SPORT and EDITION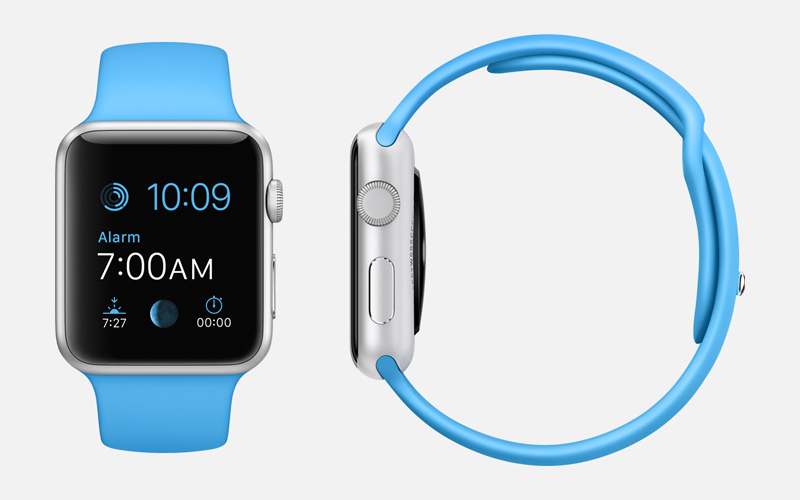 The major positives for the Apple Watch and why I would get one:
Built-in heart rate monitor (HRM) & accelerometer – don't need additional or separate accessories
Apple Watch Kit – can integrate with 3rd party iOS mobile apps
Powerful Smart Watch – messages, mail, phone, maps, passbook, music, camera, Siri, etc.
Apple Pay – I believe this is bigger than most people think. After spending a few weeks in Europe recently, I can see why the US is behind in credit card technology and Apple Pay just leapfrogged everything else (especially some of the crowdfunded Kickstarter and IndieGoGo campaigns).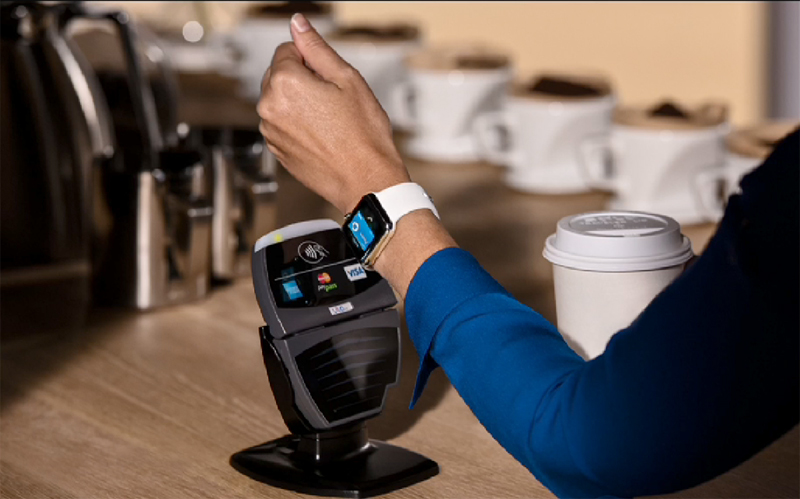 Don't get me wrong. The Apple Watch is an amazing piece of engineering and I've been an Apple fan since the original Macintosh computer with floppy disks. But when it comes to watches, I have strong preferences as I wear mine 24/7 and uses it for exercising in addition to the basic watch functions.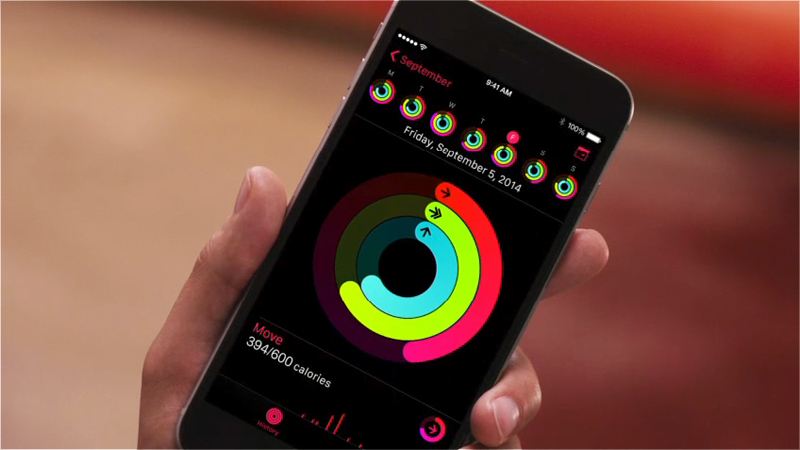 There are many smart watches with MIO heart rate wrist sensor built-in including the upcoming Adidas FIT SMART (designed for running, training and fitness, it measures heart rate response to physical activity and then guides the user train at the right intensity for the best results) and the one that we have already tested earlier this year, the Adidas miCoach SMART RUN. They all too have limited battery life and needs to be charged daily or after 10 hours of use…
Between my Magellan ECHO, iOS Wahoo Fitness app, and MIO LINK HRM, I can customize what I want displayed on the ECHO within Wahoo Fitness. All devices connected and communicating via Bluetooth on the move. I've used it for running, walking and cycling. Additionally, I'm also using the iOS Moves App (acquired by Facebook earlier this year) to supplement and used various APIs to build a personalized visual dashboard for my personal use.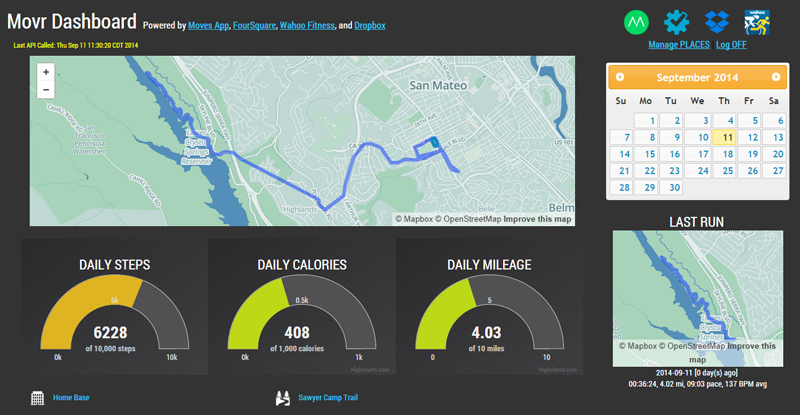 To take this one step further, integrating runScribe (get on their Kickstarter campaign before you miss out) into my dashboard display would even be better (monthly at-a-glance calendar view) and more meaningful as it will give me a runScore indicating what my work out intensity is so I can ease off and minimize the risk of injury or step it up and get a good workout in.

Maybe the Apple Watch Kit can allow me to easily customize a dashboard for my personal needs in the future. But if you want something now that is reasonably priced, long-life battery, activity tracker, and works with your current smartphone and mobile apps for running or cycling or golf or outdoors, the Magellan ECHO FIT is it!

Integrate the MIO HRM and add the battery indicator to the basic function of the ECHO/ECHO FIT and I'll be a happy camper!