The Magellan ECHO is Magellan's first running watch that utilizes smartphone fitness apps to their full potential by wirelessly connecting them to a runner's wrist. Runners can simultaneously see real-time fitness data that is displayed on their smartphone. Using Bluetooth Smart, Magellan ECHO acts as a remote control over a variety of smartphone functions including start, stop, or lap on a  fitness app, and next song, play and pause on a music playlist.

Magellan ECHO can also be used as an everyday watch (Watch Mode) that shows the day, date, and time. A replaceable standard watch battery (CR2032) means no recharging is required – lasts about 6 months.
NOTE:
You cannot set the time on the ECHO. ECHO's time of day is taken from your smartphone. When you change time zones, simply connect ECHO to a supported fitness app and the time will update automatically.

Full details of how to set up your Magellan ECHO watch and fitness app can be found here. In summary:
Make sure you have a compatible smartphone: iPhone 4S, 5, 5C, or 5S. Android coming soon.
Make sure your smartphone's Bluetooth is turned ON.
Install and open a compatible iOS mobile fitness app: Wahoo Fitness, Strava, MapMyRun, and iSmoothRun currently.
Have your smartphone fitness app search for ECHO.
Make ECHO search for your fitness app.
Accept the pairing on ECHO.
Wait for sync to complete and you're good to go.
Basic customization of ECHO is also available for Watch Mode. This include:
Date Format
Time Format
Watch Face
Use the Magellan ECHO Utility app available on the Apple App Store. The compatible fitness app that you use with ECHO can also be used update specific ECHO device settings, most specifically the Data Screens and Button Configurations. It also updates the firmware on your ECHO.
NOTE:
ECHO is powered by the fitness apps on your smartphone and they stream data to ECHO in real time so you need to carry your smartphone with you on every run. It also uses the GPS on your smartphone to determine distance and pace. The upside is that you don't have to wait for a GPS signal before you run but the downside is that it also draw additional juice from your smartphone battery.

So how did the Magellan ECHO performed?
The first thing you will notice is how light and slim the ECHO watch is. The ECHO is technically not a GPS watch as it does not have a GPS receiver built-in and leverages that of the smartphone. Being chained to a smartphone may not be for everyone including myself. But after using the ECHO for a few weeks and carrying my iPhone for all my trail runs, I have a slightly different perspective.
The pluses for me are:
Lightweight running watch
Don't have to worry about a dead battery
No need to wait for GPS signal before I start my run
Auto-shut off for extending battery life
Lots of customization available for displays and buttons from fitness apps
The negatives for me are:
Don't want to carry my smartphone for speed work
No Magellan GPS or third-party accessories available to integrate with ECHO to display performance information like ground contact time, vertical displacement, blood oxygen level, etc.
No alarm in everyday Watch Mode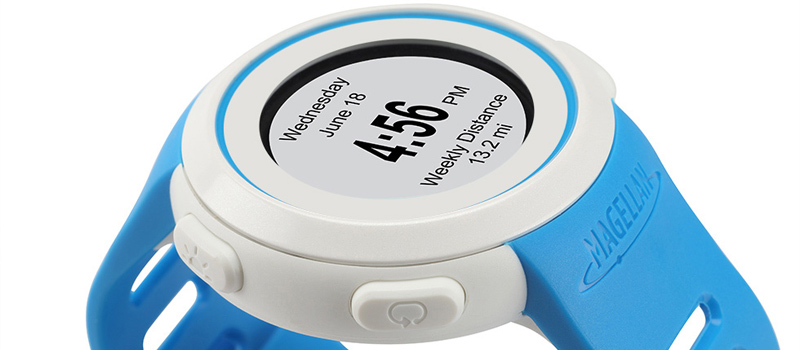 The ECHO has a tap sensitive screen, not a touch screen. Tapping the display will advance to the next data screen or close a notification that is displayed. The rugged ECHO is also water-resistant up to 30 meters so you can wear it in heavy rain and in the shower.
Magellan Active Website
We have already reviewed the Magellan Active web site in our review of the Magellan GPS SWITCH a year ago. From our Wahoo Fitness iOS app, all workout data can be uploaded to the Magellan GPS web site, Garmin Connect and many more. I'm currently using Magellan Active and Garmin Connect but my screenshots will show Magellan Active.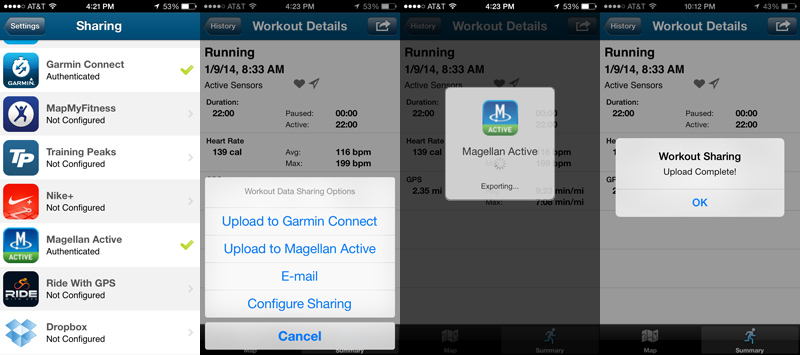 Once uploaded, the activities show up on the Magellan Active Dashboard.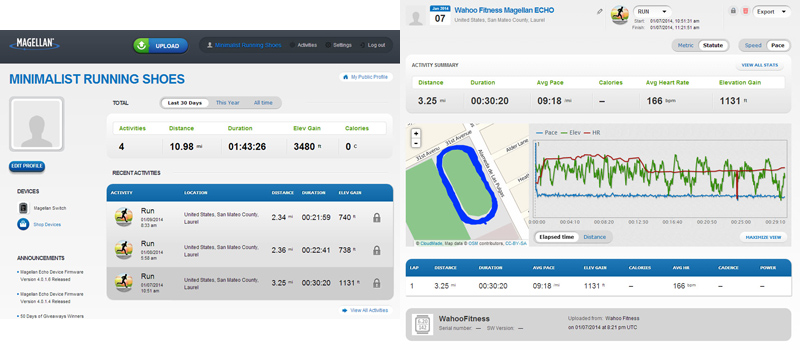 View the new activity by clicking on it – all of the data for the activity are displayed, including a map with line of your activity. There is also a full screen mode to view the details.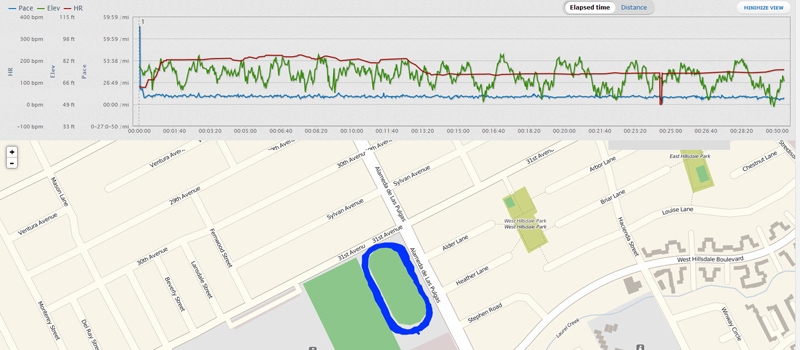 Here's a similar display when uploaded to Garmin Connect web site.

There you have it. What is the future of Magellan ECHO and what improvements can I suggest? With an open API, exciting and innovate third-party accessories can integrate with various compatible fitness apps and Magellan ECHO to quantify an athlete. For example, with runners, Pegasus Sports Performance has a foot pod, the Pegasus 90/90 Running. With this foot pod, performance metrics measured include ground contact angle (angle of the leg when your foot strikes the ground – neutral, over striding, or under striding), cadence, ground contact time, kick dynamic (speed of motion associated with lifting of the foot and lower leg during the back kick), and pronation.

Interesting to watch the live broadcast they did when Pegasus technology was featured live (real-time performance information) during the 2012 Honda LA Marathon.
Here are some improvements and features that I would like to see:
An alarm clock feature for every day mode
Replaceable watch bands and offer bright colored bands
Integrate with other heart rate monitors (wrist and ANT+) that are not Bluetooth-enabled
A larger library of clock faces available from the Magellan ECHO Utility
Require all compatible fitness app to display consistent data in everyday mode like Weekly Average (Wahoo Fitness display 0 miles)
The Magellan ECHO features is pretty much determined by the mobile app you want to use with it. Think of it as an extension of your smartphone – sort of like the Dick Tracy phone. And it will only get better with more developers jumping onto the bandwagon with innovative apps (sport specific, health, fitness, etc.) and third-party accessories.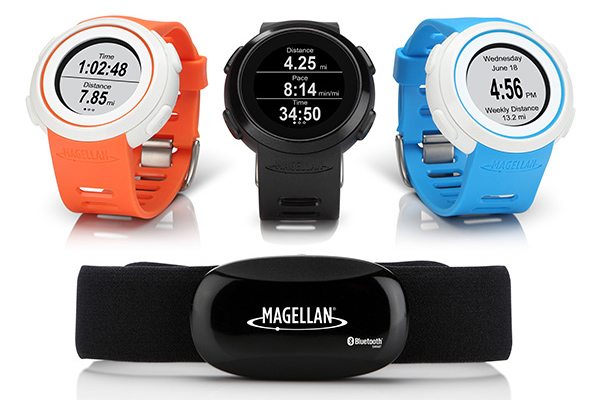 The Magellan ECHO smart running watch is available for purchase  online at: Amazon, Best Buy, and Magellan GPS.
*Product provided by Magellan GPS. CMP.LY/1 Review
If you have a product you'd like reviewed, contact me at info@weartested.org