Want to get as close to barefoot as you can? Huaraches or running sandals, with no uppers (other than laces) and midsole is the probably the only running 'shoe' for most runners and especially for those with wide feet.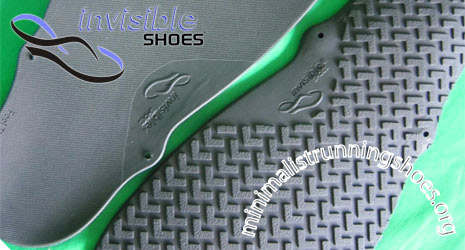 Invisible Shoes recently launched their latest models: Connect 4mm and Contact 6mm Barefoot PLUS. Both models feature the FeelTrue™ outsole (they are no longer using the Vibram soles) that gives you the closest feeling to being barefoot, but with the protection you want. They're strong, flexible, lightweight and are abrasion resistant for long-lasting wear. For those looking for more protection or a slightly stiffer sole, choose the 6mm Contact outsole instead.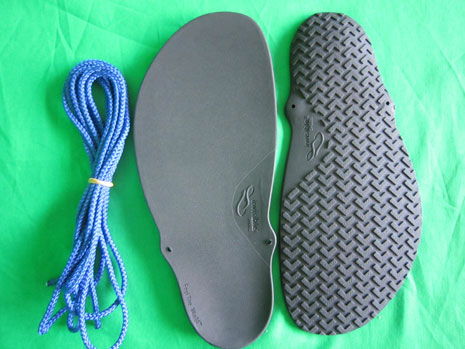 Both kits come with the 4mm or 6mm FeelTrue™ rubber outsoles in your size, two 6 feet nylon/polypropylene laces in your color choice, a bobby pin, and complete instructions for making your bare foot shoes.
I had the opportunity to test out both the 4mm Contact and 6mm Connect models. The image below shows how they stacked up next to each other – only 2mm separating them but that difference is significant in terms of ground feel and protection on trails.

Not being a do-it-yourself (DIY) person, it took me a while before I decided to tackle the 'assembly' of the shoe. I ended up buying a rotary hole puncher from the local Michaels hobby store. It won't be as easy using a drill bit…
After following all the instructions (videos are especially useful) on the web site, I was able to complete both kits in under 30 minutes. I can probably do it in about 5 minutes per kit from now on – getting the lacing system down is what took the most time initially.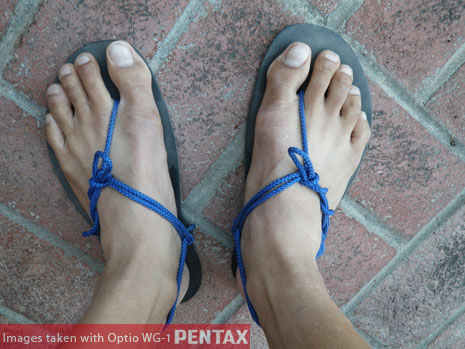 So with all the videos on the Invisible Shoe web site, even a newbie DIY'er like myself was able to get these running sandals completed!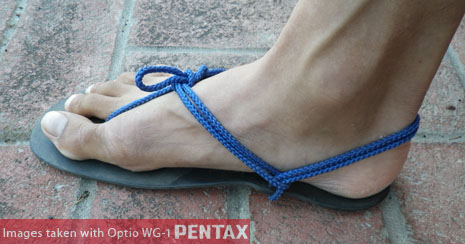 I took the 4mm Connect for a run on the local high school track. Initially, in my first lap around the track (400m), I felt a slight pain under my two big toes. I think it might be related to my adjustment in running form in huaraches after testing so many minimal shoes. I switched between the track and Astroturf for another lap and finally the pain went away. Then I completed a 5K run on the track. I feel great! No worry about blisters from uppers in shoes that have short and narrow toe boxes. No worry about athlete's feet from football players. No worry about stepping on 'foreign' objects.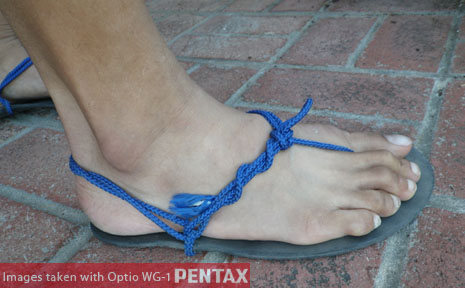 I then took the 6mm Contact out for a trail run – some packed rocks, loose gravel, soft dirt, etc. Surprisingly, the Contact provided more protection than some minimal shoes on hard packed trails with sharp rocks! The freedom from my toes splaying to the max and feeling the ground AND wind simply makes running enjoyable again. I did get a few 'looks' from runners still shod in high-heeled running shoes. And a few wearing Vibram Five Fingers.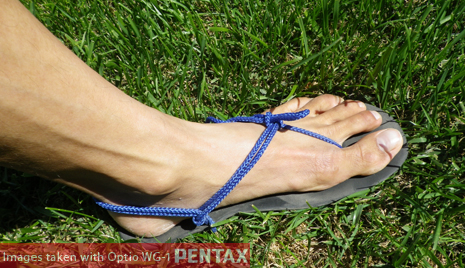 As I had mentioned in a lot of my previous reviews, a lot of barefoot running shoes or minimalist running shoes are only designed for running and NOT for walking. I have no problems walking with the 6mm Contact but it took some adjusting for the thin outsole in the 4mm Connect – tread lightly…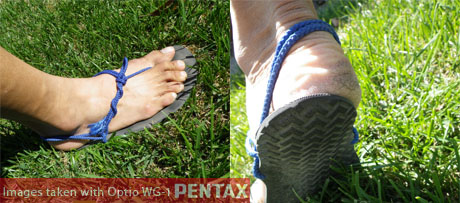 In the previous generation using the Vibram Cherry outsole, the material was too soft for my feet and they flop around on the sides too much. Additionally, you can feel the knot because of the soft Vibram outsole and that really annoyed me (my feet). None of those problems exist anymore in these new models. The new Invisible Shoes FeelTrue™ material is a major improvement – outsole is designed by two former lead designers from Nike and Reebok and manufactured by one of the top outsole producers in the world.
The 4mm Contact weighs in at 4.2 ounces while the 6mm Connect weighs in at 5.8 ounces for my feet (US Size 10). Some features of the new outsole:
Reinforced, extended, and elevated ankle holes to keep your laces from wearing out
Holds it shape better than the previous Vibram Cherry outsole
Easily customized with just a pair of kitchen scissors – I didn't have to for mine
Contoured to fit your foot
The Invisible Shoes Barefoot PLUS kits are certainly very inexpensive running sandals AND it delivers even more value than most minimal shoes we have tested to date. You won't regret trying them out. Worst that could happen is that your running form improves and you run-injury free.
Invisible Shoe 4mm Contact and 6mm Connect are both available on the Invisible Shoes web site for kids and adults (between $20 to $30).
*Product provided by Invisible Shoes (MSRP $55).
If you have a product you'd like reviewed, contact me at info@weartested.org