From the Desk of Robert Yen
Minimalist Shoes Wear Tester – Golf
Robert is a second-generation native of Phoenix, Arizona.  When not practicing law, he can usually be found playing–as he has for the past 44 years–one of the nearly 300 golf courses in and around the Phoenix metropolitan area.
The new VIVOBAREFOOT Hybrid is the optimum golf shoe. Its ultra-thin, puncture-resistant sole offers maximum proprioception with protection for better balance on the course, and the terrain specific grip.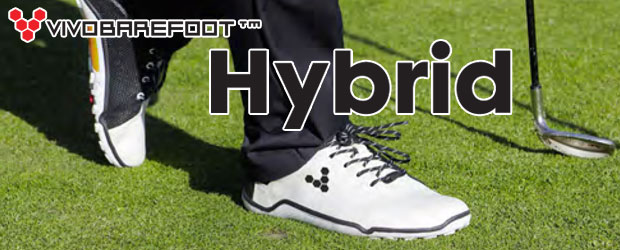 As teenagers, my friends and I would spend long, hot, triple-digit summer days on a local municipal golf course.  When we were out of sight of the clubhouse, we'd take off our hot and uncomfortable shoes.  As a result, we learned how to play golf the way we learned most physical activity . . . barefoot.  I can still remember the feel of the greens, the soft fringe and how we could judge the depth of bunkers with our feet.  Like all kids, we competed to out-drive one another, but without spikes under us, we had to learn distance—while in balance.
For the next four decades, though, we finished school, we got jobs . . . we learned to conform.  Grown-ups don't walk barefoot through restaurants and department stores, and they don't walk barefoot off the first tee.  So we adapted instead to wearing colorful, rigid, elegant golf shoes, highly engineered and constructed from every manner of animal hide.  As the years passed, we learned how to behave at higher end clubs, to tip the cart and beverage attendants, to drink beer and talk about stocks, but somehow, as the years passed, I felt as if I was beginning to lose my sense for the course, and for the game I loved—that I was beginning to lose my "golf balance."
And then I was introduced to "barefoot-style" shoes.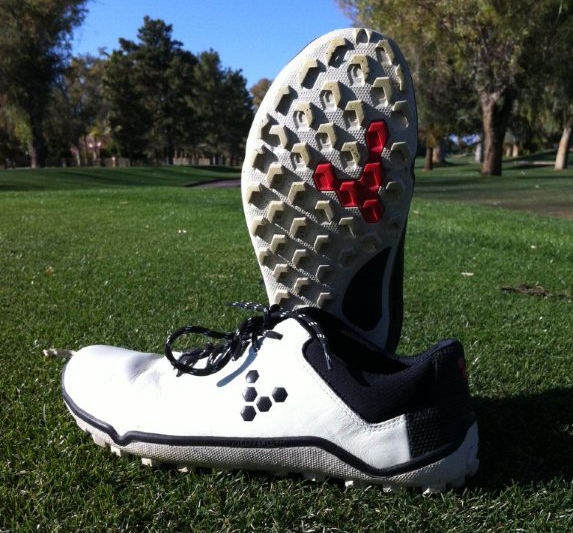 These barefoot-style shoes with virtually no heel, a wide toe-box and a barely-there sole—have gained popularity among runners, particularly distance runners because they create something runners refer to as "proprioception," or the ability of the rest of the body to intuitively react to what is sensed through their feet. It's a long word, but the idea makes sense.  And just as it apparently makes sense to runners, it makes complete sense to me as a golfer, having learned the game on bare feet.
I've now played a dozen or more rounds in barefoot-style golf shoes and I'm completely sold.  So are my golf buddies.  The benefits of barefoot-style golf shoes are numerous.  Without a heel, the shoes allow a player to settle into a more natural balanced position instead of canted forward onto one's toes.  The wider toe box allows the toes to spread out creating a more stable platform.  The thin sole, moreover, allows a player to sense the firmness of a lie, the depth of bunkers, and the slope and break in greens.  Think about being able to read greens with your feet and having an intuitive sense for how a pitch or chip shot will react.  And, properly designed, these barefoot-style shoes have as much or more lateral stability than the "classic" golf shoes we've become accustomed to, stability which allows a player to hit against their back foot.
There are other benefits, too.  Instead of arriving at the course, unloading my clubs and having to change into golf shoes, I just lace up my barefoot-style shoes in the morning, go about my morning routine, go to the office and drive to the course in them.  And, perhaps because of the wider toe box (good for my "D" width feet), I don't experience cramping in my feet and calves hours after a round.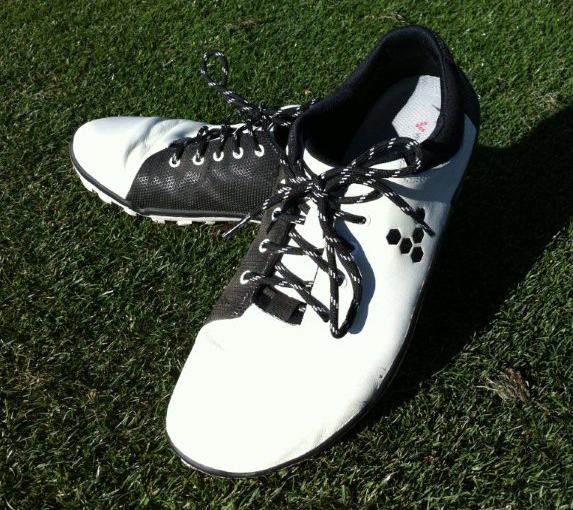 While there is a broad array of barefoot shoes from which runners can choose, there is a surprising dearth of such shoes manufactured specifically for golf.  A few forward-thinking companies have been founded for the limited purpose of satisfying this barefoot golf shoe market.  And some established golf equipment and apparel companies are now developing such shoes, but as far as I can tell, there's only one company that made its name engineering barefoot-style running and hiking shoes that has now applied its technology to golf shoes.  That company is VIVOBAREFOOT and in March 2012 it introduced the "Hybrid" golf shoe.
For men, the shoes come in black or off white.  (And unlike other barefoot golf shoe companies, VIVOBAREFOOT, has manufactured a shoe specifically for women, an off white version trimmed in a reddish hue).
I LOVE THIS SHOE.  It's my go-to shoe.  It has all of the characteristics that make a barefoot shoe particularly well-suited for golf—great stability, great feel, great comfort and . . . it's so cool looking!  Although they're said to be water resistant, there hasn't been enough rain here in the desert to put them to the test, yet.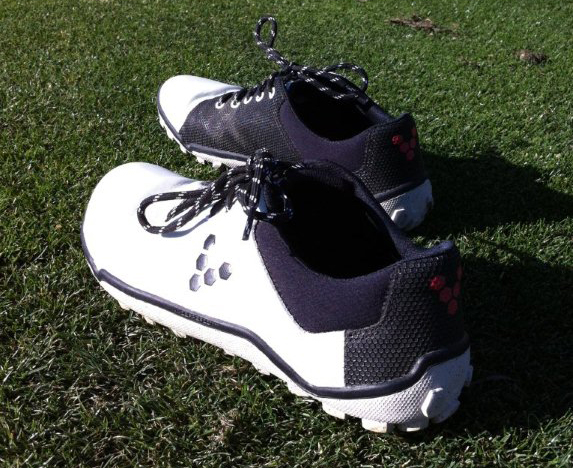 Sizing is about right.  I wear a 12.5 D in FootJoys, and a 13 medium in Adidas, Nike, Puma, etc.  According to VIVOBAREFOOT's sizing chart I should wear a size 46, and 46 fits just right, although if I were uncertain I would err on the side of larger.
I have the off white version but that color description doesn't do it justice.  The top and outside of the upper is off white with black trim, while the top and inside of the upper is black with white trim, sort of like theYin/Yang symbol which, interestingly enough is symbolic of life's natural balance.
I don't know if this is what VIVOBAREFOOT hand in mind when they settled on the color scheme and design, but it's certainly apropos.  Balance.
And at $170, they're far less expensive than what I've paid for more traditional golf shoes.  It seems like a fair price to get back our golf balance . . . and maybe a bit of our youth.