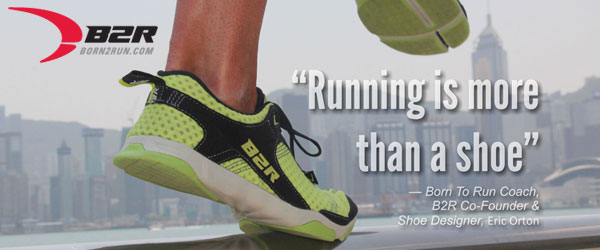 The Born To Run (B2R) movement began with Eric Swartz (Ironman triathlete, runner, entrepreneur) who had suffered multiple injuries while training and kept him away from the sports he loved. When Swartz read Christopher McDougall's best-selling book, Born to Run, he realized the cause of his injuries and he wanted to make it right. So, he called the Born to Run coach, Eric Orton, whom McDougall had called upon when he was still overweight and injured – the book, Born to Run, was made possible as a result. When Swartz requested the same magic formula that McDougall had called upon before, Orton again knew what to do, and B2R emerged.
That was a brief introduction to how B2R started. Orton operates on a simple premise: the best runners are the best athletes. Orton relies on his knowledge about run and strength training, run technique, and nutrition to coach athletes to their personal finish lines. The runner provides that essential element necessary to make big leaps forward in performance: believing that it is possible.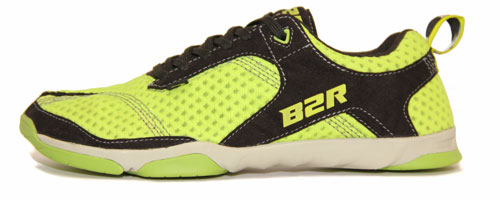 With B2R, Orton's idea was to make a shoe, but to never forget that running is more than a shoe. Ultimate running is training, technique, proper nutrition, and the right shoe. The B2R system embraces all four of these elements.

Available with the B2R shoes are various levels of Strength Training programs that Orton believes is the crucial entry point to developing the full-body strength conditioning required to become a successful natural runner and to achieving peak run performance.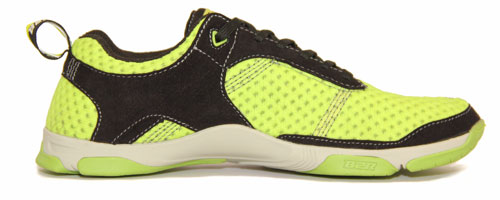 So how did the B2R Road shoe perform?
My pair of B2R Road (US size 10.5) weighs in at 7.6 ounces with the insole and 7.2 ounces without the insole. Zero drop with a stack height is 11mm without the 3mm insole which I don't use, the footbed is soft and smooth thus making sockless running a breeze. More footwear manufacturers should make shoes with a standard stitch-less footbed for sockless running…
Orton is careful to make sure that B2R shoes weren't designed to fit into a category or follow a fad. The B2R Road shoe allows your foot to work and perform naturally. B2R separated the big toe thus allowing it to articulate, providing balance and power.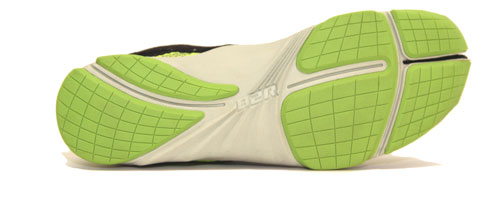 I am not a big fan of split toe or Tabi-like shoes because the toe posts usually causes hot spots or blisters for me when running sockless. But B2R's team took the time and care (continuous tweaks) in making this work. It took some time for me to get used to it but it works! I cannot say that for the majority of split toe shoes out there. And they are coming back in style for 2013 so this will get very interesting.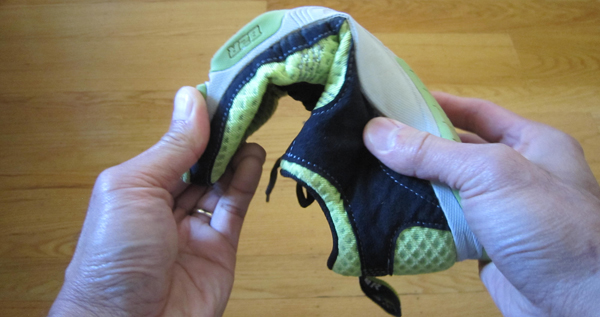 The B2R shoe creates a glove-like fit that holds a narrow or wide foot in place, securing it without confining it. I believe this works wonderfully for those with narrow feet but I had to remove the insole because the toe box area for my big toe (first metatarsal) is not tall or wide enough to handle my wide foot.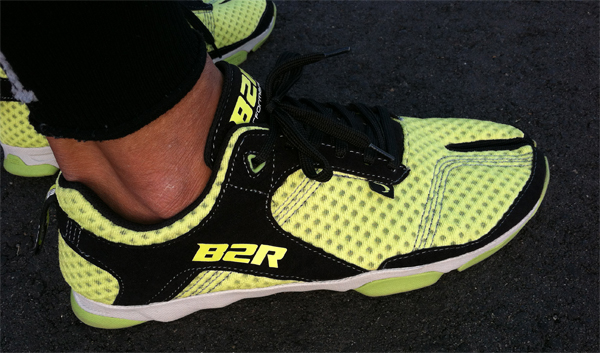 The B2R Road shoe is an everyday road shoe with a breathable mesh upper and is perfect for minimalist runners and those looking to make the transition to minimalist running shoes. Included with each purchase are two pairs of split-toe socks ($12 value).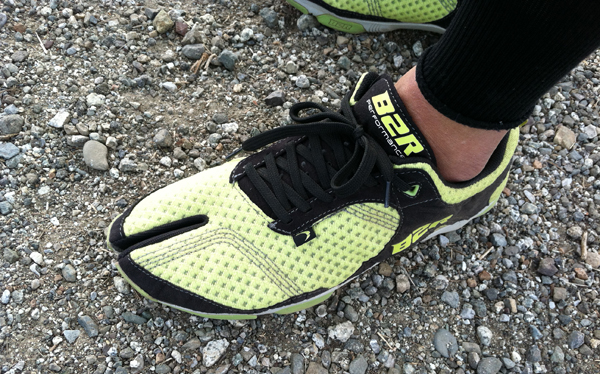 I've worn the B2R Road on asphalt and non-technical trails and they are awesome! The flex points are in the correct spots with a padded tongue that does not slide (my pet peeve) and top it off with an ultra-flexible outsole. It will only get better in the future with the B2R Trail shoe – different uppers and an aggressive outsole lug design.

How about the Strength Training (Level 1) Program?
When I started transitioning to minimalist shoes about 3 years ago, there were no educational materials available readily and I had to use trial-and-error to learn (with injuries along the way). Orton has made it simple with his strength training DVDs. Why risk injuries?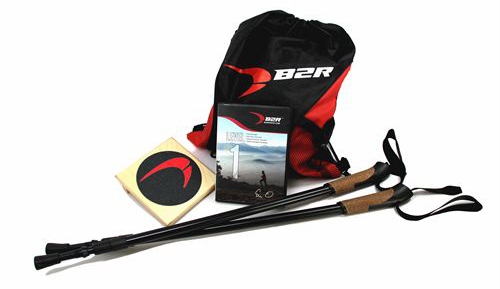 I strongly believe that getting your feet and body fit and especially the core muscles is the first step to sustainable running and injury prevention. I highly recommend some form of strength training program and Coach Orton has made it simple with his easy-to-follow video instructions and different levels for runners in various stages of development (MSRP $80 to $85). Their full line of B2R Strength Training equipment includes a slant board and balance poles, accompanied by a comprehensive exercise video series.

Level 1 is for developing foot strength and the sequences are to be performed 3 to 5 times a week based on your ability. Level 2 continues advancing the foot strengthening while working on overall leg strength and power for improved muscle equilibrium. Level 3 takes the movements mastered in Levels 1 and 2 to a far more challenging level ("supreme athleticism") by training the body to perform as an integrated unit, capable of excelling in any sport.
Is preventing injuries and developing improved performance worth more than $80 to $85? This is a no-brainer. The correct shoe coupled with feet, legs, and core muscles strengthening, and a good running form is the minimal starting point for all runners. Throw in cross training and you're performing at your peak.
The Born 2 Run Road shoe are available in two colorways for both Men and Women – Red, Green.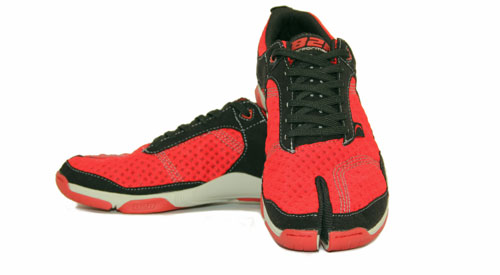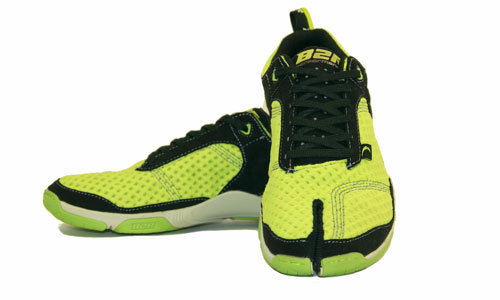 The Born 2 Run Road is now available at: Born2Run
*Product provided by Born 2 Run (Road shoe MSRP $95, Level 1 DVD MSRP $79). CMP.LY/1 Review
If you have a product you'd like reviewed, contact me at info@weartested.org