New Balance Minimus Zero Wellness Shoe Review
Next up on New Balance second-generation Minimus Zero collection is the Wellness model, a recovery and walking shoe. This shoe is for casual, daily lifestyle wear – commuting to work, travelling, doing errands. The shoe is also perfect for athletes who want to adjust to a more natural stance and stay minimal throughout the day.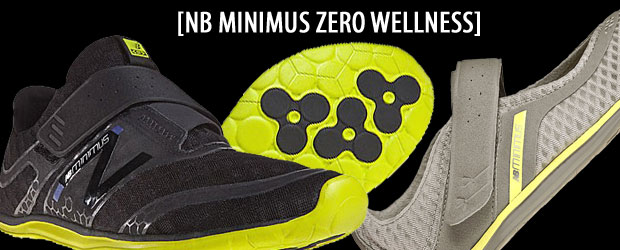 This is a significant improvement over the first generation model in terms of fit, comfort, and design. The shoe weighs in at 6.8 ounces and has a stack height of 7mm. It is also zero drop or 0 mm heel-to-toe differential. Compare this to the previous model at 5.8 ounces, 10mm, and 4mm drop. The extra weight must be coming from the redesigned uppers – that extra ounce doesn't matter for a walking and recovery shoe.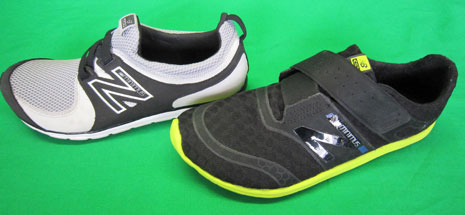 I've been wearing the NB Minimus Zero Wellness model for 5 straight days and using it for everything except running – walking, weights & fitness workout, standing jumps, etc. It took a few miles of walking before the shoe felt broken in – it was a little stiff initially.

For the media samples, I had to size up by a half size (US 10.5) since they only came in standard width (D) but they will launch with D and 2E widths. The length was fine and so is the toe box – no blisters or hot spots from any usage.

It has a breathable mesh upper with strategically placed overlays. It also feature an easy on/off gender-specific hook-and-loop closure: a traditional athletic look for men and a sporty Mary Jane construction for women.

I prefer the adjustable closure a lot more than the previous model which is hard to put on if your feet grew over time. The tongue is similar to the NB Minimus Zero Road 'taco-wrap' but I like this more as it is better integrated with the elastic band inside for a glove like fit – one end of the tongue is left hanging on the NB Minimus Zero Road. Again, most readers know the tongue on uppers of running shoes is my pet peeve!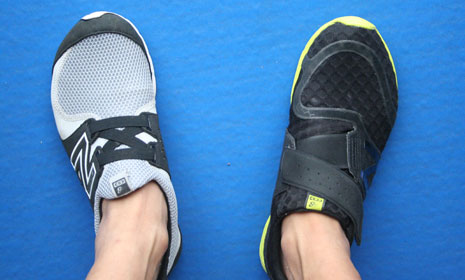 The outsole consist of an ultrathin sole unit composed of ground contact EVA and strategically placed, durable rubber lugs. These five pods of rubber lugs are concentrated in the high wear areas for walking.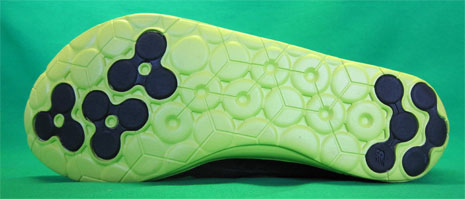 This is a perfect shoe for training your feet and for recovery. If you are new to zero drop running shoes, try this out first – walk before you run, literally. Once you are comfortable wearing this for a few weeks or months, then start with the New Balance Minimus Zero Trail or Minimus Zero Road if your feet is strong enough. If not, choose one of the gateway or transitioning shoe from New Balance like the 4mm drop NB Minimus Trail or NB 110 Trail or your favorite brand from our shoe buying guide.
One weird and unresolved issue. On my left foot, I get my plantar fasciitis flaring up when I first put the Wellness model on. Not all the time but maybe half the time. After about 5 minutes or more, it goes away. It is something of a minor annoyance and I don't understand why it happens. I only get plantar fasciitis when I wear cushioned, heeled, AND narrow running shoes (toe box) – it is very predictable.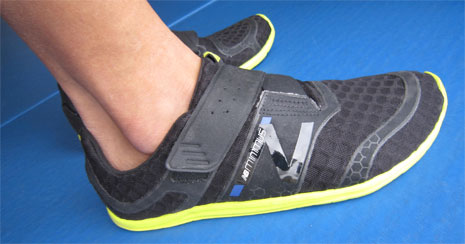 Even though this is not a gym or training shoe like the New Balance Minimus Trainer, I alternate between them but still prefer the Minimus Zero Wellness more for now – more flexible, lighter, and easy on-off. Until the next generation Trainer comes out in a few months – I can tell you the new trainer shoe is awesome looking with a lower profile.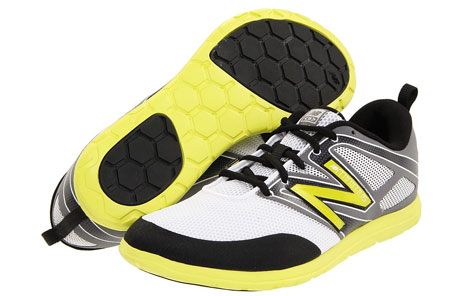 The New Balance Minimus Zero Wellness will be available in March 2012 on the New Balance web site and in running specialty retailers in many colorways and width sizing (D, 2E).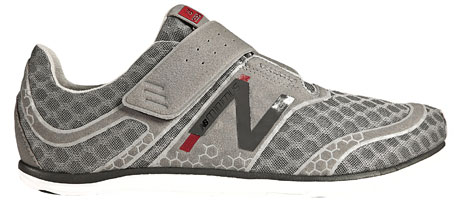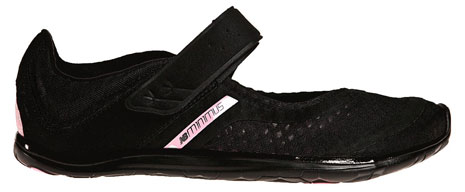 *Product provided by New Balance (MSRP $100). CMP.LY/1 Review
If you have a product you'd like reviewed, contact me at info@weartested.org