Amphipod is a company specializing in hydration waist packs and handheld bottles. Amphipod is all about minimalism: carrying as little as needed and everything is fully customizable. There is minimalism beyond shoes…

As the weather starts warming up, staying hydrated for long runs on trails is critical for your health and safety. As more and more trail runners participate in endurance races, they are also doing a lot more unorganized LONG training runs so carrying your own water and chews or gel packs is key.

First up are two low-profile hydration system from Amphipod's Profile Lite collection:  Profile Lite 16 and Profile Lite Air Stretch 20. All the models (varies by how much fluid and storage capacity desired) in this collection have these features:
contoured to fit like a glove for comfort
ultra low-profile design and bounce-free
fully-vented and cushioned air-flow construction
The Amphipod bottles all have extra-wide mouth for easy filing and cleaning. They are also BPA-free and comes with a leak-free high-flow spout. Capacity of 12 to 32+ ounces. BPA stands for Bisphenol A. BPA is an industrial chemical that has been used to make certain plastics and resins since the 1960s. The Department of Health and Human Services says it has "some concern" about the possible health effects of BPA on the brain, behavior and prostate gland of fetuses, infants and children. If you're concerned about BPA, look for BPA-free products like all of Amphipod's offerings. If a product isn't labeled, keep in mind that most aluminum cans or bottles have linings that contain BPA, while steel bottles or cans don't – Amphipod's PURE run series bottles have no plastic liner or straw, dishwasher safe and BPA-Free.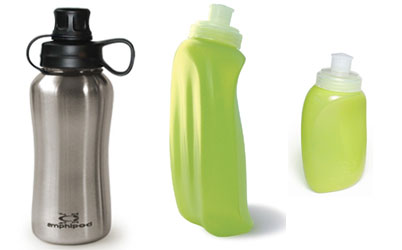 These Profile Lite models also feature a cool and vented Air Flow Mesh back panel with insulated thermal sleeves to keep your liquids cool. It is also ergonomically sculpted to hug the lumbar and have a zippered pocket to holds your gels, keys, and other stuff.

The Air Stretch 20 has an additional compression bungee for jacket, gloves, fuel and more. It also has a super comfortable fully-adjustable hip-gripping Air Stretch belt and slightly different snap buckle that is easier to operate.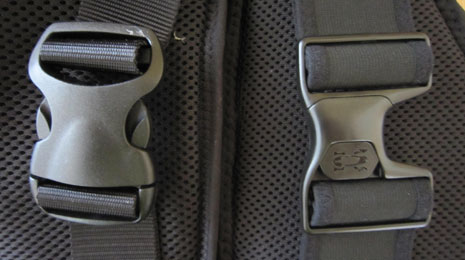 Now being a newbie in hydration systems, I had to ask, where are the instructions? On my first run with the Profile Lite 16, I had it strapped loosely on my waist. After I took my first few steps running, I realized it was too loose and the unit started bouncing. After tightening it, the whole unit seems to be part of your body and even with a full 16 ounces of water, I only noticed a slight bounce when running at a faster pace. The belt on the Profile Lite Air Stretch 20 felt a lot more comfortable on my waist even with 20 ounces of water. Once you start drinking from the water bottle, you will start hearing the swooshing of the water when running – it was more noise than anything else and still minimal bounce if any.

One practical note for those carrying just water but not much else in the pouch in the Profile Lite series. Make sure the bottom of the bottle is snugly flushed, tucked, and touching (left photo above) the side of the pouch and not over the side of the pouch (right photo above) – your bottle will slide out!
Here are some hints from Amphipod that I find super-useful:
All the packs and belts should be worn where the individual finds most comfortable, and as snug as possible while still being completely comfortable.
The center of mass of the water needs to be closest to the center of mass of the body to ensure a bounce free ride.
Units with webbing belts (like the Profile Lite 16) are highly durable but are fairly slick so when worn with slick shorts or shirts, they must be worn closer to the waist for minimal bounce.
Units with Air Stretch belts (like the Profile Lite Air Stretch 20) are stretchable and also have better grip so they can be worn around the hips or waists. Because they are stretchable, they can be worn closer to the body and still be comfortable.

Next up are two customizable hydration system from Amphipod's Run Lite Air Stretch collection: Run Lite Air Stretch Trail and Run Lite Air Stretch. All the models in this collection have these features:
hip gripping body contouring design
single handed bottle access
ultra-stretchable and comfortable Air Stretch belt
fix bottles (Snap Flasks) anywhere on the belt either vertically OR horizontally
customizable fluid and fuel levels for every workout
The Run Lite series is all about customization – bring what you need and how you want to use it. You can position the Snap Flasks anywhere you want them on the belt, including vertical or horizontal or remove them. The Snap Flask click in securely in and out with one hand.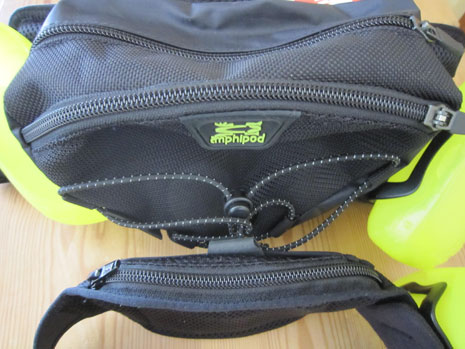 The two models are very similar with major differences in the lock-zip compartment capacity and belts (click-lock buckle versus Velcro buckle-free) only. The Trail model has much more space, two separate lock-zip compartments, and also include a compression bungee for jacket and other gear.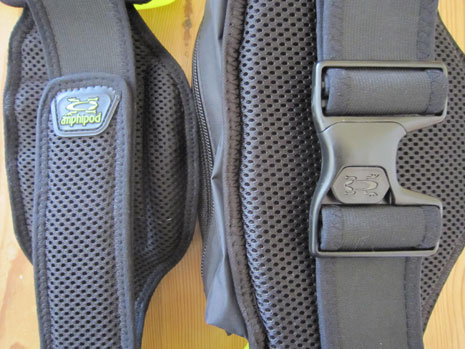 By wearing them close to my body and on my waist, these units also have minimal bounce, if any. Accessing the bottles are a lot easier compared to the Profile Lite models especially without stopping – the simple click in and out bottles are great! But I did notice that once in a while, the bottles mounted on the side of the belt gets in the way of my slight arm swing when I'm tired and my running form deteriorates. Once I regain focus, it's fine.
With the Run Lite Air Stretch collection, you can always extend your system by adding a Snap Pod or Snap Gel module. These modules also fit the Profile Lite belts.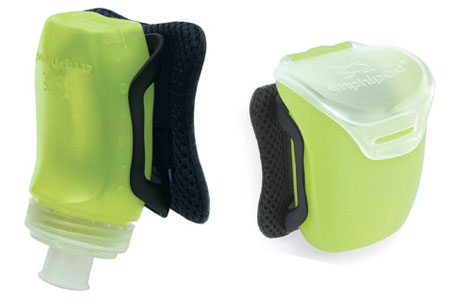 With these modules, you have on-the-go access to your endurance essentials like chew, gel packs, food, and other fuel for your run.
One of the most common question that everyone asked including myself is, are the Amphipod bottles dishwasher safe? According to Amphipod's web site:
"Yes.  Top rack bottle, cap (in the open position) in the silverware bin."
Amphipod is all about minimalism – carrying as little as needed and customize for your daily run situation. For those who run less mileage there are some good options in smaller vessels (12oz. handheld or waist packs). Their Run Lite Series hydration belts (8 to 60+ oz.) are fully customizable so carrying only one or two bottles depending on the distance that day. Additionally, all their Run Lite modules, bottles, pouches and other accessories can be used on all their belts and bottle packs.
Now that we have reviewed the core hydration systems available from Amphipod, get out there and enjoy your run safely by carrying or bringing one of these hydration systems. These are your ESSENTIALS for the Summer!
The Amphipod hydration systems are available at REI and Road Runner Sports.
*Product provided by Amphipod (MSRP $200). CMP.LY/1 Review
If you have a product you'd like reviewed, contact me at info@weartested.org