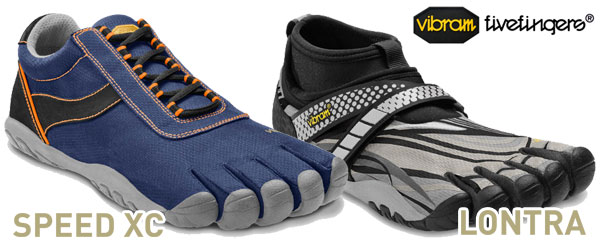 Two new models from Vibram Five Fingers (VFF) that are released for winter (wet and cold) runners are reviewed here: VFF Speed XC and VFF Lontra.
Vibram Lontra
The all-new Lontra makes cold weather running in minimalist footwear a breeze. A multi-layer laminate upper with fully taped seams provides insulation and water resistance. The micro-pile fleece liner is soft against the skin while helping wick perspiration away from the foot. Other features include a neoprene heel cuff to keep out snow and debris, and a reinforced hook-and-loop closure for a snug and secure fit.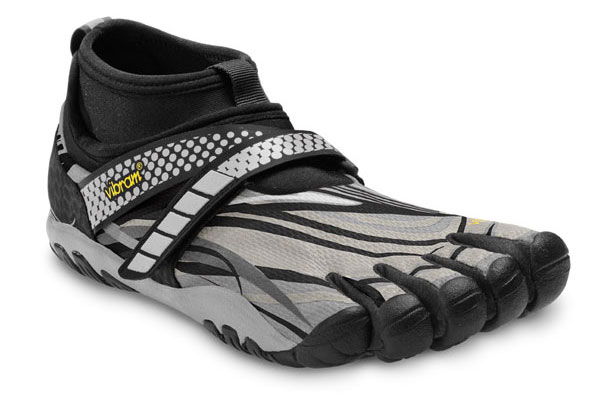 You can run safely at night with its reflective surfaces for enhanced visibility. The 4mm EVA midsole provides insulation from frozen surfaces, and the TC-1 Dura outsole provides traction, durability and superior plating protection.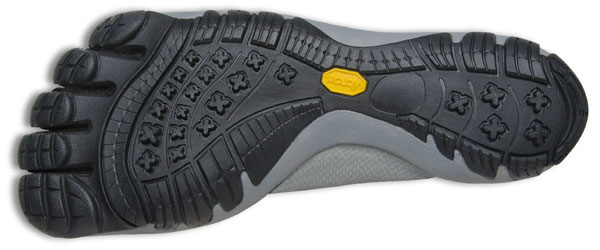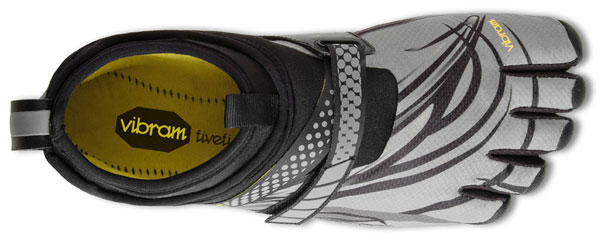 Vibram Speed XC
The multi-layer laminate upper with fully taped seams on the Speed XC provides insulation and water resistance for trail running and walking. A 4mm EVA midsole offers plating protection from stone bruising, and a 4mm Vibram TC-1 Dura outsole delivers increased traction on a variety of surfaces.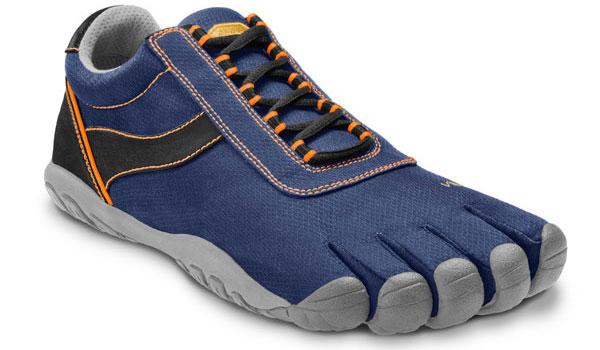 There's a traditional lacing system designed for easy entry, gusseted tongue to prevent water penetration, and seamless polyester lining to keep the outdoor enthusiast comfortable and dry.
So how did the VFF Lontra and VFF Speed XC perform?
My EU43 men's size VFF Lontra weighs in at 7.4 ounces whereas the VFF Speed XC weighs in at 7.6 ounces – almost identical. Both have a 10mm stack height. I had to compare these two models to my favorite trail runner, the Vibram Spyridon LS. The major difference is that the Spyridon LS is not water-resistant and is 0.5mm thinner on the outsole. Weight for the Spyridon LS EU43 is 7.6 ounces.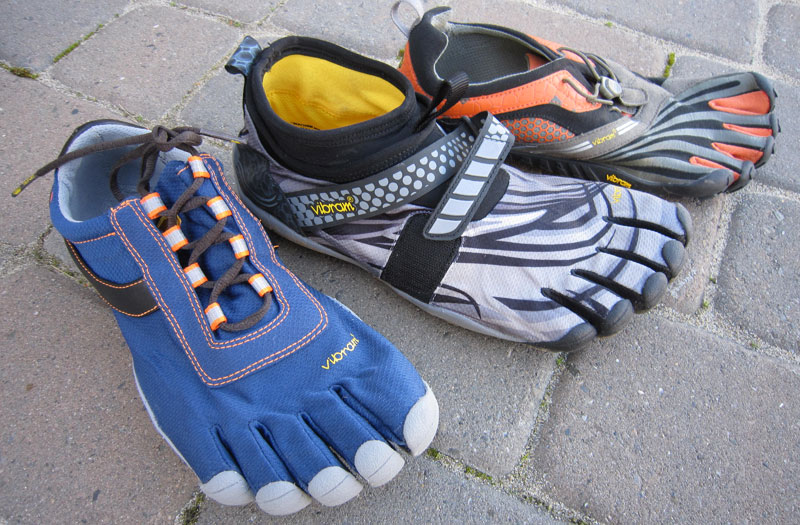 To begin with, the VFF Lontra is one of the hardest Vibram model to put on my feet. Maybe it's the tightness from the fully taped seams on the mid-height uppers. And it is also one reason why I favor laces on Vibram Five Fingers shoes. But once I put it on, it is super-comfortable. The fleece liner really does it job her, for now – more later. Running in mud and cold weather (high 30s and low 40s) in Northern California trails, my feet stayed warm and my toes did not freeze – that is a first for me! And I'm a wimp when it comes to cold weather even though I don't wear socks when running. Great traction on muddy and slippery rolling hills. However, when I finished and took the VFF Lontra off, my feet was sweaty – another first. The fleece liner did not wick the sweat from my warm feet. The Lontra kept my feet warmer than the Spyridon LS and performed just as well on trails. But getting in and out of the Lontra is still a major chore and the Spyridon LS is superior in that respect.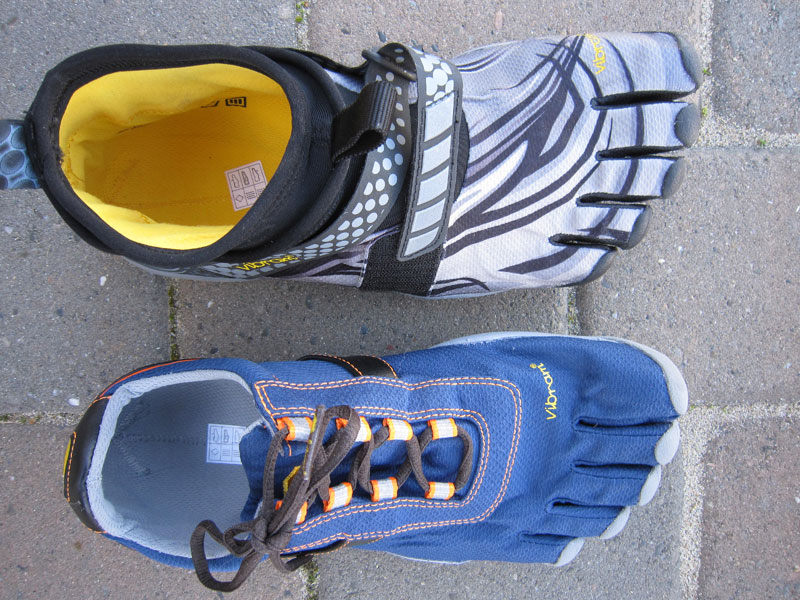 Now with the VFF Speed XC, it was easy to get my feet in but the toe slots are stiffer and harder to get into. Additionally, it felt at least an eighth-of-an-inch shorter than normal as the tip of my toes are right on the toe bumpers. I ended up having to tape my toes to prevent blisters.

Yes, the Speed XC does stand out more when walking or running in them because of the 'jean-like' uppers and the non-standard lacing system. The Speed XC is not specifically designed for running but with an outsole identical to the Lontra and Trek Sport, it has no problems on non-technical trails and tartan track where I tested all the Vibram models. Definitely as warm as my Spyridon LS but the Lontra rule in that department. Because of the fit, I prefer running and walking in the Lontra and Spyridon LS a lot more. To me, the Speed XC is targeting the fashion conscious…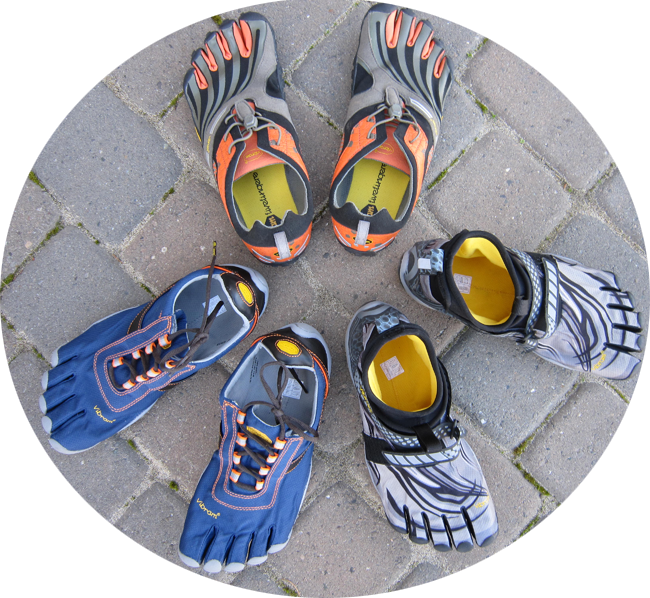 The Vibram Five Fingers Lontra is recommended for Trekking and Running by Vibram. The Lontra is available in a single colorway for men (Black/Grey).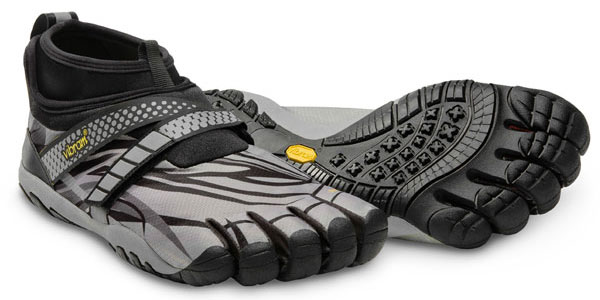 And also in a single colorway for women (Grey/Pink).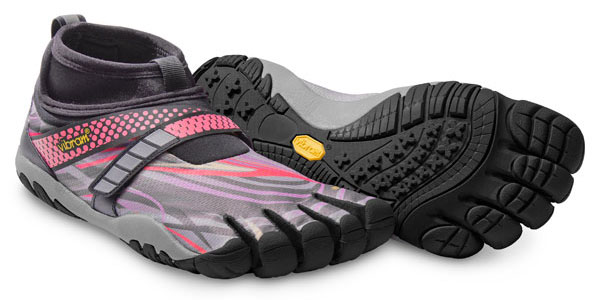 The Vibram Five Fingers Speed XC is recommended for Trekking and Recovery by Vibram. The Speed XC is available in 2 colorways for men (Black and Navy).
And in 2 colorways for women (Black/Rose and Black/White).
The VFF Lontra and Speed XC are both now available at REI and Moosejaw web site.
http://www.vibramfivefingers.com
*Product provided by Vibram. CMP.LY/1 Review
If you have a product you'd like reviewed, contact me at info@weartested.org