We last reviewed the Tifosi Podium and Tifosi Podium S sunglasses from Tifosi Optics in August 2012. New for 2013, the Tifosi Clarion Mirror collection not only looks striking, it also performs. The high quality lenses feature consistent color to eliminate lens distortion, are hydrophobic so water and sweat roll off, and filter a high level of blue light, sharpening contrast. The reflective properties cut glare and the lenses shield the eyes with 100% protection from UVA/UVB rays. All have hydrophilic rubber pads on adjustable nose and ear pieces for a custom, non-slip fit.

In the collection, there are 3 different reflective lens colors:  Clarion Blue, Clarion Purple and Clarion Red.  All models are interchangeable and come with an additional AC Red (All Conditions) and Clear lens. All Tifosi eyewear also come with a cleaning bag and zippered protective case.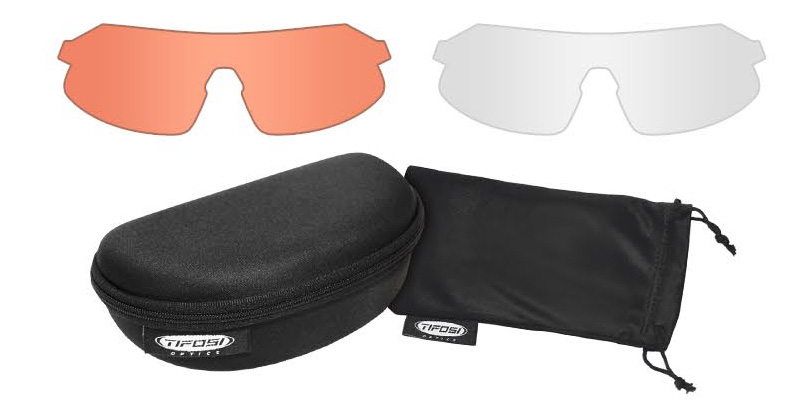 The models in the new Clarion Mirror collection include:
Podium XC – Clarion Blue or Clarion Purple lens
Velocé – Clarion Blue lens
Slip – Clarion Red lens
Podium – Clarion Red or Clarion Purple lens
Clarion Mirror Collection features:
Hydrophobic reflective lens repels water and sweat, prevents water spots
Consistent color on reflective lens giving no distortion
Hydrophilic rubber nose pads & temples reduce slipping in sweaty conditions
Adjustable nose piece and temples for customized fit
3 Interchangeable lenses, cleaning bag, and zippered case included
MSRP $69.95-$79.95
So how did the new Tifosi Clarion Mirror lenses perform?
For this wear test, we were sent the Podium XC Clarion Blue and Slip Clarion Red. The Podium XC has a more streamlined lens and a narrower fit than the original Podium model. The Slip is Tifosi's best selling model in the running category. It is very popular because it fits lot of different face sizes. I don't have a wide face so this is a welcomed addition. Personally, both the Podium XC and Slip fits much better on my face than the Podium and Podium S models that I tested last year. Both frames are much more comfortable – the lenses are not touching my cheeks, the frame is not hurting behind my ears, and the frame is sitting correctly on my nose with the adjustable nose piece.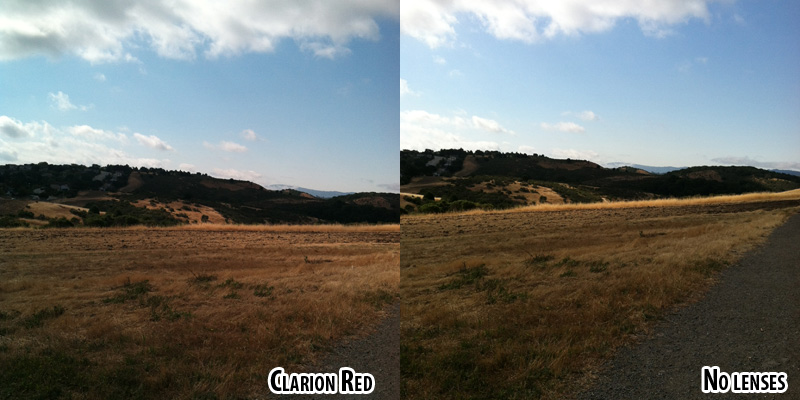 It only takes a little time to get used to the new Clarion lenses – it is a lot brighter than the typical grey lenses for bright light conditions but more refined and darker than lenses for low to medium light conditions. I like the Clarion Red more than the Clarion Blue and All Conditions lenses.
Being someone who sweat a lot (and especially in the hot and humid weather here) while running, I have tested the hydrophobic feature of the lenses to its maximum potential. The sunglasses never slipped off my nose with all the sweat flowing. The only problem that I had is after I finished running. I would take off my sunglasses and wipe my sweat and hydrating. While putting my sunglasses back on, I get sweat and water spots on the lenses…

The Slip and Podium XC are now my favorite sunglasses from Tifosi. As a matter of fact, they are even more comfortable and performed just as well as all the sunglasses I have tested thus far!
The Tifosi Clarion Mirror collection is now available at: Amazon, Swim Outlet, and Holabird.
*Product provided by Tifosi Optics. CMP.LY/1 Review
If you have a product you'd like reviewed, contact me at info@weartested.org