Recently released for Fall '11 and coming in Spring '12 are windproof, waterproof, reflective running jackets for the cold winter weather. And lightweight running jackets for the warmer weather especially for ultra marathons and trail running.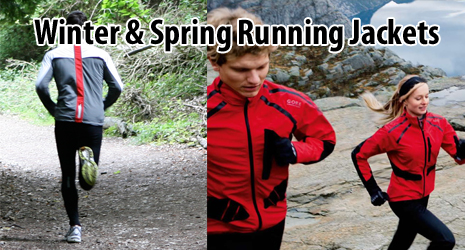 We've (my female wear tester and myself) been testing running jackets for the past three to four months between warm/windy and now cold/wet weather. We've learned that there is more to just jackets for a great run.
Winter Running
For Winter running, we wear-tested the following running jackets: Ashmei – Ultimate Softshell; Sugoi – Zap, Majik; Under Armour – Wind/Water Convertible, Escape Wind/Water; Brooks Running – Nightlife II, LSD Lite II; Gore Running – X-Running Light AS.
For a Winter running jacket to perform perfectly, it has to breathable so that sweat is not retained while keeping water and wind out. Thus maximum exterior protection from the elements but with excellent interior moisture management.
Retractable inner hand mitts would be nice for those days when you don't have to carry your running gloves or forgot about them (which I did on many occasions).
Ashmei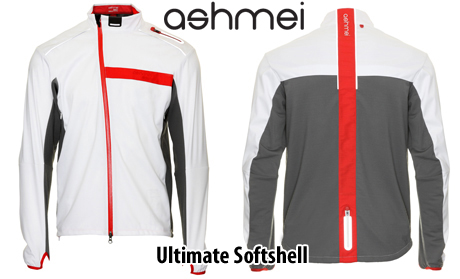 Ashmei is a company based in the United Kingdom (a bonus to all my UK readers!) with a mission statement, 'The finest performance running apparel in the world'. The Ultimate Softshell running jacket is windproof, water resistant, fast wicking (stretch merino material), warm and extremely breathable and has been ergonomically tailored with just the right features.
Under Armour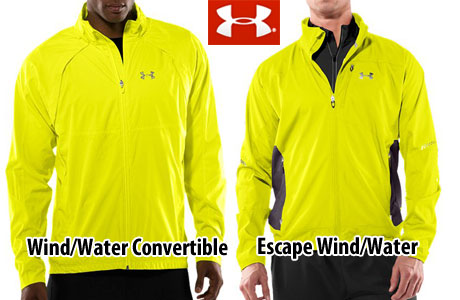 The Wind/Water Convertible jacket is for any weather and any climate. Durable Water Repellent (DWR) finished fabric keeps you dry and breathable wind-resistant materials block wind, keeping you warm, protected, and comfortable. The jacket also comes with detachable magnetic sleeves (can be stored in secure back pocket) thus making this the ideal jacket for all climates and conditions.
The Escape Wind/Water jacket is wind- and water-resistant DWR with Under Armour signature sweat-wicking fabric and perforated stretch ventilation panels. And 360-degree reflectivity increases your visibility when you run in lower light.
Sugoi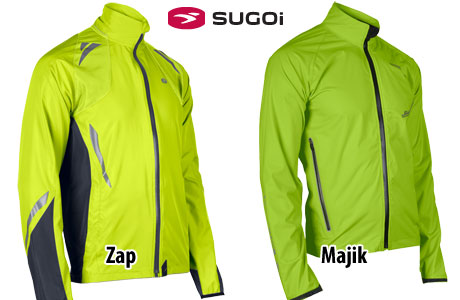 The Zap jacket is wind and water resistance with 360-degree reflectivity (3M Scotchlite) for winter performance and visibility.
The Majik Shell jacket feature a fabric with a unique membrane which gives the ultimate waterproof breathability performance; allowing hot sweat vapors from within to escape quickly while repelling wind and rain from the outside.
Brooks Running

The windproof and water-resistant Nightlife II is the jacket for night time runners, with 360-degree reflectivity (3M Scotchlite) and bright high-contrast color.
The windproof and water-resistant LSD Lite II sports a handy roll-and-stow hood, and now with a clip on the stash pocket, this crazy-light, stash-able jacket is always at the ready. With 360-degree reflectivity (3M Scotchlite), this is also an ideal night time running jacket.
Gore Running Wear
The X-RUNNING LIGHT AS jacket with Wind Stopper is the lightest, most packable product offering total windproof, maximum breathability and water resistance. Easy to bunch up into the size of your fist and easy to carry in any waist belt or pocket.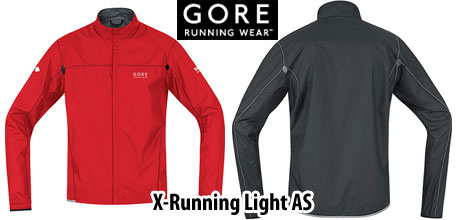 Our Verdict
The weather has been perfect for testing running apparel in the past 3 to 4 months. There are very cold days with no wind or rain, many rainy and windy days, and some days where the weather is more California like – sunny and clear.
The runs usually start out with our running apparel dry and warm. After finishing our runs, we are either drenched in sweat or wet from the rain or freezing because of the strong winds. If the running jacket perform as advertized, we shouldn't be sweating or freezing. And we should only be wet on our caps or beanies or shoes from the rain – our body should be dry with moisture on the outside of the running jacket.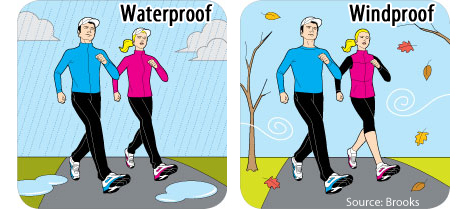 A perfect run means that we are dry AND warm through all the miles. We should be enjoying our run, not worrying about the weather or body temperature. Just as life is not always perfect, our runs are not always great.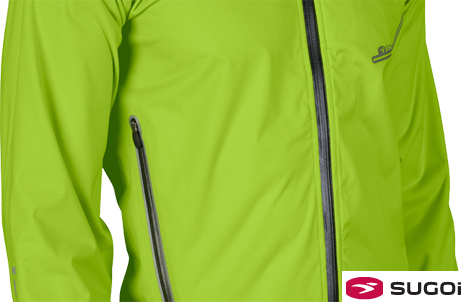 For night running or running in low-light conditions (early morning), a safe running experience requires the jackets to have a high-contrast florescent color and reflectivity material placement. Reflective materials should be placed in motion zones and highly visible locations to increase the opportunity for early runner recognition and awareness by motor vehicles or bicycles.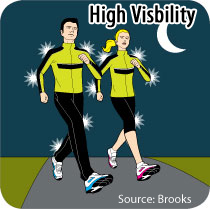 All the Sugoi and Under Armour jackets performed very well by keeping runners warm and managing interior moisture. The Brooks jackets did not keep us as warm nor are they perfect Spring running jackets (they're not as lightweight as The North Face or Gore Running) but they did offer the best reflectivity for night time running.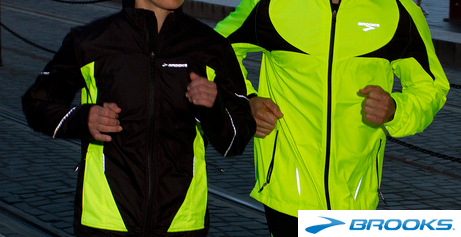 The Gore Running and Ashmei jackets performed very well all around with the quick changing weather here. It has the features from each – reflectivity, lightweight, warmth, and wind resistant. However, moisture management could be better on the Gore jacket. But that could have been a flaw on my part as I don't have the correct layering system to maximize the performance of the jacket.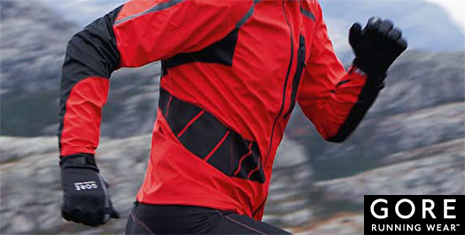 The Ashmei jacket however performed better than expected and is super-comfortable. The attention to details is simply amazing. There are two small storage pockets for essentials such as MP3 players with cable exits and bespoke cable routing which are placed at the center back hem and on the right shoulder to eliminate the hassle of long earphone cables constantly pulling when stretched. The scooped rear hem has a shock cord adjuster at either side of the jacket and features silicone gripper tape to prevent the jacket riding up.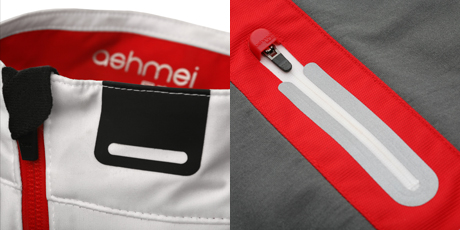 We also noticed that Under Armour running jackets are a few inches longer in length and this little detail is significant in keeping warmth in.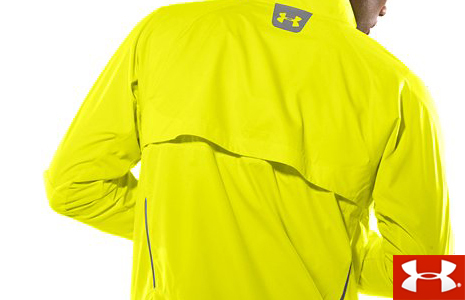 One major lesson learned. It's not just the jacket that determines a good or great run. Your performance will be severely limited without the accompanying gloves, hats, socks (or compression sleeves), base layer, mid layer, and outer layer. There were multiple late-night runs in the 30s and below weather where my hands froze – it didn't matter what I was wearing if my hands are frozen and I cannot concentrate on my run. Head -to-Toe (your head, hands, and feet) and Skin-to-Shell  layering protection (coined by Gore Running Wear) is a must.

So even without the proper layers, I wanted to point out that the Ashmei jacket has a really nice feature that I tested on very cold days without wearing gloves. The Ashmei cuff has been engineered with winter weather in mind, scooping the cuff over the hand to protect them from the cold wind while an inner half mitt has been added that can be pulled down to wrap around your fingers if the conditions get worse. There are also thumb loops placed on the ends of the cuffs so you can pull the sleeve down further over your hand to give even more protection on really cold days. And it worked beautifully for windy and cold days here!
Spring Running
For Spring running, we wear-tested the following running jackets: The North Face – Better Than Naked Cool; Patagonia – Nine Trails, All Weather. These jackets are all lightweight, water-resistant, and breathable.
For a Spring running jacket to perform perfectly, it has to be super-lightweight, breathable, and abrasion-free for those long runs.
A bonus is when the jacket can be stashed away anytime.
Patagonia
Launching in Spring '12 from Patagonia is a robust head-to-toe collection of trail running products. For this review, we tested the new women's All Weather Top and the men's Nine Trails Jacket.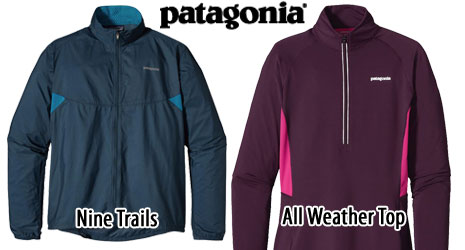 First up, the men's Nine Trails is superlight and combines tough triple-ripstop nylon and breathable stretch-woven polyester that's treated with a Deluge DWR (durable water repellant) finish for weather-resistant protection. Slim fit and weighs about 4.7 ounces.
The women's All Weather top is the perfect cover-up for your morning run. The top is made of a stretch polyester/spandex blend with breathable airflow mesh in the back panel for maximum ventilation.
The North Face
The signature collection from The North Face (TNF) is the 'Better Than Naked' (BTN) line. The Spring 2012 Better Than Naked Cool collection is more lightweight, breathable and comfortable than ever before, eliminating distractions to help runners perform better, and stay out running longer.
The BTN Cool Collection is water resistant, breathable and body mapped for convective cooling to remove moisture from the inside out. New burn-out ventilation panels allow for strategic venting throughout the garment, while reducing weight. Weighs under 8 ounces.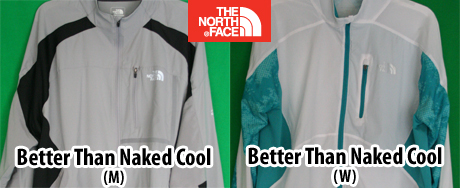 Our Verdict
Even though all the Summer lightweight jackets we tested can be folded up and carried snugly on your run before or after use, The North Face Better Than Naked Cool jacket performed much better for the trail runs in Northern California quick changing weather. Both Patagonia and TNF BTN jackets are water-resistant and breathable, but the TNF BTN jacket has better moisture control and greater reflectivity.
A pet peeve of mine with regards to running apparel is the location of the zip stash pocket for minimum bounce. Depending on whether I putting away my keys or ID cards/cash, I have a strong preference of whether they should be located in the front or back and top or bottom. For jackets, I prefer storing my ID cards/cash in top FRONT zip pockets or lower BACK zip pockets. For my keys, I prefer top FRONT zip pockets or I just store it on my running shorts/pants (preferably on the BACK).
Optionally, if I am carrying water or extra nutrition, I will carry my ID cards/cash and keys with a handheld hydration system or a hydration waist pack so the stash pocket does not matter.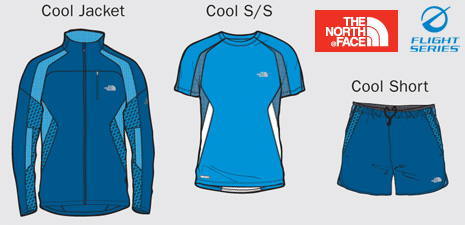 The TNF BTN Cool Jacket when paired with the BTN Cool Short Sleeve Top and BTN Cool Short made my day. No chaffing, super-lightweight, highly breathable, and super-comfortable for short and long runs on roads or non-technical trails. And yes, the BTN Cool Short has a zip stash pocket in the back! The BTN Cool Singlet is the only item I'm missing…
Recap
Here's a quick snapshot of selecting which jacket to use for different running situations or weather conditions.
Night & Low-Light Running Jacket
Top Choice:
Brooks LSD Lite II
Runner Up:
Under Armour Escape Wind/Water
Warm & Day Running Jacket
Top Choice:
Ashmei Ultimate Softshell
Runner Up:
Sugoi Majik Shell
Warm & Super-Lightweight Running Jacket
Top Choice:
Gore X-Running Light AS
Runner Up:
Under Armour Escape Wind/Water
Water & Wind Resistant Running Jacket
Top Choice:
Ashmei Ultimate Softshell
Runner Up:
Under Armour Escape Wind/Water
And the overall winners…
MRS Reviewer's Top Choice
Ashmei Ultimate Softshell
MRS Reviewer's Runner Up
Under Armour Escape Wind/Water
#1 Winter Running Jacket
Ashmei Ultimate Softshell
#1 Spring Running Jacket
The North Face Better Than Naked Cool
http://www.gorerunningwear.com
*Product provided by Ashmei (MSRP $275), The North Face (MSRP $130 each), Patagonia (MSRP $100 each), Brooks Running (MSRP $75 to $100 each), Under Armour (MSRP $75 – $100 each), Gore Running Wear (MSRP $160), Sugoi (MSRP $100 – $180 each). CMP.LY/1 Review
If you have a product you'd like reviewed, contact me at info@weartested.org