Award-winning sportswear brand, Ashmei, maker of high performance running apparel, has just announced their cycling and triathlon apparel collection. For the next 30 days, they are offering early discounts for pre-orders through their Kickstarter campaign. PERFORMANCE, QUALITY and STYLE.
Ashmei Cycle Softshell Jacket
Destined to become an instant classic, Ashmei cycle softshell jacket has been designed from the fiber up. starting with the riders requirements – heat regulation, wind or water protection, stretch, UV protection or maximum breathability. Fabrics are then developed using the perfect fiber combination and include the best technology available.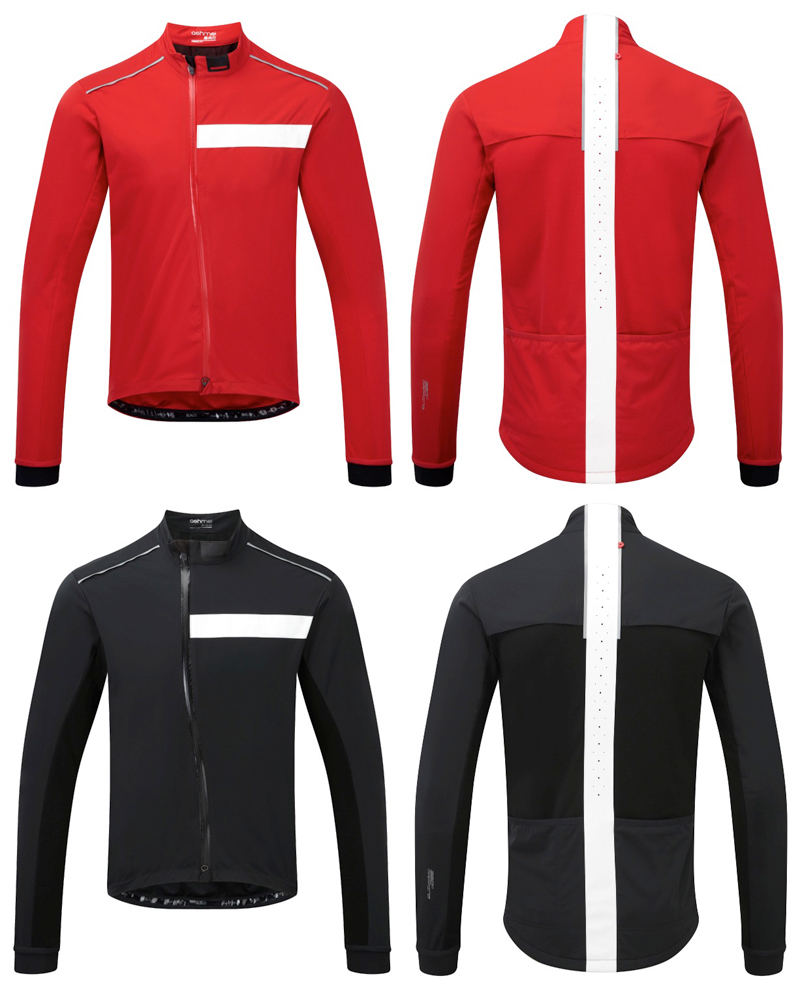 Highly breathable, wind and water resistant front & sleeve panels
Fast wicking merino wool rear & sleeve panels for extra comfort and breathability
6 piece ergonomic sleeve construction
Reflective detailing and discrete, zipped front & rear venting
Offset front zip for comfort with bite grip
Thumb loop with hidden built in winter mitt
2 zipped storage/i-pod pockets with earphone cable tidy
Adjustable dropped hem with gripper elastic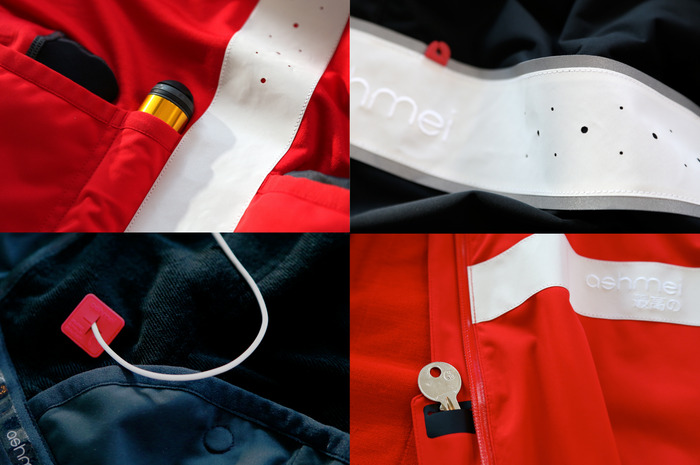 Pre-order Ashmei CycleSoftshell Jacket now on Kickstarter
Ashmei Merino+Carbon Cycling Jersey
Ashmei Merino+Carbon Cycle Jersey will easily outperform the competition. By improving the performance of merino wool, Ashmei blended it with carbon which dramatically speeds up the moisture wicking and drying. It's the same bespoke material they've developed for their running collection and has become a favorite with runners around the world. This fabric has another advantage of being stink free. Merino+Carbon resists bacteria which is the cause of traditional polyester jerseys smelling after a while. It means you can wear your Merino+Carbon Cycle Jersey in the cafe after a ride without being paranoid that the nasty whiff is coming from you.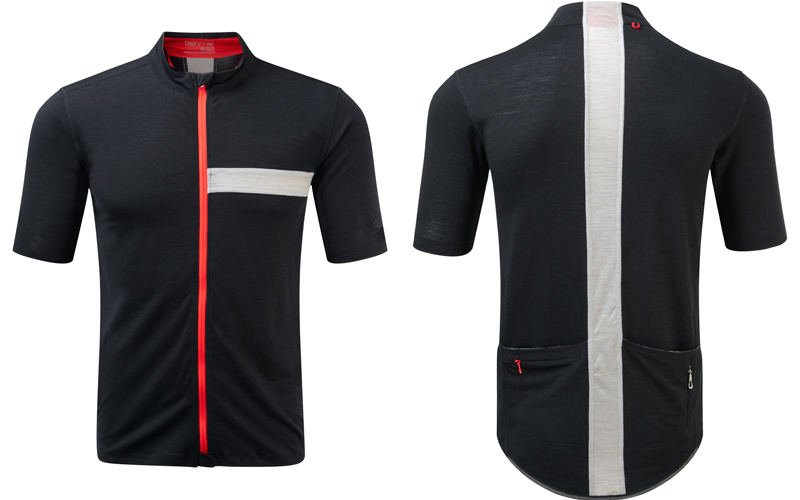 Reflective detailing
4 rear pockets, bonded key seams, a rear earphone cable locator, scooped hem
4 secure zipped pocket, available in black, red and grey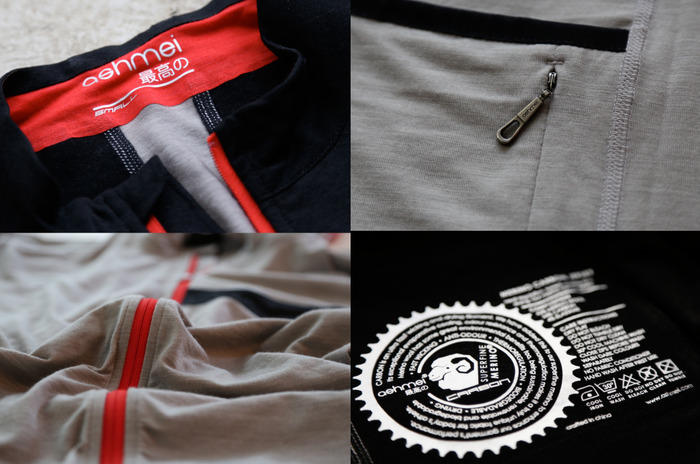 Pre-order Ashmei Merino+Carbon Cycling Jersey now on Kickstarter
Ashmei Cycle Bib Short
Ashmei has developed the best bib shorts they could with their Cycle Bib Short that is ultra lightweight, had a very tight weave to provide a level of wind resistance and had a huge amount of elastic recovery to provide consistent compression.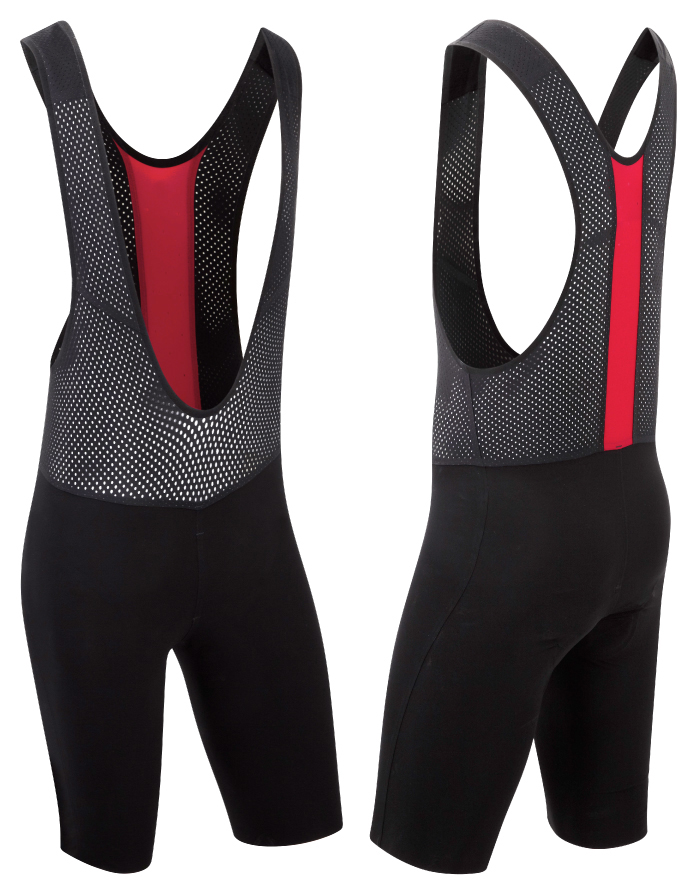 The woven fabric is water resistant and when completely submerged in water for 5 minutes absorbs minimal water or increase in weight compared to an increase of 180% in weight a traditional 'high performance' knitted lycra fabric obtained. This means that if you do get caught in a shower when riding, your bibs will remain dryer and lighter for longer and even when wet they will dry so much faster, keeping you warm and comfortable.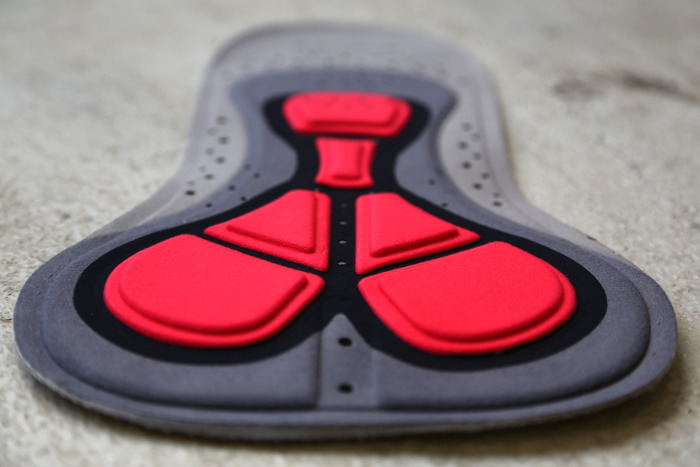 Bespoke bonded (to the shorts) chamois and laser cut where it is needed, provides supreme comfort when you are on the bike but eliminating the cold nappy when you finish your ride, allowing you to enjoy your cappuccino in complete comfort. Seams are all ultrasonic welded – the seams are very strong and completely flat, providing a smooth aero finish and eliminating chaffing.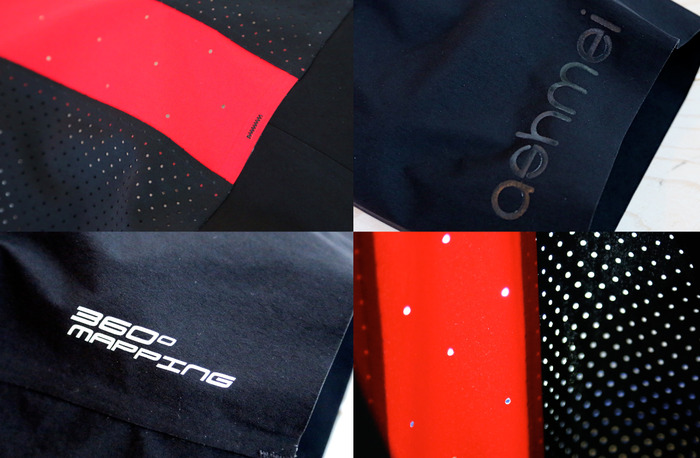 Pre-order Ashmei Cycle Bib Shorts now on Kickstarter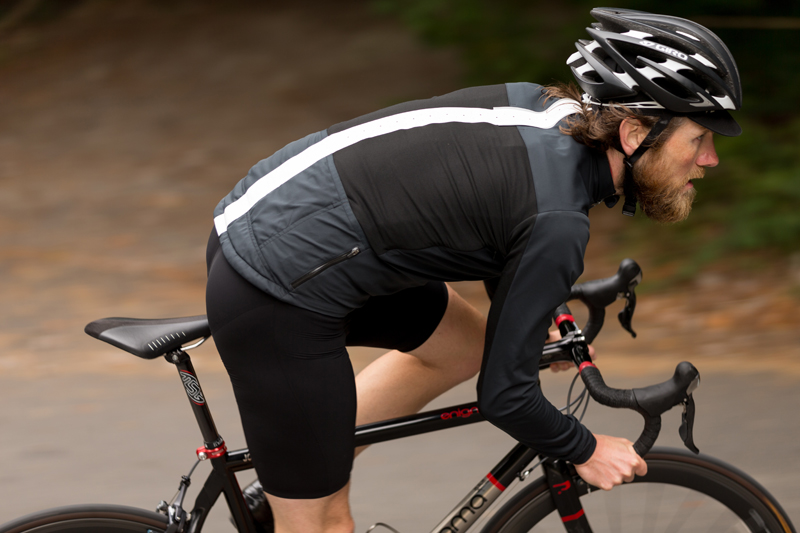 Ashmei Triathlon Suit
In a single word, the Ashmei triathlon suit, 'gamechanger'. What is the Ashmei edge? Key is the fabric choice – something that resisted water absorption, was lightweight, had huge stretch and offered great compression, dried ultra fast and was strong and durable. Ashmei's triathlon suit uses an ultra lightweight fabric with almost twice as much stretch and recovery as traditional knitted spandex. It also absorbs 180% less water than a traditional knitted fabric so you carry less weight in the swim but come out of the lake feeling much drier and therefore more comfortable. With ultrasonic welded seams, they remain completely flat which means there is less drag when you swim and they are more aerodynamic when you are on the bike.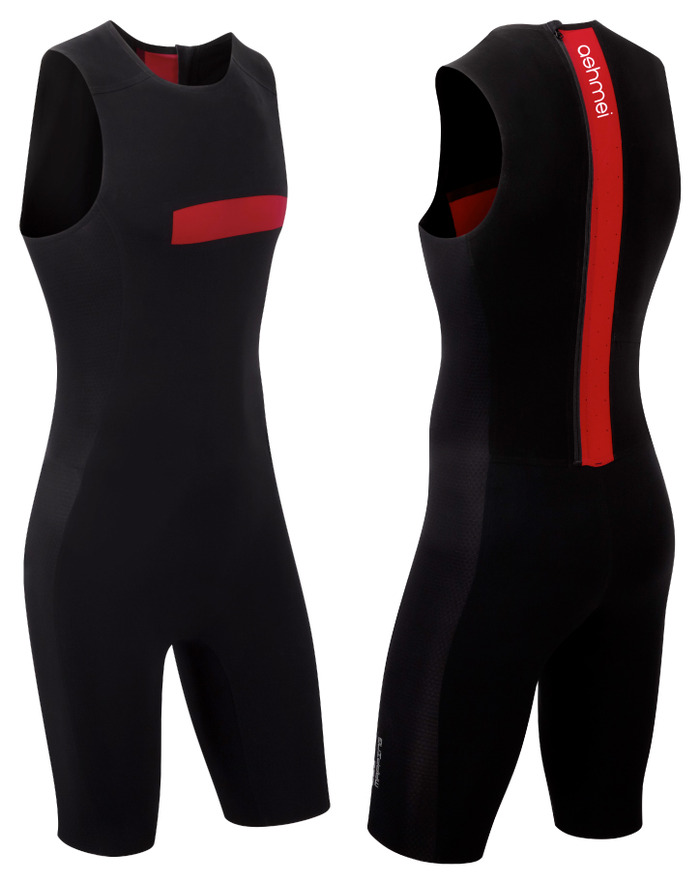 Ashmei developed a unique laser cut foam that is bonded to the suit in the required areas you need to provide comfort on the bike but without being restrictive when you swim or run. The advantage of using this high density foam is it does not absorb water, so you exit the lake with a dry chamois that feels amazing and allows you to ride and run in complete comfort.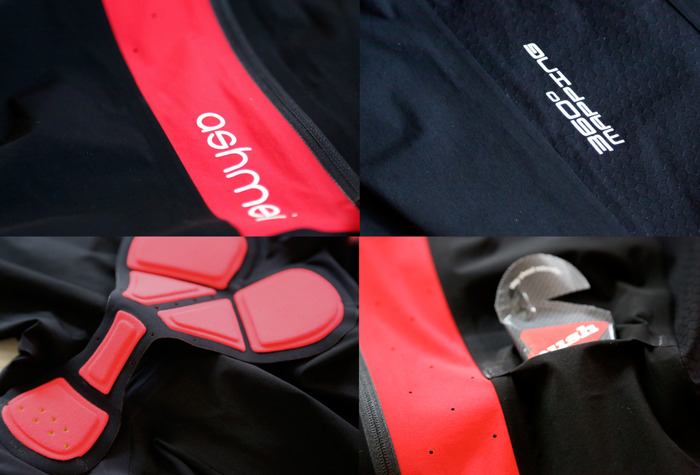 The suit has a waffle fabric along the side panels to provide a streamline surface when you swim and the suit has a rear zip with a removable cord, again making sure you are streamlined when you are in the lake. The suit comes with a rear gel pocket and is available in Black with the classic red Ashmei stripe to the back.