SKECHERS Fitness Group is branching into other fitness categories after a successful launch with their Skechers GOrun shoe in which we reviewed last year. Next up is the Skechers GOwalk, a natural walking shoe.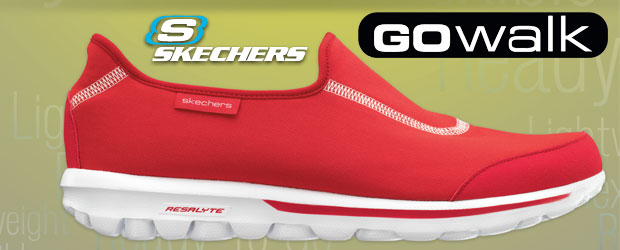 The biggest question after we finished reviewing the GOrun is whether the Skechers GOwalk will have the same rocker effect and especially for walking purposes. I have my female wear tester on this as she takes public transportation plus walking about a mile to and from her workplace daily.

And it feels and performed better than the GOrun for walking. The GOwalk does NOT have that rocker 'bump' in the midfoot as on the GOrun. You can almost tell by looking at the side profile of both shoes but I needed it confirmed and we did. The image below has the GOrun overlaid on top of the GOwalk – notice the curvature of the GOrun versus the almost flat GOwalk.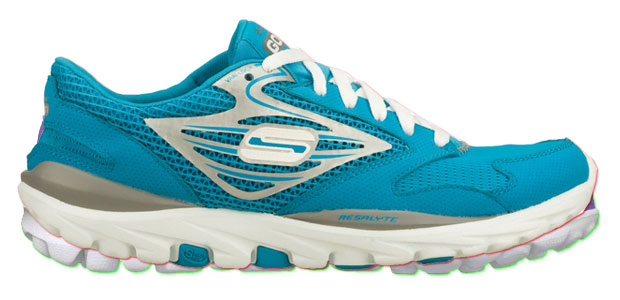 As with the Skechers GOrun, the GOwalk is super comfortable and lightweight. My wear tester has to size down by a half-size as she has normal width feet – the regular size (US women 9.5) is too loose for her feet. The shoe weights in at a light 4.4 ounces compared to 6.4 ounces for the same size GOrun – that's a whopping 31% lighter!

The GOwalk has a lightweight and seamless synthetic and fabric upper. There is a stretch center top panel for easy slip-on coupled with a pull-on heel loop design.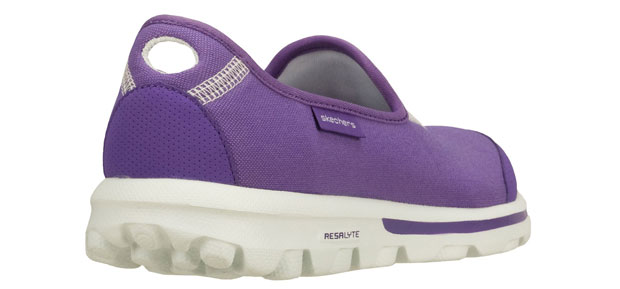 The ultra smooth shoe lining makes it super comfortable for barefoot or sockless wear. The integrated Ortholite anti-microbial sockliner helps inhibit odor and prevent slippage.

For those with wide feet, the roomy toe box allow your toes to spread and grip.

The outsole has the same GOimpulse sensors as the GOrun to provide sensory feedback to the brain. The SKECHERS GOwalk flexes and twists allowing your foot to move naturally. This shoe has now replaced her tennis shoes as the 'office' and 'break' shoe – a shoe that one swaps out with the formal dress shoe. It is one of those shoes that she puts on to wear as much as possible around the office! And it's both casual and dressy enough. For the summer, it will complement most outfits and will also work nicely for strolls on the beach!

The SKECHERS GOwalk is available in 3 colors for Men: Black, Blue, and Gray.

And also in 6 colorways for Women: Blue, Navy, Gray, Green, Black, and Purple.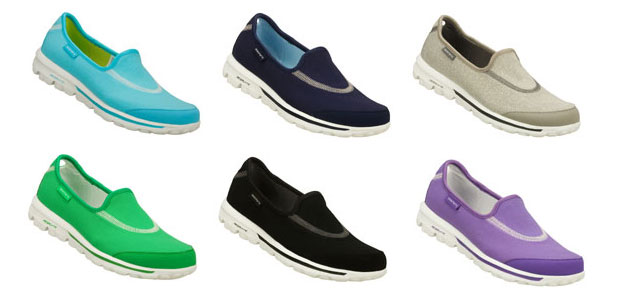 Again, SKECHERS Fitness Group is taking a page from Merrell's playbook. Develop a proven and highly successful barefoot platform. Apply it to other outdoor categories. So if you love the Skechers GOrun, you'll love the GOwalk even more. And maybe even GOplay and others in the near future.
The SKECHERS GOwalk is now available in stores everyone including Zappos.
*Product provided by SKECHERS (MSRP $59). CMP.LY/1 Review
If you have a product you'd like reviewed, contact me at info@weartested.org