SKECHERS Fitness Group is jumping into the barefoot-style running category with the premiere of SKECHERS GOrun, a lightweight minimalist running shoe.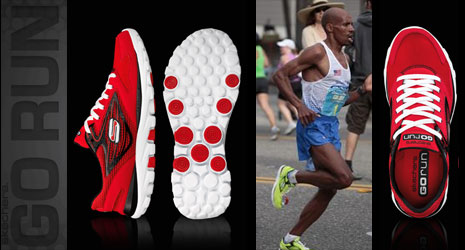 Features of the GOrun include:
Lightweight: GOrun is astonishingly light.
Midfoot Strike: A 4mm heel forces the runner to land midfoot to forefoot which minimizes joint stress and maximizes efficiency.
Go Impulse Sensors: Strategically placed on the sole of the shoe, impulse sensors provide traction, stability and an immediate reaction to any terrain. They are strategically placed where impact points are greatest.
Great Value: At $80, GOrun opens the door to the benefits of barefoot running, from experienced marathoners to the casual jogger.
SmartShoe – Curved bottom shifts the point of impact forward to create mid-foot strike and promote natural motion.
Resalyte – Proprietary lightweight, injection molded compound with memory retention.
Barefoot Last – Roomy forefoot allowing maximum splay and push off.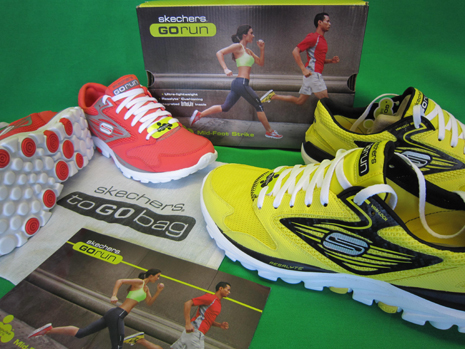 SKECHERS, the second largest shoe brand (behind Nike) has signed a one year deal with Meb Keflezighi, Olympic silver medalist and the most decorated American distance runner including the greatest distance runner in UCLA (GO Bruins!) history. SKECHERS is certainly serious and the GOrun is a prime example. Meb will be wearing and promoting SKECHERS GOrun at the New York City Marathon (he finished sixth-place overall and is first-place from the USA – the fastest time for an American and a personal best), 2012 US Olympic Marathon Trials, and hopefully the 2012 London Olympics.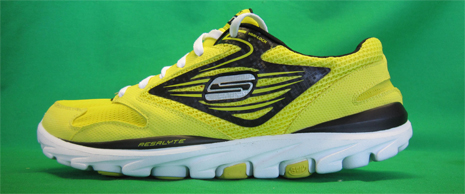 The SKECHERS GOrun weighs in at 7.6 ounces (US Size 10) and has a stack height of 14mm and a differential (heel-to-toe drop) of 4mm. There is however a slight bump (about 3mm higher than the heel) close to the midfoot area that is supposed to force a midfoot strike and promoting natural motion. The SKECHERS web site listed 13mm, 16mm, and 10mm for the heel, midfoot, and forefoot stack heights resulting in a 3mm drop.

The second you slip on a pair of GOrun, you'll feel the wide toe box and smooth integrated antimicrobial sock liner – perfect for the sockless runner.  With my 2E+ wide foot, I'm pleasantly surprised that the toe box is wide and tall enough. I however did not like the two set of laces (white and a matching color) that came with the shoe – it makes it look too much like a pair of shoes that a skateboarder wears. I did like the integrated tongue very much though.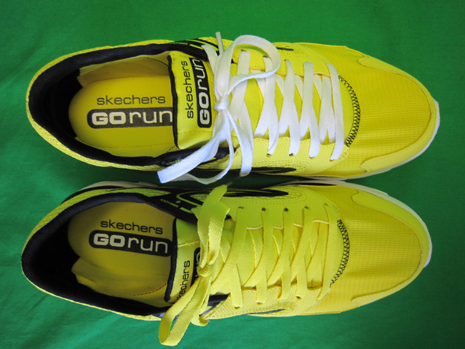 I understand that the target demographic for SKECHERS is 12 to 24 years but the majority of runners are not in that age range. No worries – I swapped out the  shoe laces and replaced them with a pair of Yankz! Sure Lace system.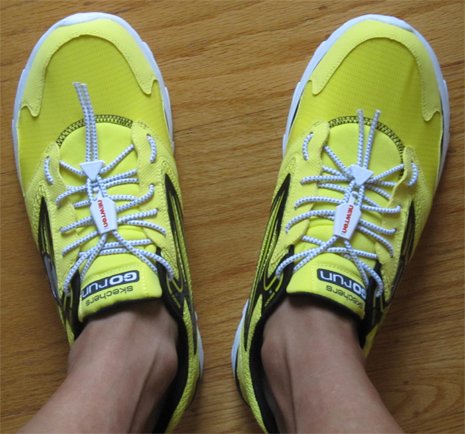 I started walking in the SKECHERS GOrun mainly because I noticed a bump in the arch (midfoot) area when I first put on the shoes. Like a pair of Newton Running shoes (with the Energy Return System  lugs), walking in the SKECHERS GOrun is a little awkward and unnatural. I took it for three 3 mile walks on different terrains – asphalt, concrete, and grass. They are designed and optimized for running. The GOrun felt like the 'rocker' shoes. My arch felt sore about 30 minutes after I finished each of those 3 walks! But it goes away a few hours later. I'm just wondering if that is a result of the 'rocker' like motion and the bump in the arch for a walking gait. It will be interesting to see the changes that are made with the SKECHERS GOwalk design and how it feels walking – the bump appears to be minimized.
Then I cautiously took it out for a couple of short runs because I didn't want to injure myself. First run is 12 laps on a tartan rubber track at a local high school. After the first lap, I did not feel the bump on the arch anymore. And I am liking this shoe more and more after each lap! The extra cushioning did not bother more on a soft track.

Then I took it for a few sprints up and down a newly paved asphalt street. The slight cushioning is very nice on a super-smooth and hard surface or for longer runs. I normally train barefoot on this newly paved street and the SKECHERS GOrun still felt good compared to barefoot. I had to tighten my laces a lot more for speed work (I wear my shoes VERY loose on regular runs) and the Yankz lacing proved to be perfect.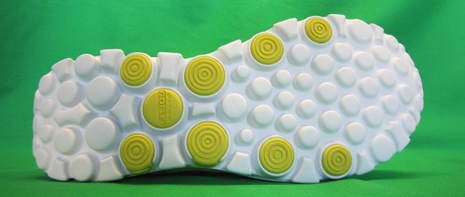 I asked SKECHERS if the bump or rocker-like effect will be removed in the future. The response I got from Kurt S. of the SKECHERS Fitness design team, is NO, though it will be optimized to address the concern.
SKECHERS athletes feel that when the shoe 'gets up on plane' this rocker-like effect helps push the center of mass forward, enabling a mid-foot strike.   They have also reported a much smoother and quieter mid-foot to toe-off transition or a rolling sensation during ground contact while running.   This too is enabled by the mid-sole geometry, coupled with both the compliant upper and flexible bottom moving naturally with your foot as a system.  That being said, we continue to gather and learn from valuable athlete feedback, such as yours.  The SKECHERS Fitness team completely embraces the challenge to improve this technology for future offerings so athletes and consumers will benefit from our mid-foot strike technology while running, and without feeling any underfoot discomfort while walking.  We appreciate your input on this.
They're listening and I look forward to the next version of the SKECHERS GOrun!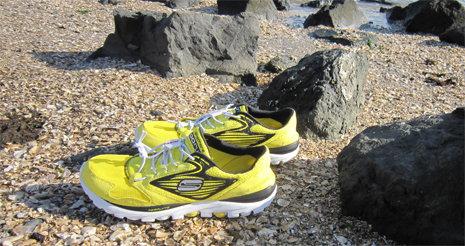 I also had a pair for my female wear tester who is in the middle of transitioning to minimal shoes. She is currently wearing a Nike Free Run +2 for all her trail and road runs. She started by wearing it for super long walks during her commute with public transportation for many days. She did NOT feel the bump on the arch and midfoot. For running, the SKECHERS GOrun is almost the same for her as her Nike Free Run but the cushioning is less.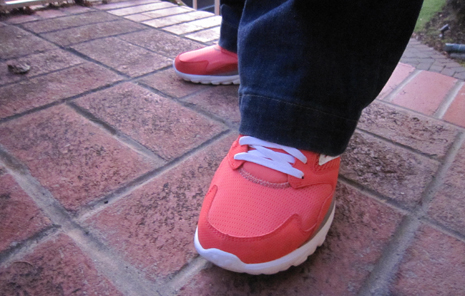 This is a great shoes for both beginning and advance minimalist runners. It will work well as a bridging or transitioning shoes. And it will also work very well for long road runs for those who have already transitioned to minimal shoes. I see lots of potential for SKECHERS new line of performance running shoes. With Meb and ultra-runner Christian Burke on board, they're well on their way to becoming a significant force in the performance running shoe category.

David Raysse, Chief Designer and VP of Advanced Concepts, explains in this detailed video, the design merits of the new SKECHERS GoRun.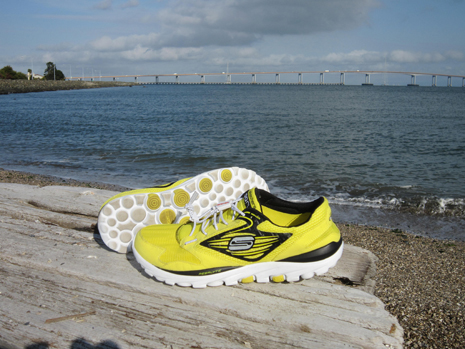 And finally, here's a video showing Meb running in the recent Rock-n-Roll Half Marathon in San Jose, CA. He won the race wearing the SKECHERS GOrun.
The SKECHERS GOrun is available in 6 colors for Men: Yellow, Blue, Black, Red, Gray, and Black/Silver.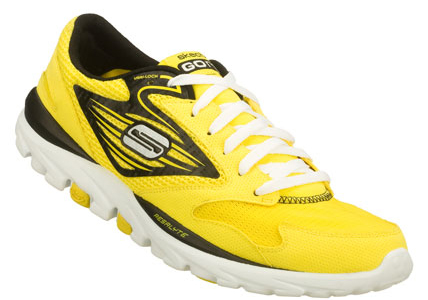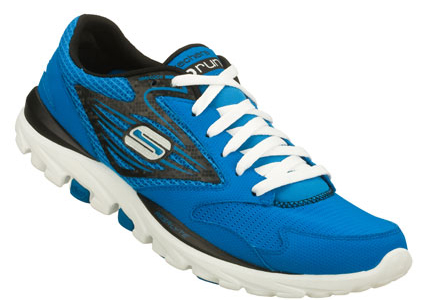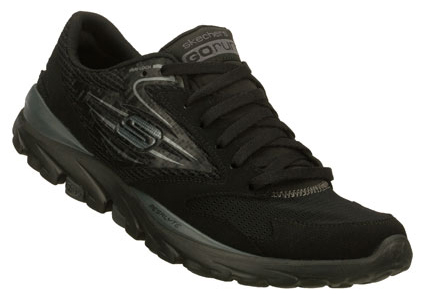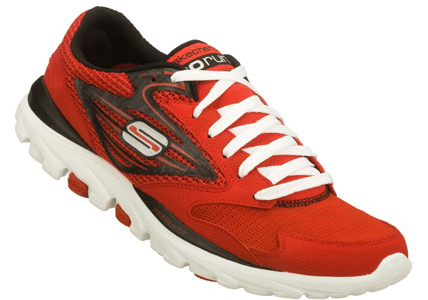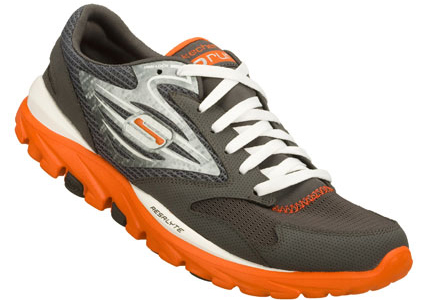 And also in 5 colorways for Women: Blue, Orange, Green, Black, and Black/Silver.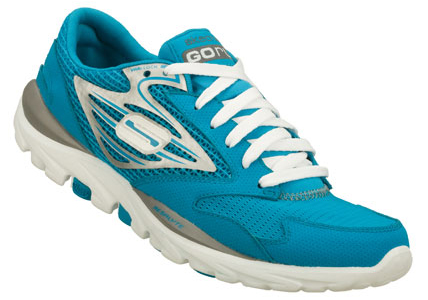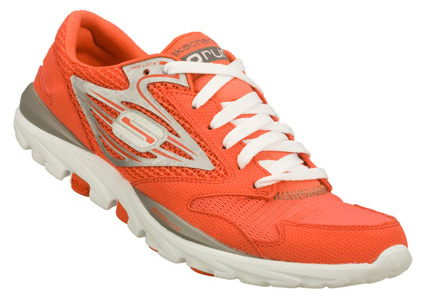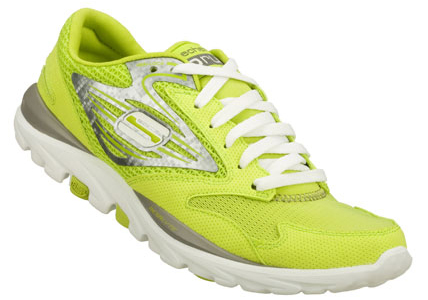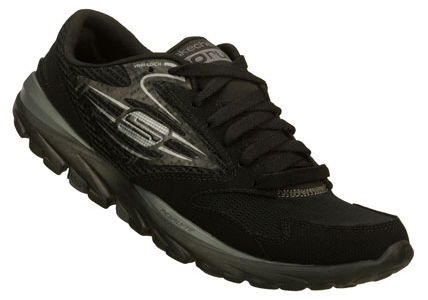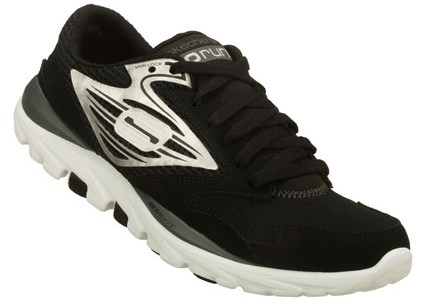 Besides the GOrun, SKECHERS Fitness Group will also be launching other shoes based on the SKECHERS GO platform like GOwalk (recovery), GOtrain (lateral support for gym workouts), GOplay (casual), GOtrail (trail running), and GOrace (road racing) later this year and next year.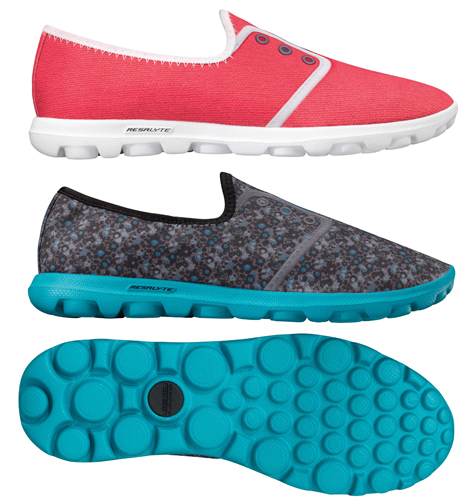 The SKECHERS GOrace is a racing flat designed with Meb's input and feedback. Here's some insight again from Kurt on the differences between GOrun and GOrace.
As with most Elite level runners, Meb's racing needs are much different than his training needs.   Like the SKECHERS GOrun, Meb's racing shoe features a 4mm drop and mid-foot strike bottom geometry.  The sole of the SKECHERS GOrace is stiffer and firmer, to be more responsive and reduce energy loss during contact time.  The upper has added heel counter support to lock Meb's foot in, since he straps his shoes on tight on race day to minimize any free-play.  The upper features a seamless single layer construction that helps lock Meb's foot down while maintaining essential comfort (i.e., no seams to rub on his foot… a concern when a shoe is strapped on tight).   The sole is also narrower, mostly for weight reduction purposes, providing material and support for Meb only where he needs it.   Like the SKECHERS GOrun, the SKECHERS GOrace Race weighs under 7 oz.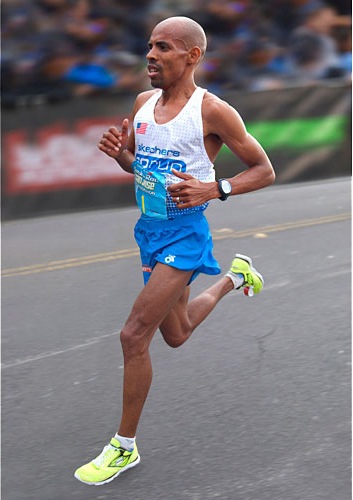 SKECHERS Fitness Group is taking a page from Merrell's playbook. Develop a proven and highly successful barefoot platform. Apply it to other outdoor categories. Home run!
The SKECHERS GOrun is now available at all SKECHERS stores. It will be available on SKECHERS online and everywhere for the upcoming holidays.
*Product provided by SKECHERS (MSRP $80). CMP.LY/1 Review
If you have a product you'd like reviewed, contact me at info@weartested.org