Simple Shoes is one of the many brands in Deckers Outdoor Corporation portfolio. Deckers is a leading designer, producer, marketer, and brand manager of innovative, high-quality footwear and accessories, primarily under two proprietary brands: UGG and Teva.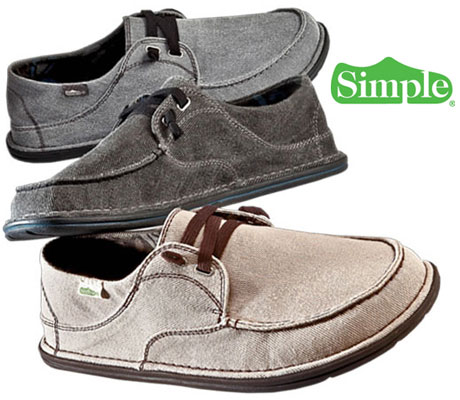 Simple Shoes produces a line of casual and sustainable lifestyle sneakers and accessories. Simple is your stereotypical, anti-stereotype brand offering good shoes and a big dose of reality. Since 2005, sustainability has been their primary focus. But beginning in 2011, they are expanding the brand's positioning to deliver on a broader brand promise of ''less is more.'" Sustainability will remain a very important attribute, but equal emphasis will be placed on style, comfort, quality, and price. Simple sneakers will ultimately be timeless and versatile.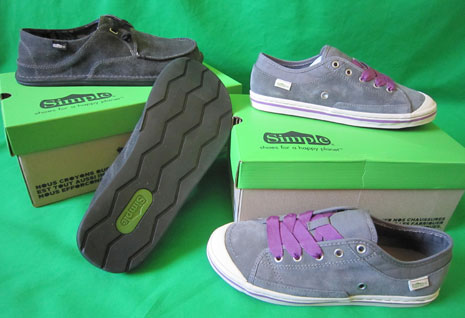 Besides the eco-aspects of their products, their shoes are minimalistic – SIMPLE! Going back to the basics, I decided to wear test their latest Men's Gummy (sustainability) and their Women's Take On Ribbon (style and comfort) shoes.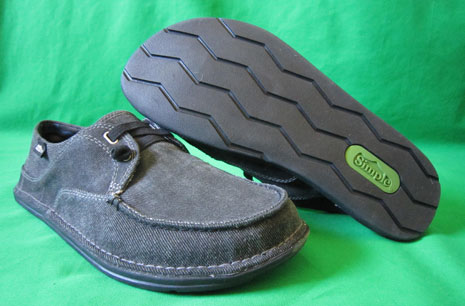 The Gummy is a plain and simple vegan (no animal products or even animal byproducts) and casual shoe made of certified organic cotton uppers with recycled PET laces that is elastic or bungee-like and a footbed made of organic cotton and recycled PET blend.
PET is made of recycled soda bottles. Certified organic cotton is grown without the use of herbicides, pesticides or chemical fertilizers.
The outsole is made from a blend of 40% recycled rubber and 60% natural rubber. The cushiony and supportive stuff at the bottom of the shoe is made of recycled carpet padding. The foot form inserts are made of post consumer recycled paper.
Carpet padding is durable, squishy and made almost entirely from scrap and post-consumer foam.

The Gummy shoe is very flexible, lightweight (11.4 ounces for a US Men's Size 10),  and has a super-wide toe box measuring 4.5 inches! Stack height for this shoe is 14mm and is zero drop. What more can you ask?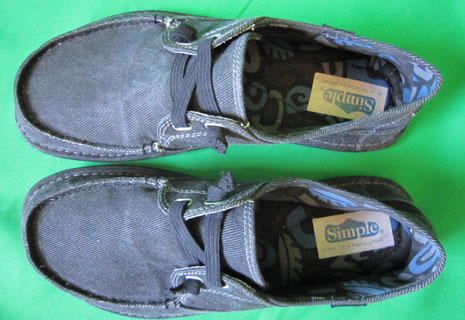 One little annoyance is that the heel cup uppers are not stretchable and my Achilles are chaffed on long walks. They should have made it elastic or pad it with a softer material.

Unfortunately, what it made up in the wide toe box width, it took from the length of the shoe. I sized up by a half size and even without socks, the length is just right. If you wear socks with your Gummy, I highly recommend sizing up a full size.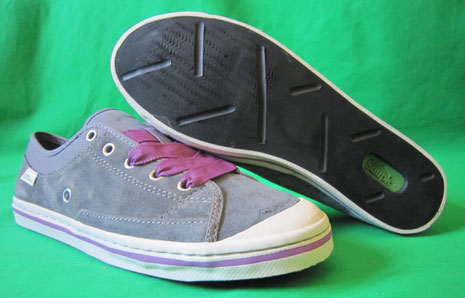 The Take On Ribbon women's shoe is a stylish suede sneaker with certified organic cotton and eco-certified suede uppers. The laces are made of recycled PET Grosgrain ribbon lace.

Simple use leather and suede from tanneries that are "eco-certified" with a BLC or ISO 14001 certificate.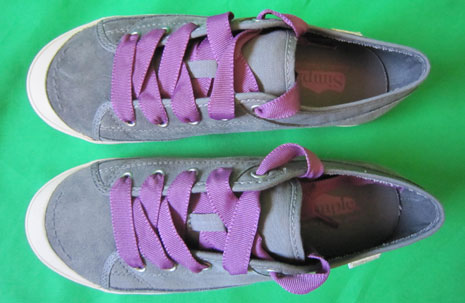 Each pair comes with an extra organic cotton laces in the same color as the ribbon laces. It has an organic cotton lining and collar for comfort. The footbed is made of EVA with BIO-D to make it biodegradable and latex foam for comfort.
The BIO.D additive makes the EVA and rubber biodegrade in 20 years in a landfill or compost heap.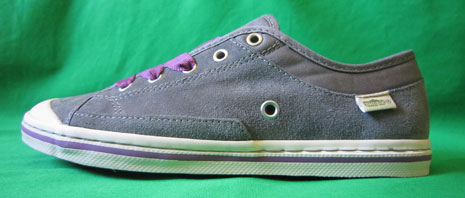 The outsole is also made from a recycled car tire whereas the foot form inserts are made of post consumer recycled paper.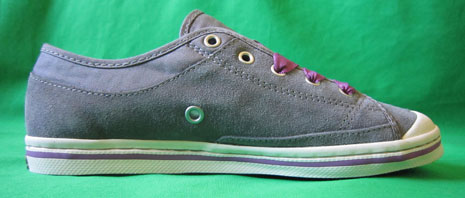 My wear tester Claire loved the Take On Ribbon for its stylishness and comfort. She did take issue with the ribbon laces. They are clumsy to tie and does not have that clean of a look over time. The extra laces should also be available in a different color for variety.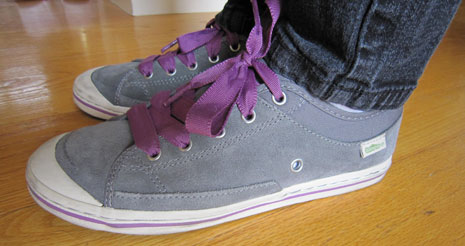 Comparing it with the Crocs Hover, they are slightly heavier (10.0 ounces versus 7.0 ounces) and has a similar stack height (22mm). The footbed is a lot more comfortable than the Crocs. In the frequent rain in California, it would be nice if the forefoot bumper extend back more to water-proof any splashes from water puddles.

Other than a few minor annoyance on the Gummy, these Simple shoes are certainly worth investing in as they are very affordable. The Take On Ribbon Suede add a certain class to everyday sneakers!
Get your own pair of Simple Shoes and keep our planet happy!
The Gummy and Take On Ribbon are both available now at Zappos and Simple.
*Product provided by Simple Shoes (MSRP $60). CMP.LY/1 Review
If you have a product you'd like reviewed, contact me at info@weartested.org