In low-light conditions and night time, runners and cyclists wants to be seen and safe from moving vehicles. What better than Fall and Winter for testing these accessories in the cold, dark, and rainy evenings! For this post, we wear tested accessories from 180s, AthLights, and Armpocket.
180s Strobe, Strobeanie, Torch, CRG
180s. a premier provider of wearable technology, has a vast collection of accessories with LED lights integrated into the design. For cold weather, runners can stay warm and safe with many styles of gloves, beanie, and ear warmer, all with integrated LED lights.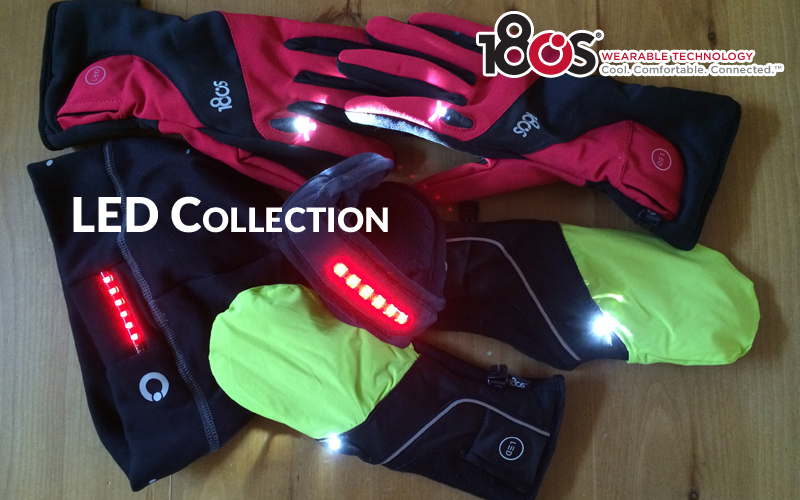 The Strobe LED ear warmer is a wonderful combination of form and function. The soft acoustic fleece shell allows you to hear ambient noise around you and the red dual mode LED lights provide excellent visibility so you can be seen in low light conditions. Reflective print on the right earpiece provides added visibility in low light conditions.

The new Strobeanie LED is the perfect mix of warmth, increased safety and style with an integrated rear LED stripe for visibility. The reflective print provide for 360 visibility whereas the. Quantum Heat liner wicks moisture and captures body heat to keep you dry and warm.

Both the Strobe and Strobeanie uses a replaceable CR2016 battery.
The Torch LED gloves are a perfect mix of form and function. Warm and with the added convenience of an LED flashlight, you also get 180s ALLTouch™ technology which allows you to control your touch screen devices with every finger without having to remove your gloves. The integrated LED lights on the knuckles provide hours of clear, bright light using replaceable CR2016 batteries.

The CRG LED convertible running glove is also available with an integrated LED light on the knuckles which provides convenient light and added visibility in low-light conditions. Also comes with ALLTouch™ technology and uses replaceable CR2016 batteries.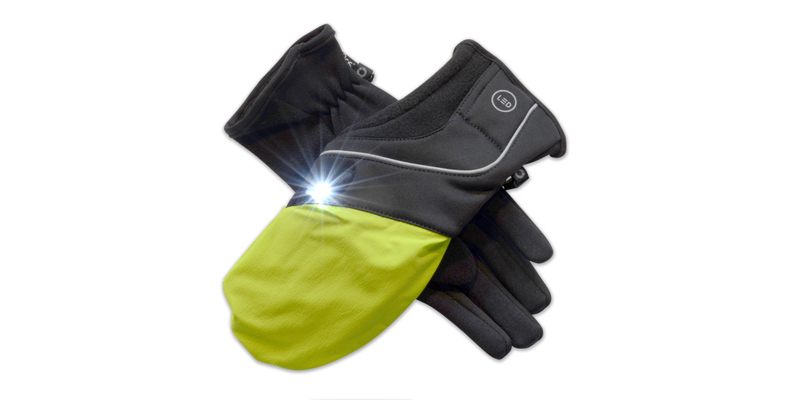 AthLights Light at Nights
Lights at Night from AthLights gives runners and others maximum visibility and mobility with lightweight comfort. A super-strong, durable, and nickel-plated magnet eliminates the need for pins, clips, holes, or straps. The lights are strong but small and powered by two CR927 batteries (40 hours) that can be attached anywhere – just need a square inch of fabric! Sweat and rain resistant too.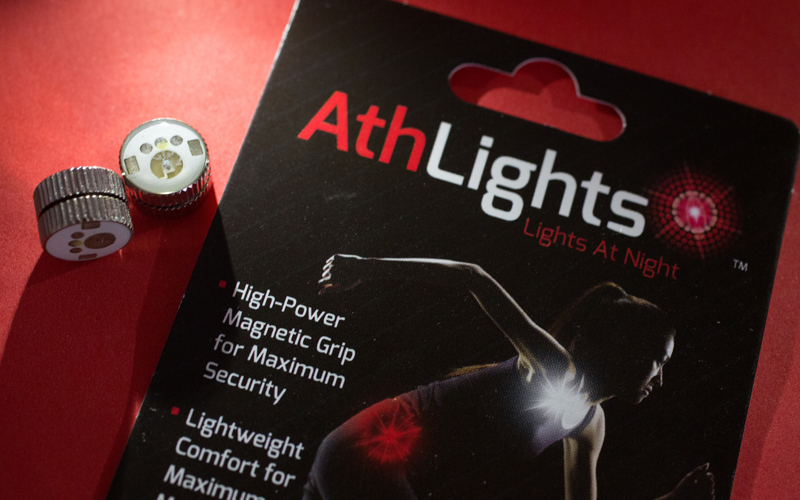 Each brilliant flashing red-and-while LED light provides 600 foot visibility. While designed for athletes, it can be used everywhere that the magnet and lights can be attached to – not just on your clothing but anything you want to place them on including pets, strollers, mailboxes, bikes, etc.

Armpocket Flash
The Armpocket Flash armband offers the highest quality, comfort, protection and safety for you and your valuable belongings. Be safe and be seen with 6 ultra-bright multi-mode LED lights. Audio access is available through strategically placed audio access ports for access with any device.

Super-comfortable memory foam padding and a design with interior compartments and double zipper closure. The touch control window not only protects your device from the elements and allows you to see the screen, it also gives you full control over all of your device's functions without removing it from the armband.

Note that the Flash is not machine washable due to the electronics. If you sweat a lot on your arms, you might want to opt for the Aero I-10 or Racer model but add AthLights or use with 180s Strobeanie!
Review Summary
I feel totally safe and with unrestricted movement when running, walking, and cycling with all these accessories at night. I walk every night with my dogs and always carry multiple flashlights. With any combination of products from 180s, AthLights, and Armpocket, I feel even safer than ever!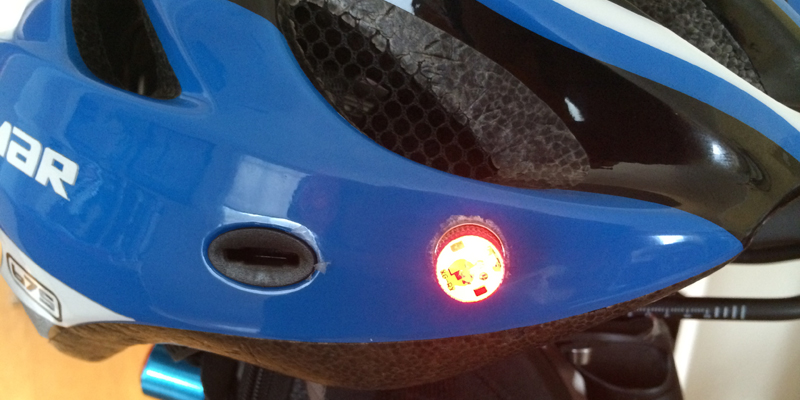 Even for cycling in daylight conditions, having any of these accessories like AthLights (in addition to my headlight and tail light) on the side or back of my helmet (I superglue the magnet on) or the side of my bike makes such a big difference in visibility and safety – I just need to buy more units for my family!

For the AthLights, depending on where they are placed, the flashing lights are so bright when running with a partner that it annoyed them. Maybe wear them on the back of your hat or back of your running top. Having them on the side of the hat (facing your running partner) is a  no-no. Alternatively, a good position is the side or front of your running shorts or skirts, below the eye level of your partner, but visible by everybody else.

After using these accessories for all my activities in the dark, cold, and wet weather extensively for running, walking, and cycling, some of these products can be improved significantly with just simple or minor improvements (don't tell the product designers):
180s – no improvements needed for the current LED collection. But I look forward next year to the new arm sleeves with integrated LEDs!
AthLights – a stronger magnet for even more possibilities and a non-strobe option.
Armpocket – have a Racer LED version for those like myself who only carry a smartphone and two IDs on the armband (minimalist).

Even in a 20 minute run with AthLights and Armpocket Flash in the pouring rain, the electronics survived and still work as of this writing! All the products wear tested are available now online and in running specialty stores nationwide.
180s products can be purchased at: Amazon, 180s
AthLights products can be purchased at: Amazon, AthLights
Armpocket products can be purchased at: Armpocket
*Provided by 180s, AthLights, and Armpocket. CMP.LY/1 Review
If you have a product you'd like reviewed, contact me at info@weartested.org