Li-Ning USA Fremont Shoe Review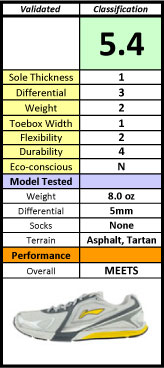 I was intrigued when I read that Li-Ning USA is entering the running market in October this year. Its parent company, Li-Ning Company Limited, is a Beijing, China based company that recorded $1.255 billion in revenue in fiscal 2009 and nicknamed 'the Nike of China' by the press. The company is founded by gymnast Li Ning who won six medals at the 1984 Summer Olympics, three of them gold, and was given the honor of lighting the cauldron at the 2008 Olympic Games during the internationally televised opening ceremony.
For its first entrant into the U.S. running market, Li-Ning USA is betting on products in the growing minimalist shoe niche and introduced the Fremont.
Li-Ning Fremont (named for the bridge in Portland) is billed as an ultra-lightweight performance running shoe crafted for up tempo training runs and 5K to Marathon races.  Two years in the making, the Fremont was designed, developed and thoroughly tested at Li-Ning's U.S. design & innovation center and on the roads of Portland, Oregon.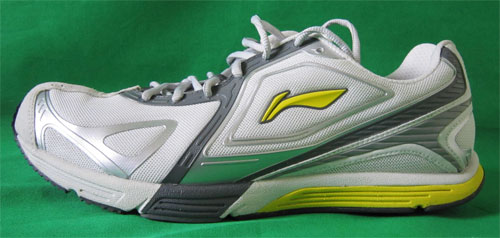 First off, I did a double take because their logo looks similar to the Brooks Running logo and I thought I grabbed the wrong pair of shoes to test!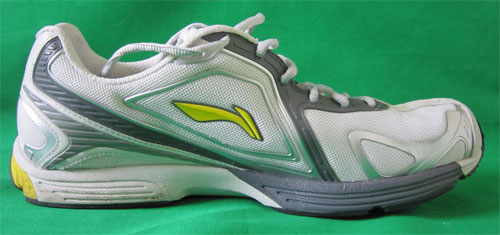 Even though the technical specifications on the web site listed a 19mm heel height and 9mm forefoot height, giving a differential of 10mm, Paul Curran (business development manager) assures me that it has a 5mm static offset. Paul was right – it actually felt closer to a zero drop racing flat!
However, even with the insoles taken out, the toe box is too narrow for my sockless feet – I can feel my toes pushed together. The toe box height is fine though. The mesh upper feels rough and not soft enough. The outsole is a little stiff but hard enough for a racing flat. The shoe weighs in at 8.0 ounces for my size.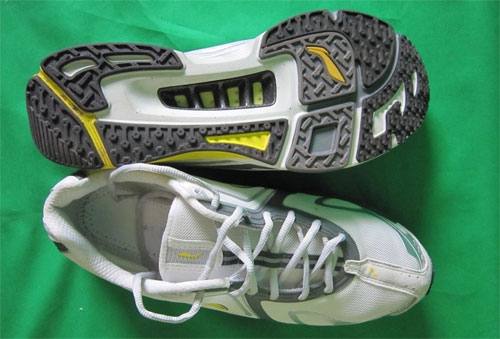 Fearing I'll get blisters or chaffing from running in this shoe, I ran it first with my toes tapped and with an Injinji liner toe sock for subsequent tests including walking long distances over concrete and asphalt. The toe box is indeed to narrow for my feet to run comfortably in. And no blisters from any of the runs due to the taping preparation for all shoes I test.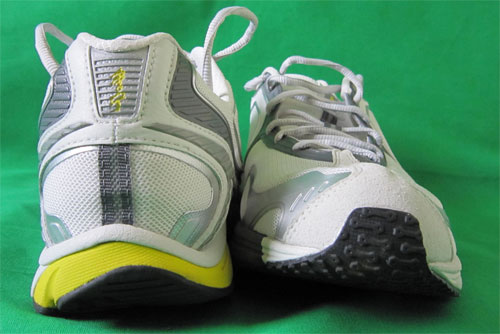 I was able to keep my running form intact and do some speed work – it is a racing shoe after all. The slightly elevated heel did not affect my midfoot and forefoot strike or encourage heel strike. I would classify this shoe more as a racing flat rather than a minimalist running shoe based on my impressions about its construction and performance.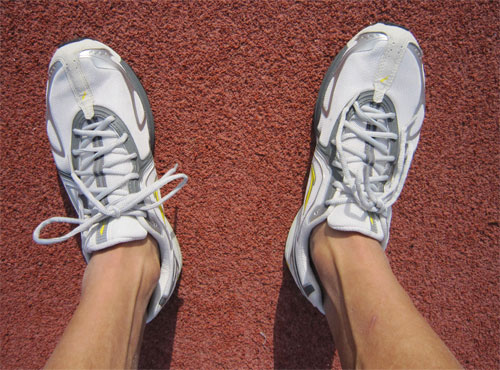 If they could make three small changes to the Fremont (wide toe box, softer mesh uppers, and trim an ounce or two off the weight), they will have a lightweight minimalist racing flat that can easily take on many of the established names in running shoes. And be classified as a minimalist running shoe in the strictest sense.
Already selling worldwide in their product line is their F2 Running footwear. I'm surprised this shoe was not heavily marketed by them. F2 (Foam Frame) is based on a full chassis of injection molded EVA material that creates a one-piece monolithic construction for a lightweight, durable performance and a seamless fit.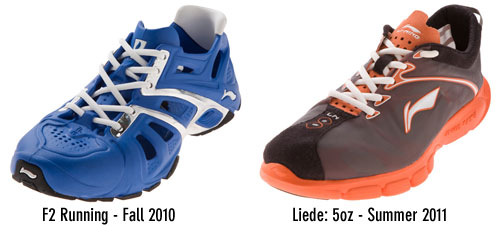 Reminds me a lot about Terra Plana Vivobarefoot upcoming Ultra collection!
Coming in Summer 2011 is the Liede; their lightest performance running shoe possible (5.0 ounces) while not skimping on stability.  The two piece mono-mesh upper matched with single density EVA flex-pods keep it simple. With the same pricing as the Fremont model, it is worth checking out next Summer.
Li-Ning have the scale, large R&D, and manufacturing at their fingertips in China. I expect them to make significant noise in the minimalist running shoes category late 2011!
*Product provided by Li-Ning USA (MSRP $85).
If you have a product you'd like reviewed, contact me at info@weartested.org