Puma took the successful FAAS 250 running shoe and made it off road. Here's comes the Puma FAAS 250 Trail running shoe, a fast growing segment in the running category: lightweight trail shoes. In future reviews, we hope to be reviewing other lightweight trail shoes like the Montrail Rogue Fly, Vibram Five Fingers Spyridon LS, Salomon Labs Sense, GoLite TR63, Saucony Kinvara TR, Inov-8 Trail Roc 235, and Skechers GOtrail.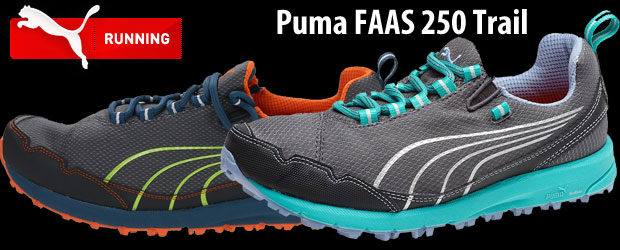 The first thing you'll notice about Puma is the shoe box, or lack of it. It is a 'Clever Little Bag' instead that uses 65% less paper and is reusable over and over again. On the side of the bag is the Puma Eco-Table.

The FAAS 250 Trail is a super lightweight all weather racer. It is light and low to the ground for excellent traction and response over uneven terrain. The shoe weighs in at 9.6 ounces (US Men's 10.5) and has a stack height of 23mm. The shoe has a heel-to-toe differential of 8mm (my measurements show about 6mm) but you won't be able to tell when running in them. The 8mm does not alter my midfoot/forefoot running gait nor does it encourage me to heel-strike.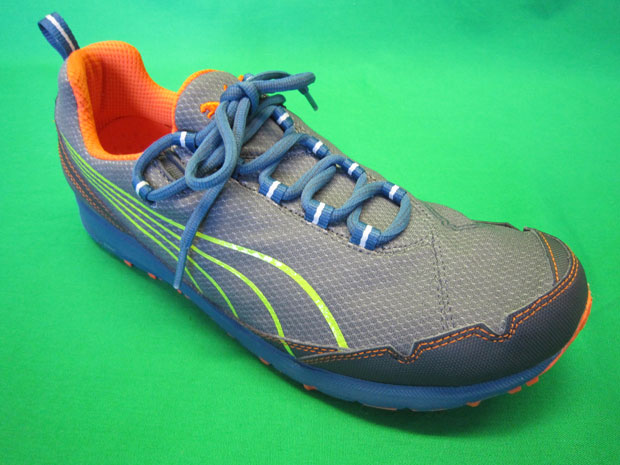 The women's version is identical other than the different colorways.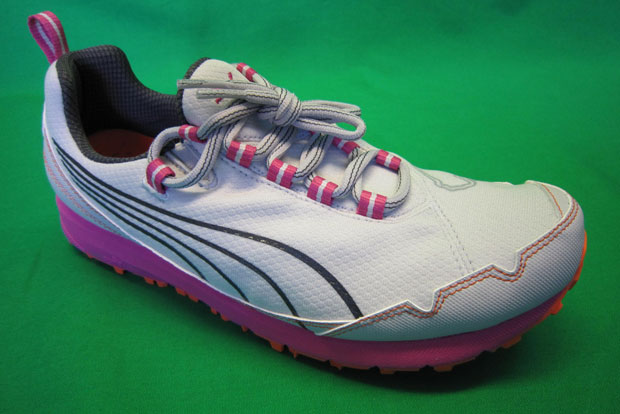 A water repellent performance upper keeps your feet dry during trail runs while a directional lug outsole enhances traction.

The midsole is made of EVA and the FAAS Ride LR construction offers a smoother heel-to-toe transition.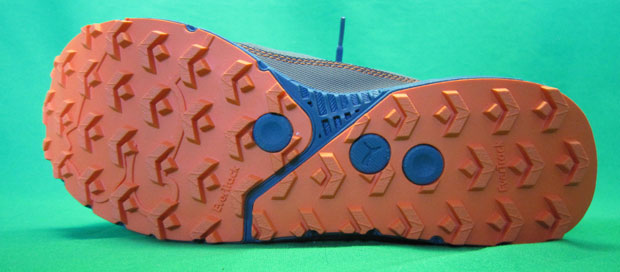 The outsole uses EverRide, a blown rubber that reduces weight and improves forefoot cushioning. It also use EverTrack, a long-lasting composite providing durability in high-wear areas. And EverGrip technology is added for improved grip and traction in heavy terrain.
Built to handle off-road terrains, the durable outsole can tackle technical and non-technical trails. My test runs have only been in non-technical trails and asphalt – the Puma FAAS 250 Trail performed wonderfully. No blisters, no hot spots, and a really comfortable run in these shoes. A little on the heavier side and could use more space on the toe box as I have 2E+ wide feet.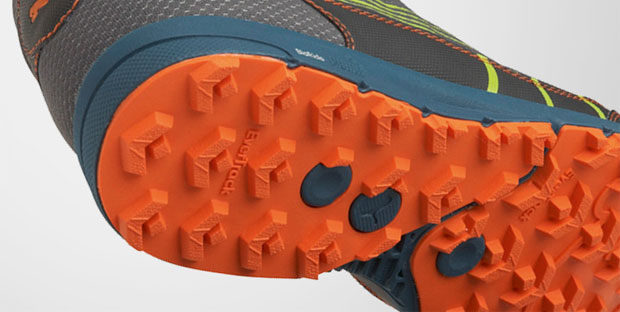 The directional lugs enhances grip in uphill climbing and stabilize heels for extra traction on the downhills.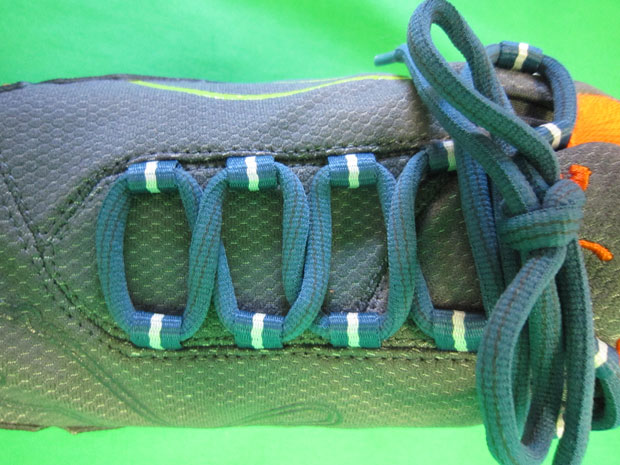 The uppers is a closed mesh with synthetic PU overlays, single layer mesh lining, and synthetic suede lining. It fits like a sock (I run sockless) to the foot and I've tried taking off the laces and running in it – shoelaces optional. A trail racing sock! The tradeoff is that it is sometimes hard to put them on because of the snug fit.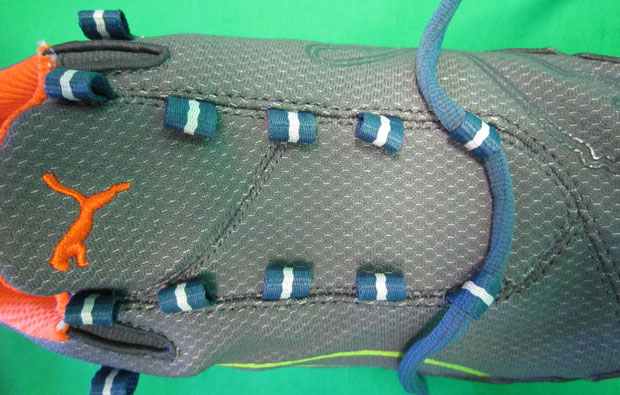 My female wear tester has a standard size feet but she felt that the fit is snug too. She likes the protection and extra cushioning for trail running and the weight did not bother her. However, for walking and running on asphalt, she felt that the shoe is too bulky as the aggressive lugs in the outsole are easily felt under her feet.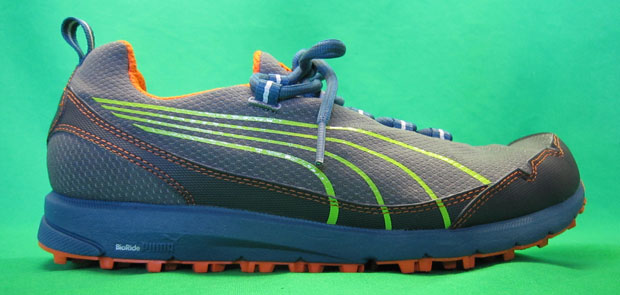 Some of the lightweight trail shoes are designed for only non-technical trails but the Puma FAAS 250 Trail will certainly work for technical trails too. This make it a little bulky when used on asphalt. If they make the lugs softer, that may result in a more comfortable run on the asphalt terrain.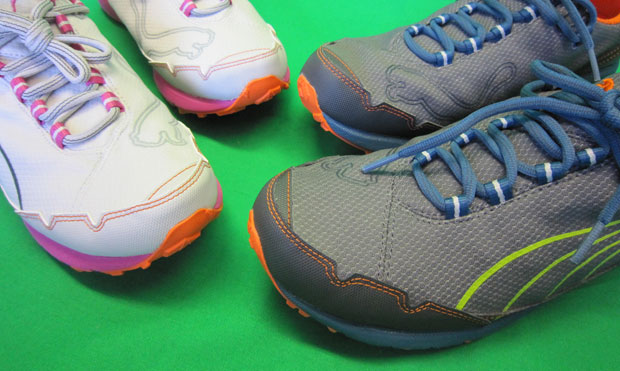 This is the first Puma running shoe I have tested and I'm very impressed. Performance is almost identical to the Montrail Rogue Racer. Most the FAAS collection of 'less is more' shoes have much more cushioning (from 200 to 800) but they have picked just the right amount for an aggressive trail shoe. The FAAS numbering system indicate the amount of cushioning from 0 to 1000.

The Puma FAAS 250 Trail is available in 3 colorways for Men's – Black, Dark Shadow (Grey), Gray Violet (White).

And in 3 colorways for Women's – Black, Dark Shadow (Grey), Gray Violet (White).

All models are now available at Puma web site.
*Product provided by Puma (MSRP $85 each). CMP.LY/1 Review
If you have a product you'd like reviewed, contact me at info@weartested.org