In my unending quest to find the perfect compact and portable camera, I recently stumbled upon the new Pentax Q10, the world's smallest, lightest mirror-less interchangeable lens camera (ILC) system. The super-compact and ultra-lightweight Pentax Q10 is barely larger than a deck of cards and offers digital-SLR-quality photography for photographers of all levels.

This is a new category of 'hybrid' cameras from Pentax. Pentax hybrid cameras redefine photography by combining their best ideas and technologies. Smaller cameras with advanced interchangeable lenses, they're as versatile as a digital SLR and as mobile as a smartphone. Think of hybrid camera as  a miniature version of a full-scale digital SLR camera.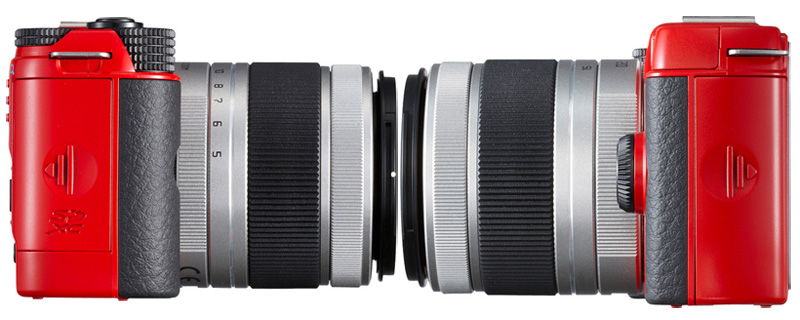 With the availability of a K-Mount adapter for the Pentax Q-series of cameras, Pentax have extended this camera category to fulfill endless photographic possibilities for Q users, who can now use any one of 25 million Pentax K-mount lenses with their Q system.

In a nutshell, the Q10 has a large 3″ LCD monitor featuring a HVGA resolution with 460,000 dots, as well as wide viewing angles. It shoots video at a full 1080p HD video at 30 frames per second using high quality H.264 compression for superior color and detail. And images at 12-bit DNG RAW and JPG formats.
What is unique about the Pentax Q10?
Besides being a small, light, and hybrid camera with interchangeable lenses, the Pentax Q10 caught my attention with these powerful features not found in many of the latest digital cameras.

Fast Auto-Focus (AF) & Image Sensor
The Q10's latest AF algorithm and new high sensitivity image sensor enable faster autofocus operation even in dimly lit locations or with a telephoto lens. An AF Assist Light is provided on the camera body to optimize focusing accuracy in the dark, while the Face Recognition AF function automatically detects up to 12 faces and pinpoints the focus on a main subject.
The improved 12.4 megapixels 1/2.3 inch backlit CMOS image sensor captures exceptional image quality. Capable of producing 12-bit DNG RAW and JPG images, the backlit CMOS sensor is a highly efficient light-gathering instrument designed specifically to produce very low noise at high levels of sensitivity.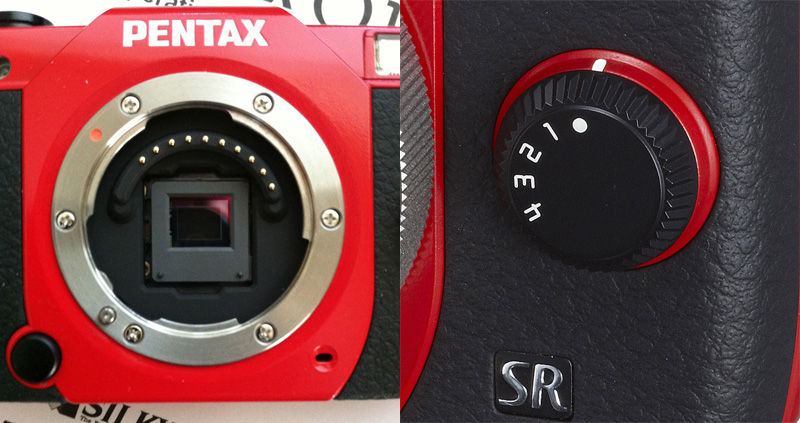 Custom Controls Quick Dial
A customizable quick dial located on the front of the camera allows you to assign a variety of creative modes, Smart Effect options, or camera settings – concentrate on your photography without having to explore the camera's menu system!
By assigning the creative Smart Effect function to the easy-to-access quick dial, you can effortlessly add the desired finishing touch to an image, while previewing the effect on the camera's 3-inch LCD display.
Digital Filters
For those who prefer hardware editing tools (versus Photoshop), a total of 19 built-in digital filters are available. Eleven filters such as Toy Camera, Invert Color and Posterization can be applied even during the shooting of still images and movie clips, while the remaining eight are applicable only during playback. The user can even apply different filters one after another to a single image (you can save them separately or override itself) to create more unique visual effects.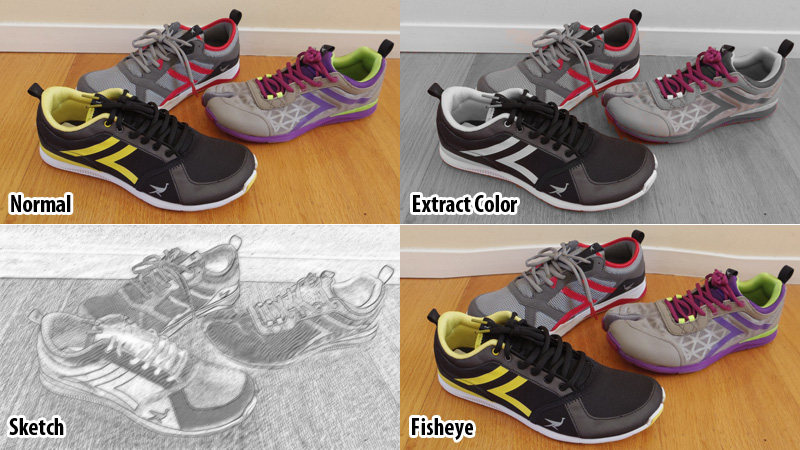 The amazing 3″ display with a special filter (effects) applied during the shooting of still images shows you exactly what you're getting with that effect before taking the picture – very cool!

Sensor-Shift Shake Reduction
You can capture stabilized, blur and dust free images even in low lighting courtesy of the Q10's sensor-shift Shake Reduction system with integrated DRII Dust Reduction. Body-based Shake Reduction operates independently of the Q10's lenses, allowing the same level of stabilization regardless of lens selection. The Shake Reduction mechanism automatically shifts the CMOS image sensor to offset camera shake detected by the camera's motion sensor.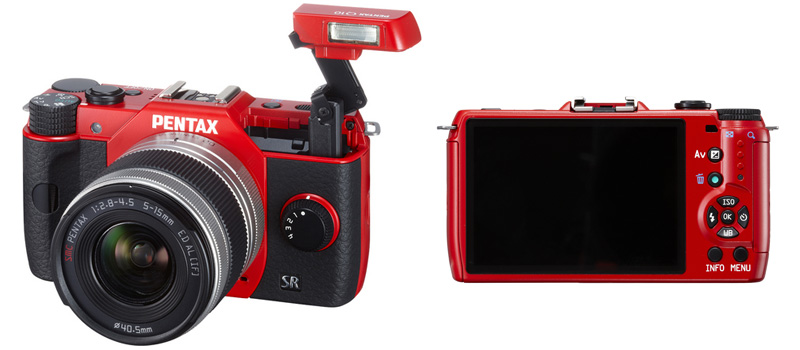 Built-In Popup Flash
The Q10's built-in popup flash adds the perfect amount of extra light to an image, while its high extension naturally reduces the red-eye effect common to compact cameras. The Q10's flash is effective to 23 feet at 200 ISO, and covers a wide angle 28 degree field of view. The photographer is able to use it at the default position, or raise it to the pop-up position with simple operation to widen its discharge angle.
HDR Capture
In-camera HDR capture mode shoots 3 images of varying exposures, blending them to bring out the details in even the darkest shadows and brightest highlights of extreme contrast shots. This is a very desirable feature and becoming a must-have for all new cameras coming into the market.
5 FPS
Capture even the fastest action with five frames per second continuous shooting mode, ideal for sporting events, children at play, or any fast action situation. Great for sport and adventure photography!
Effortless Bokeh control
The Pentax Q10's unique bokeh control function allows the user to create images where their subject stands out by automatically assessing the relative distance between the in-focus subject and obtrusive objects in the field of view. Since this function simplifies the advanced, SLR-caliber technique of intentional defocusing, even a first time digital photographer can effortlessly capture high quality images with the beautifully defocused foreground and/or background.
Customize your Q10 system with Pentax Studio!
Last month, Pentax started offering consumers the ability to custom order the Q10 in 100 different color combinations. This unmatched offering of color variations will enable consumers and photo enthusiasts alike to find new and limitless ways to express their individualism through photography.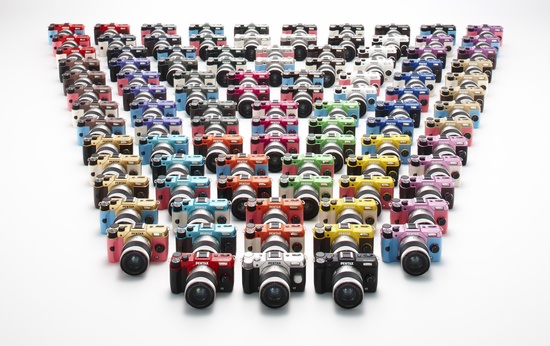 Despite the complex nature that accompanies the offering of such a varied and wide ranging line of product, Pentax will custom build each of the cameras to order per the color specifications set forth by each consumer. Once an order is placed, the specifications are sent to the Pentax manufacturing facility where each camera will be hand built to reflect the personalized selection made by the individual who ordered it.
This is a first in the photo-imaging industry but common in the luxury goods market. The new Pentax Q10 in 100 color combinations is available for custom order now via the Pentax Q10 Studio. The Q10 will be offered with the 02 zoom lens at a suggested retail price of $599.95. The standard Q10 (in Red or Silver) kit including the 02 zoom lens is also at a suggested retail price of $599.95.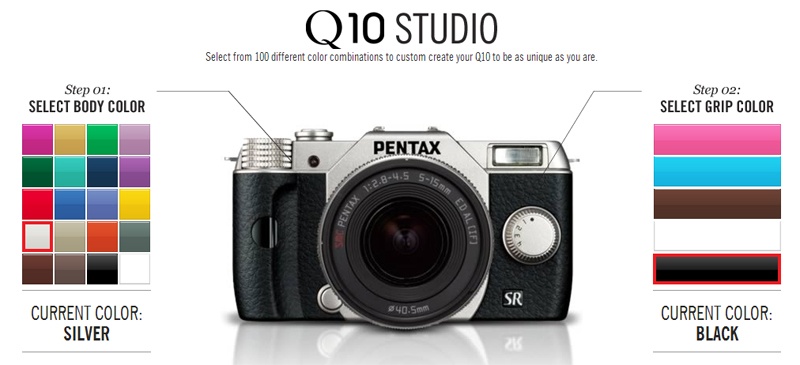 So how did the Pentax Q10 perform?
The Q10 accepts interchangeable lenses but it does not have a mirror and through-the-lens viewfinder (an optional viewfinder that goes into the flash hot-shoe is available), I would consider this an SLR-like camera.
The Q10 stores photos and video on SD/SDHC/SDXC memory cards but has no on-board storage. When I first played with the camera, I was wondering why it was giving me errors as it did not come with a memory card – I usually don't read manuals or pay attention to messages on devices… It captures images as JPG or RAW files at a top resolution of 4000 x 3000 and full HD-resolution video as MOV files at a top resolution of 1920 x 1080. At five frames per second continuous shooting mode, I was able to capture a high school runner and even moving cars easily.

For those who does not use Photoshop or other image editing software, having the ability to edit your images using the camera hardware is a lot faster and saves time editing on your PC later on. Kind of like using your smartphone app (iPhone or Android). You can easily change the aspect ratio of the images or change them  from DNG (RAW) to JPEG format (and vice-versa) while they are still in your camera.
I used the Blur Control, selected one of the blur levels and took one of my daughter's macaron display she was already taking a picture of. It took a few seconds of processing after I took the picture. The result is decent but not perfect – you really have to play around with the settings as moving subjects or small objects or far-off objects does not work well…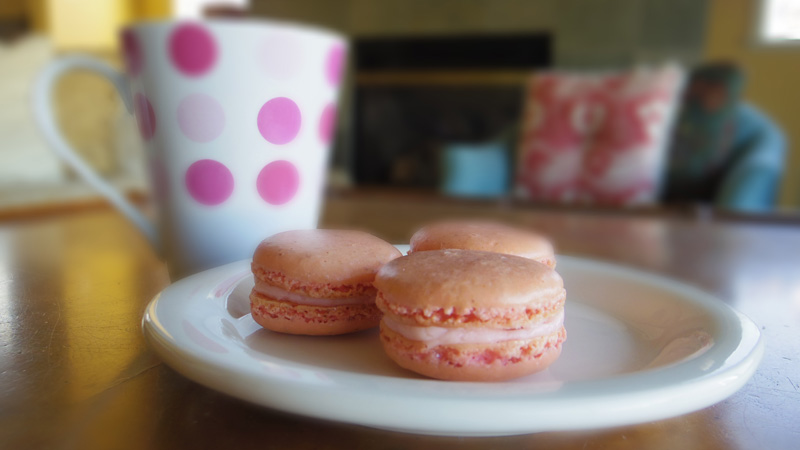 I wished I had a tripod (it was super-windy and freezing cold) when I tested the Night Scene mode. It took better night time pictures than any of the cameras currently in my possession.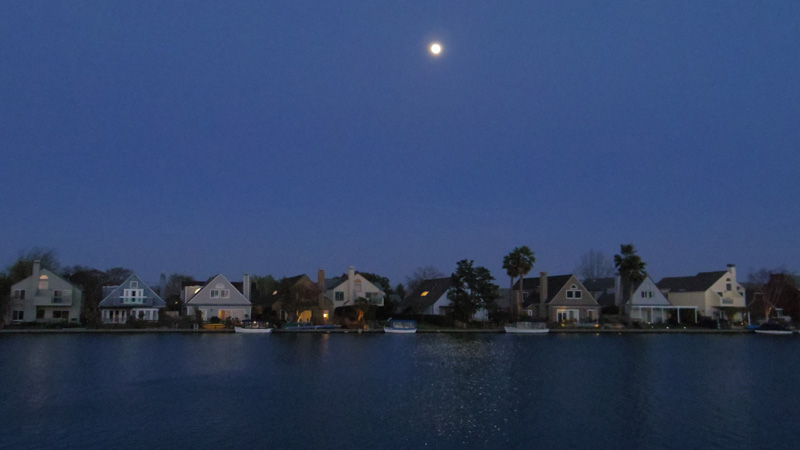 The Q10 weighs under 11 ounces (with lens, battery and memory card). Even with 5-15mm standard zoom attached, it will comfortably fit in a jacket pocket. Alternatively if unscrewing the Pentax Q-mount lens it will also slot easily into your jeans.

I brought the Q10 with me when I went on a trail run. It is small and light enough that I just carried it on my hand like an Amphipod handheld hydration system. I wanted to shoot photos of some of the jack rabbits or rattle snakes but unfortunately did not see any on this run. So I ended up shooting some landscapes with my wear tester instead.
We're big fans of the Q10's retro styling, complete with tactile top and front-mounted dials; the latter four-option 'Quick Dial' being used to select a range of options including digital filter effects. But obviously the tiny sensor might sacrifice some image quality for professionals but for the majority of us, it's not noticeable.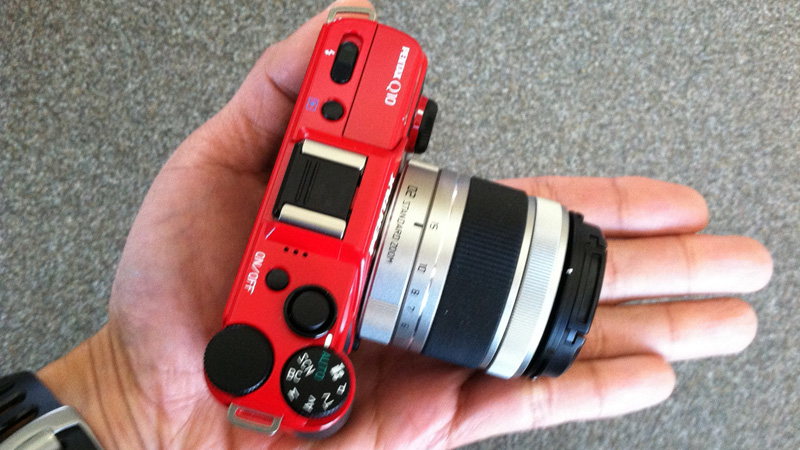 The Pentax Q10 is a cute, solid, and powerful camera that may appeal to those who does not already have a DSLR camera. If the price point was lower, it may even appeal to a broader base including those who may replace or supplement their DSLR camera like myself. And for those who travel a lot, the Pentax Q10 easily fit into your coat pocket and is discreet – why risk your camera being stolen? Travel & Leisure just named the Pentax Q10 the Best Camera in their annual T+L Design Awards 2013!
The Pentax Q10 (MSRP $600) is available online at: Amazon, J&R, and Adorama.
*Product provided by Pentax. CMP.LY/1 Review
If you have a product you'd like reviewed, contact me at info@weartested.org