De-clutter and organize, one of my 2015 new year organization resolution besides all my other exercise resolutions! Without getting overwhelmed, I decided to start on my yard tools and growing bike collection. And Monkey Bars Storage has a perfect solution for both. Monkey Bars Storage is also giving away one Large Yard Tool Rack or a 6 Bike Storage Rack to one lucky Wear Tested reader – read more to find out how.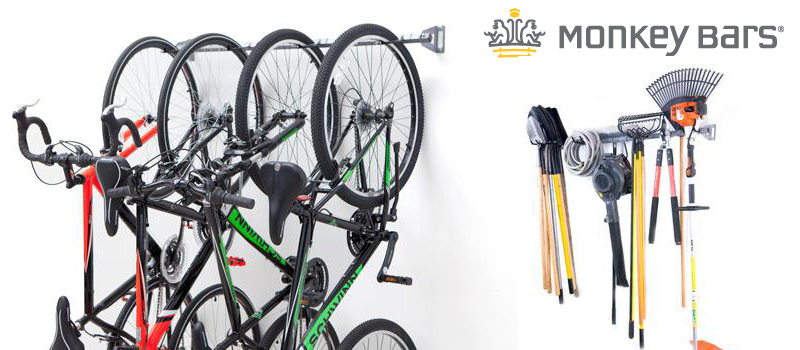 Monkey Bars Storage solutions are modular, reconfigurable, and simple to install. In 3 easy steps:
Choose the type of rack you need by determining what you can store and how much.
Choose what hooks you need by thinking about what you need to hang on your rack.
Choose any additional accessories you need to expand your rack if needed.
In most cases, once you have selected a rack type, it is just a matter of getting the right hooks for your situation and buy additional hooks if you decide to reconfigure later on. For example, if you want to have easy access to your winter and summer sports equipment, you can easily accommodate all your skis, snowboards and goggles in the winter and swap them out for all your bikes and helmets in the summer! One rack, different hooks – simple.

Monkey Bars Storage Large Yard Tool Rack
Get your shovels and rakes off of the floor and out of the corner of your garage with this garden tool rack. With eight hooks, this garden tool rack can easily hold over 20 tools such as shovels, hoes, and rakes in your garage or shed. With this garden tool rack, you'll never have to worry about garden tool storage ever again.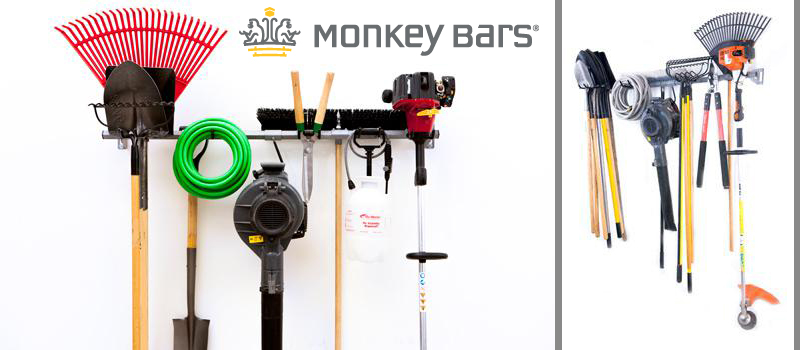 This garden tool rack also comes with a lifetime warranty and can be installed in just 15 minutes. The Large Yard Tool Rack includes:
2 – Shed Brackets
1 – 51″ Monkey Bar
1 – 12″ Hook
2 – 3″ Double Hooks
1 – 3″ Single Hook
1 – 3″ Wide Hook
2 – 5″ Wide Hook
1 – J hook
1 – Hardware Bag
Monkey Bars Storage 4 Bike Storage Rack
With just 3 additional J hooks, you can convert the Large Yard Tool Rack into a 4 Bike Storage Rack in seconds! Protect your bikes, your cars, and your ankles by getting your bikes off the floor. A bike storage rack will create valuable floor space and help organize your garage. Hold 4 of any types of bikes or you can use the hooks to hold helmets, pumps, or cycling shoes.
You can of course purchase the 4 Bike Storage Rack separately in addition to your Large Yard Tool Rack. The 4 Bike Storage Rack includes:
2 – Shed Brackets
1 – 51″ Monkey Bar
4 – J hooks
1 – Hardware Bag

All Monkey Bars Storage equipment are rubber coated, powder coated, and made of industrial grade steel. The rubber coating protects your items as well as increases the grip of the hook. They are also powder coated for a tough exterior that looks great. Finally, all the kits are made with steel to provide you with strength you can count on.
So how did the Monkey Bars Storage kit performed?
The most time consuming part of installing the Monkey Bars Storage system in my garage is probably finding my stud-finder device, leveler,  and locating the vertical and horizontal studs in my walls. It turns out that my old stud-finder (Straight-Line) is not working so I decided to purchase a new one, the Zircon Stud Sensor e50 – much easier to use with an LCD display, spot light pointer, and a 'live-wire' warning detector. Also good to have some masking tape, power drill, 3/16″ drill bit, Philips screw driver, pencil/marker, and hammer & nail (for verifying stud).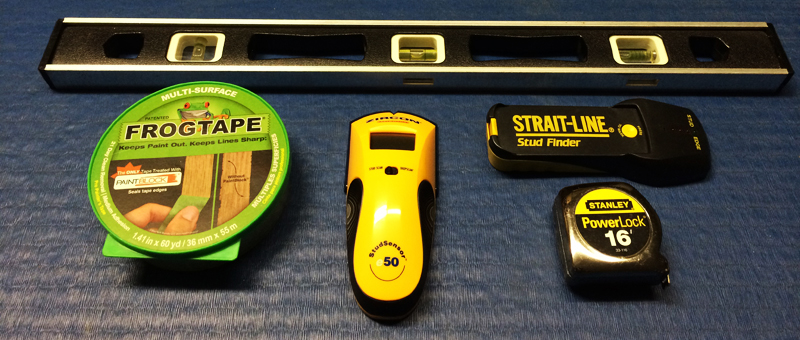 Once that is completed, installing the rack system is a breeze! I am not a handy person and ever since I started cycling, I have been picking up repair and maintenance bike tips from experts – you have to learn from the best to make the job simple. And the same goes for installing storage systems: use the ONE system that is designed for modularity, re-configurability, fast and easy installation to get the job done right – the Monkey Bars Storage solution.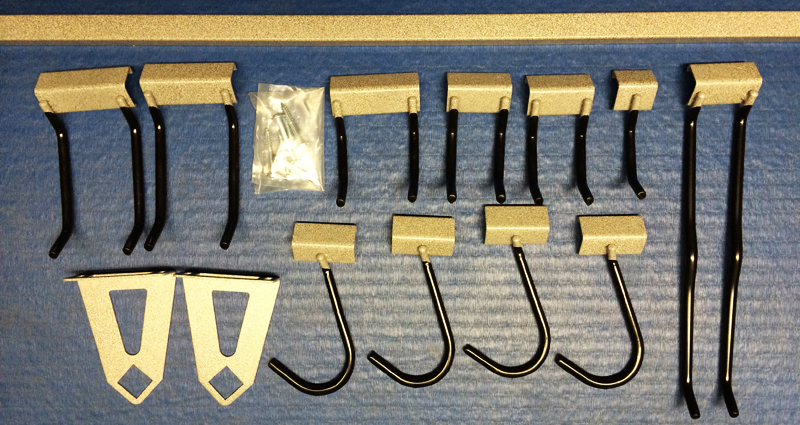 I watched the two YouTube videos from Monkey Bars Storage for installing a Yard Rack and Bike Rack to get started – less than one minute each!!! You'll be amazed at the simplicity of installing a storage rack system from them. You determine the mounting height for the bar based on your personal preferences or the size of your tools or bikes.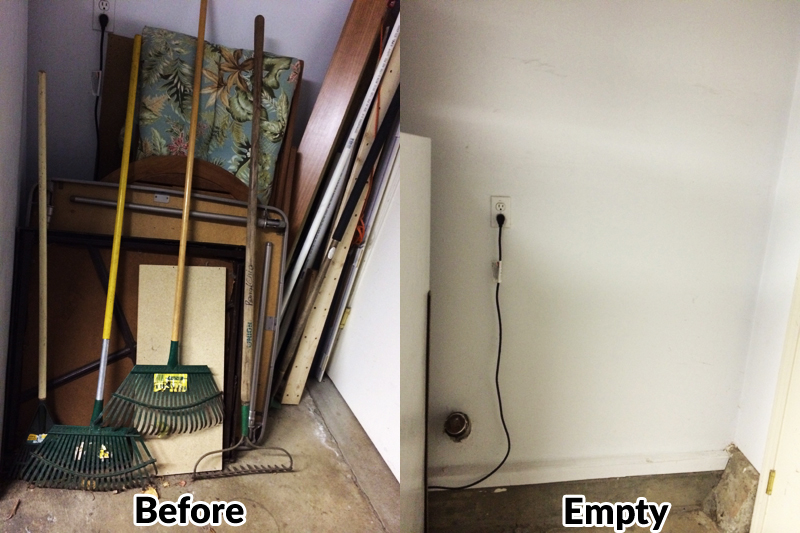 Make sure the Stud Finder can detect live electrical wiring so you won't use a stud that is live! Use masking tape, leveler, and pencil to aid in marking the stud positions. Once you have located the studs, verify it with a nail and hammer. Then mark the positions for drilling (3/16″ drill bit, 2 inches deep) in order to mount the brackets.

The hooks snap onto the bar – make sure it is fully snapped in. Without a weight on the hook, you can slide the hooks around to adjust the horizontal positioning. You can play around with what you want to hang on the rack (bikes, yard tools, umbrella, helmets, etc.) to maximize the storage space. Everything off the ground and keeping it clean! My bar is about 6 feet from the floor and fits a full 56cm bike and long yard rakes etc.
I must say that it is addicting – once you put up one rack, you might want to start adding more to organize yet another section of your garage! I already have tons of IKEA and Home Depot storage shelves in my garage but nothing for my yard tools, bikes, and other sports equipment. The Monkey Bars Storage racks are a perfect complement to your existing storage system – modular, quality built, easy to install, and multi-functional. What more can you ask?
The Monkey Bars Storage solutions are available for purchase online at: Amazon and Shop Monkey Bars Storage.
Monkey Bars Storage Giveaway
Between January 5, 2015 and January 19, 2015, Monkey Bars Storage (hosted by Rafflecopter) is accepting entries to their giveaway contest whereby one lucky reader will win a free Large Yard Tool Rack or a 6 Bike Storage Rack ($100 value) to start off the new year! Good luck!
Monkey Bars Storage Rafflecopter Giveaway
*Product provided by Monkey Bars Storage. CMP.LY/1 Review
If you have a product you'd like reviewed, contact me at info@weartested.org