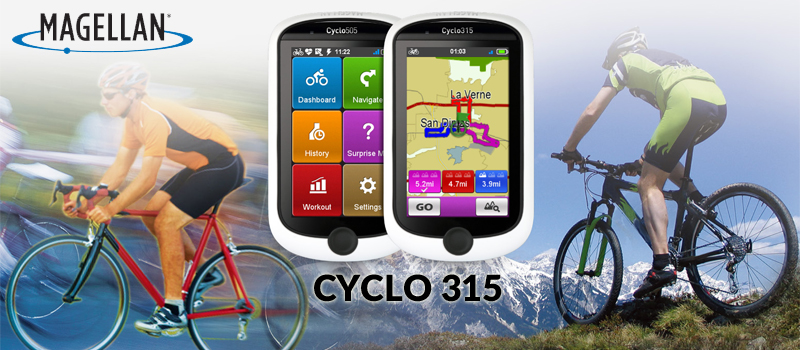 Magellan's Cyclo 315 and 505 are cycling GPS computers designed for the serious cyclist. Both models come with vibrant 3″ color screen that is easy to read in direct sunlight, rugged and water resistant to IPX-7 standards and include cable tie and front mounts. The touchscreen user interface is simple with large buttons for gloved hands. In this post, we gear tested the Magellan Cyclo 315hc bundle for over three months.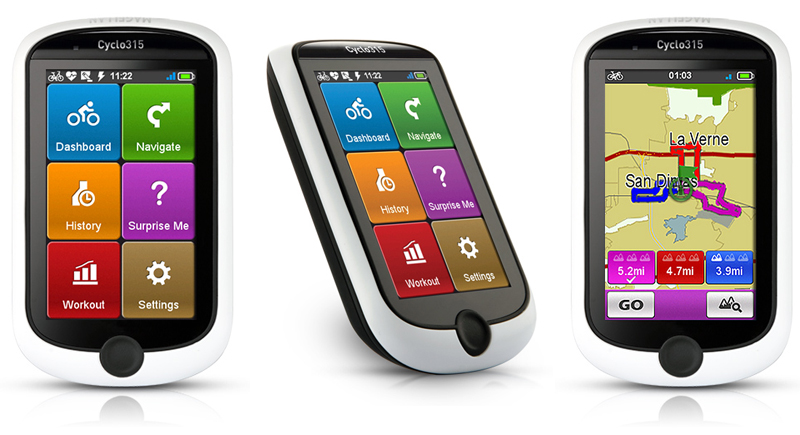 Magellan Cyclo models are compatible with Shimano's Di2 electronic road bicycle shifting systems with the Di2 Wireless Unit (SM-EWW01) featuring the new Shimano D-Fly Data Management system – read, record and analyze shifting information from compatible Di2 electronic shifting units.
All Magellan Cyclo models come preloaded with detailed road base map and OpenStreetMap (OSM) crowd sourced maps. Up to 35,000 cycle lanes and 5000 tracks in the USA are available and cycling points of interest (POI) including restaurants and bicycle shops are visible along the route.

A unique feature of the Magellan Cyclo is the Surprise Me™ – it lets you choose between different routes (up to 3) provided after you enter either distance or time criteria. Choose the difficulty and grade that is best suited for you or your group. Great for those new to certain areas or cities.
All Magellan Cyclo models also come with outstanding accessory support including speed, cadence and heart rate – over 130 ANT+ sensors. The Magellan Cyclo 315hc and 505hc bundles includes ANT+ heart rate and speed/cadence sensors.
Finally, you can share your route and mapping information with friends via Magellan Cyclo Shake & Share. Any riding companion with a 315 or 505 series Cyclo can, in a matter of seconds, wirelessly receive the route. This is a great feature for groups or for those new to a route!
The major differences between the Cyclo 505 and 315 models are Wi-Fi, Bluetooth connectivity, and power meter compatibility in the 505 with a price premium of $70. The Cyclo 505 is the only bike computer on the market to control the music on your smartphone and notify you of missed or incoming calls or text. With Wi-Fi, you can upload your ride data anywhere, anytime with or without your computer.
Never get lost in your ride – you can always back track. The Magellan Cyclo tracks your position from start to finish. By using the back tracking feature you can always find your way back to where you started or deviated from a route. I can certainly appreciate this feature as on my weekend long rides, I have strayed off course many times from my riding group's more advanced riders…
Magellan Cyclo comes with a rechargeable Lithium-Ion battery with up to 12 hours of battery life.

The Magellan CycloAgent is a tool for synchronizing data between your Magellan Cyclo device and the MagellanCyclo web site, and  for managing and updating your Magellan Cyclo device via your computer. After you successfully register your Cyclo device, your ride data will be automatically uploaded to the MagellanCyclo web site anytime you're connected to your computer – charging or synchronizing. For safety, you can also back up (and restore) the data in your Magellan Cyclo device to your computer.
Review Summary
I've been tethered to my iPhone 5S with Wahoo Fitness, Magellan ECHO, and MIO LINK whenever I ride my bike. With those three devices working via Bluetooth, I can see distance, speed,  heart rate, workout time and current time on my iPhone display and on my Magellan ECHO watch.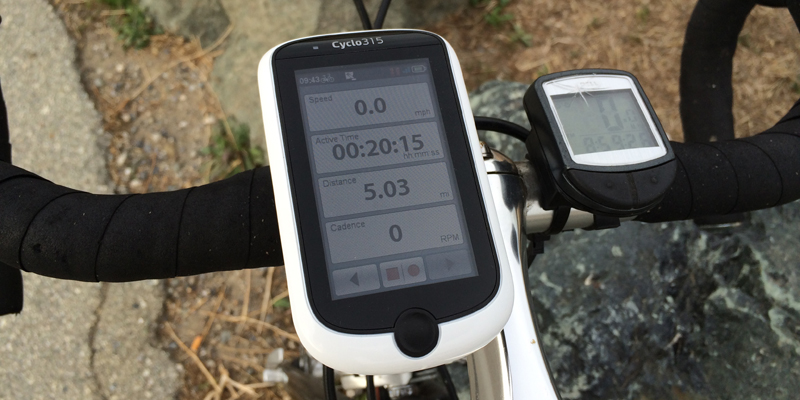 But with the Magellan Cyclo 315, I can just go out and ride on my bike without worry about my smartphone, watch, and HRM, etc. The cadence and speed sensors are already on my bike whereas the Magellan Cyclo is on my handlebar. I do prefer to wear my MIO LINK for heart rate monitoring over a chest strap (I ditched these a long time ago) if I decide to use it. Once I power up the Magellan Cyclo 315, I can start recording all my rides. I've never had a problem getting a GPS signal on the Magellan Cyclo. Once in a while, I have to adjust the sensors on the bike because they get shifted during transportation in my car – two to three bikes on the rack or inside my van.

The screens on the Magellan Cyclo dashboard can be customized to show whatever your favorite metrics are (speed, distance, time, altitude, grade, etc.) and you can easily navigate between screens. After finishing your ride(s), simply connect the device to the USB port of your computer and the CycloAgent will automatically sync and upload your data (in GPX format) to your MagellanCyclo web site account. You can view your workout history on your device or on the web site.
I have a few complaints about the bare-bones MagellanCyclo web site though. It is very basic and display the most basic metrics/charts for each ride. On your home screen, it shows a summary of all your rides to date. You can also look at your history in a calendar or table display.
But the issue lie with the detailed display for each ride – it only show the basic information but I would like to explore the speed, altitude, and other charts more. I've exported and uploaded the GPX file to Magellan Active (which I only use for running) and to Garmin Connect for comparison. You can also configure your Magellan Cyclo web site account to simultaneously transfer your data to Strava.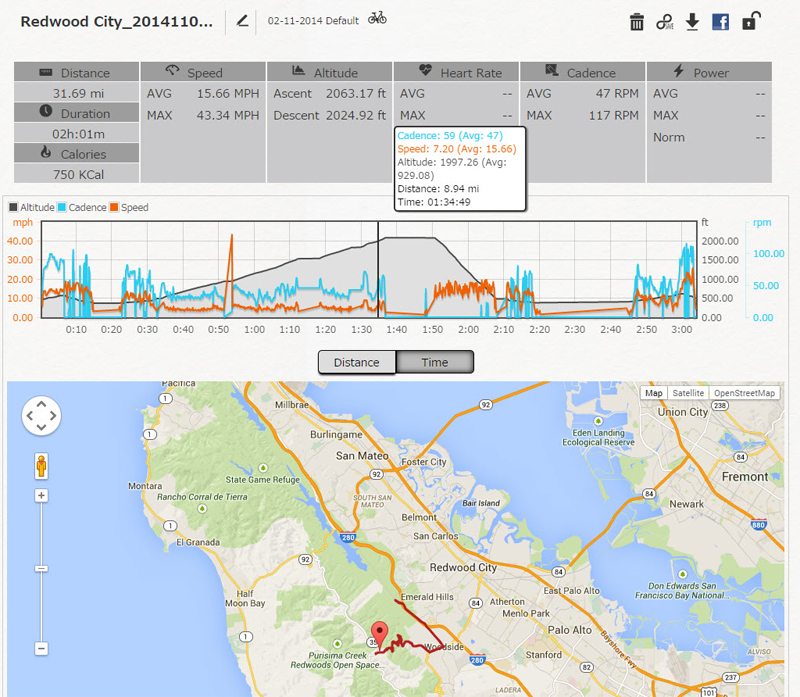 From my Magellan Active account, I can see additional metrics like Grade, Elevation breakdown, and Vertical Speed for the same ride but you'll get Pace instead of Speed on the downside…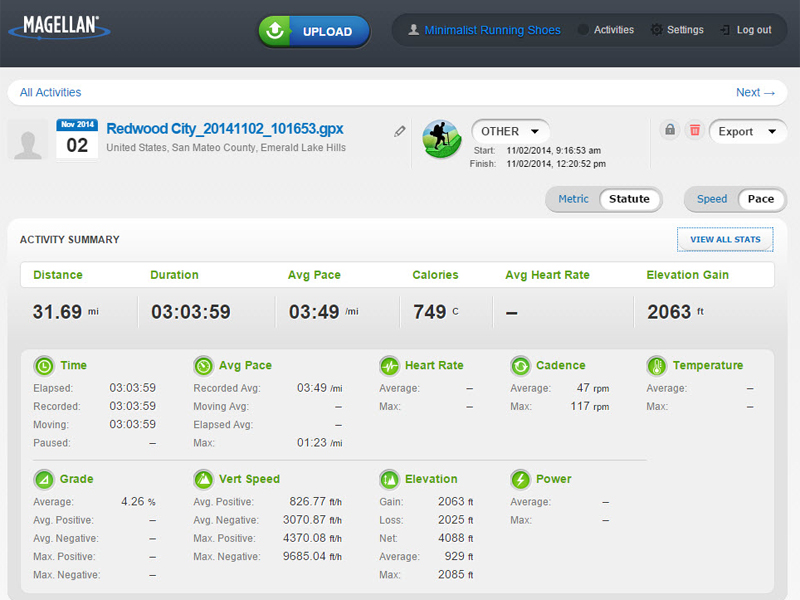 From Garmin Connect, they have an expanded view for the Elevation and Speed so you can take a closer look. For Timing. Garmin Connect let you alternate between displaying in Pace or Speed units.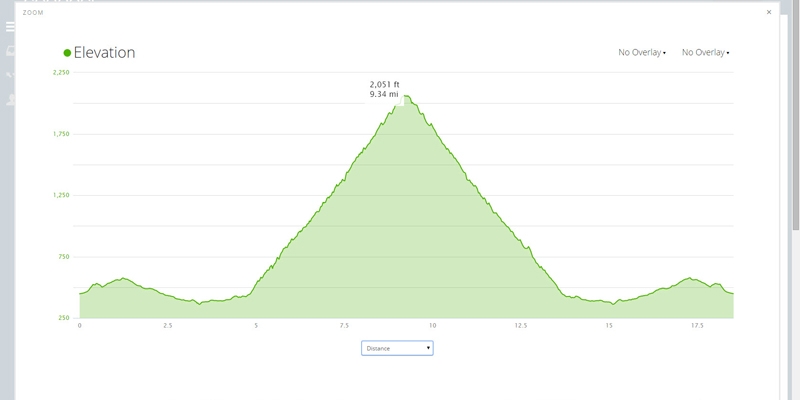 Obviously, I'm not a power user or advanced cyclist so I don't currently need power analysis. But it would be nice to have a device that can do that in the near future as does the Magellan Cyclo web site. With the Magellan Cyclo 315 on my bike for the past 2 months, it is very hard to ride without it as I test other cyclo computers…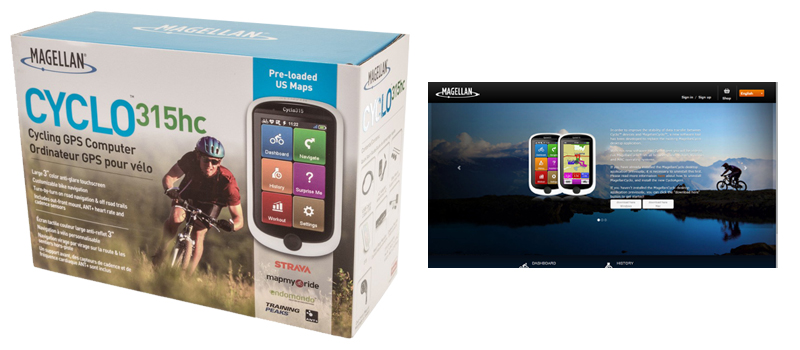 The Magellan Cyclo 315 and 505 are both available for purchase at: Amazon and Magellan.
*Provided by Magellan GPS. CMP.LY/1 Review
If you have a product you'd like reviewed, contact me at info@weartested.org