I had the idea that a wearable camcorder would help with self-analyzing a runner's running form and also capture insights into the running styles of elite athletes. Imagine if a runner can wear a camcorder and heart rate monitor on races or during training runs. Capture what the runner is seeing as they run and monitoring their heart rate and other vitals. Runners, coaches, trainers, and medical professionals can study the point-of-view (POV) videos (in addition to the ones they normally take with high speed cameras) and help the runners with their running form and any other inefficiencies.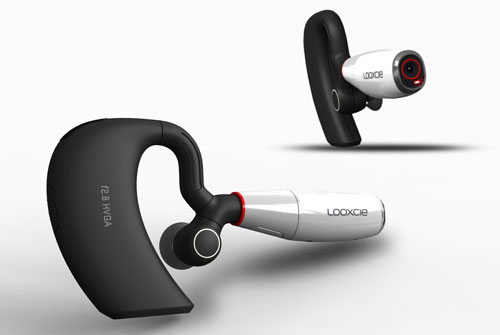 For example, with good running form, the runner should run in a tall and upright posture and with a slight forward lean. They should also lead with their chest and keep their head up while looking forward to the horizon.
From the POV video, the runner and coaches should be able to see what their posture is like. Put the same setup on an elite runner like Olympian and Good Form Running expert Grant Robison (maybe share it freely for educational purposes) and compare it with yours.
So what's available out there at a reasonable price for the masses? Besides a helmet-mounted camcorder (GoPro and Contour), there are only two companies that may be able to provide a different setup: Looxcie, and Pivot Video. Both companies responded quickly. Looxcie is interested in any short comings of their debut model, the Looxcie LX1, for the running community. Pivot is still finishing the manufacturing for a May launch and I hope to test them out at a later date.
But GoPro and Contour already have HD video and that is very appealing as I already have a Canon HD video camera and a Canon digital SLR – just carrying a single integrated gadget is all that I need 🙂
Who Is Looxcie?
Looxcie is the creator of the first mobile-connected wearable camcorder that allows consumers the freedom to be active participants in the moments they're recording and share them on the go. The wearable camcorder, featuring a fully functional video camera integrated with Bluetooth connectivity to mobile devices, enables continuous recording of the last five hours of video. Looxcie video can be clipped, saved, viewed and instantly shared via the smartphone in real time. Founded in 2008, Looxcie is headquartered in Sunnyvale, CA.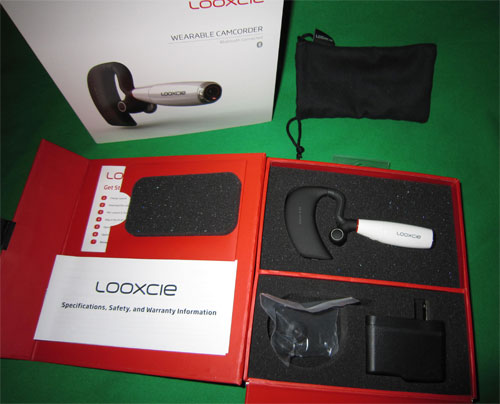 The Looxcie package comes with the Looxcie camcorder, Getting Started Guide, USB Power Adapter, USB Cable, and three earbuds (small, medium, and large). The Looxcie camcorder weighs less than 1 ounce, has HVGA video resolution, 4 GB on-board storage, and a f 2.8 lens. A fully-charged battery allows 5+ hours of video storage and 4+ hours of clip storage. Video format is MP4 (MOV).
How Looxcie Works
Looxcie is always on, continuously videoing – there's no record button. When you experience something you want to share, just click the Instant Clip button to save a clip of the last thirty seconds. The clip can be sent to a Facebook page, YouTube or a preset e-mail address – instantly.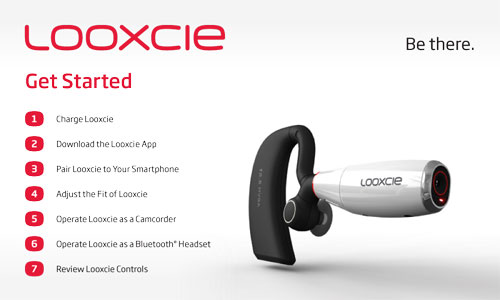 Looxcie also records as a standard camcorder in full-motion, 480p when paired with the LooxcieCam mobile app (iPhone or Android smartphone).
You must use the Looxcie App (Android or iPhone) to view, edit, and share your Looxcie moments.
How Looxcie Performed
I'm not a person who reads manuals before playing around with personal electronics. The gadget should be intuitive enough to operate in basic mode out-of-the-box.
The printed 'Getting Started Guide' is missing one important fact – where is the Power button located. I clicked away at everything that looks like a button but no luck. I had to go online to download the 'User's Manual' before finding out where the Power button is! It turned out that it is on the opposite side of the earpiece.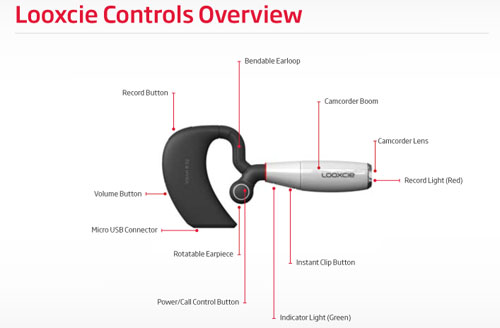 The next problem that I have is fitting the Looxcie on my ear. It is very frustrating and took many different tries on different days before I finally got it to stay firmly on my right ear with a large earbud. But I wasn't taking chances and wore a running cap to keep it from moving around.
And yet another problem. Since I don't have a compatible Android or iPhone to pair it with the Looxcie, I had no viewfinder! So I had to have a few test clips to get a leveled video and the camcorder boom positioned correctly at my line of sight.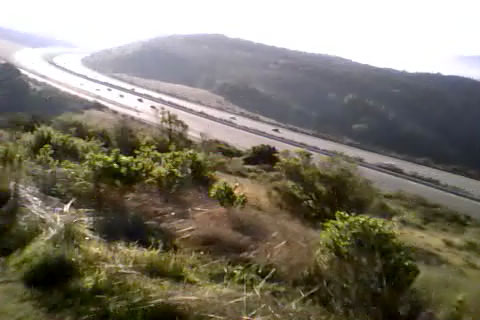 Here's a combination of some video clips I took running on the trails in Belmont, California.
Having to click a button every time you want to save a 30 second clip is distracting especially when running. Not having a viewfinder (even if you a smartphone paired with Looxcie) readily accessible is not very assuring if you don't want to mess up your recordings.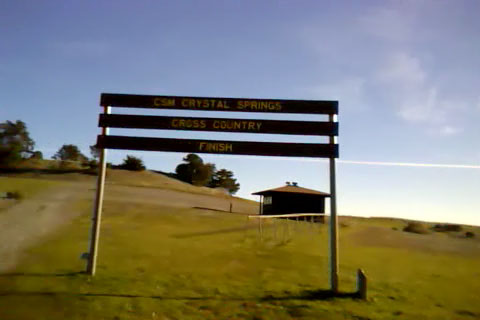 What Looxcie Lacks
At this time, there are a few things that it needs to do to make it a great wearable camcorder.
For the saved clips, they need to be able to be longer than 30 seconds when used standalone without a smartphone. We should not have to join and edit multiple clips manually. At a minimum, provide desktop software to do it automatically.
Add image stabilization technology to the camcorder. This is a must for professional videos.
Add an optional compact viewfinder for those who prefer not having to carry a smartphone or does not have a compatible one.
High definition (HD) video is a must. HVGA (480×320) will not cut it going forward.
Going Forward
In the first generation of this unique wearable camcorder, it is an amazing invention that will only get better with each future iteration. HD video and image stabilization are high on my list of must-have to make this the perfect wearable camcorder for me 🙂
From the sample videos I took while trail running, I enjoy the superlight earbud-mounted camcorder but would prefer focusing on my running more with a continuously-saved long clip of at least 30 minutes or more – no more manually saving clips every minute or so.
Looxcie LX1 is now available at Amazon and other retailers for less than $200.
http://www.looxcie.com
*Product provided by Looxcie (MSRP $200).
If you have a product you'd like reviewed, contact me at info@weartested.org