JK Imaging, Ltd., the worldwide licensee for KODAK PIXPRO Digital Cameras and Devices, recently launched the new KODAK PIXPRO SP360 action camera. This game-changing, innovative and highly portable device is designed to capture stunning 360° HD videos and fully immersive images all in one shot and without the need for multiple cameras and devices.
The PIXPRO SP360 is small enough to fit in the palm of your hand and sports a unique, dome-shaped fixed lens that captures stunning 360° HD videos (30fps) that can be shot and viewed from multiple vantage points including: 360° Panorama, Front (212°), Split with 180° front and rear views simultaneously, Dome (214°) and Ring/Sphere (360°) modes. This streamlined and simple process allow users to do what they love without worrying about the technical techniques involved.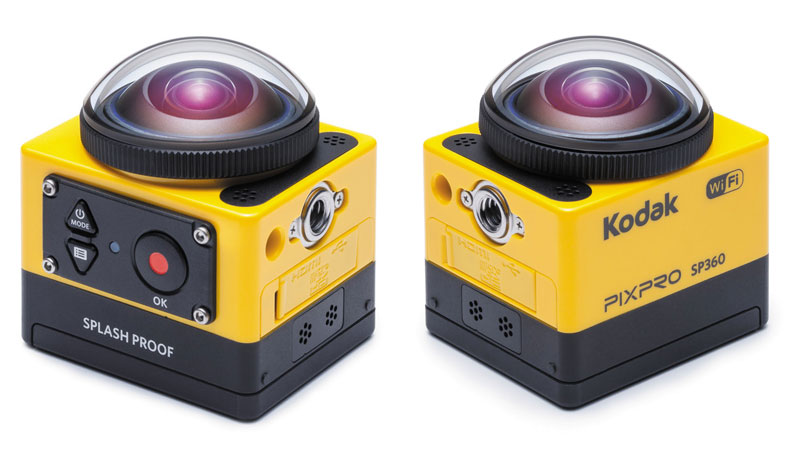 Once the HD video is captured and downloaded from the PIXPRO SP360 to a computer, users have the ability to pan and select a multitude of viewing angles using the free de-warping software (Mac or PC). Users can also select individual frames from different viewing perspectives in the HD video and save them as hi-resolution still photos for even more creative ways to capture and share their passions and experiences.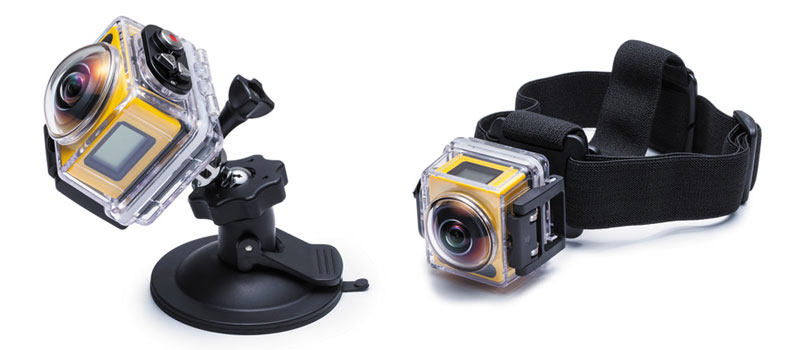 For even more flexibility, the PIXPRO SP360 is equipped with a motion sensor setting to automatically trigger recording when it detects movement, especially helpful for hands-free activities. The PIXPRO SP360 is also Wi-Fi enabled and allows quick connection to a smartphone or laptop computer to act as an additional method of remote control or for viewing the content (viewfinder) the user is shooting from up to 65 feet away. There is a free PIXPRO SP360 iOS and Android-based mobile App.
The KODAK PIXPRO SP360 is splash proof, freeze proof (-10°c), shockproof (2m), and dustproof. It is compatible with a micro SDHC memory card, Class 6 or higher and up to 32GB capacity (not included with camera). The PIXPRO SP360 comes with: a rechargeable Li-Ion battery, battery charger, AC adapter, Micro USB cable, clear plastic lens cover, protective lens cover, carrying case and cleaning cloth.
The PIXPRO SP360 weighs only 3.63 ounces (103g) and is sold with 3 different accessory bundles so users can take the action camera on-the-go depending on their activity or adventures. The EXPLORER bundle has just the right accessories to get you started and take your adventures to the next level, the AQUA SPORT bundle provides plenty of options for boards and killer waves of all shapes and sizes, and the EXTREME bundle is your accessories on steroids – it has got you covered no matter what your passion, be it land, air, sea, mountains or snow.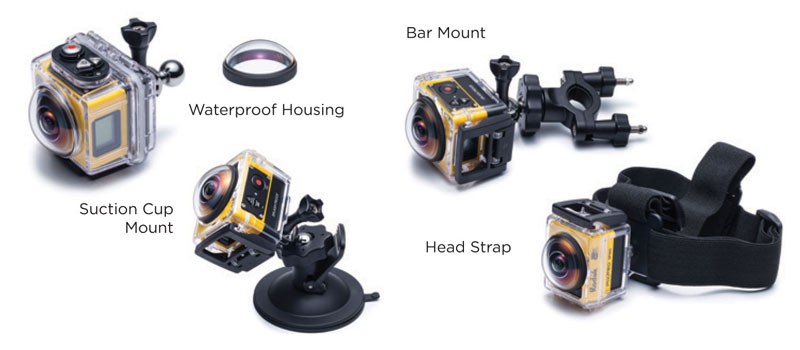 So how did the KODAK PIXPRO SP360 performed?
The KODAK PIXPRO SP360 is different than other action cameras like the GoPro HERO4 and Polaroid CUBE in that it shoots in full 360 angle. The camera feels solid but not as simple or intuitive to use as I would like. Without reading the instructions or changing the default configuration, I charged the battery overnight, insert a 32GB micro-SD memory card, and then just started shooting video with it mounted on my bike handlebars with the dome facing up to the sky. I would stop recording after about 30 minutes each time just in case the files get too big. I also took some still photos during cycling breaks.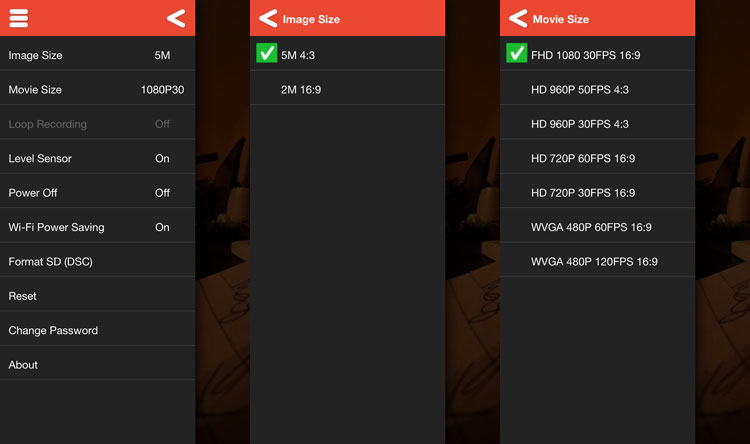 On another ride and a trail run, I had the dome facing straight ahead. Because there is no viewfinder, I have been recording blind all these times! Obviously, the iOS or Android mobile app can be used as a viewfinder and for configuration but that means I have to mount the smartphone on my bike. It would be fine if I'm taking image stills or if I am not moving around much.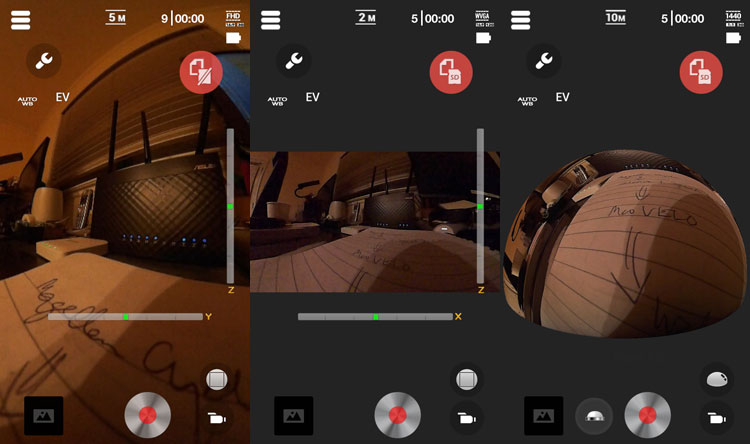 The desktop (PC/Mac) software allows you to edit your video and images as long as it is taken in 360 mode. Even though you can download your video via Wi-Fi to your smartphone or laptop, I would not recommend that as I had problems downloading anything greater than 1GB to my iPhone – the process never complete. I ended up connecting the PIXPRO SP360 via USB to my PC and copying the files to my desktop for viewing and editing.

On playback, the video appears a little grainy in low light or cloudy condition – I was cycling in some heavy fog and mostly cloudy skies. On another ride, it was sunny and the resolution is significantly better but not what I had expected. The fish-eye images are sharp and cool looking but not that useful without extracting what I need out of it. I like the iPhone panorama images more but it comes standard with the KODAK PIXPRO SP360 with no extra effort. It takes some getting used to the software and the 360 shooting mode in order to get the right shots.

Our wear test unit comes with the Extreme accessories pack containing lots of different mounts for any occasion. I used both the Standard and Waterproof housing (when it was raining) with the handlebar mount and the Head Strap for trail running. The Suction Cup is perfect for use in the car. For other action and water sports, the Vented Helmet straps and Adhesive mounts cover that spectrum of activities.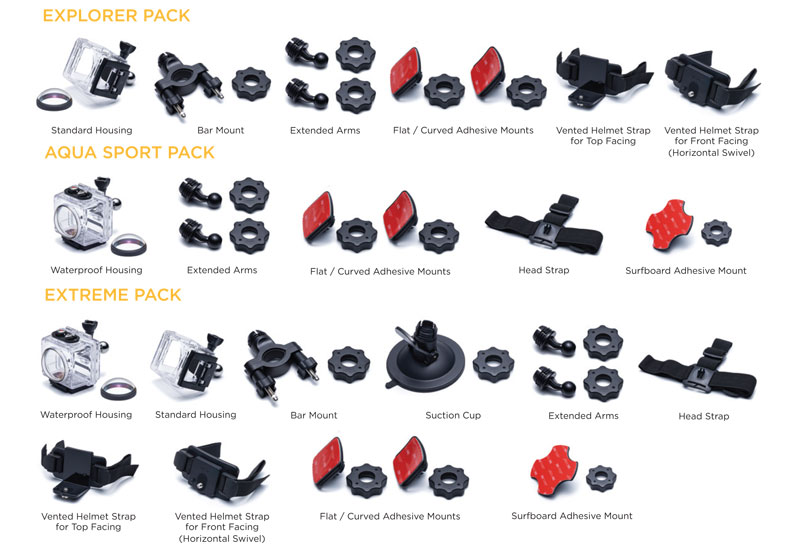 Among the PC software viewing and editing options are circular fisheye view, panorama, and dual front 180° and rear 180°. Here are some still images taken with the KODAK PIXPRO SP360 (fish eye and extracted).

The only downside of the videos captured in 360 angle by the PIXPRO SP360 is that you have to use their desktop-based software to edit and extract just the right viewing perspective of the captured video. Using any other video playback software, you'll only get the 360 fish-eye point of view. So you have to edit/playback, record your selected viewing perspective, and save out the videos desired.
The KODAK PIXPRO SP360 has great future potential and it's just a matter of playing around with it a lot more and figuring out unique situations where this will come in handy. Whether you are doing time lapse 360 photography or a sporting event or any action activity, it gives the viewer many alternative perspectives when watching the playback video with any extra technical equipment or skills.

Shoot in 360° Panorama/Round mode or 16:9 Front mode and go from there – a new way to capture your world!
The KODAK PIXPRO SP360 is available for purchase online at: Amazon, BH Photo Video, Best Buy, and Walmart.
*Product provided by Kodak & JK Imaging. CMP.LY/1 Review
If you have a product you'd like reviewed, contact me at info@weartested.org