A small cube from Polaroid that is HUGE out-of-the-box fun! In little more than 1 cubic inch and standing at just 35mm, the Polaroid CUBE is here to prove that the best things do indeed come in small packages. This tiny action camera supports Micro SD cards up to 32 GB, and is ready to capture your most exciting moments in full HD video or high resolution images. So if you're living a life that's fit for film, make the CUBE your constant companion. It is weatherproof and shockproof, and more than capable of handling anything you throw at it. But not only does it look after itself, it looks after you: With a 124° wide-angle lens, it sees the big picture and bears witness to your most outrageous shtick.

The CUBE packs a mounting magnet; sticks to any metal surface. It features a neatly integrated magnet in the bottom of its housing. Simply pop the camera onto your helmet, skateboard, bicycle handlebar, golf club, or any other metal surface, and it'll stick with you through thick and thin. There's no need to fiddle with bands, straps or other makeshift apparatuses. What's more, the camera's shockproof design helps to capture stable video even when you give it a run for its money, and its weatherproof sealing makes it perfect for wake boarding, water skiing or just chilling by the pool.
With 8 custom accessories, there's never a dull moment. From protective to proactive, the Polaroid CUBE accessories lineup punches up the fun to even greater heights. The Bumper Case makes for fashionable wearing around the neck or clipped on a belt loop, backpack, keychain, etc.; the Helmet Mount attaches to virtually any helmet with 3M stickers; the novel Monkey Mount makes creative use of the camera's magnet; the Waterproof Case is also shockproof and connects to all CUBE mounts; the Suction Cup Mount can be used with the universal camera clip to mount to any flat, smooth surface; the Bike Mount secures the camera to bike handlebars with a clip-on attachment; the Tripod Mount features a universal metal insert to fit all standard tripods; and the 1 inch Strap Mount fastens the camera onto virtually anything.

What You Need To Know

Gear Name

Polaroid Cube

Synopsis

The Polaroid Cube lifestyle action video camera – weatherproof/splash proof, mountable and built to handle everything you can imagine. Packed with fun including 1080p HD video, 6MP still photos, 124° wide angle lens, and built-in battery that records up to 90 minutes. Mounts magnetically or with clip for a world of exciting action applications.

Available Date

Now

MSRP

$99

Where To Buy

Amazon, eBay, Walmart, Best Buy
Polaroid Cube Specifications
Video capture resolution: 1920 x 1080; 1280×720 (30FPS)
Recording format: H.264
Still image resolution: 6 megapixels; JPEG still image
Lens: 124º wide angle lens (F 2.0, f=3.4mm)
Viewing angel: 124º (wide angle)
Weatherproof/splash proof
External memory: support Micro SD card, up to 32GB
Battery & power: lithium battery, 90 Min
Microphone: included
Output: USB 2.0
PC and Mac interface: Micro USB Port (USB 2.0)

Summary
Simply put, the Polaroid CUBE is a fun and super easy to use action camera. You'll need to have inserted a memory card before you can record with the CUBE – the CUBE can accommodate micro SD cards with storage capacities up to 32GB. Chose SD cards that are rated Class 10 and above for best high speed performance.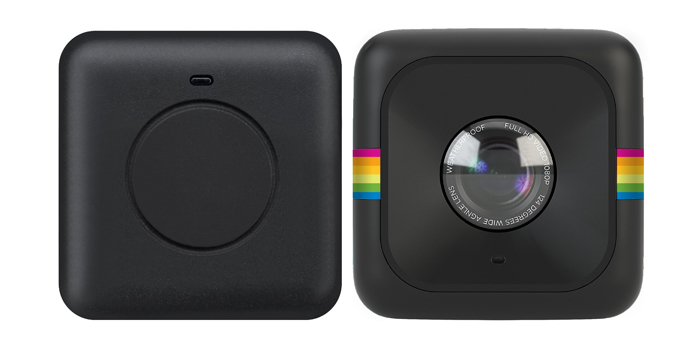 A single large multifunction button on top of the CUBE controls everything. In a nutshell:
Turn CUBE ON – Hold the multifunction button for three seconds. You'll hear three beeps and the LED will blink green.
Turn CUBE OFF – Hold multifunction button for three seconds. You'll hear a two second beep, followed by a single short beep.
Taking Still Photos – Press the multifunction button once. You'll hear a beep and the LED will blink red once.
Taking Video – Double press the multifunction button. You'll hear two beeps and the LED will blink red until you stop recording. To stop recording, press the button once again. You'll hear a single beep and the LED will blink green.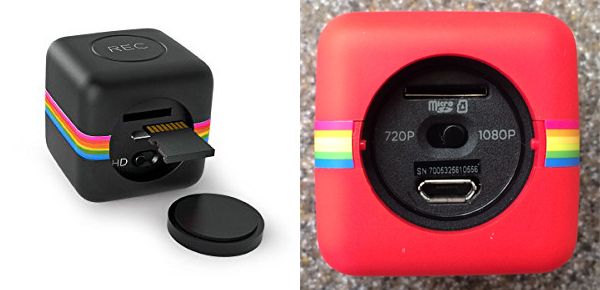 To download or view photos and video, connect the micro USB cable into the micro USB port of the CUBE and the other end into your computer. Double-click the Polaroid Cube camera desktop app when it appears on the desktop. The indicator will blink orange to show that your computer is accessing the camera's memory card. Your photos and videos are located in the /DCIM folder.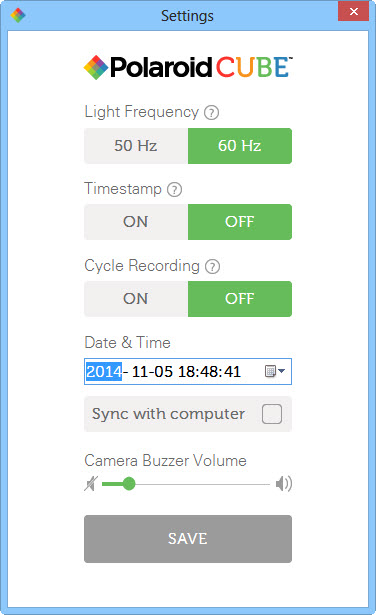 You will also need to use the Windows or Mac desktop program to configure the CUBE. Double-click on the PolaroidCube.exe executable file and you can change the settings for Light Frequency, Timestamp, Cycle Recording, Date/Time and Buzzer Volume.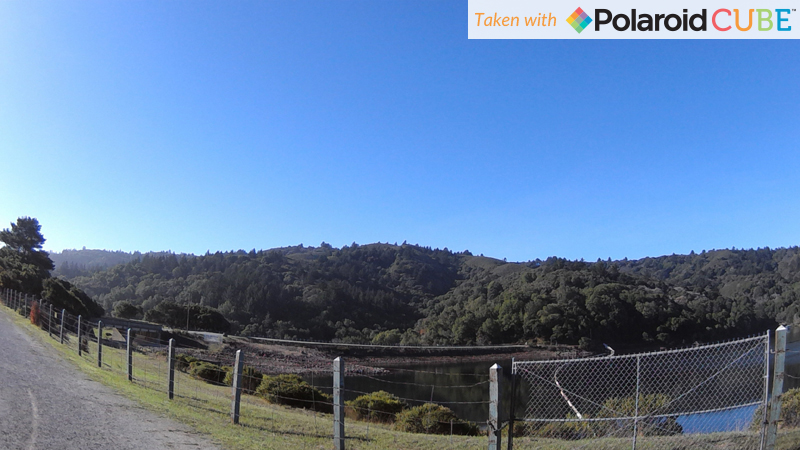 Pluses
Mounting MAGNET sticks to anything metal and opens up a whole new recording perspective
Accessories galore allowing your CUBE to mount to ANYTHING
Small and rugged to bring EVERYWHERE

Minuses
Wide-angle lens gives all your pictures and videos a kind of FISH-EYE view effect
There is NO FLASH so night pictures are tough without a tripod
There is NO IMAGE STABLILZATION so cannot really use it effectively for running or any activity that has repeated vertical movements (vibrations)
Cannot SEE what pictures or videos you shot until you connect it to your computer
No UNIQUE naming for images and videos – could at least have timestamp on name

I chose to buy the Strap Mount because it can mount to virtually anything. The two multipurpose nylon straps were too long and bulky for my bike or helmet so I decided to use my Quirky Bandits (elastic bands with hooks) to strap the platform to the handlebars or helmet instead.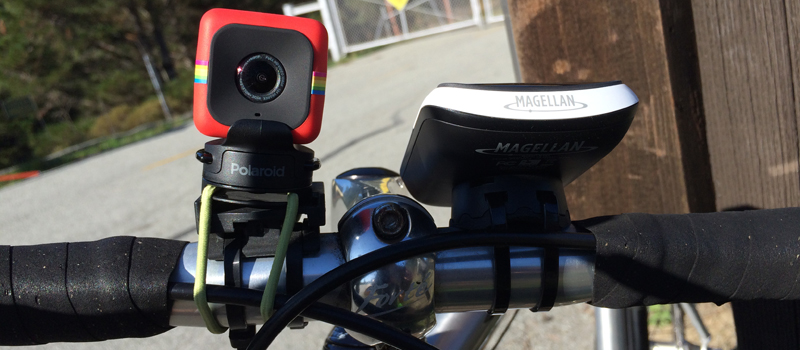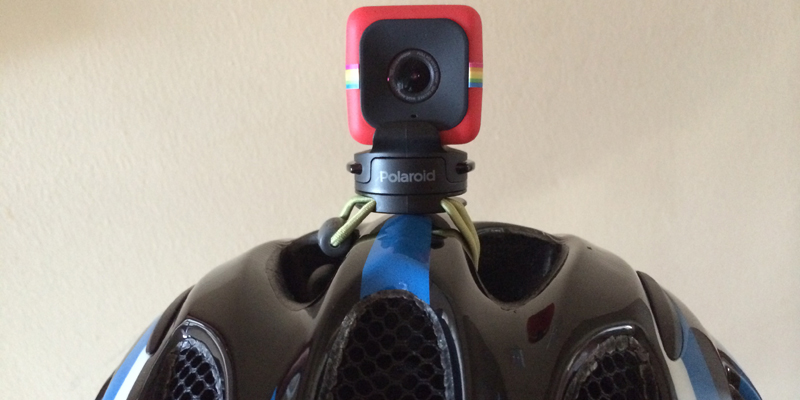 Still photos are decent and can capture scenes easily versus having to reach for my smartphone and fire up the photo mobile app. But videos are only good if you're on firm ground or cycling on smooth terrain…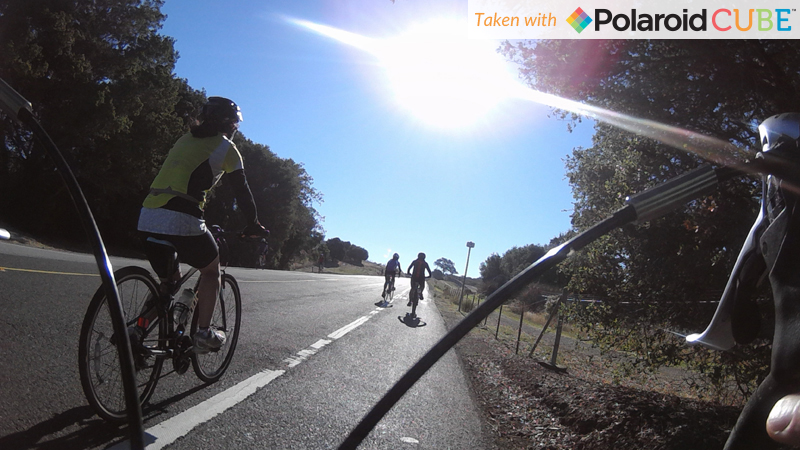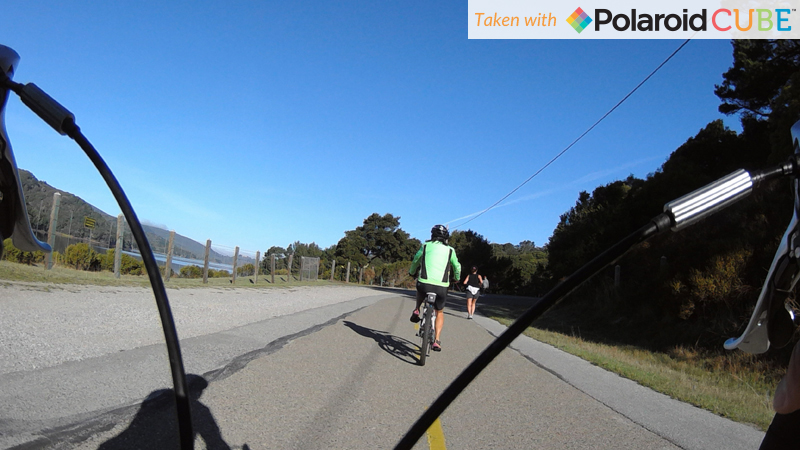 It is a cool little camera to bring to parties, events, or travelling. But it won't replace your smartphone for pictures and videos. For the price of $99, it takes 1080p video, 6MP photo, and the mounting magnet opens up so many opportunities thus making it a great stocking stuffer for the holidays! Maybe a Bluetooth-enabled version with GPS and image stabilization working with a mobile app (for viewfinder) at a slightly higher price ($129) is a no-brainer action camera.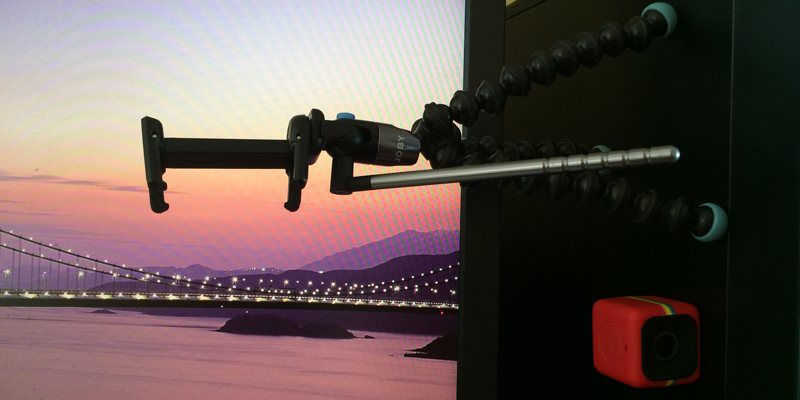 Slight reminder of my Joby GripTight Gorilla pod-stand with magnetic legs (shown attached to the metallic side of my PC) that opens up many creative mounting possibilities. For example, with the Polaroid CUBE mounted on my Gorilla pod-stand and attached to my front porch, I can set up a quick security or time lapse photography system!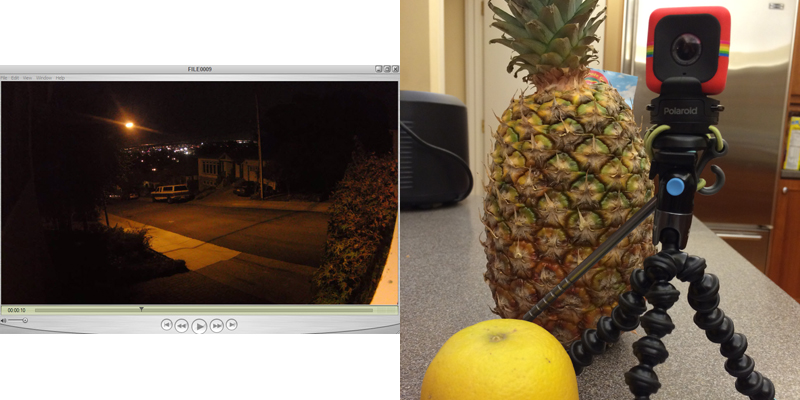 Available now at: Amazon, eBay, Walmart, Best Buy
*Polaroid CUBE provided by Polaroid. CMP.LY/1 Review
If you have a product you'd like reviewed, contact me at info@weartested.org