Made for the outdoors. Hydro Flask's TempShield insulation has redefined what the classic outdoor water bottle can be. Available in many sizes (18, 32, 40, 64 oz), these bottles keep your beverage icy cold or piping hot from trailhead to summit and every step in-between. Your perfect "all day and into the next" refreshment solution. It is the ideal hydration companion for those long days in the office or a full day on the beach or trail. Now with the new Flex Cap for ultimate portablity. Whether you're in the Arizona summer or the Alaskan winter, Hydro Flask's 18/8 stainless steel double wall vacuum insulation will keep drinks icy cold for up to 24 hours and hot liquids hot for up to 6 hours.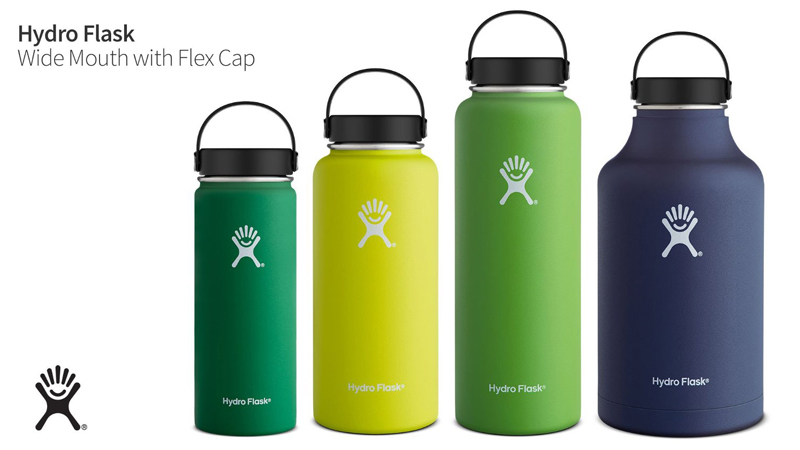 The wide mouth opening makes pouring easy, and the new BPA-free Flex Cap is insulated to further protect your beverage from outside temperatures. Hydro Flask's 18/8 food-grade stainless steel interior is non-porous, with rounded corners to help eliminate bacteria buildup, unwanted odors and lingering flavors.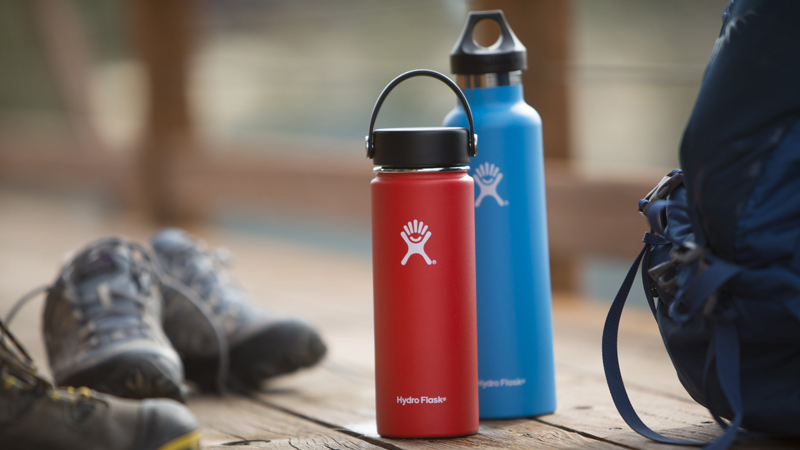 One of my female wear tester already have a 12 oz Hydro Flask wide mouth that she has been using daily for almost a year for water or cold drinks – throughout her day, it kept her drinks cold without ever getting warm or lukewarm (room temperature). I personally tested the 18 oz Hydro Flask wide mouth with hot coffee, mocha, and tea and checking the temperature throughout my work day – every hour. It kept the same temperature for about 4 hours and by the 6 hour mark, it started to cool down. Obviously every time I open the bottle to test, it reduces the 'staying power' of the unit. If I left it unopened for 6 hours straight, it would have stayed at the 'Goldilocks' temperature. But I would normally have finished it in within 15 minutes of opening the bottle had I not been testing the unit!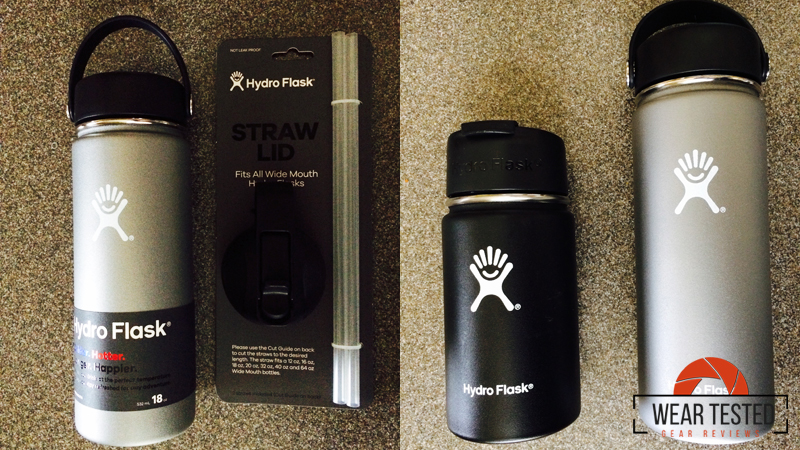 Almost two years ago, I've also tested the Kleen Kanteen 20 oz Vacuum Insulated for cycling purposes (even though it was tough fitting the unit on the bike cage water bottle holder). It has the same performance specifications (24 hours cold, 6 hours hot) as the Hydro Flask but where the Hydro Flask shine is the quality construction and amazing design. I even venture to call it the 'Apple' or 'Tesla' of water bottles. Colder. Hotter. Longer. Happier.
Here's the fun part. You can customize by mixing and matching from up to 14 color options to create a My Hydro™ bottle that's uniquely yours. That's a total of 183,456 unique combinations (7 sizes, 2 lid types, 4 parts, 14 colors). The strap, cap, bottle, and the My Hydro™-exclusive silicone boot, can be customized. Imagine the possibilities. A perfect holiday gift!