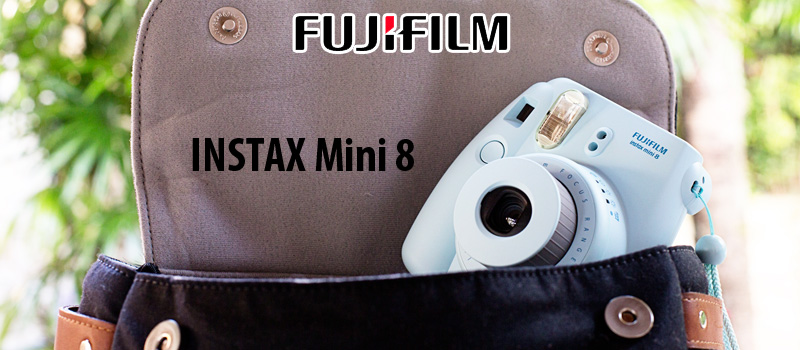 Fujifilm recently added and launched an all-new INSTAX Mini 8 instant film camera to its popular INSTAX line. In addition to offering user-friendly control functions, fun style, and fantastic image quality found in the current INSTAX mini models, the new fun and compact INSTAX Mini 8 line-up will also include new features, and be available in three new exciting colors, pink, blue and yellow, along with the classic white and black models.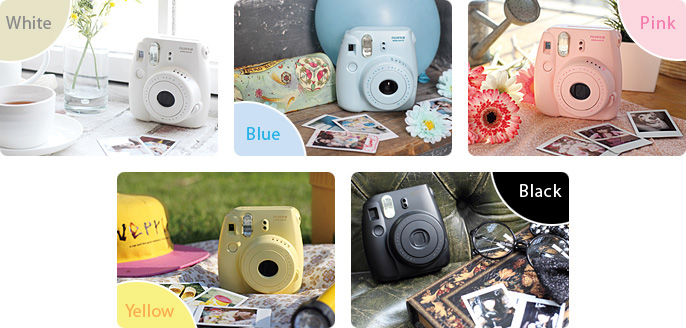 The Fujifilm Instax Mini 8 instant film camera is a compact camera that produces instant credit card-sized prints. A built-in flash provides additional illumination for exposures when working in low-light conditions and automatic exposure control helps to ensure consistently accurate exposures in a variety of lighting conditions. An optical viewfinder with integrated target spot is available for image composition and an exposure counter is incorporated into the design to visually display the number of exposures remaining in the film pack. For extra convenience, due to their widespread availability, the Instax Mini 8 utilizes two AA batteries as its power source.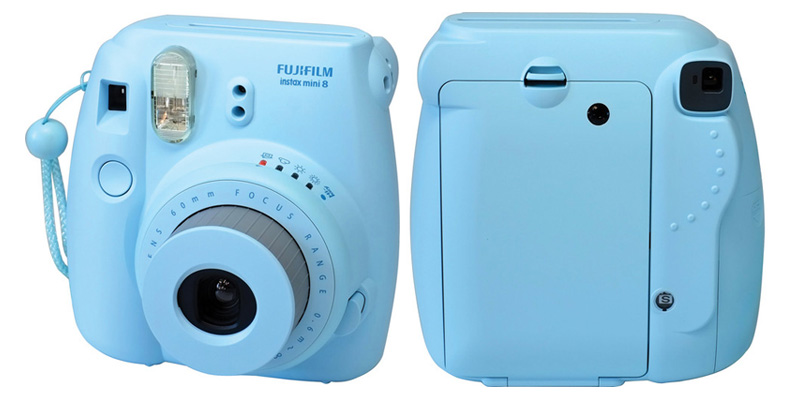 With its ease of use and attractive design, the new INSTAX Mini 8 is slightly slimmer and offers new features and enhancements, including:
improved viewfinder for enhanced subject viewing
automatic exposure measurement for aperture settings
new high-key mode that enables users to take brighter photos – perfect for portraits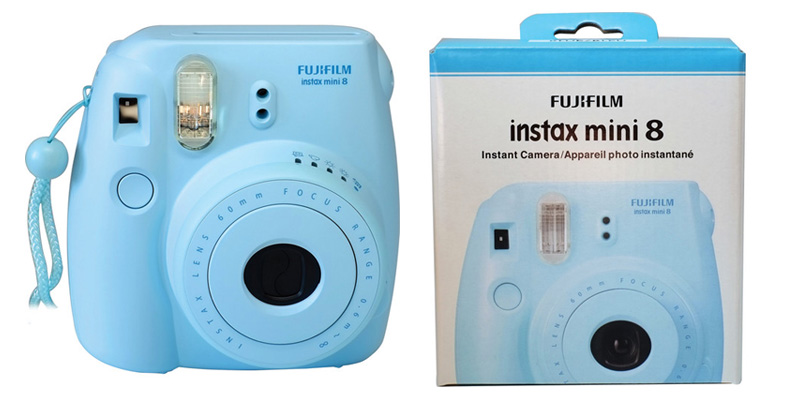 INSTAX Mini 8 Technical Specifications
Fujinon Lens: f=60mm, 1:12.7, 2 components, 2 elements
Viewfinder: Real image finder 0.37x with target spot
Shooting Range / Focusing Range: 0.6m – infinity
Shutter Speed: 1/60 sec.
Exposure Control: Auto exposure measurement. Manual switching system (flashing LED indicator signals recommended setting)
Flash: Constant firing flash (automatic light adjustment)
Effective Flash Range: 0.6 – 2.7m
Power Supply: Two AA-size 1.5 alkaline batteries
Picture Size: 2.13" x 3.4" (54mm x 86mm)
Auto Power Off Time: 5 minutes
Dimensions: 4.6" x 4.7" x 2.7" / 0.7 lbs without batteries, strap & film pack (116mm x 118.3mm x 68.2mm / 307 g)
Uses Fujifilm INSTAX mini film
So how did the Fujifilm INSTAX Mini 8 perform?
Shooting with the INSTAX Mini 8 is as easy as 1-2-3:
Press the button beside the lens to turn power on
Adjust the dial to the lit position
Shoot and obtain pictures instantly

You can take a high-key photo easily by setting the brightness adjustment dial to the high-key mode mark thus allowing you to take pictures with a softer impression.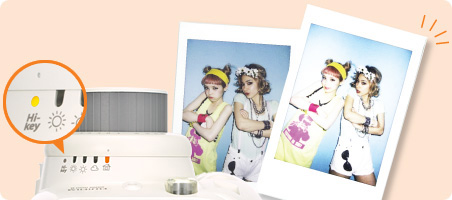 The INSTAX Mini 8 also automatically determines the best brightness for taking a picture, and informs you of the suitable setting by lighting the corresponding lamp. Turn the brightness adjustment dial to the position (mark) of the lit lamp.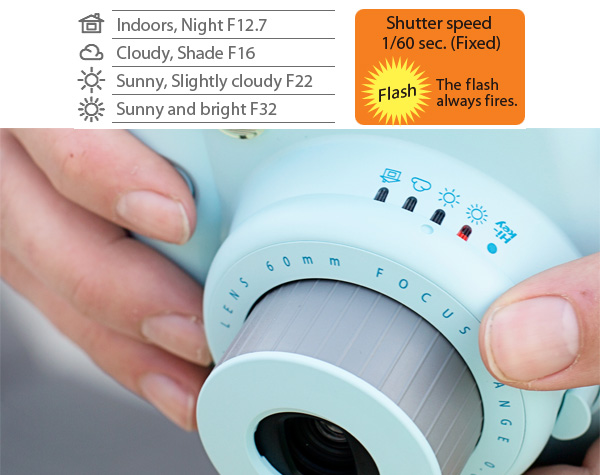 The INSTAX mini film is a credit-card sized 2"x3', while the image area is 1.8" x 2.4". The film has a blank strip at the bottom so that you can write a message under the photo.

The instant film have come a long way since I last used a Polaroid camera in the 90s. The image appears faster and the quality of the picture is vastly improved – about 2 minutes total for image to finish appearing. Obviously, nothing close to what a regular print can deliver.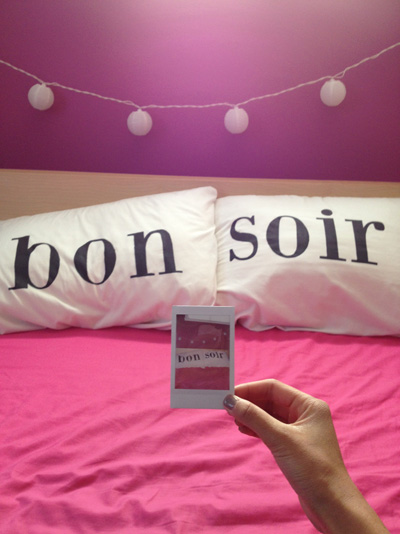 The default credit card size is a jack-of-all-trades size and useful for all occasions and also for cataloging items like shoes, clothes, jewelry, crafts, antique cameras, etc. It can even be used for making badges or ID cards – without a magnetic strip and other electronics of course. Teenagers will drool over this for taking pictures at a prom, dance,  or graduation.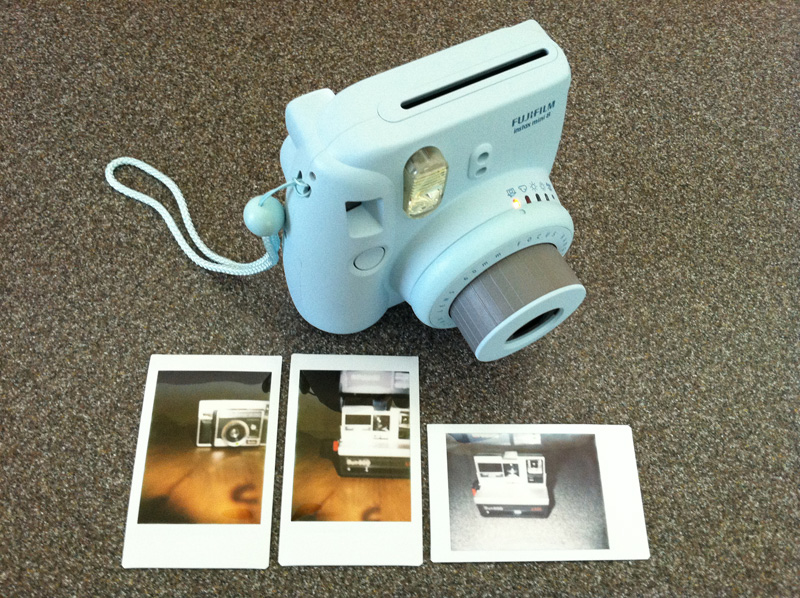 I did notice that the view finder is not exactly perfect as you can see some of my shots were off-centered as I might not have held the camera steady long enough. Shots are also sharper when taken outdoors. My daughter took a stab at using the camera and produced much better prints than I did even for indoor shots – she also held the camera steadier than I could…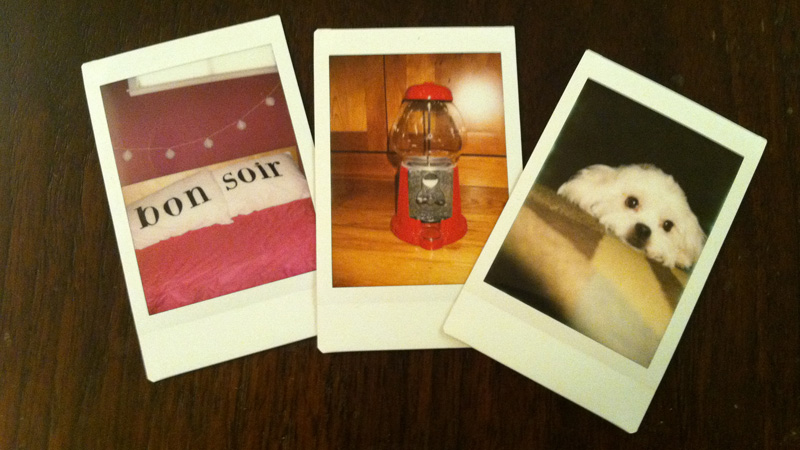 The only nit I have is the replacement film; you'll have the same problem  with all instant film cameras: expensive. But with recent advances in film and camera technology, replacement film are a lot more affordable for those special occasions like weddings, parties, high school proms as well as everyday scenes and self-portraits – all with a portable photo booth, your Fujifilm INSTAX Mini 8!
The INSTAX Mini 8 is a available in 5 colors:
The INSTAX Mini instant film is available in regular (white) or rainbow hued frames.
The Fujifilm INSTAX Mini 8 is available online at: Amazon, Adorama, and Photojojo.
*Product provided by Fujifilm USA (MSRP $100). CMP.LY/1 Review
If you have a product you'd like reviewed, contact me at info@weartested.org