Fila is debuting its first style in the minimalist barefoot footwear category. The Fila Skeletoes (or Skele-toes) is a casual activity shoe for the whole family and offers the next best thing to walking barefoot. Like high-tech socks, the tough yet soft and ultra-comfortable fitted design is ideally suited for casual outdoor activities like biking, boating, swimming, and walking. They are however NOT meant for running.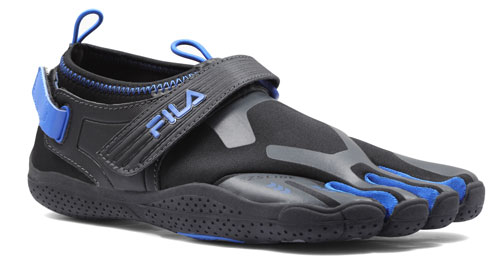 These anytime, anywhere shoes with Fila's signature four-toed "skeleton" design outsole will have the whole family stepping out in cutting edge style. An important comfort design attribute of Skeletoes is the EZ Slide feature that, along with pull bungees, combines the two smallest toes for ease of entry. This is probably the biggest improvement in toe shoes over the Vibram Five Finger! I find that is a lot easier for me to slip in and out of the Skeletoes than my VFF KSO.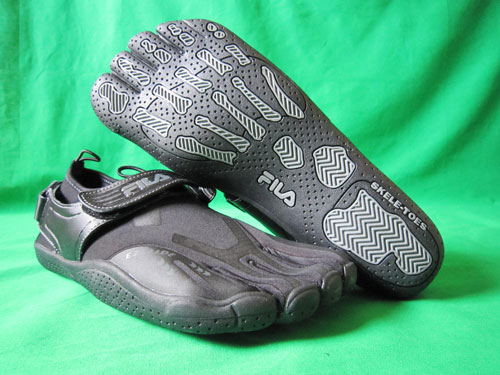 I decided to size up by a half size since my old VFF KSO at US 9.5 is getting too tight for me. I have ran in them for over a year and I'm sure my feet has grown slightly wider since then.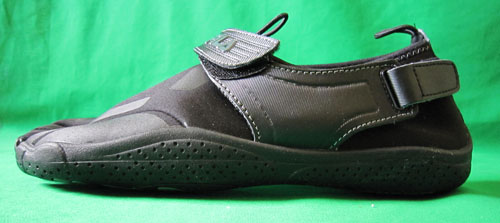 The two-ply nylon and color-matched printing offers a contemporary fitted sockless shoe with four-way stretch and two Velcro straps to ensure a snug fit. A multipurpose slip resistant rubber provides maximum grip on all surfaces. I like the uppers much more than the KSO but I prefer a softer material for the Velcro part of the strap.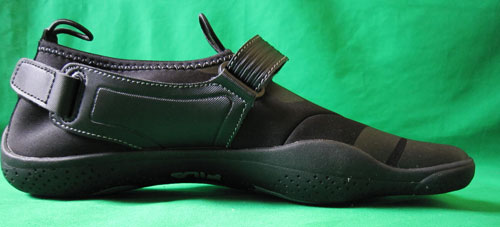 With the Skeletoes, you get more protection on sole than the VFF KSO but does not feel the ground as much – you'll lose a lot of ground feel. The Skeletoes weigh about 2 ounces more than my KSO and my feet feels warmer with Skele-toes but it has decent breathability. I've worn them mainly for walking around the house, long walks with my dogs, biking, and exercising.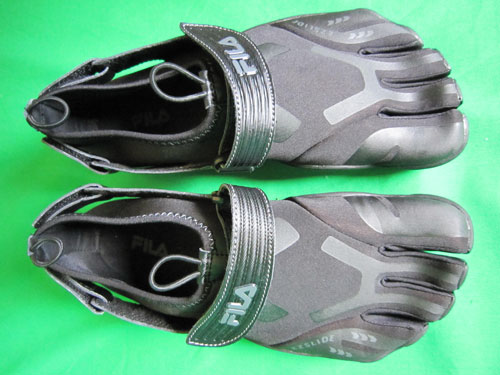 Some negatives I found are the lack of flexibility and high arch. The Skeletoes are not as flexible (twisting shoes from heel to toe and laterally) as the KSO. It flexes at the forefoot but not so much at the midfoot. The snug arch fit is a little high for those with flat feet (I have a medium arch) – they might get blisters for longer wear.

The bungee cord tab on the heel and top of the foot also allow for ease of entry.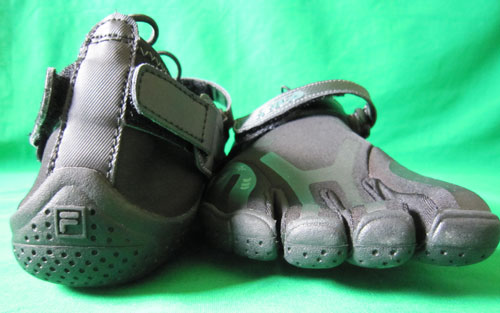 The VFF KSO and Fila Skeletoes look almost identical. You will not notice the 4 toes versus the 5 toes unless you really focus on the uppers. I didn't notice much toe spring and it did not feel like it standing on them.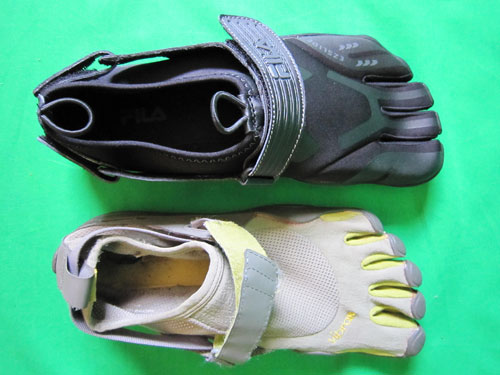 In the slippery concrete, the Skeletoes has great grip. Maybe my KSO Vibram outsole has worn out a bit (over 500 miles on them) and it felt slippery when wearing them in the wet surfaces on my backyard.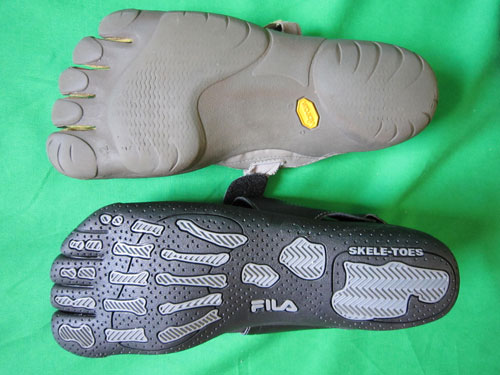 For adults, Fila Skele-toes is available in three colors for Men's and three colors for Women's.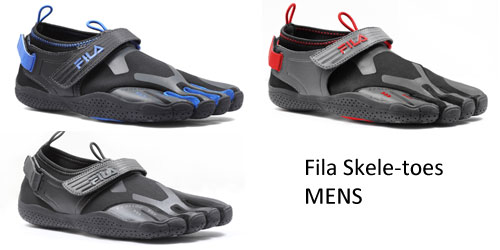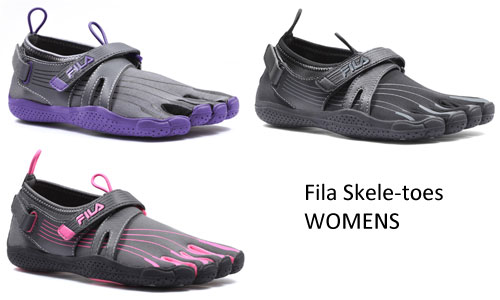 For Kids
Skeletoes are also much easier for parents to slip on their children's feet or for kids to put on because of its EZ Slide feature which combines the smallest two toes for ease of entry. Even for adults, I have this issue with the VFF KSO – my 4th toe slides in slow. It also has four-way stretch as well as a bungee cord for ease of entry. Velcro straps ensure a customized fit as well as a multipurpose slip resistant rubber for maximum protection from those slippery surfaces. Velcro straps ensure a customized fit as well as a multipurpose slip resistant rubber for maximum protection from those slippery surfaces, perfect for even the most accident-prone child. Besides a fit that parents and kids will both love, kids can pick a Skeletoes color that matches their personality!
For kids, Skele-toes is available in three colors for Boys and two colors for Girls.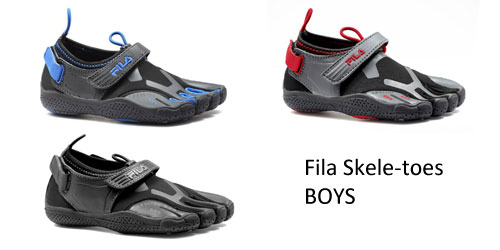 Prices start at $55 for kids and $60 for adults.
*Product provided by Fila (MSRP $60) – CMP.LY/1 Review
If you have a product you'd like reviewed, contact me at info@weartested.org