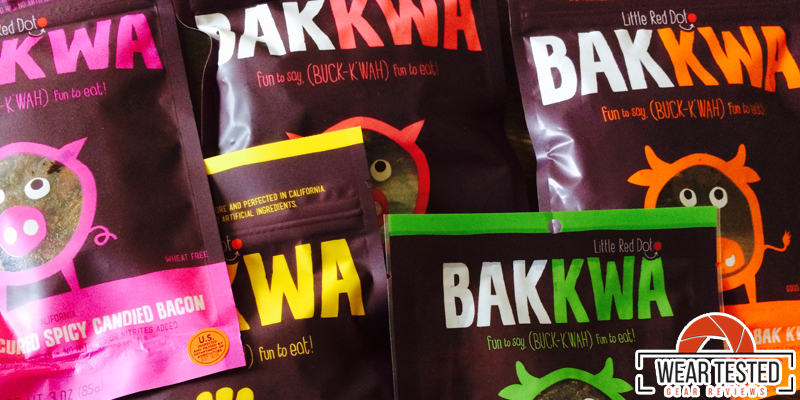 Seasoned with southeast asian spices then slow grilled to perfection, Little Red Dot Kitchen Bak Kwa (pronounced Buck K'Wah) is a Singaporean and Malaysian street-style snack. Packed with umami (savory taste), Little Red Dot Kitchen Bak Kwa is crafted in small batches then roasted to seal in moisture and to give it an authentic smoky char that's succulent, sweet, and savory. Little Red Dot is the nickname for Singapore, a teeny-tiny but proud island that is denoted on a map as a 'little red dot.'

Little Red Dot Kitchen Bak Kwa is non-GMO verified and gluten free. Their animals are raised with non-GMO feed and the condiments & spices used are also non-GMO verified. All their ingredients are free of gluten, dairy, and nuts. All protein are also without growth hormones or antibiotics.
Little Red Dot Kitchen Bak Kwa has a minimum of 6 months shelf life and is best enjoyed within two months of purchase.
Krave jerky has been my protein snack of choice before discovering Bak Kwa. Here is how they compare – decide for yourself!
Little Red Dot Bak Kwa versus Krave Jerky

| Nutritional based on 1 ounces (28g) | Lemongrass Beef Bak Kwa | Krave Chili Lime Jerky |
| --- | --- | --- |
| Calories: | 45 | 90 |
| Total Fat: | 1g | 1.5g |
| Sodium: | 150mg | 380mg |
| Sugar: | 4g | 11g |
| Protein: | 5g | 8g |
| | | |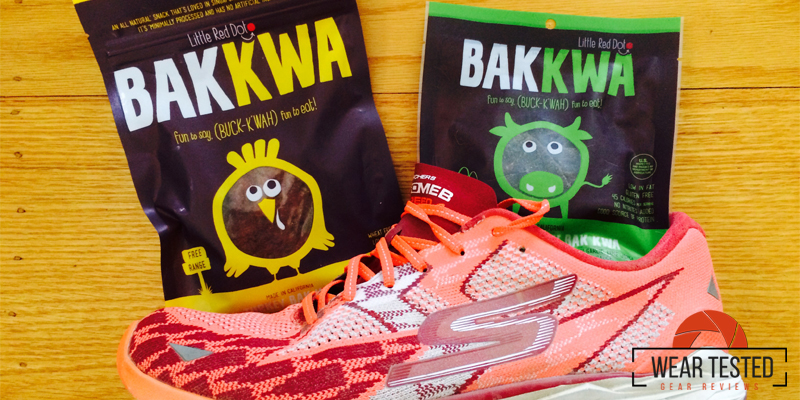 Perfect for long runs and long rides when you need to re-energize or have a protein snack. Little Red Dot Kitchen Bak Kwa is a delicious and tasty quick snack that you can easily carry with you.
The Little Red Dot Kitchen Pork Bak Kwa is not as sticky or oily as other Asian pork jerky and has a tasteful BBQ char taste. Their Turkey Bak Kwa is less sweet but similar to the Pork Bak Kwa. The Hickory Smoked Uncured Spicy Candied Bacon (quick a mouthful) is too spicy even for some hot sauce lovers. But my female wear tester loves it! The Spicy Chipotle Beef is also very spicy. Both these flavors are too spicy for my personal taste. The Lemongrass Beef is the closest to other beef jerky available out in the market today.
In general, the Little Red Dot Kitchen Bak Kwa is not as hard in texture as other jerky. My only suggestion is Little Red Dot Kitchen should consider packaging for running and cycling – maybe individual or singles in quarter ounce servings…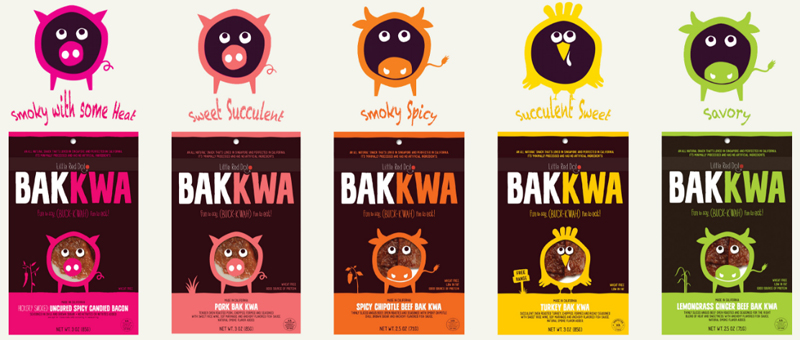 Little Red Dot Kitchen Bak Kwa is currently available in five flavors and can be purchased online and in select stores.