I run and bike to relieve stress. I also do my best thinking while running! Your heart is your most important organ. Still, one in three people suffer from high blood pressure, also known as hypertension. Don't be that one in three. Take the right steps to monitor and manage your heart to decrease your risk of heart disease and increase your life expectancy. The Omron Wrist Blood Pressure Monitor is a powerful and portable device that lets you check your blood pressure anywhere, anytime – portability without compromising accuracy.
For this review, we wear tested the 10 Series Wireless Wrist Blood Pressure Monitor – comes with Bluetooth Smart and packs a lot of technology into one slim, portable device. Manage and track up to 200 readings on your device and unlimited readings on your smartphone – I used an Apple iPhone 5S. Two user mode allows two different users to monitor and track their readings separately in the stored memory or with mobile app – 100 latest readings per user. The silent inflation is quick and quiet that measurements can be taken anywhere, anytime and even more discretely.
Make sure you download the free Omron Wellness app and pair with your monitor so you can do regular wireless synchronization of blood pressure readings to your smartphone (or other mobile device) – now you have your numbers anywhere, anytime. View systolic, diastolic and pulse readings anytime.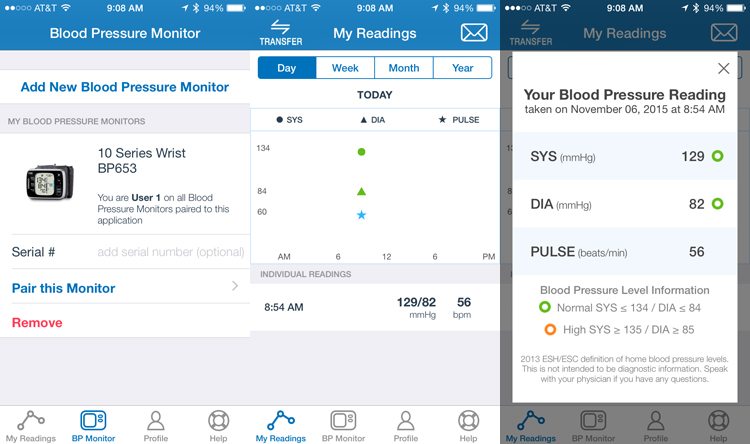 I have an upper arm blood pressure monitor but prefer the wrist based monitor much better – more comfortable and faster readings. What is I liked best about the Omron Series 10 model are:
positioning indicator
irregular heartbeat detection
Bluetooth Smart synchronization with my iOS app
easy-to-read blood pressure level indication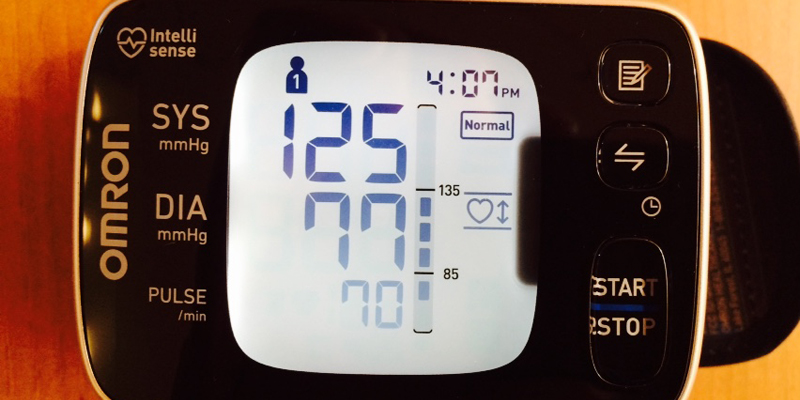 Here are a few things I learned to get a good and reliable blood pressure reading.
Rest for at least 5 minutes before taking a measurement
Avoid taking measurements during stressful times
The cuff can be applied to your left or right wrist
Measurements should be taken in a quiet place
Position the unit at heart level throughout the measurement
Remain still and do not talk during the measurement
Caution: Do not use this product on aircraft or in hospitals. This product emits radio frequencies (RF) in the 2.4 GHz band.
The Omron wrist blood pressure monitor has a built-in positioning indicator that is used as an aid in determining if the monitor is at the correct height. It has been designed to work with most people so that when your wrist is at the correct position relative to your heart, the positioning indicator will be blue. If the positioning indicator changes to orange, the device may not be at the correct height relative to your heart.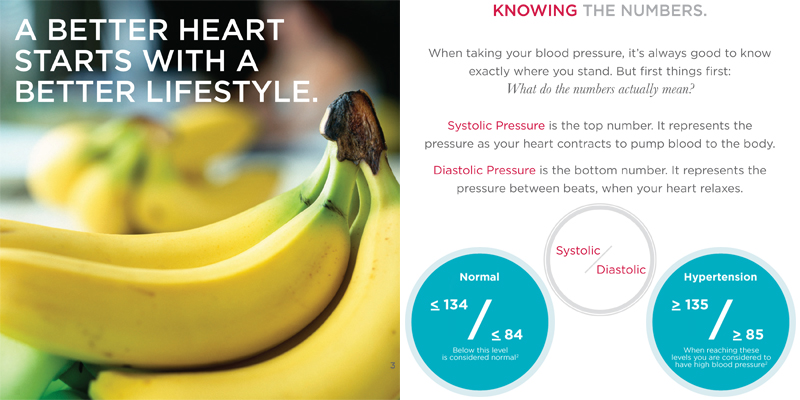 When the monitor detects an irregular rhythm two or more times during the measurement, the Irregular Heartbeat symbol will appear on the display with the readings. An irregular heartbeat rhythm is defined as a rhythm that varies by 25% less or 25% more than the average rhythm detected while the monitor is measuring the systolic and diastolic blood pressure. If the irregular heartbeat symbol displays with your readings, please consult your physician.
On a daily basis, I can take multiple blood pressure readings and synchronize it to my smartphone daily – it also uploads it to the cloud. But most of the review (current reading and history) are viewed via my mobile app and I rarely use the website. It takes about 30 to 40 seconds to do a complete reading. One thing is noticed is that readings are not selectively removable within the mobile app – I had a few readings that are taken with the unit on different orientation, in non-optimal positions on the wrist, or with my wrist bent back for testing but cannot get rid of them…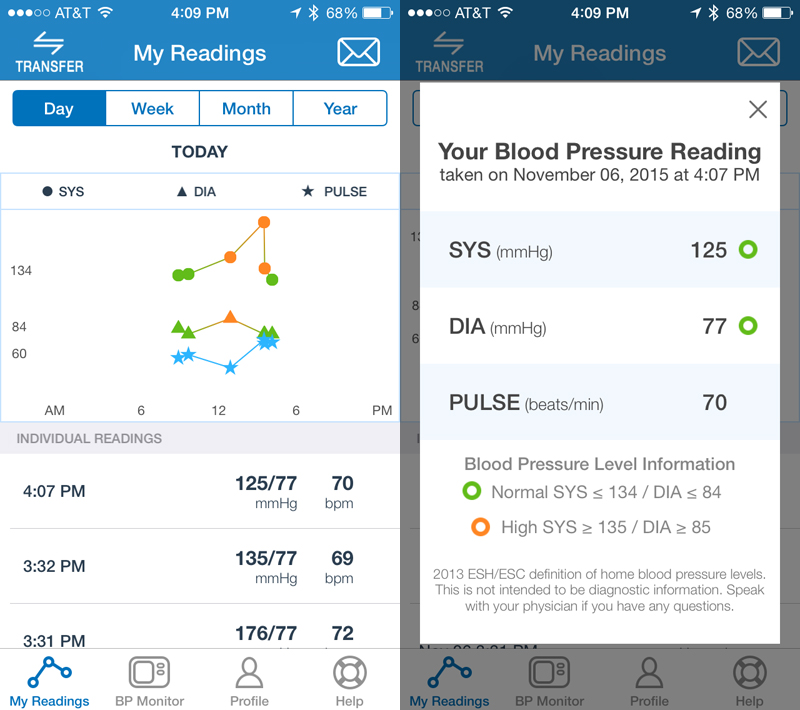 On the Omron Wellness web site, you have full access to your readings in addition to setting goals (steps, blood pressure, weight, etc.) in addition to browsing plans in the marketplace to find the plan that best fits your health needs. With cloud access, you can access your data anytime anywhere without your smartphone.

For less than $100, it is another no-brainer from Omron. Available for purchase online at Omron Healthcare.