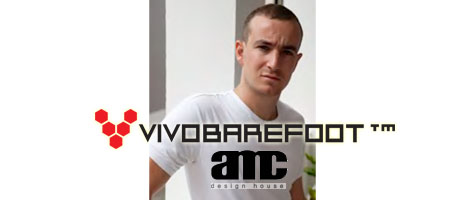 I was very fortunate to have the pleasure of interviewing Asher Clark, Head Designer and Creative Director at VIVOBAREFOOT and a 6th generation member of the Clark's shoe dynasty. Asher is the creative force behind the VIVOBAREFOOT collection.
MRS: Where do you get your creative talents from?
AC: My parents are both actors so I grew up in a creative household. I was always encouraged to search for that thing that you are passionate about and once you have it, give it everything you have. I ended up in shoes, perhaps it skipped a generation and cobbling is in my genes?
MRS: Do you design other shoes besides the VIVOBAREFOOT line?
AC: Yes I do. I've been in the shoe business as a designer for about 8 years and have designed shoes for brands including DKNY, Paul & Joe, Kenzo, and quite a few different brands. I have a design company called AMC Design House where our focus is VIVOBAREFOOT Performance but we do external projects for other brands.
MRS: Are you focused more on casual or running shoe designs?
AC: The balance shifted quite a lot in the last year. VIVOBAREFOOT used to be predominantly a casual line and we were largely led by the instinctual believe that barefoot with as thin a sole as possible is the right way to be. Since the Evo launch in 2009 (our first running specific shoe) we have quickly built suit of performance product designed to give you the best barefoot shoes for any environment.
MRS: Were you a runner before you worked on the first Evo?
AC: I have always been into sports and being outdoors, in the ocean as much as possible but never running specifically. It was only when I discovered through meeting Lee Saxby that there was a hidden truth, that running is a skill and  'proprioception' is the foundation of efficient, fast, and injury free movement. Running is a lot of fun and it is essential to get under the skin of all products during ideation and development. I run at least 4 times a week now before I go to work and have come to enjoy it a lot! In fact, we have recently launched our free training e-Book and that explain everything you need to know.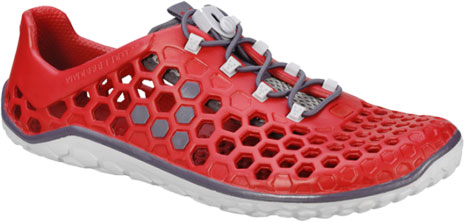 MRS: Let me start with the newly released Ultra. Tell me a little more about the dual density EVA.
AC: The product uses a modern EVA injection molding technique which enables you to inject a soft density EVA in the uppers and a higher density EVA on the outsole. This product (Ultra) is only possible using this method which is the reason the Ultra was born and exists today. The upper part of the ultra is durable but very soft allowing the foot to flex and move naturally. The outsole section is injected second and is 6mm thick, a lot more firm than the upper which is vital for the ground feedback. It is also special high abrasion EVA which has increased durability for heavier running specific use.
MRS: How is it different than the Evo, Evo II, and Neo?
AC: Evo and Neo are high abrasion rubber outsole running shoes. Although of course they are everything VIVOBAREFOOT: thin sole, zero cushioning, puncture resistant, zero heel-to-toe differential, anatomic wide toe box. They are made like a traditional running shoe – strobel stitched with cemented outsole. And of course, they are not amphibious and quite as light weight.
MRS: Who is this shoe designed for?
AC: We saw an opportunity in this process that we can create a product that would span across a lot of activities but fundamentally, it is an impossibly lightweight running shoe and the feedback is that key buyers are using it as a pretty serious running shoe. You can run in and out of water without water lock and the very nature of it is like a functional Crocs-like product that can be used on the beach or kick around summer shoe or as a travel shoe. We hope that this product will transcend the current barefoot niche and perhaps help take barefoot to consumers that were just looking for an active functional water shoe.
MRS: The sock liner is too constricting for me – my 2E+ wide feet has my toes all squashed together. Did you get feedback about folks not being able to use them?
AC: For some of the bigger sizes, the shape of the sock liner in the front where it plugs into the cage is the issue and pushing the toes back. We hope it is not a big issue but probably a production problem that we are taking very seriously and working hard to resolve as quickly as possible.
MRS: Do you wear test and run on roads & trails in shoes you design?
AC: Yes, all of them along with other members of the team and our group of go-to barefoot product testers.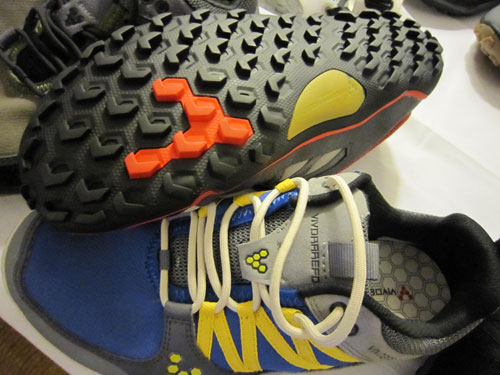 MRS: Moving on to future products, the upcoming Neo Trail is a trail shoe that I've been eagerly waiting for now that I'm running more trails than roads. What's the design philosophy behind the Neo Trail?
AC: The best of barefoot with unparalleled grip for the toughest of terrains. The ultimate off road-only barefoot trail running shoe!
MRS: I saw a prototype in a recent trade show and noticed the cool treads in the outsole. What's the inspiration for that?
AC: The challenge with barefoot sole design is that proprioception is king. The more grip you add to the outsole, you start to sacrifice the level of proprioception/feedback. The Neo Trail tread is tooth-like and multi-directional to provide the best proprioception with unparalleled grip. It works great in tough slippery muddy conditions.
MRS: Are there other significant changes from the original Neo?
AC: The uppers has a hydrophobic closed mesh (not Gore-Tex) but water resistant with an external lace gulley system to help lock the forefoot. It also has a loose breathable Lycra-vamp lining. Weighs about 180 grams (6.3 ounces) versus 155 grams (5.5 ounces) for the Neo.
MRS: Finally, can you please give us a sneak preview of what's in the VIVOBAREFOOT pipeline for the end of this year or early next year?
AC: Next season a female-specific performance line that is every bit barefoot performance with a refined and sexy edge. Designed to provide even the most discerning fashion savvy ladies with a multi-purpose product line that looks as good gym, yoga studio, running or just kicking around the city in. Chic fashionista ladies footwear!
MRS: Anything else in the men's outdoor area?
AC: A really cool shoe called the 'Breatho' – same outsole as the trail shoe with a visually and highly breathable sock-like upper. Slightly more rugged for tougher weather conditions.
MRS: Thanks again for taking the time to talk to me!
AC: It's been my pleasure. Many thanks and bye for now!