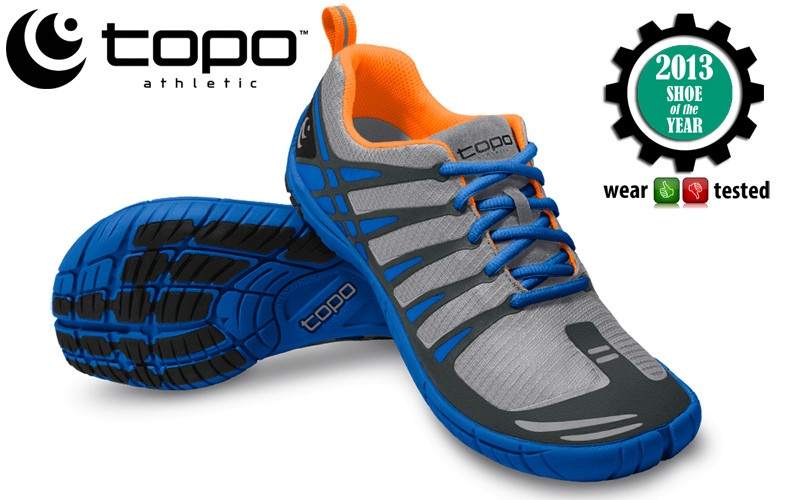 We gave you a sneak preview of the new Topo Athletic ST speed trainer last year. After putting over 100 miles on these shoes, my female wear tester and myself can declare the Topo Athletic ST, the 'Wear Tested Shoe of the Year' for 2013! In previous years, there are at least a few flaws found in the top models and disagreement between myself and my wear testers has prevented us from declaring a unanimous winner. Not so this time.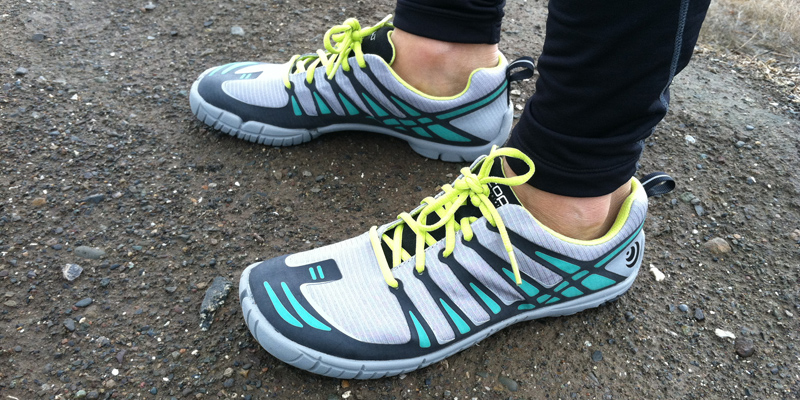 Speed and response is what the Topo Athletics ST stands for and the ST is designed for training, tempo runs, and racing. This is Topo's first non split-toe shoe delivering the benefits of a racer with a more conventional look and feel. It also has the same shape, platform, and weight benefits as the Topo RR model which we reviewed last year.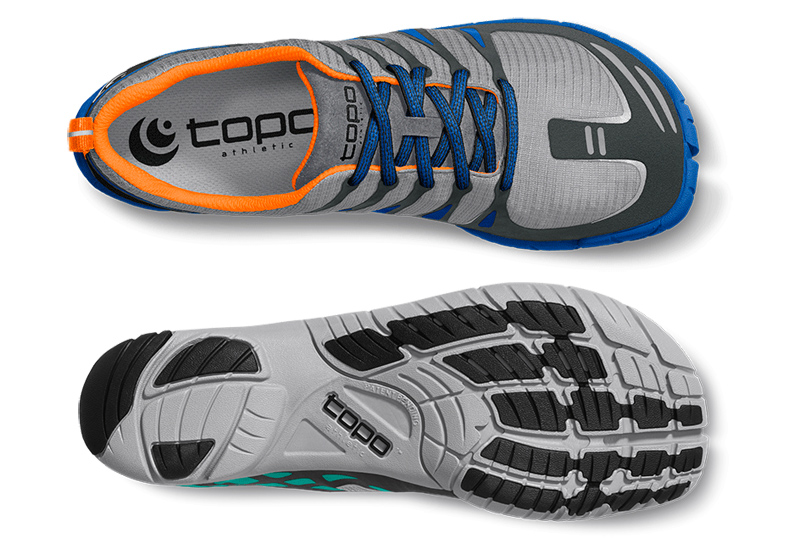 Besides the obvious split-toe difference, the Topo ST does not come with the BOA Closure System found in the Topo RR model. The uppers are made of a light and airy mesh with 3D printing to keep the weight down and eliminating seams and treads.
Technical Specifications
Breathable mesh upper with 3-D polyurethane print detailing
3 mm cemented but detachable EVA antimicrobial footbed
3mm molded rubber outsole
7 mm EVA midsole
Zero drop
13 mm total stack height
Weigh 5.9 ounces  (Men's size 9)
MSRP $90

Review Summary
My pair of Topo Athletic ST (US Men 10.0) weighs in at 6.6 ounces with the included laces. With the Topo ST in your hands, it feels light, soft, and flexible – more like characteristics of a racing flat. From the side view, it may appear to have a pronounced toe spring. I did not have a problem with it at all but my female wear tester did initially. After running in them for about a week, that was no longer a concern. Her pair had a slightly stiffer outsole that softened after a few runs.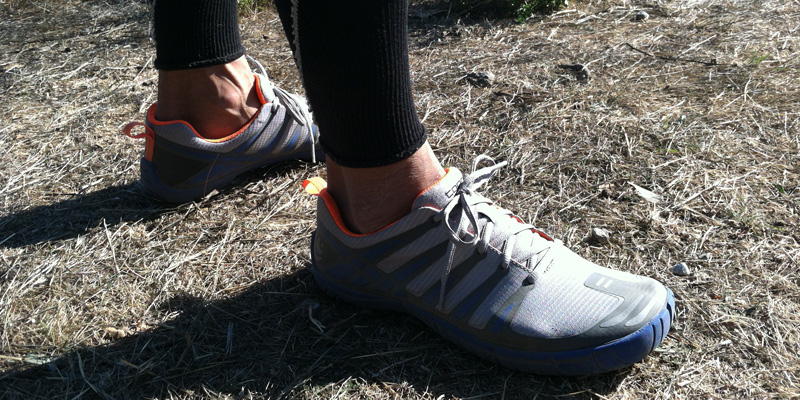 Both my wear tester and myself took the Topo ST for runs and walks on all terrains – rubber track, asphalt, and non-technical trails. It was one of the most pleasant and comfortable minimalist running shoe I have ever worn. if I had a choice and did not have to test other running shoes, I would wear the Topo ST for all my runs. I did run in the Topo ST exclusively for a full week while I tested various running watches and activity trackers during the holidays.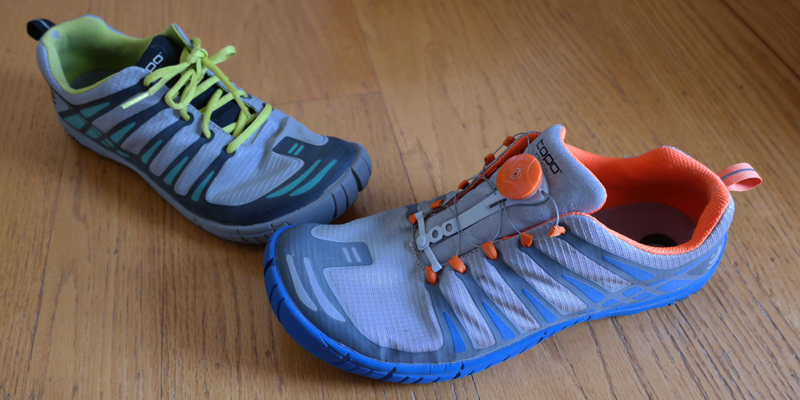 I miss the BOA closure system found in the Topo RR. Fortunately, the BOA company offered a free closure system at the recent Running Event so I took them up on the opportunity to put in a temporary system. The dial has to be placed in a better static location (lateral uppers as in the Topo RR) so mine just rested on top of the shoe tongue. After running with the BOA closure system on my Topo ST for a few weeks, I like it so much that I super-glued it onto the tongue. My shoe laces will never get untied again with easy on and off access. I can tell you that it is excellent for speed work especially with the BOA closure system.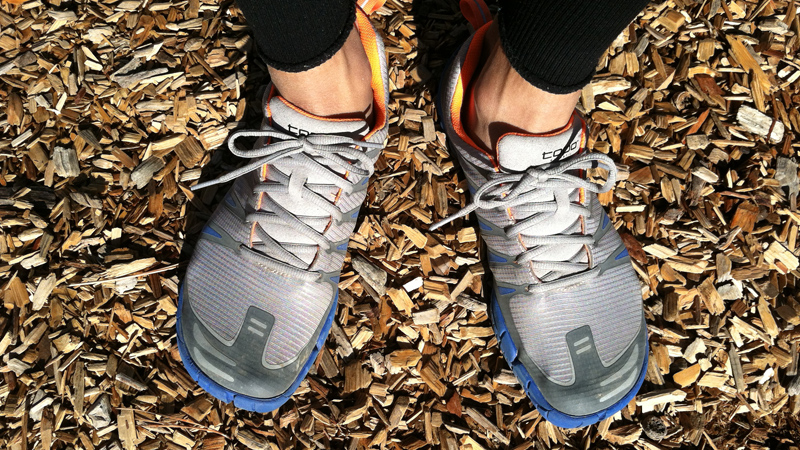 The Topo Athletic ST met all the strict primary requirements for a great pair of minimalist running shoes (without any exceptions):
Soft and breathable uppers
Wide forefoot toe box (fits 2E+ width feet)
Lightweight and preferably less than 7 ounces
Shoe tongue does not slide when running or walking
Soft, thin, and flexible outsole (laterally and longitudinally)
Smooth footbed allow running sockless without hot spots or blisters
Midfoot/Toe stack height of less than 15mm
Low to zero drop differential
Great traction on rubber track for speed work
Great traction on asphalt and hilly non-technical trails
Shoes lace materials does not make it come untied easily
Heel does not hurt when walking in the shoes
Affordable pricing

Since we are all built differently, run on different terrains, and have varying training schedules, the secondary requirements may or may not be applicable to you but they include:
Varying amount of cushioning from minimal to maximal
Aggressive lugs in outsole for additional traction on gnarly trails
Waterproof or water-resistant (all weather) uppers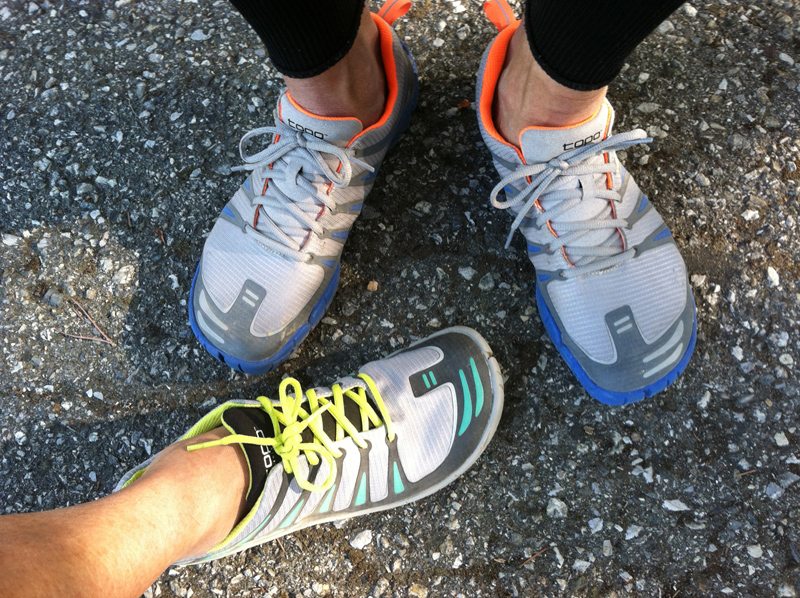 I will need to stock up on the Topo ST like I did with running shoes over 25 years again when vendors make drastic changes to models and technology. Once you find a pair that works for you all the time, that's a keeper – as in the Topo Athletic ST.
The Topo Athletic ST is available in 2 colorways for Men and 2 colorways for Women.


The Topo Athletic ST  is now available at REI, Road Runner Sports, and Topo Athletic.
*Product provided by Topo Athletic. CMP.LY/1 Review
If you have a product you'd like reviewed, contact me at info@weartested.org