Innovative footwear brand Topo Athletic announced today the addition of two new models to its expanding shoe portfolio: the zero drop Speed Trainer (ST) and 2mm drop Mountain Trainer (MT). The ST and MT models feature a traditional toe box, providing consumers with a wider selection of style and fit. It is an interesting design twist from a CEO known for marketing some of the most distinctive looking shoes in the business, including Topo Athletic's debut line that launched in July with a split-toe design.
For those that prefer a more traditional look and feel, the ST and MT incorporate the trademark features of the original line that make Topo Athletic's shoes unique:
The "Y" shape fit: follows the natural shape of the foot – fitting snug and secure through the mid-foot and heel, but roomier in the toe box so the toes can spread and splay
Neutral drop and near neutral drop platforms: keep the feet on a level plane, which encourages a more natural body posture during exercise, and a mid-foot strike while running
Medium stack height (12-19 mm): provides more protection and shock absorption underfoot than what is found in a typical minimal shoe (4-10 mm), while still allowing the foot to gather feedback from the environment, and move more naturally
Weight: lightweight, breathable materials combined with high frequency welding for a seamless interior finish (to minimize chafing and blisters); 3-D printed upper patterns make the shoes light (between 5-8 oz), flexible, and soft on the foot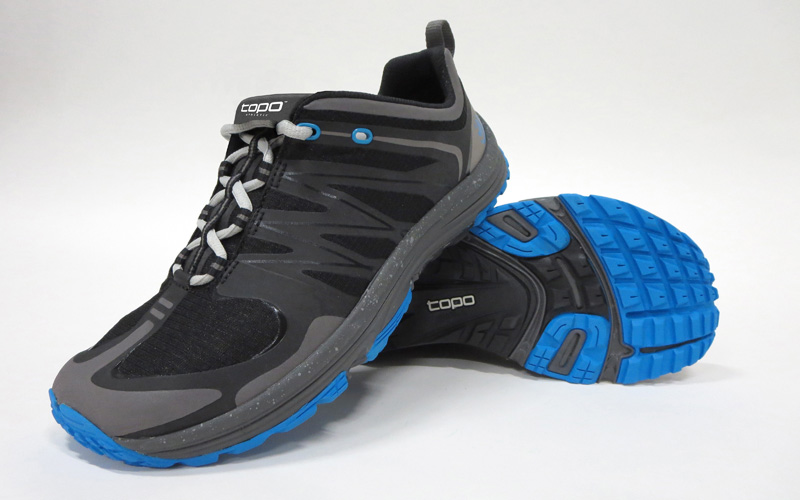 TOPO SPEED TRAINER FIRST IMPRESSIONS
I ran with the Speed Trainer (ST) on the track, asphalt, and non-technical cross country trails last week and logged at least 25 miles in them. I have been 
very pleased
with them and happy to say that it is the best shoe I have ever tested thus far for Fall/Winter '13 and maybe even Spring/Summer '14 (pending any surprises I may find for the new season). Not being a huge fan of Tabi split-toe shoes, Topo Athletic has keep the best features of the
RR model
and made it even better and cheaper. I may personally add a BOA closure system instead of traditional laces for speed work though.

One note about sizing. My test pair is a half size smaller (10.0 versus 10.5) but it is wide and long enough for my foot. I prefer it snug for speed work and loose for regular runs. It is true to size for most runners. I would recommended purchasing a pair that is your regular true size.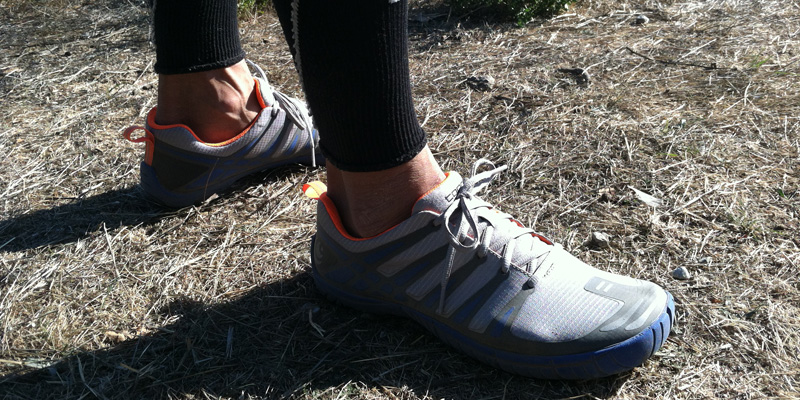 The Speed Trainer (ST) will be available online for pre-ordering now. It is available for shipping and purchase in select retail stores on December 1, 2013.
The Mountain Trainer (MT) will launch exclusively with REI in January 2014 and then to a wider retail distribution starting February 1, 2014.

Technical Specifications
Speed Trainer (ST)
Specifically designed for speed training, tempo runs and racing:
Breathable mesh upper with 3-D polyurethane print detailing for flexibility and weight relief
Detachable 3 mm EVA antimicrobial footbed
Co-molded 3 mm rubber outsole / 7 mm EVA midsole (13 mm total stack height)
4.9 oz (size W7) / 5.8 oz (size M8)
MSRP $90


Mountain Trainer (MT)
Incredibly versatile, the lightweight MT is designed for trail running and light hiking:
Rugged high-traction outsole provides stability and multi-directional traction over a variety of surfaces
A 2 density EVA midsole keeps athletes insulated from sharp rocks and roots without losing the necessary feedback and ground feel that is so important to balance and agility
A detachable 5 mm 2 density EVA footbed works in combination with the 2 density EVA midsole to deliver protection and comfort in a mid-stack 19 / 17 mm platform
Breathable mesh and 3-D polyurethane printed detailing for flexibility and weight relief
Variable width lacing closure delivers optimal fit for different instep heights
MSRP $100