From the Desk of Robert Yen
Minimalist Shoes Wear Tester – Golf
Robert is a second-generation native of Phoenix, Arizona.  When not practicing law, he can usually be found playing–as he has for the past 44 years–one of the nearly 300 golf courses in and around the Phoenix metropolitan area.
In an earlier review, I wrote about my introduction to barefoot-style golf shoes in a pair of TRUE's 2011"Tour" model shoes.  ("My Experiment with 'Barefoot Golf Shoes" February 2012).  I finished that review noting that I was so impressed with the comfort and performance of the shoes that I had ordered another pair from TRUE Linkswear, this time a pair of their 2012 grey and electric blue "Phx" models.
If TRUE Linkswear's 2011 line-up was a birdie, their 2012 shoes are a double eagle.

What I liked most about my first pair of TRUE's has been the comfort, stability and feel they provide on the course.  The one-piece shell of the Tour models and the mesh sock liner couldn't be beat for comfort.  And I found TRUE's representation of their Tour shoes as "water-proof," to be, well . . . true.
After I started wearing the shoes, many of my golf companions caught the fever and started wearing them, too.  Their experience with the 2011 shoes was similar to mine.  They too, were impressed by the comfort of the wide toe box, the cushiness of the uppers, their lateral stability and the firm feel and connection to the course, especially on the greens and in the bunkers.  One of my buddies, however, while admitting that he had very sensitive feet, complained the cleats on the soles of the 2011 models were large enough that he could feel them when he walked on harder surfaces.  Although he was the only one from whom I've heard such a complaint, it didn't deter him from buying another pair of the 2011's or from carting off his collection of traditional golf shoes to Goodwill.
If, however, the firmness of the cleats was a common criticism among "TRUE believers" with respect to the 2011 models, TRUE has cured even that small complaint with its entirely new design of the sole on their 2012 models.
The newly engineered soles incorporate a series of smaller square cleats combined with intermittently-spaced, small, round cleats– the effect of which is a lighter, thinner feeling sole and a more traditional profile.  Where the 2011 models had sometimes been mocked as "clown shoes" (unfairly) because of their wide toe boxes and the curve of the soles, the 2012 versions have a much more streamlined profile while retaining the feel, performance and comfort that has created their enthusiastic and fanatical following.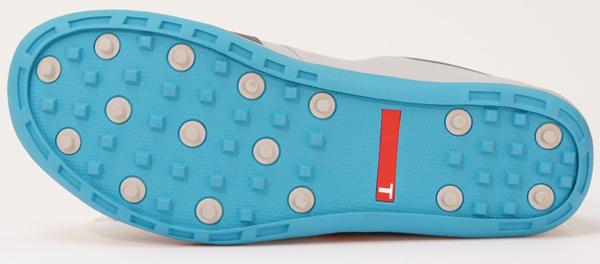 One of the frequent comments I hear from those who wear TRUE Linkswear shoes, is how comfortable they are—that they're "the most comfortable shoe EVER, on or off a golf course."  I agree.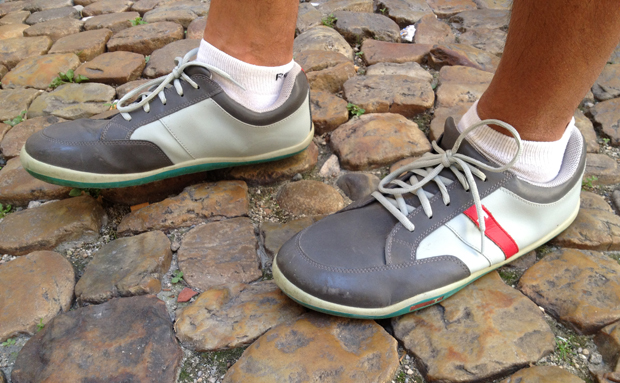 While packing last month for a three week family vacation to Paris, Provence, and Barcelona, I noted the weather forecast was for cool temperatures and rain in Paris (where dressier shoes would be more appropriate).  In contrast, the forecast was for sun and warm temperatures in the south of France and in Spain.  I also knew there would be A LOT OF WALKING.  Wanting to minimize the baggage I'd have to deal with, I limited myself to two pairs of shoes.  Even though this was a family vacation and I had no plans for golf, the one pair of shoes I packed were my black TRUE Linkswear  Tours.   I wore jeans and my grey TRUE Phx shoes on the plane.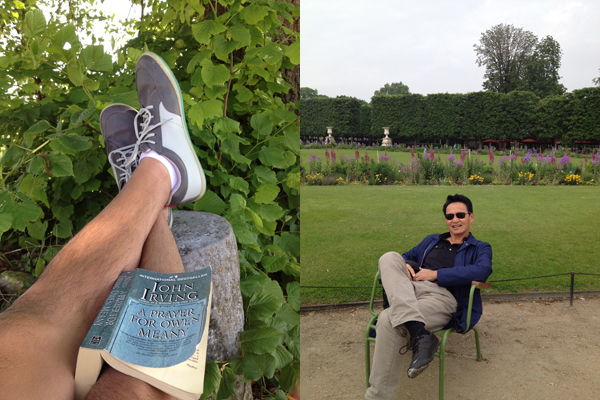 For three weeks my feet essentially lived in nothing but two pairs of TRUE Linkswear golf shoes.  In the cafés and on the streets of Paris I wore my black Tour's with dress pants and a sport coat or rain coat;and in the South of France and Barcelona I wore my grey TRUE Phx shoes with shorts and jeans.  Whether lugging bags onto planes or trains, walking down ancient cobblestones, along the rainy Champs Elysees, or climbing the stairs from the metro station at Montmartre, I wore my TRUE'S.  Not once were my feet wet  (it rained a lot in Paris!), and never did I feel inappropriately attired.  In fact, as I write this at my law office, I'm wearing my TRUE'S in anticipation of a round this afternoon in our 105 degree summer heat.
For 2012, TRUE offers several models, the "Stealth" which I've not worn, but which most resembles traditional street shoes and would probably be most appropriate for more formal attire;the "Tours," which have a more athletic profile and probably the most comfortable upper of the TRUE line;and the "Phx," which is TRUE's most casual shoe.
On its website, TRUE has a spreadsheet detailing features of each model.  The Stealth and Tour models, for example, are said to be "water-proof" while the Phx model is merely water-resistant.  I found TRUE's website to be accurate in all respects.
Sizing is consistent with other golf shoes.  When I wore Footjoys, Addidas or Pumas, I wore size 13.  Both myToursand Phx shoes are also size 13's.
Whichever model you choose, I suspect you'll find, as I did, that they're the most comfortable, versatile shoes you've ever owned . . .  on or off the course.
The TRUE Linkswear Phx is available in many colorways including a limited edition for men's.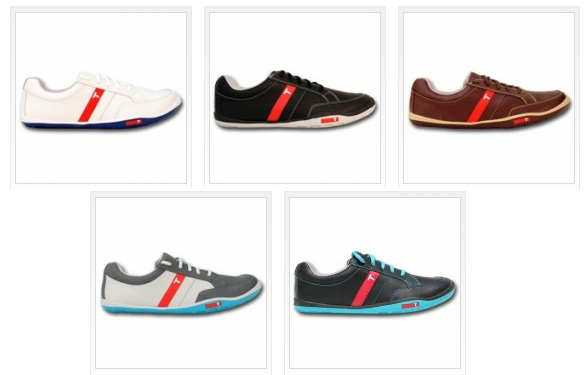 The TRUE Linkswear Isis is the women's equivalent of the Phx.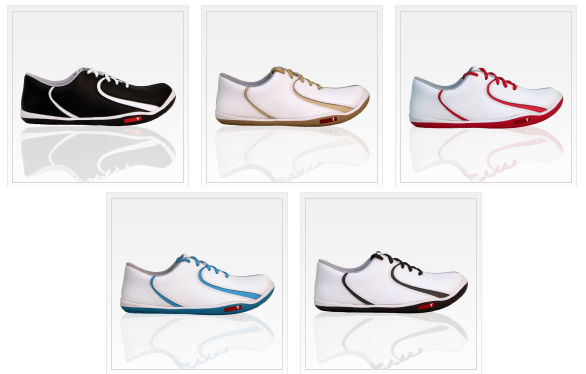 TRUE Linkswear Phx and Isis are now available at TRUE Linkswear and Golf Smith.